As the first week of October begins, we are still fighting to get back to .500 but we are getting close. And last week's bad beats per particularly bad.
Idaho, fresh off an upset win over No. 11 Eastern Washington, took a 17-7 lead into halftime and held a 24-10 lead with 10 minutes left in the third quarter over previously winless Northern Colorado. The Bears entered the game near the bottom of the entire FCS in scoring offense and scoring defense. But UNC scored 17 unasnwered points in the final 25 minutes of the game to post a 27-24 win and thwart any chance Idaho covers -9.5.
Montana State won just like they thought we would. But far from the fashion we needed with a pick of Northern Arizona +12. The Lumberjacks raced out to a 21-0 lead by the second quarter. NAU led 31-14 early in the second half. But Montana State scored 35 unanswered points, including 28 in the fourth quarter to emerge with a 49-31 victory.
On the FCS Speculators podcast, Colter picked Montana to not only cover +7 at UC Davis but to win outright. Sam picked Davis -7 and lost horribly. The Griz destroyed the No. 4 team in the FCS, building a 38-7 lead before cruising to a 45-20 victory that vaulted Montana into the Top 10 of the STATS FCS rankings.
And Sam's lock of the week didn't go so well. Everyone at Skyline Sports agreed Portland State +4 was a near surefire pick. Welcome to the Big Sky Conference. Idaho State ripped the Vikings, racing to a 41-10 halftime lead before cruising to a 51-24 victory.
Other than that, last week went well.
Thanks to a powerful rushing attack that piled up 284 yards, including 134 yards and three touchdowns from senior Antoine Custer Jr., Eastern Washington overcame the nasty elements in Cheney to easily cover -7.5 with a 35-20 win over North Dakota.
Despite nauseating wind conditions in Cedar City, Utah, Cal Poly took care of +1.5 and won outright in a 24-21 victory.
And in the only non-conference game for a Big Sky school last week, No. 5 Weber State posted a signature 29-17 win over Northern Iowa to easily cover -2.5. That picked helped us close the week at 3-4.
Week 5 Record: 3-4
Overall Record: 23-25-1
THIS WEEK
(All lines provided by 5dimes)
Lock of the Week: Northern Arizona -12.5 (Season: 3-2)
Best Investment: Sacramento State -145
Over Under Lock: Cal Poly/Montana State: Over 62 (Season 1-4)
UC Davis at North Dakota (+4.5) O/U 50.5 12:00 PM
UC Davis looks to rebound from a manhandling last week against the red-hot Montana Grizzlies. After facing reigning national champion North Dakota State and then the surging Griz, UND gets some reprieve. The Aggies will cover in Grand Forks +4.5
Pick: UC Davis +4.5
Idaho State at Montana (-8.5) O/U 56.5 1:00 PM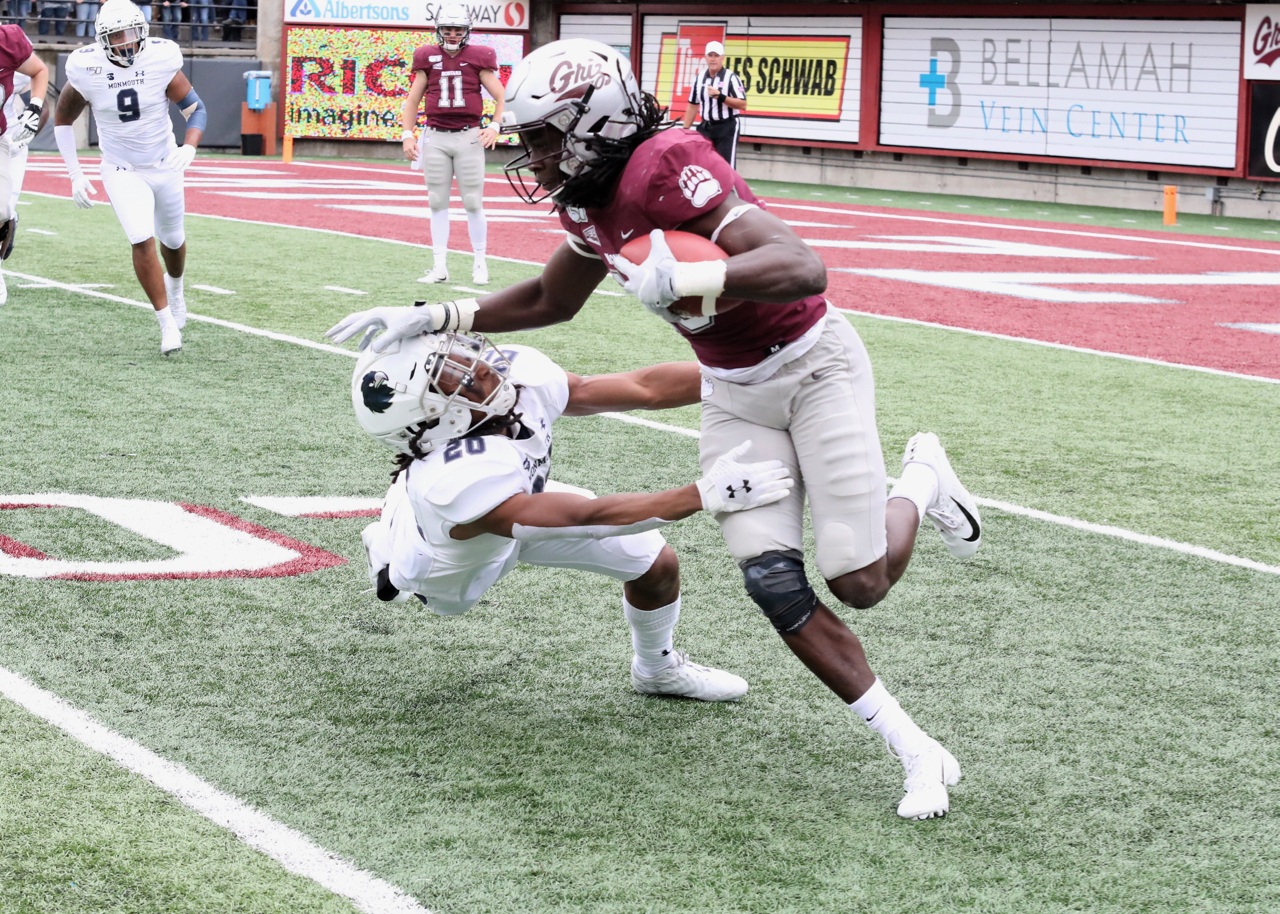 Montana is on a roll. The Griz are averaging 477.8 yards per game are scoring 46 points per game against FCS opponents. Idaho State has a stout defense and runs into a Top 10 opponent for the second time in three weeks. They allowed 13 points to Northern Iowa, but the Panthers do not have the fire power on offense that the Griz have. Idaho put up 509 yards of total offense last week in quarterback Matt Struck's return to the starting lineup.
The line opened at 7.5 and should move up more. This could be a letdown game for the Griz coming off a huge win on the road last week against No. 4 UC Davis. But I like the veteran led Griz to win in Missoula on Saturday and cover. Montana -8.5.
Pick: Montana -8.5
Southern Utah @ Portland State (-9.5) O/U 61 2:05 PM
Portland State will try and find a way to get back on track after a terrible performance against Idaho State. Luckily for the Vikings, Southern Utah is not a very good football team. The Thunderbirds have struggled the last two years, winning just two of their last 17 games. Portland State's quarterback Davis Alexander will need to return to form this week. I think the Vikings cover this at home.
Pick: Portland State -9.5
Weber State at Idaho (+7) O/U 47 3:00 PM
I wonder what Vandal team we will see. They had a second half meltdown against a BAD Northern Colorado team. To quote the late Coach Dennis Green: "They are who we thought they were."
Weber State has a very good defense. Idaho has a good offense, not a great one. I'm still not a believer in senior quarterback Mason Petrino. I look for the father-son duo to lose by more than a touchdown at home. Give me Weber State -7 at the Kibbie Dome.
Pick: Weber State +7
Northern Colorado at Northern Arizona (-12.5) O/U 52.5 5:00 PM
Northern Colorado used a second half come back to earn their first home win of the season last week against Idaho. Look for the Bears to come back to earth this week. The Lumberjacks gave up a 21-point lead last week in Bozeman and are hungry for a big home win. Senior quarterback Case Cookus is going to have a huge day in the Walkup Skydome. I like Northern Arizona to win big at home. This is my lock of the week.
Pick: Northern Arizona -12.5 (Lock of the Week)
Montana State @ Cal Poly (+6) O/U 62 6:00 PM
Battle of the running teams. Cal Poly's triple option meets the Montana State physical run game, which currently leads the league with 275 yards per game on the ground. Montana State is coming off a 21-point comeback against NAU. They can't afford to spot Cal Poly that many points this week.
The 'Cats have started off slow multiple times this season, but they seem to find their stride in the second half. Look for MSU to pull away late, and don't be afraid if they trail at half. Senior hybrid quarterback Travis Jonsen and the Bobcats will keep it rolling this weekend.
Pick: Montana State -6
Eastern Washington @ Sacramento State (-2.5) O/U 64 7:05 PM
To me, this is the most intriguing game of the week. Eastern got back on track last week at home against North Dakota. Sacramento State has been rolling this season, but against mediocre talent. The big question is: Can Eastern's defense keep up with the Hornet offense? My thought is no, but I think Eastern's offense can keep up. Look for a good offensive showing from both sides. Eastern still has talent and it's only a matter of time before quarterback Eric Barriere finds his stride. I'll take the Eagles +2.5 in Sacramento.
Pick: Eastern Washington +2.5
THE PICKS
| | | | |
| --- | --- | --- | --- |
| Matchup | Spread | O/U | Time |
| UC Davis @ North Dakota | (+4.5) | 50.5 | 12:00pm |
| Pick: UC Davis -4.5 | | | |
| Idaho State @ Montana | (-8.5) | 56.5 | 1:00pm |
| Pick: Montana -8.5 | | | |
| Southern Utah @ Portland State | (-9.5) | 61 | 2:05pm |
| Pick: Portland State -9.5 | | | |
| Weber State @ Idaho | (+7) | 47 | 3:00pm |
| Pick: Weber State +7 | | | |
| Northern Colorado @ Northern Arizona | (-12.5) | 52.5 | 5:00pm |
| Pick: Northern Arizona -12.5 (Lock of the Week) | | | |
| Montana State @ Cal Poly | (+6) | 62 | 6:00pm |
| Pick: Montana State +6 | | | |
| Eastern Washington @ Sacramento State | (+2.5) | 64 | 7:05pm |
| Pick: Montana State +6 | | | |