Editor's Note: This profile was scheduled to run on the morning of the quarterfinals of the Big Sky Conference men's basketball tournament. Montana State was slated to play at 2:30 p.m. that day before the event along with the NCAA Tournament was cancelled.
BOISE, Idaho — He took a risk, coming halfway across the globe to play for a basketball program that has been searching for answers for years.
He spent the first three years of his career serving as an unselfish second fiddle to the most prolific scorer in the history of the Big Sky Conference, all the while honing his skills and tightening a game that will likely allow him to play basketball as long as he desires.
On countless occasions over the last four years, he has sat in front of microphones and television cameras, conducting interviews with class, all while speaking his second language. He answers every inquiry thoughtfully, often times explaining the details of disappointment from his team's results despite his individual brilliance.
When Brian Fish was dismissed as the head coach for the Montana State Bobcats, MSU athletic director Leon Costello turned to him to help make the decision on who would lead the 'Cats into the future.
And in the first season under first-time head coach Danny Sprinkle, he has been THE No. 1 player on every opponent's scouting report, taking a physical beating every single game while trying to lead the Bobcats back to the prominence they have been searching for since Sprinkle himself was a sweet-shooting guard 20 years ago.
On the afternoon Harald Frey played his final game at Brick Breeden Fieldhouse, Montana State honored the native of Oslo by playing the Norwegian national anthem before The Star Spangled Banner. As the tune played, Frey's eyes welled with tears, the magnitude of the moment washing over him.
But the senior point guard was not the only one crying. Up and down press row, administrators, scorekeepers, marketing experts, most could not hold back their emotions. In the stands, fans at all corners of one of the oldest wooden domes in the country could be seen wiping their eyes.
A lefty with boyish looks who came to America to prove to his country that Norwegians in fact could play Division I basketball has left an indelible mark on the Montana State campus community and the city of Bozeman.
"Harald is one of those kids who is a once in a lifetime guy. You don't coach guys like him," Sprinkle said. "You pray to get one kid like him once in your entire career. I've only had him for one year but I don't expect to ever have someone like him again.
"What I'm going to miss the most is his spirit and his character. He is an unforgettable person and an unforgettable Bobcat."
When Frey first stepped foot on the MSU campus, he didn't know if he would play a single minute as a freshman. Instead, he earned Big Sky Freshman of the Year as he and Tyler Hall put the rest of the league on notice for what the future might hold for the Bobcats.
As a junior, the southpaw emerged as one of the most dangerous scorers in the Big Sky despite defaulting to Hall, who scored 2,518 in his career to finish as the all-time scorer in league history. Yet like the previous two years, team success largely eluded the Bobcats.
As a senior, Frey has led a Bobcat team featuring a first-year, first-time head coach guiding a roster with seven new players and hardly any proven talent to their best success in a decade. The Bobcats entered this week's Big Sky Tournament with a first-round bye for the first time in 10 years. With one more win, the Bobcats will secure their first winning season since 2009. If MSU could've beaten fourth-seeded Portland State on Thursday, MSU will move into the tournament semifinals for the first time since 2002.
But it's all for not. The Big Sky Tournament was cancelled due to the growing national panic surrounding the spread of the COVID-19 virus. The NCAA Tournament was also cancelled this week.
Still, what Frey accomplished in his senior year to earn first-team All-Big Sky honors will not be forgotten by his first-year head coach.
"He is so good and I mean this when I say it: he is not going to get MVP of the Big Sky this year because we haven't won enough games. But he is the most valuable player in this league," Sprinkle said. "If we didn't have him, I don't even want to think where we would be.
"He's so good with the ball and defensively, I see everything he does covering up every body else's position. He's leading the league in charges taken. He has made some critical steals that won games for us. Flat won the game with his defensive plays.
"And then he has the ball and I have him dribbling for 25 seconds of every shot clock. He has to handle double teams, triple teams, traps, people face guarding him, people box-and-1 him. For him to lead the team and not get frustrated, it's remarkable. I'm scared to death for life without Harald Frey."
Frey himself is also trying to wrap his mind around life without wearing a Montana State jersey, particularly with his college career coming to such an abrupt end.
Frey came to Montana with no idea to expect, thinking "there may be some farms over here, a basketball court over here, a ski hill over here, people riding horses." Over the last four years, he has developed into one of the most beloved athletes in the recent history of Montana State.
"You have kids coming up asking for pictures, autographs and it is something I never thought I would be doing and I still think I'm just me," Frey said. "That's why hopefully I can just inspire someone and hopefully just being me is enough because I don't want to be anybody else. I just want to be me and hopefully that's enough for people.
"If I can leave a mark in MSU history in basketball and more importantly, if I can leave a mark on some of these people who have influenced me and give back to those people, that's what I want. If people who look up to me, that I've never met remember me someday, that's so much bigger than how many points I score or how many assisted baskets I have."
The baskets and the assists have come in as prevalent a combination as any point guard in the history of the Big Sky Conference. Only former Boise State standout Steve Conner (1974-1978) and the left-handed Frey have scored more than 1,800 points and dished out more than 500 assists in their careers.
Before Frey could score any buckets or dish out any dimes, he had to make the atypical decision most burgeoning young athletes never face. Frey had to choose to leave playing professional basketball in his home country to pursue a Division I opportunity in the United States.
During his time with the Centrum Tigers (he competed as an amateur), Frey played alongside former MSU standout Flavien Davis. That connection led Frey to landing on MSU assistant coach Chris Haslam's radar. Haslam coached various national teams in the United Kingdom and has recruited European U-18 tournaments in the summers during his tenure at MSU coaching for Fish and now Sprinkle.
Before Frey joined the MSU roster, only three Norwegians could be found on rosters across the entire country. Growing up in a country where winter Olympic style sports, soccer and team handball are the dominant sports, playing in front of a passionate fan base was something Frey wanted. He attended the Gold Rush football game on his official visit and was sold on the passion of the fans that support the Bobcats.
"Where I come from, basketball isn't big so it was awesome coming to a place where it actually matters," Frey said. "All the hard work you do, what you achieve on the court, it actually matters and people care. I thought that was the coolest thing and I was amazed by that and the support by the Bobcat community in general."
Staale Frey and Hege Gilea Frey, Harald's parents, are among the most accomplished basketball players in Norway's history. Staale was the captain of the Norwegian national team for 10 years, playing in more than 70 games in international competition. Staale has also worked the last several years as a physical therapist and trainer for the Norwegian Olympic team, working with athletes across various sports.
Harald doesn't remember the first time he touched a basketball he was so young. He began playing organized basketball at the age of eight, learning the importance of the mental part of the game early on from a set of parents with backgrounds in the game.
During his time playing at Wang Sports Academy and as an amateur for the Centrum Tigers of the BLNO, Frey played against grown men. As a teenager, Frey had decent height but was very slight in build, so he had to learn to navigate the paint by finding angles and using his cerebral abilities.
When he first arrived in Montana, he learned right away that his edge against the hyper athleticism that exists in the American game would be almost all cognitive.
"Where I grew up, basketball is a thinking man's game so I knew right away when I got here, that would have to be my forte because guys over here are so much more athletic, taller, stronger," Frey said. "I've had to find other ways to beat guys without being as quick as they are. The European style is to beat the other team with execution and work together to get your baskets instead of overpowering them with physicality."
Frey used that mental savvy to exceed the expectations of anyone in the Big Sky, including Fish, in his first season. Frey even surprised himself.
That season, he became the second straight Bobcat to earn Big Sky Freshman of the Year honors, following Hall. Frey was second-fastest Bobcat to score 300 career points and only the second Bobcat freshman with 70 3-pointers and 100 assists in a season. He averaged 13.8 points per game in Big Sky games.
Frey's biggest adjustment came in the classroom instead of the court. He started taking English classes in second grade but adjusting to other classes being taught in English was a challenge.
His love of basketball also helped accelerate learning a second language. Because he loved the NBA from a young age, he consumed all of its coverage in English.
"Talking about how small basketball is in Norway, to see basketball, know basketball, learn basketball, that mostly happened in English," Frey said. "When I wanted to follow the NBA, there's no Norwegian coverage of that so all that coverage and everything I read had to be in English."
Over the last four years, Frey has done as many interviews with the media as any Bobcat athlete. He answers questions thoroughly, articulately and politely. His ability to break down the game is a testament to his basketball IQ as well as his intelligence.
That IQ stands out to those who compete against him.
"What stands out is how incredibly smart he is on both ends of the floor," Idaho head coach Zac Claus said. "How well he handles the ball, how good of a decision maker he is off of on-ball screens, Danny (Sprinkle) has done an awesome job of making him the focus of everything they do offensively and moving him around and putting him in opportunities to make positive plays. But even on the defensive end, Harald is such a disruptive force defensively, more so when he is off the ball than on it.
"He has got to be about as good of a teammate as there is in the league. His guys play hard with him. You can just tell they gravitate toward him. He's done a tremendous job of leading them in this, his senior year."
The degree Frey will soon earn in psychology has also helped him become one of the great leaders in the league even with his friendly nature.
"His basketball IQ is very high and his IQ is very high; he's a very intelligent person," MSU senior guard Ladan Ricketts said. "He's a very great leader. That might be something that some people don't see. He does a lot during practice and behind closed doors but he keeps guys accountable, giving guys advice, leading the team on the floor, does everything for us."
In between that breakout freshman year and this outstanding senior season — Frey earned All-Big Sky accolades for the fourth time in his career earlier this week, securing his first nod to the first team — Frey proved to be the perfect facilitator and secondary scorer alongside Hall.
As a sophomore, he averaged 13.4 points and 3.2 assists per game. As a junior, he earned second-team All-Big Sky honors by averaging 17.2 points and five assists, including 19.7 points and 5.2 assists in league play. He and Ja Morant, a Murray State product and currently the front-runner for NBA Rookie of the Year for the Memphis Grizzlies, were the only two players in the country to register single-game totals of 30 points and 10 assists in the same contest.
"He's one of those kids who it has been fun to see his improvements," Weber State 14th-year head coach Randy Rahe said. "You saw him as a freshman and he was a good little player. But you could see that his basketball IQ and his feel for the game was off the charts. You could see him start to get rapidly better.
"As he has gotten better, he has taken more responsibility, more scoring responsibility, more defensive responsibility. That's the thing that stands out to me the most is every year how much better he's gotten."
Frey's senior season began with a highlight. He tied a career high by pouring in 34 points as MSU pushed No. 17 Utah State to the brink in an 81-73 loss to open the Sprinkle era.
A few weeks later, Frey's half court buzzer to beat UNC-Greensboro at their own invitational tournament was the No. 1 play on ESPN SportsCenter.
And his final performance in Missoula is one that will not be soon forgotten in the scope of the fierce rivalry. The first night of February at Dahlberg Arena, Frey poured in a career-high 37 points. He hit a season-best seven 3-pointers.
"He is a guy who can beat you in so many ways," Rahe said. "He can score the ball but he doesn't force it. He lets it come to him. His passing ability is unreal and he can beat you with his feel for the game as much as his scoring ability. He's a guy where how much better he makes his team is off the charts. You have to pay so much attention to him. And other guys who you pay that much attention to can't beat you except scoring. Well he can beat you with his passing as well.
"The impact he has had on his team is huge. You could say he's an MVP type guy just because of the impact he's made and how much better he has brought those guys along to be better, too."
Like so many other times in his career, Frey's individual excellence did not equate to team success that night in Missoula last month. His first three seasons at MSU, the Bobcats never finished higher than sixth in the 11-team Big Sky. Montana State outlasted last-place Idaho in the first round of the Big Sky Tournament last year for the only postseason win of the Fish era.
"I'm not going to lie, it's been tough and we obviously wish we did more with the talent we had because I think we had the pieces," Frey said. "We have had a lot of talent."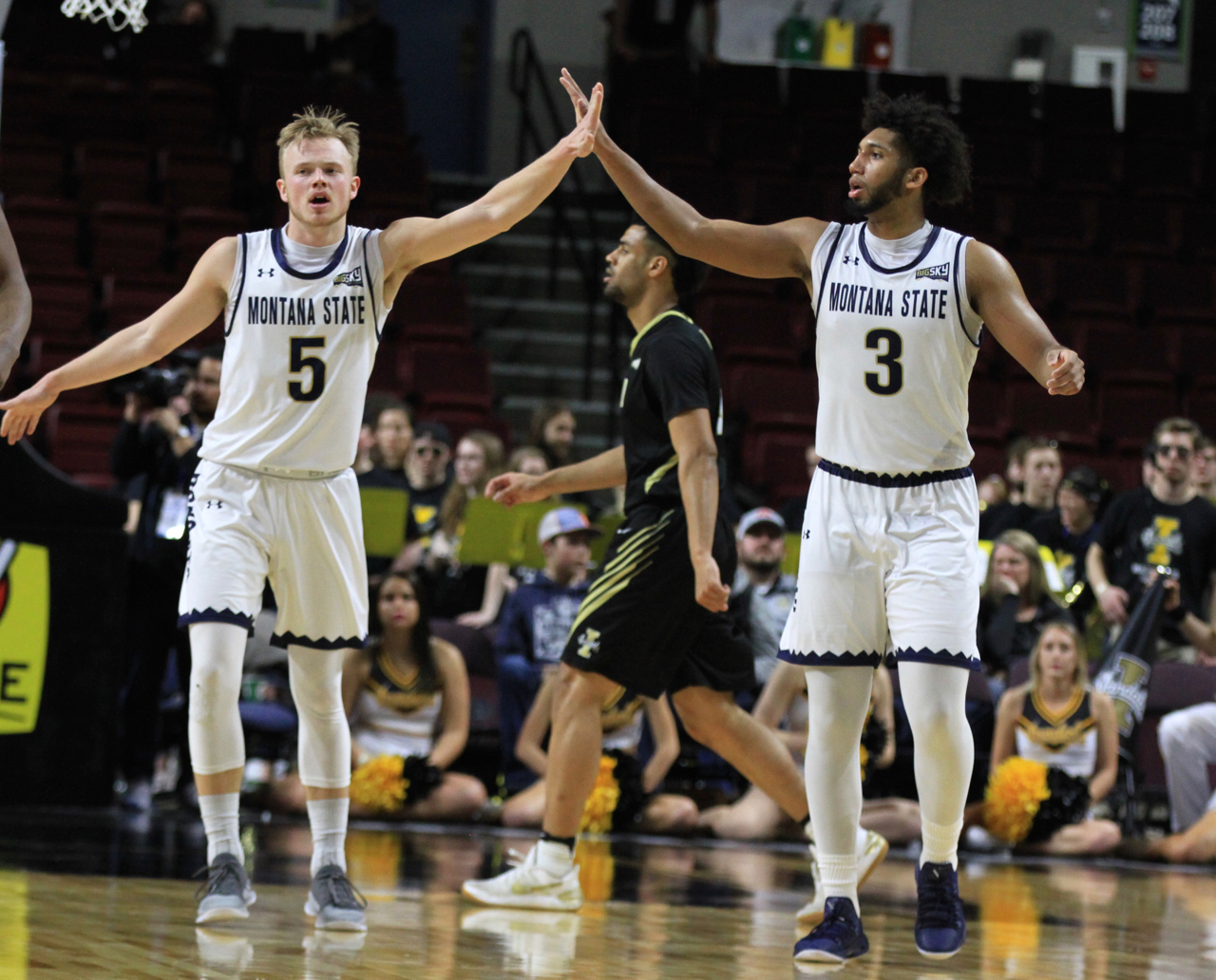 This season, the Bobcats are better despite the graduation of Hall and fellow NBA G League player Keljin Blevins. MSU went 10-10 in league play, good enough to earn fifth and the first round bye that goes with it. MSU is 16-15 overall and with the cancellation of the tournament, secured its first winning season in 10 years.
Frey has spent the last two summers playing for a Norwegian national team he helped revive, setting the table for him to play professionally overseas if he so chooses. In the spring, he will earn his psychology degree with a minor in coaching.
Before he moves on to the next chapter of his life, Frey was trying to pen a storybook ending to his current one. If he could've lead the Bobcats past Portland State on Thursday, he will have helped MSU achieve its best season in nearly 20 years. Instead, his career ends with many questions, none of which center upon his legacy.
It's certain that the mark Frey has made on the community of Bozeman and the Montana State athletic department will resonate. And the impact his time as a Bobcat has made on him is something that has changed Frey's life forever.
"It's been everything to me," Frey said. "I feel like I have grown up here. I feel like I have gone from a teenager who just wanted to play some basketball to becoming my own man. I realized that I didn't quite grasp getting a free education, getting a degree, what that truly mean and how much that gives me a head start and how important that is.
"I also learned how important it is to conduct myself every day because I am in a position of influence and I try to use that for something better. And I learned to not take people for granted. There are people donating money every year. I have advisors that look after me every day. We have professors who want me to succeed in the classroom. We have all these people who have invested so much in me and I feel like I could never thank them enough for what they've done for me.
"It truly takes a village to raise a kid and that's true in this sense, too and that's what I try to tell the younger guys. Before they know it, they are going to be in my shoes, have a few weeks left in their basketball careers, so take it all in and be grateful along the way."
Photos by Brooks Nuanez. All Rights Reserved.