BOZEMAN, Montana — About 90 minutes into Montana State's second practice of its 2019 fall camp, the Bobcats decided to have a little fun.
A parade of stout players — every one of them an offensive or defensive lineman — fielded punts from All-Big Sky Conference senior punter Jered Padmos. A few of the more massive Bobcats caught the booming boots, including a catch by massive true freshman Tua Areta. The broad nose tackle fell to the Dyche Field grass after securing the punt, drawing an eruption of cheers from his new teammates.
In the end, the offensive linemen outlasted their defensive counter parts. The defense, wearing white jerseys, had to run a down and back as the loser of the competition.
"It can't be all work and no play," Montana State fourth-year head coach Jeff Choate said. "But the bottom line is this: we had a group of guys who were here all summer and I took those guys. We have to condition, we have to be able to run, we have to be in great shape."
During his first two seasons at Montana State, Troy Andersen has hardly lost an individual competition, especially when it comes to in-practice conditioning drills. For two years, Andersen has worn a blue jersey or red jersey, practicing with the Bobcat offense. The running back turned quarterback turned linebacker is now playing defense. As a freshman and sophomore, Andersen routinely ran past MSU's skill position players. Saturday, Andersen dusted his fellow defenders.
As he crossed the line first — just as he did so many times during his champion sprinting career at Beaverhead County High in Dillon — during the initial down and back following the punt fun, Andersen looked back at his pursuers and said, 'Where y'all at?"
By the end of practice, the Bobcats were forced to endure a grueling conditioning test. For most of the final 15 minutes of sprints, various Bobcats tried to take down Andersen. Padmos, a three-sport star during his prep career at Jefferson County High in Boulder, beat Andersen a few times.
Junior linebacker Daniel Hardy out-leaned Andersen at least once. True freshman Ryan Lonergan showed his fortitude by beating Andersen across the line on several different occassions.
"The rest of the guys are just saving their energy," Choate said with a laugh. "'I can get him once, you can get him once.' But Troy only knows one speed, even when he's gassed."
It's a testament to Andersen's peerless gifts that even post-practice conditioning turns into a competition to take down an athlete Choate said is "one of the most gifted I've ever had the pleasure to coach," going on to compare Andersen to former first-round draft picks Shaq Thomson and Dante Fowler.
"That competitiveness is definitely one of the things we are looking at in that drill," Choate said of Andersen's teammates trying to beat him. "I told them this story so many times they are probably sick of hearing it but we were at the Seahawks camp one time when I was at Washington. The veteran guys get up and talk during the mini-camp. They were giving rookies advice on how to make the team. One of the vets got up and said, 'Hey, I just wait for it to get hard. I just cruise when it's easy. When it's hard, that's when I go and that's how I separate myself. You saw that today with some of that competitiveness."
Toward the end of the conditioning finale, the 6-foot-2, 315-pound Areta was laboring significantly to finish each push. Bryce Sterk, a 6-foot-5, 255-pound Adonis with among the best conditioning of any front player in the Big Sky, slowed down and ran with Areta to help encourage him to finish the grind.
The entire conditioning portion of Saturday's practice, particularly the final scene, served as a perfect example of the family-based culture, player-run program Choate has spent the last three years trying to cultivate. Keeping a balance between treating teammates like brothers and engaging in fierce competition against those brothers during the trials of summer is the balancing act the Bobcats are trying to balance over the next 28 days leading up to their August 31 opener in Lubbock, Texas against Texas Tech.
"It boils over every once in awhile," Choate said with a laugh. "We want to get that thing to 211 and not go to 212 on the water. And it's ok as long as they leave it on the field…As long as they can drop their baggage here and it doesn't trickle into the locker room, they can all understand that it's in the spirit of making each other better."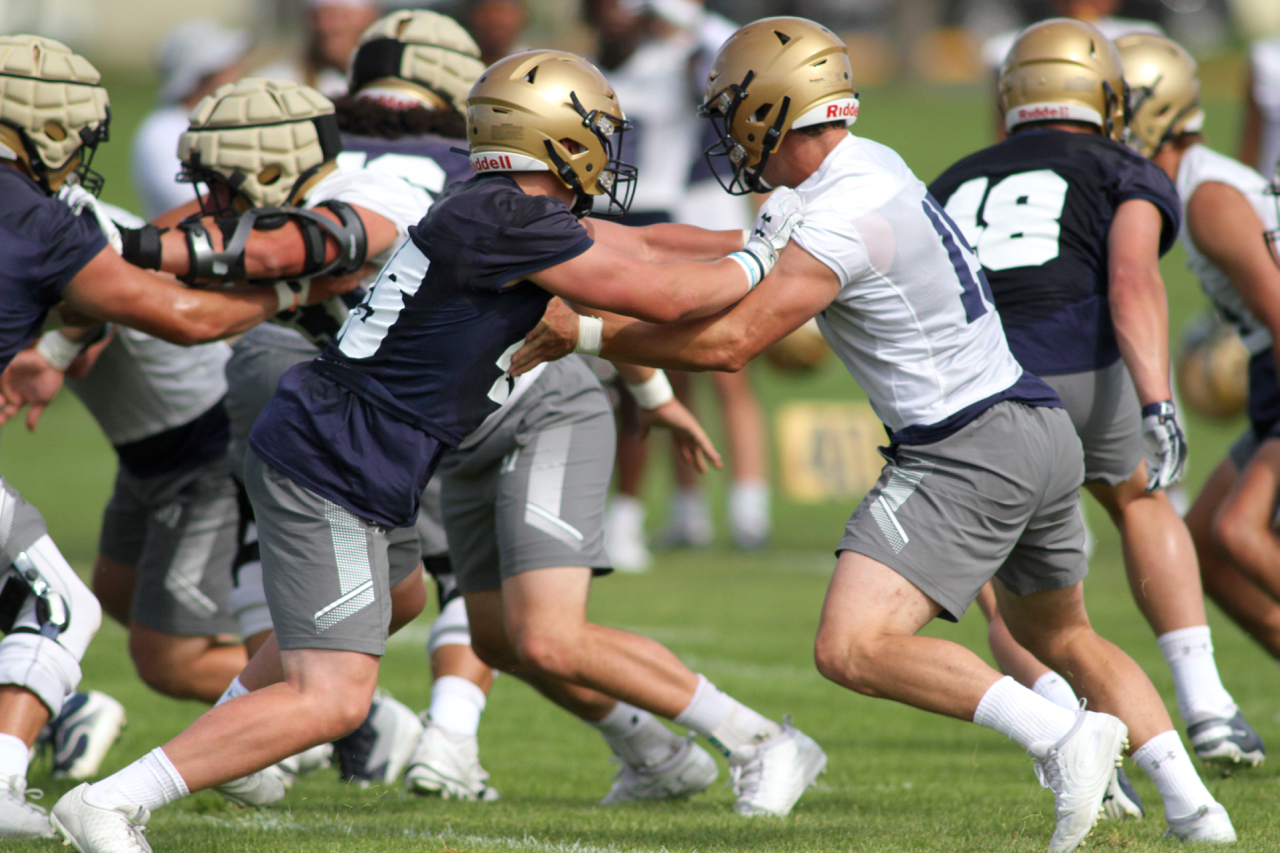 With Montana State just wearing helmets, jerseys and shorts, the physicality among the offensive line and tight ends against the defensive front seven is a fraction of what it will be when the Bobcats don full pads next week. Still, individual rivalries, like senior preseason All-American left tackle Mitch Brott and Sterk, himself a senior and a preseason All-American, are the most entertaining portions of these early practices to watch.
"I think our guys are really good at understanding that it's a brotherly fight," Sterk said. "We have to do it to get better. The harder we go, the more they get better and vice versa. As long as it doesn't carry off the field and there's no fights, it usually smooths over pretty well."
Despite the return of Sterk, senior captain end Derek Marks and hard-nosed junior tackle Chase Benson, the Bobcat defensive line has seen an influx of talent from Washington once again. Saturday, 6-foot-6, 299-pound Washington transfer Jason Scrempos took the bulk of No. 1 reps at nose guard.
Scrempos and Buck end Amandre Williams, who's addition has bumped Sterk to MSU's field end spot, have yet to compete in a game at MSU. Scrempos did not join the Bobcats until this summer. Yet he already feels welcomed to the locker room.
"I just think the culture here is pretty cool," Scrempos said. "A lot of guys are pretty close and connected with each other. I think everyone just wants to win. They are not going to put themselves before someone else. It's such a team dynamic.
"If you are going to take a starting spot, it's going to be because of you helping others. There's no reason to be greedy about anything. I think everyone gets that and they are open to helping others with things they don't get."
Family atmosphere and fierce competition aside, there's no question that fall camps around all of college football are drastically different.
The doomsday, grind players to dust philosophy is a thing of the past. Twice a day practices are now illegal under NCAA rules.
Each fall camp installment at MSU includes stringent structure and scheduling, time for both fun and hard work and a decidedly different vibe than the trademarks of August practices for more than a century in America.
"I just think these guys have got it so dadgum easy, it's ridiculous," Choate said with a sly chuckle. "I understand the reason we are doing these things and I think it's good for the game as a whole. I just feel like I was born too early. Even as a coach, we were doing doubles in Florida, that was not a pleasant experience.
"I applaud the people that are making the changes in the game and I do think it's what is best for the student-athlete but I'm old now so I remember when.
"The good news is I told those guys when we had our last double-day that, 'There is going to be a generation of kids who will grow up and not even know what a two-a-day is. Is that good for society? I think that's something we should all ponder."
And so a camp filled with intrigue sparked by rising expectations marches on in Bozeman. Choate, who is taking care of his own ailing knee after having surgery in the spring, has certainly settled into his head coaching role. The player-run program he desires is close to being fully in place. His roster is much deeper with better top-end talent than the one he inherited.
Navigating the next weeks leading up to the Texas Tech opener will be an interesting test but Choate feels satisfied guiding the process no matter how different fall camp in 2019 might be.
"I don't yell as much," Choate said with a laugh. "I think our kids understand the routine and what we are trying to get accomplished. I think they understand that we are going to be smart with them and build them for game day and not have a ton of contact but get what we need to get to have our saw sharp and ready to go when we get down to Lubbock. It feels easier I guess because we are all on the same page."
Photos by Brooks Nuanez. All Rights Reserved.