BOZEMAN, Montana — People told Jahque Alleyne that even when it snows in Bozeman, the flakes would melt away after a day or two.
When Alleyne moved across the country to resurrect his football career and winter set in as the calendar turned to 2018, the snow started falling. And it never melted like he'd been told.
"Man, I didn't know how to handle it," Alleyne said with a sporting chuckle. "Me being from the South, we don't really get snow so I was like, 'I'm going to drive slow and I'm going to drive fast if I can.'
"When the first snow started coming down, they say it melt the next day. It didn't melt the next day. It kept snowing again. And it kept snowing. It would be sunny, then it would be cloudy…then it would snow. And snow I was like, 'Bro, somebody lied to me.'"
Not even a little dishonesty can keep Alleyne from being driven to complete what he considers a business trip, an experience that has taken him to a whole new world. From New York to the Hampton Roads in Virginia to Montana, the smooth, talented safety has never lost his focus on his goal of becoming a professional. And he's never lost his love of the game that has provided his avenue on an unorthodox yet fulfilling journey.
"One night that first winter, it hit -2 degrees and that was the first time I'd ever seen negative temperatures," Alleyne said. "At that moment, I knew this was going to be a long trip. Basically, this is a business trip. I think Coach Choate know that too.
"If I wouldn't have came here, I would've have known any of these people and they wouldn't know me. It's crazy you end up meeting people across the country you've never even thought about or have never heard of them.
"The end is coming. I am excited to see how we can finish."
Young men coming from across the country to play football in the Treasure State and experiencing a culture that seems foreign compared to their hometowns is nothing new.
During the 2012 rivalry showdown between Montana and Montana State, DeNarius McGhee threw a touchdown to Kruiz Siewing, a perfect example of worlds colliding. Not four years earlier, McGhee had led Trinity High, a school of more than 5,000 students outside of Dallas, to the Texas 6A state championship.
And Siewing was driving from Saco (population: 200) 30 minutes to Malta along Montana's Hi-Line just so he could play 11-man football.
At Montana State specifically, players have flocked to Bozeman from Texas, Southern California, Western Washington, each experiencing a different way of life living in an idyllic town nestled in the heart of the Rocky Mountains.
But very few Bobcat football players have come from a world away like Alleyne.
Adjusting to winter, adjusting to the spotlight of being a Bobcat star, adjusting to living as a minority in Bozeman, adjusting to playing in the Big Sky, overcoming a dislocated knee cap, dealing with the disappointment of being snubbed for All-Big Sky Conference honors; the former Virginia Tech transfer has tackled every challenge head on just like he's tackled opposing ball carriers in two seasons as a ball-hawking expert for a Montana State defense hoping to peak in November.
"Sometimes, with transfers, you might not know what you are going to get with them coming in," MSU secondary coach Kyle Risinger said during the 2018 season. "Que has come in and fit into our culture."
Fitting into differing cultures is what Alleyne has become accustomed to throughout his life. From moving from New York to Norfolk to Virginia Beach as a kid to enduring a coaching change after his first year at Virginia Tech with the retirement of a legend to falling out of favor in Blacksburg to his final collegiate chapter at Montana State, Alleyne continues writing his story.
"I think he really appreciates this second chance," Montana State fourth-year head coach Jeff Choate said last season. "You see that a lot of times when kids have to work really hard to give themselves an opportunity to be on the football field again. I think he's enjoying it and embracing it."
Alleyne has thrived thus far at Montana State. He suffered the dislocated patella in MSU's home-opener against Western Illinois. He only missed two games and ended up leading the Big Sky Conference in interceptions with five. Despite that production, he only earned honorable mention all-conference, a snub that drove him throughout his final off-season as a collegian.
He has just one pick this season but has been productive as a punt returner, a run stopper and any other role the MSU coaching staff has asked of him. And he's provided an element of confidence and swagger to a Montana State secondary lacking in those areas when Choate took over before the 2016 season.
"He brings the South side swag," MSU senior cornerback Damien Washington said. "He's a ball hawk. Even if he's messing up on a coverage, the ball lands in his lap. I don't know how he gets there but he always finds the ball."
Charlie Jackson is the first player to come to Montana State from Virginia. The first black player in school history played a key role on MSU's 1956 national title team. There's no record of any other player from the Old Dominion until Alleyne transferred to Montana State two years ago.
Alleyne grew up in Norfolk and began playing football for the Oakmont Corruptors along with two of his stepbrothers when he was seven years old. In 2006, his mother moved the family to Virginia Beach and he did not play football for two years. He began playing in a rec league when he reached junior high.
"My middle school team was pretty terrible so I didn't want to be part of a losing team," Alleyne said. "I wanted to be part of a good team."
He remembers the transition from Norfolk, where those surrounding him were mostly also African American, to Virginia Beach, "where there was a mixture but most people were Caucasian, was an interesting and influential one.
"When I got to Virginia Beach, it was a culture shock," Alleyne said. "There was a lot of us living in one house. We had moved from an apartment to a town house. When everybody left, my mom decided to stay out there and I stayed."
Alleyne's father, who he says he has always had a good relationship with, still lives in New York, where Alleyne was born. In his younger days, Alleyne spent his summers in the Big Apple but that started to fade as he grew to love Virginia Beach.
"I'm thankful for moving because I don't know where I would be if we didn't move there or what would've happened with football," Alleyne said.
During his adolescence, Alleyne lived six minutes away from the beach. He grew fond of observing all the people from various states, countries and backgrounds that would visit the area known as "the seven cities" or "America's first region."
"It's not like Bozeman, I'll tell you that," Alleyne said in his quick-witted way of speaking. "It's 66 degrees on October 29. It was a great place to grow up.
"We don't really have winter. It was a diverse area. Everybody hung out with everybody for the most part. When football season came around, people who were family didn't even talk to each other. That's how it was where I was from."
When he reached Ocean Lakes High, Alleyne got to dress out for varsity games toward the end of his freshman season. By sophomore year, he was a contributor on a team that went to the state playoffs. His junior year, he rolled up 62 tackles and seven interceptions for a team that went to the state quarterfinals.
The following spring, Alleyne's recruitment picked up. He earned a 3-star rating and a position as one of the top safeties in the region. He received offers from Virginia, West Virginia, Old Dominion, Marshall, Louisville, Kentucky, East Carolina, Charlotte, James Madison and the school he called his dream school as a kid, Oregon.
But when Virginia Tech longtime defensive backs coach Torrian Gray called, Alleyne remembers exactly where he was and exactly how the conversation went.
"I was on the beach with my friends, just finished playing sand soccer and we was on the board walk, going back to the car by Dairy Queen on 17th street," Alleyne remembers some five years later. "Coach Gray called and wanted to touch base and I had my high school coach on the other line.
"I told him I appreciated it and was excited. I knew what kind of defensive back background they have. It's crazy I still remember that to this day."
Alleyne gave his commitment to Gray, VA Tech head coach Frank Beamer and revered defensive coordinator Bud Foster in August of 2014 weeks before his senior season began. Then he helped Ocean Lakes win a state championship.
Beamer's 29th and final season in Blacksburg proved to be Alleyne's first with the Hokies and his only one playing for Beamer, Foster and Gray. Following a win in the Independence Bowl, his 238th at Virginia Tech and his 280th overall, Beamer retired.
"I definitely think of Coach Beamer often, Coach Foster often," Alleyne said. "It was fun being at practice with Coach Beamer, especially special teams meetings, special teams walk threws, especially how he was so mentally prepared and keeping us prepared."
"After they left, it was weird," Alleyne said. "But mentally, you get through it. I just think about the good times I had with that team."
DeAngelo Hall, Brandon Flowers, Kam Chancellor andAntone Exum cut their teeth at Virginia Tech before becoming NFL standouts. Those products and many others helped Blacksburg become a destination for standout defensive backs in no small part because of the tutelage of Gray.
"I still take a lot of pride from what I was taught my freshman year from coach Grey," Alleyne said. "When the actually do let me, I try to implement a lot of stuff we did here."
As a true freshman at VA Tech, Alleyne played in 12 games, mostly on special teams. The Virginia Tech website says he played 75 special teams plays and four plays as a free safety, collecting four tackles. His first tackle came against No. 23 Duke. He also had a solo tackle versus Tulsa in the Independence Bowl.
His sophomore season, he only played in four games and assisted on one tackle. In January of 2017, he decided to transfer. He had second chances to go to Marshall and Old Dominion but thought to himself, "If I don't go to South Carolina, Georgia or Florida, I might as well leave the East Coast." Alleyne finished the semester in the spring of 2017 at Virginia Tech before enrolling in a junior college. After former MSU secondary coach Mark Orphey contacted him, Alleyne made a visit to Bozeman.
"It was definitely different but the snow on the mountains was nice," Alleyne remembers. "I'd never seen anything like that before. Just the environment, the surroundings was completely different than where I'm from. That's the main reason I liked about it."
So he moved to a foreign place across the country from the area he'd always called home. He attended Gallatin College to maintain his eligibility. He worked out at the Pitt, a high performance training center run by former MSU and NFL linebacker Dane Fletcher.
Those first months in Bozeman, he received no sort of financial assistance from the football program. He did not participate in spring football. Alleyne could not be around the team in any competitive form.
With help from his mother, he paid his own way for the first time in his young life, footing the rent bill, buying his own food and even playing Fletcher to train him. He found a room for rent in the Stadium View apartments with a group of young people who were strangers to him when he moved in. For a time, he didn't have a television or a car.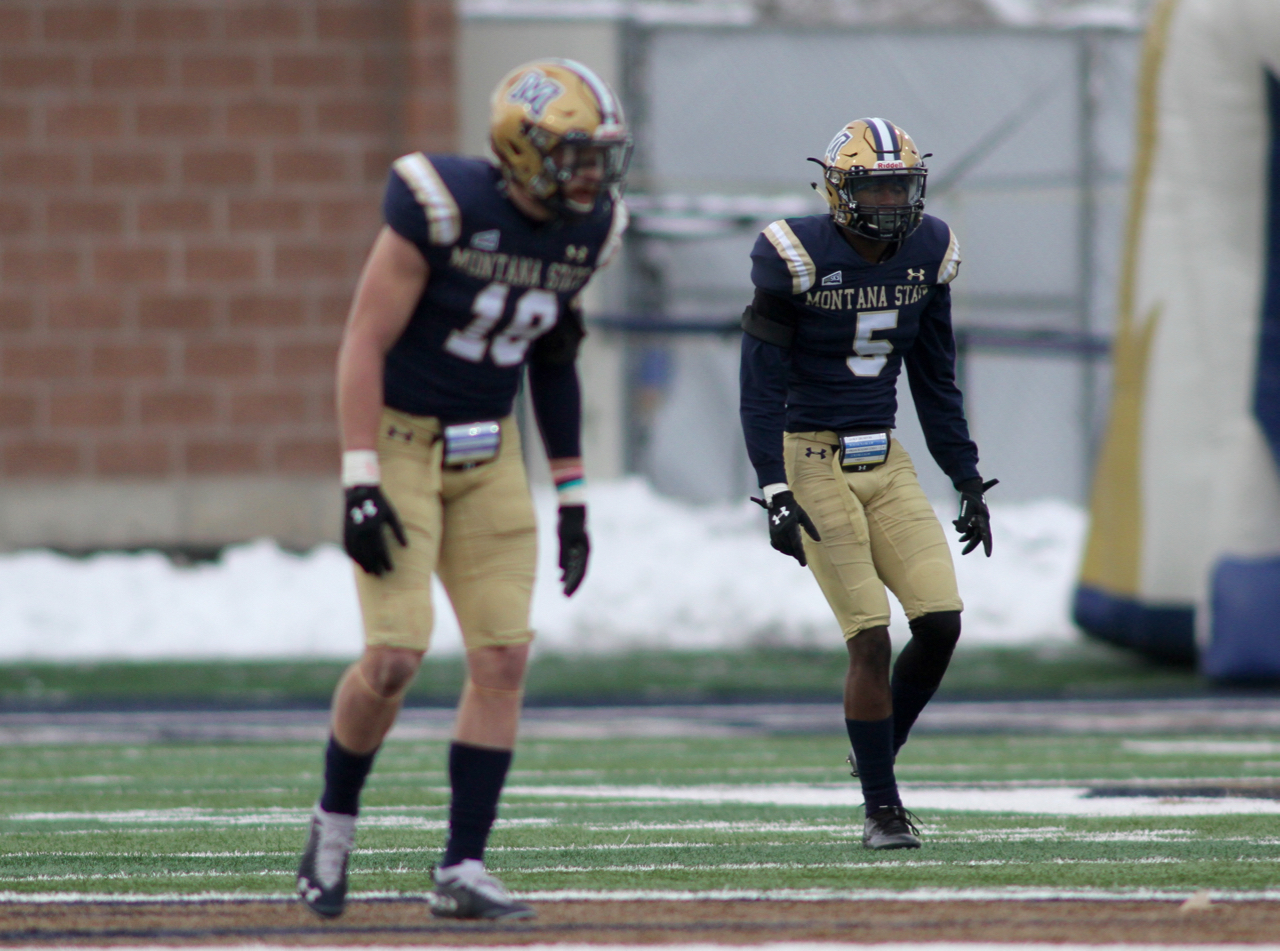 "I'm so thankful they were cool, because I was scared. I still talk to some of those guys.
"I was used to having enough money where I could spend it and have something left but at that time, it wasn't the same as what I was used to," Alleyne said. "It was hard."
"Going to class, nobody really knows who you are. You are just here. You are a kid from a different part of the country. You are just different. I would just sit in class, listen, go about my day, come home. That's it."
Alleyne finally joined the Bobcats in June of 2018. By the end of fall camp, he was a starter. By the end of the season, he was arguably MSU's best defensive play-maker on the back end of a defensive unit that helped the Bobcats reach the playoffs for the first time since 2014.
"He's very smart and he's a very instinctual football player," Risinger said. "He's one of those guys who know exactly where he's supposed to be, sees it so well and it's natural. He's fluid. You can tell watching him play he sees it well. He's always had that in him. The skill set of being quick twitch, being one of our fastest guys, he has had the physical ability and now he understand our scheme and he has that natural ball-hawk mentality and he keeps showing up."
The charismatic defensive back has confidence that is readily apparent. It's also the way he plays the game. So far this season, he has 20 tackles, three tackles for loss, a sack, an interception and he forced a fumble last week.
The 6-foot-1, 180-pounder does not have prototype size to play safety in the NFL. But he has excellent ball skills, fluid athleticism, the ability to field punts (he's averaging 9.2 yards per return) and he does not shy away from contact. Before he makes plans for his future, he is squarely focused on making his business trip worthwhile.
"I want to be a professional," Alleyne said. "I don't even care about being famous. I just want to be on somebody's roster, show them what I can do, do what they need me to do.
"Everybody want to be famous. That's not me. That's not my lifestyle. I like being under the radar."
And he is relishing his final months being under the radar with the Bobcats.
"There is always an opportunity out there for you," Alleyne said. "No matter where you are from, somebody can always find you and find something great in you. That's what I learned out here."
Photos by Brooks Nuanez or noted. All Rights Reserved.