BOZEMAN, Montana — So often when Kevin Kassis caught a pass as a senior at Oak Ridge High in El Dorado, California, the scouts, recruiters and college coaches were watching the player who threw the football rather than the player on the receiving end.
Boise State's coaching staff hoped Ian Book would become the heir apparent to record-setter Brett Rypien. Washington State head coach Mike Leach wanted to land the strong-armed, mobile quarterback to operate his "Air Raid" offense. Even Bobby Hauck, now the head coach for the Montana Grizzlies, expressed strong interest in Book when he was a junior and Hauck was still the head coach at UNLV.
The 3-star quarterback originally committed to Washington State before Notre Dame head coach Brian Kelly came in with a late offer. Book signed with the Fighting Irish and waited his turn behind De'Shon Kizer and Brandon Wimbush. Last season, his first as a starter, Book completed 68 percent of his passes for 2,628 yards and 19 touchdowns to help lead Notre Dame to the College Football Playoff.
Back in high school, Kassis had a hard time getting noticed despite his production. As a senior, the slick slot receiver caught 72 Book passes for 923 yards and 10 touchdowns. Kassis finished his prep career with 110 catches for 1,330 yards and 12 scores. Yet most of his college offers were for preferred walk-on spots.
In December of 2015, Jeff Choate took Montana State's head coaching job. Choate hired Matt Miller, at the time a graduate assistant at Boise State, Miller's alma mater. Miller was aware of Kassis because of BSU's recruitment of Book. Montana State came to the table with a minimal partial scholarship less than a month before National Signing Day in 2016.
As he has most of his life, Kassis decided to bet on himself.
"I believed the things Coach Miller was saying to me," Kassis said. "There were a couple of walk-on options I could've went with but I had confidence in this coaching staff and I believed them. Coach Miller is a genuine guy and I had a good gut feeling about it.
"And I believed in myself."
These days, Kassis has an impossible time not getting noticed. His teammates are constantly giving him a good-hearted ribbing for his suddenly bulging biceps.
"Choate is always making a comment or teasing him for those guns," MSU senior captain offensive tackle Mitch Brott said with a laugh.
More than his chiseled physique — Kassis has put on nearly 30 pounds after coming to Montana State at 175 pounds and entering his senior season weighing more than 200 — or the impressive beard he sported at the Big Sky Kickoff media gathering in Spokane in July, Kassis commands attention from his teammates because of his leadership and tireless work ethic. And he demands attention from his opponents as Montana State's most polished and productive wide receiver.
"When I think about Kevin, I think about one of the hardest working players we have in our program," Choate said. "From the time he arrived on campus, he just out-worked everybody. And he's still that guy.
"When your best players are your hardest workers, it's really easy to point to that example. He really works hard to master his craft. He spends extra time taking care of his body. He spends extra time watching film. He spends extra time out on the field working on the details of his position. And as a business finance major who is going to graduate in three and a half years, it's pretty impressive."
The crafty 5-foot-11 receiver turned heads with his sharp route running the moment he stepped onto campus in the summer of 2016. By the opening of Big Sky Conference play that season, Kassis was Montana State's starting slot receiver.
His breakout moment that rookie season came when he juked a North Dakota cornerback out of his shoes and raced 55 yards to set up a Chad Newell touchdown that cut the UND lead to 17-15 with 1:37 left to play. The Bobcats missed the two-point conversion and lost the first conference game of the Choate era to the eventual league champions.
Opportunities for explosive plays like that have been sporadic at best over the last three seasons. Montana State's offense has operated with a priority on the quarterback run game like no other Big Sky team before the Bobcats. Chris Murray rushed for 1,105 yards as a sophomore in 2017 for a team that finished 5-6. Kassis had 21 catches for 270 yards and two touchdowns.
Last season, Troy Andersen stepped in to set a Big Sky single-season record for rushing yards by a quarterback with 1,412. He scored an MSU single-season record 21 rushing touchdowns. Kassis' production spiked, particularly by recent MSU standards. In his first of two seasons as a captain, he caught 55 passes for 663 yards and three scores.
"He's fun to be around because he loves football and he really doesn't care how many catches he gets," first-year wide receivers coach Erik Frazier said in August. "He wants to win. He's not selfish. He's a breath of fresh air because the receiver position can be a selfish position.
"I preach that in my room that no one man is bigger than the mission of the team. This is traditionally not a big passing team so the guys have to take advantage of each and every opportunity they get. Kevin has bought into that tremendously."
Kassis has never wavered when it comes to putting in extra work, whether it's in the weight room, after conditioning workouts, before and after practice or in the kitchen. That dedication to fitness and nutrition is apparent, particularly when you compare photos and videos of Kassis from 2016 compared to now.
Kassis came to the Big Sky Kickoff weighing 208 pounds. He reported to fall camp weighing 202, what he says is his ideal playing weight.
His muscular definition and physical conditioning is elite, even for a Division I athlete. It's not by accident. He puts in the daily work to cultivate his muscular frame.
"It's been a process," Kassis said. "I came in not the heaviest guy, about 175. But I've believed in the process. We have a great strength and conditioning staff but it comes down to being consistent, every single day, always. I've tried to get the nutrition dialed in. Our fueling station, stuff like that that our program has implemented, that's made a huge difference."
Throughout his football career, Kassis has consulted with MSU dietician Brittany Patera for nutrition advice, even if shopping on a college budget hardly means eating organic foods exclusively. He's also talked frequently with his sister, Kaitlyn Kassis, a dedicated and competitive cross fit athlete who still lives in El Dorado.
"She is 100 percent in better shape and better health than I'll ever be," Kassis said with a laugh. "When I go home, that's who I train with. And she kicks my butt. I don't even try to compete with her. She's in a different class than me."
The constant preparation, diligence and dedication that Kassis has committed to has helped him in all aspects of his life. He has never missed a start since cracking the lineup as a true freshman. He has also been able to operate at a high level academically. He will earn his business finance degree in three and a half years.
And that consistency has given Kassis the confidence to succeed even if he had a hard time earning notice just a few years ago.
"I've worked hard and I've put a lot of time in really gaining confidence," Kassis said. "If I don't prepare, that's when you start to lose confidence. I'm always trying to prepare so I can remain confident."
As Kassis' production has increased, so has his status on the team. He was MSU's lone junior captain a season ago on a team that advanced to the FCS playoffs for the first time since 2014. His increase in catches, yards and touchdowns gave him more authority in his natural way of leading by example.
It also gave Kassis the self-assurance to become more vocal.
"It's been interesting how it's evolved because certainly he's a lead by example guy, that's how I would describe him initially, but he's gotten more confident and comfortable being a vocal leader," Choate said. "A lot of it is he has credibility. When you are the guy who has had 55 catches, led the team, have been a productive player for us and you step up and say this is how we do things, people are going to listen.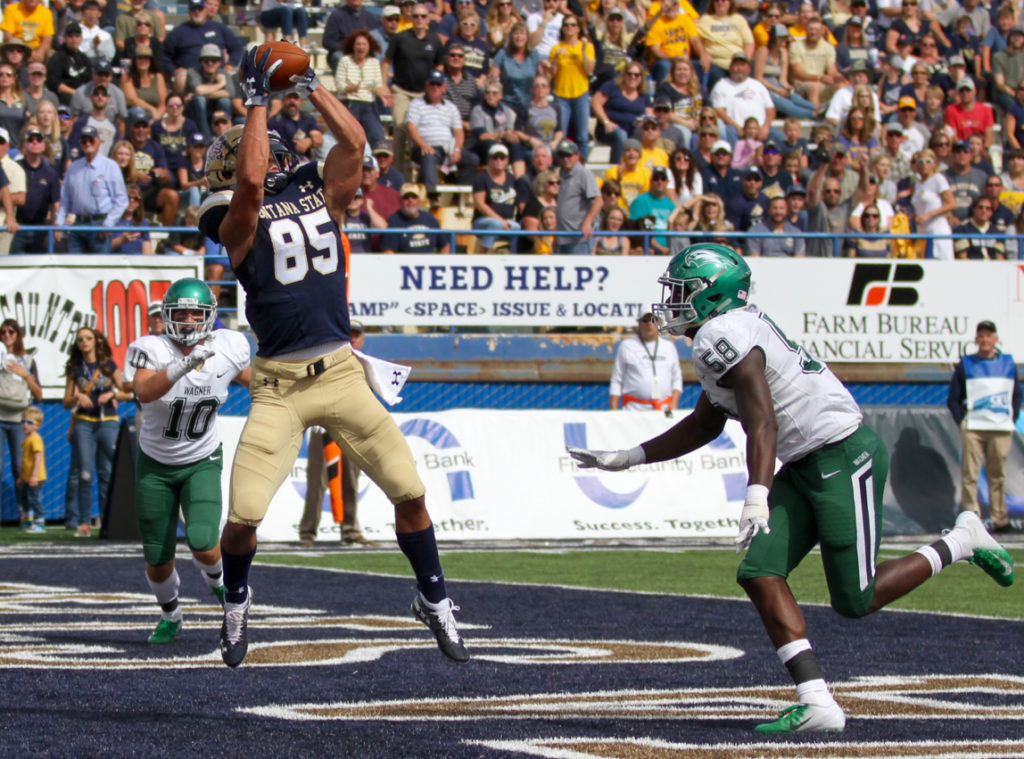 "As he has improved as a player, he has improved as a leader."
Brott, himself the consummate leader by example, credits Kassis for "his great speaking ability." The bruising offensive lineman said on MSU's media day that he can't wait to see what Kassis does in his profressional life "because people just gravitate to him."
The magnetism has also helped Montana State's rookie quarterback feel more comfortable. Last week, redshirt freshman Casey Bauman made his first career start in MSU's 45-10 loss at Texas Tech. Of Bauman's seven completions, one came courtesy of a highlight-reel Kassis catch.
"The way he works in the off-season, he's always leading by example, always doing the extra stuff," Bauman said. "He's always pushing people and he's a great guy to have around in the locker room. And the way he performs on the field, that gives me a ton of confidence, too."
On Saturday, Kassis will run out of the Bobcat head onto the Bobcat Stadium field for his final "Gold Rush" home opener. Montana State has a crucial showdown against Southeast Missouri State, a upstart from the Ohio Valley Conference that is ranked No. 12 in this week's STATS FCS Top 25 poll, one spot ahead of the Bobcats.
Saturday night will mark the first in a string of lasts for Kassis.
"When I came in, I didn't really expect to be a captain or really even play," Kassis said. "I just wanted to help this team out. I think guys see me as someone to look to and I feel honored to have reached that point.
Kassis credits his parents, Steve and Gina Kassis, for instilling discipline in his life from a young age. He remembers watching videos of Walter Payton and Jerry Rice running hills and grinding toward greatness when he was a kid. He remembers lifting weights with Steve as a kid. He remembers observing his father's diligence in his daily work in medical sales.
From the camaraderie of the locker room to the pre-game pageantry to the dedication of the Bobcat fan base, Kassis is trying to take it all in over the next few months. He plans on trying to play football as long as he can, expecting to participate in MSU's Pro Day next spring.
Before any of that, Kassis is trying to project the confidence that has benefitted him so much personally into the rest of the Bobcat roster, a collection of talent with lofty aspirations this season.
"I just want to win," Kassis said. "When you go 4-7 your first season, it's not fun. I have a chip on my shoulder. There's some teams around here (in the Big Sky) who didn't think I was good enough to play for them. It's motivation. I just want to win for our guys, the other seniors and the program. Getting a ring and winning the Big Sky is definitely what's on my mind."
Photos by Brooks Nuanez. All Rights Reserved.