Tricia Binford's team is trying to defend a championship. Her team's last trial before the official defense of Montana State's Big Sky Conference women's basketball title begins came on December 22 against a nationally elite opponent.
The revamped Bobcats got an up close and personal look at another champion, one who has extensive experience repeating its title.
"We saw a championship team on the floor today and it wasn't us…yet," Binford, MSU's 16th-year head coach, said following her team's 82-67 home loss to South Dakota State, said earlier this month. "We are still hurting ourselves. South Dakota State, they are locked in. They do it every possession. Talent is the first piece but learning HOW to be a champion is essential if you want to win a championship."
Since 2009, South Dakota State has advanced to the NCAA Tournament nine times. The 2003 Division II national champions have capitalized on that tradition, winning five regular-season conference championships since moving to Division I and playing in the Big Dance every spring except 2014 and 2017 over the last 11 years.
In 2014, SDSU lost in the WNIT championship game. In 2016, the Jackrabbits upset No. 5-seeded Miami in the first round of the NCAA Tournament. And in 2019, South Dakota State advanced to the Sweet 16, beating No. 3 Syracuse in the second round to get there.
Binford has established one of the top programs in the Big Sky and the Rocky Mountain West, one she hopes can reach the level of SDSU. The Bobcats have won three of the last five regular-season Big Sky championships.
But MSU only advanced to one Big Dance under Binford, qualifying in 2017. The season before that breakthrough, the top-seeded Bobcats lost on a half-court buzzer-beater to Idaho State in the quarterfinals of the league tournament the first year the postseason was held on a neutral court.
Last season, Montana State rung up 17 straight wins following a one-point loss to Idaho early in conference play. The Bobcats ended up winning a Big Sky-record 19 conference games and tying a school record with 25 overall wins. But what is likely the greatest team in school history did not get a chance to affirm that notion.
A squad led by five seniors, including league MVP Fallyn Freije and Freshman of the Year Darian White, advanced to the league tournament championship game only to have the contest and the impending trip to the NCAA Tournament called off.
Montana State must find a way to replace Freije and second-team All-Big Sky combo guard Oliana Squires along with the fluid and cohesive post platoon of Madeline Smith and Blaire Braxton, plus sharp-shooting, versatile wing Martha Kuderer entering this week's Big Sky-opening double-header against Southern Utah.
MSU went from one of the oldest teams in the country to a team, by national metrics, is the youngest in Division I women's college basketball. White and returning senior Tori Martell, the reigning Big Sky Top Reserve, headline a rotation that also features five freshmen, including as many as three in the starting lineup during the latest truncated non-conference schedule.
So how do you teach a collection of new faces to defend a college conference championship?
"It's demanding the maturity every day," Binford said. "We are going to obviously lean on Darian and Tori as they have played critical minutes. They know what it takes to prepare.
"That's one thing I did like about our preseason: we actually had to play on the road and that tests you with being ready to go and locked in. For us, the focus, the locked in discipline, that's where we need growth. And that's really what champions are able to do."
The Bobcats plowed through a challenging non-conference schedule that heeded wins over former Big Sky champion North Dakota and mid-major power Portland along with losses at BYU (72-58), Utah (73-63) and SDSU.
Thursday at 5 p.m. the Bobcats officially begin their title defense with a game at Southern Utah. Montana State is the only school in the Big Sky that has not opened conference play this season.
"We are excited about a brand new season, starting 0-0, conference is beginning — for everyone else, I know that conference has already started — but for us, this is a brand new season," Binford said. "I think that is going to be fantastic."
This year's Bobcat squad certainly will go as White, a budding All-American candidate, goes. White had a legitimate case to be on the Big Sky's first or second all-league team as a rookie. Her relentless defense and deft playmaking made the Boise product one of the best on-ball players in the conference last season.
Leading up to her sophomore season, White improved every element of her game. She's a better ball handler, a stronger athlete, a more well-conditioned player particularly when it comes to breaking and employing the full-court press, a better athlete, a better shooter and so much more.
She won Big Sky Player of the Week after leading the Bobcats to an 80-67 win at Portland, a team ranked in the Top 25 of that week's Mid-Major Top 25. White exacted her will that afternoon, scoring 24 points, grabbing 11 rebounds and dishing out nine assists, falling one dime short of the first triple-double by a Bobcat in 15 years.
White enters Big Sky play averaging 19.4 points, 5.5 rebounds, 4.6 assists and 3.6 steals per game. She's shooting 52.2 percent from the floor, 36.4 percent from beyond the arc and 75 percent from the charity stripe.
South Dakota State held White in check more than any team this season. She finished the loss with 14 points, five assists and five rebounds. Only the assist total wasn't a season low. Still, Binford knows her protégé point guard will be MSU's key to hanging another banner.
"You can't keep her off the (score) board; she's too dynamic, too quick," Binford said. "You can force her to be more of a kick kind of player and I think that's where I'm going to help this young lady grow. She's used to getting into the paint at will. Some of these teams like South Dakota State do a great job of forcing you to kick early. I think I need to develop some action into our swing offense just getting the ball out of her hands and then back into her hands, finding that kind of balance."
White hardly experienced an initiation to the Big Sky last season. Instead, she took the league by storm with her speed, quickness and relentless mindset. Now as only a sophomore, she is tasked with leading a group of players mostly of equal age — sophomores Kola Bad Bear and Madison Jackson have assumed spots in the starting lineup — or younger looking to replace one of the most decorated groups of veterans in school history.
True freshman forward K.J. Limardo has stared five games and played more minutes (25.9 points per game) than any Bobcat besides White and Martell. Rookie Taylor Janssen has started two games and is playing nearly 23 minutes a game.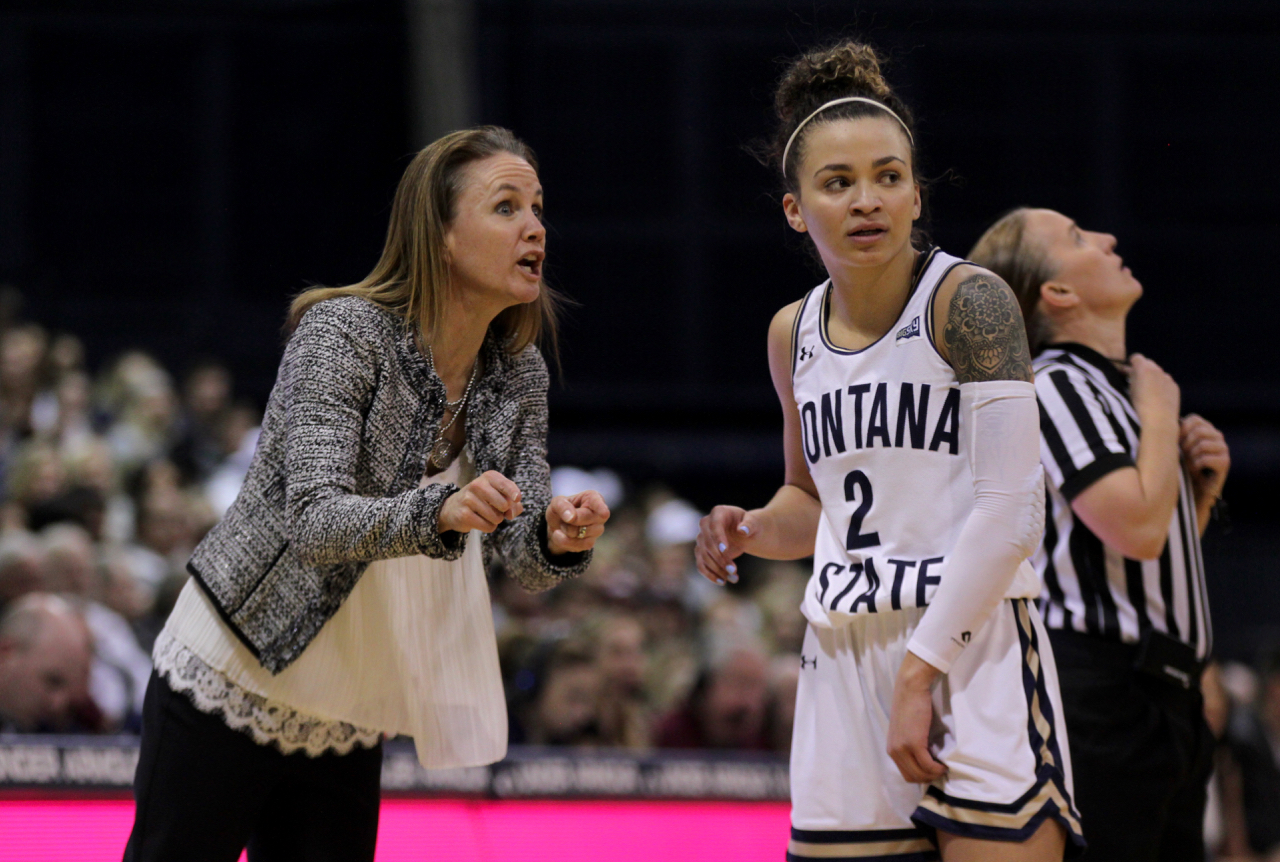 True freshmen post Lexi Deden (14.2 minutes per game), guard Leia Beattie (12.8 minutes per game) and Ava Ranson (8.5 minutes per game) are all substantial parts of MSU's rotation.
White knows what it's like to enduring a conference schedule as a rookie that is called upon to contribute and now she's trying to lead the way.
"Because things are so weird, what I learned from last year, what I wanted, what I got as a freshman, I just want to give them confidence," White said of the younger players she is now leading. "We want to be a selfless team but I want to encourage the freshmen to keep shooting shots.
"Like I tell them, I don't care if you turn the ball over, I don't care if you miss five shots in a row. I just want you to be tough-minded and keep giving that effort that we want and we expect. Giving 110 percent, I don't care what happens because having that attitude and consistency makes the biggest difference on the floor."
If that's a mindset the Bobcats can collectively harness, repeating as league champions in a conference that also includes experienced squads in Idaho, Idaho State and Northern Arizona is not out of the question.
"The conference is very tough. There are two or three teams that have a lot of experience returning. But if we can stop beating ourselves, I think we are going to be as good as anyone in this conference if not the best," Binford said. "I think we have the most depth and I think we have tremendous talent. I'm just not sure we know how to play with each other yet."
Montana State tips at Southern Utah at 5 p.m. on Thursday night and at noon on Saturday.