MISSOULA, Montana — Bruce Barnum has become the official spokesperson for "Dot's Pretzels" in the Western United States.
Portland State's head coach is so proud of the North Dakota "delicacy" that he gives away and plugs Dot's whenever he can. In his office, Barnum has photos of moments from memorable PSU victories over the last five seasons.
One of the biggest victories of the Vikings' 2018 season came when true freshman kicker Cody Williams drilled a 52-yard field goal at the buzzer to life Portland State to its first-ever win at Washington-Grizzly Stadium, 22-20, over the Montana Grizzlies.
"One of the biggest carry overs is Dot's Pretzels," Barnum said on Tootell and Nuanez during the week leading up to the opening of Big Sky Conference play. "I got Bobby (Hauck's) box sitting here right in front of me and I'm sitting here trying to figure out when to send it.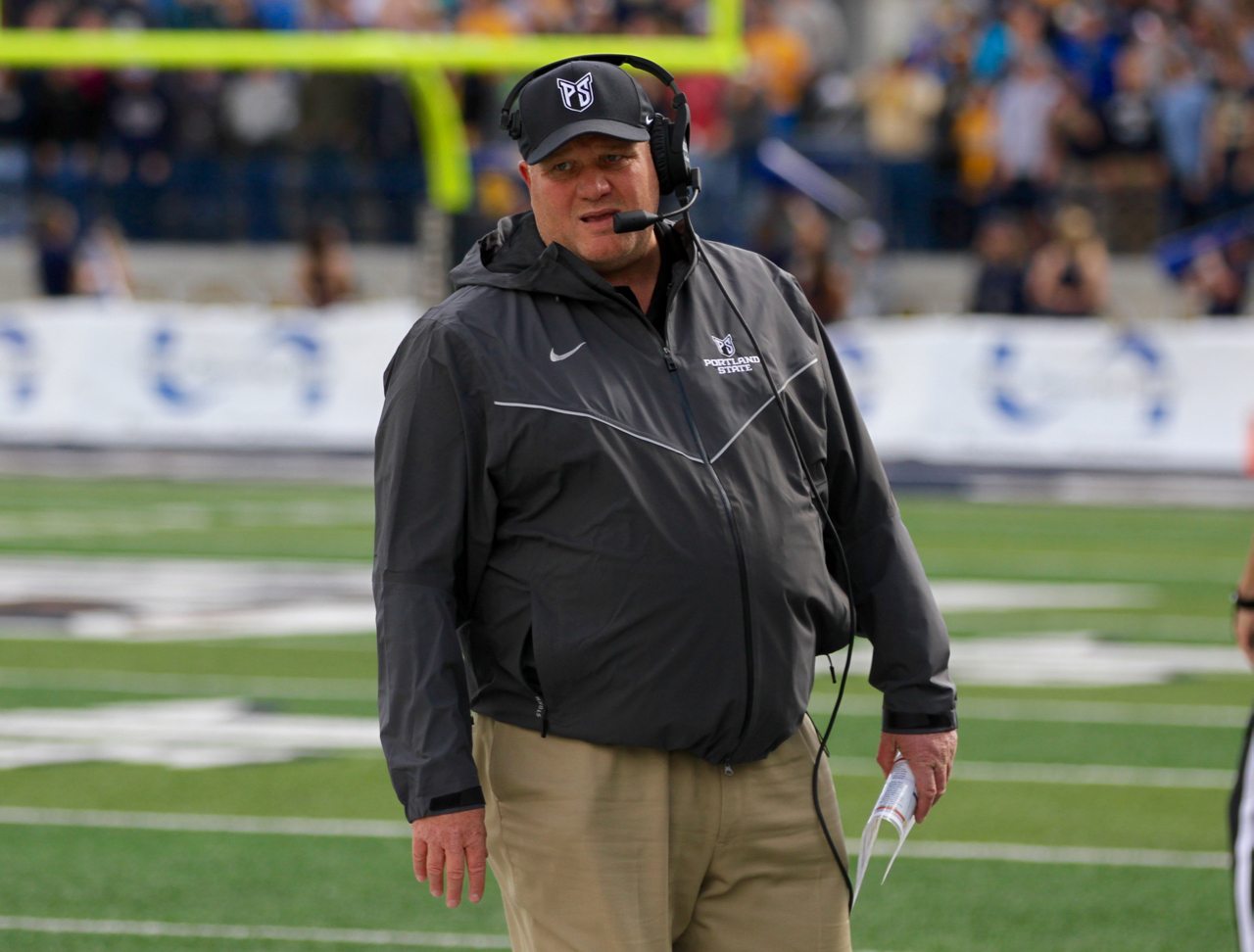 "They sent me about 10,000 pretzels a month. I'm feeding them to the homeless. I'm feeding them to every team at Portland State….so I have a picture of my kicker at Montana and Nut, my kicker, the picture is from the end-zone looking out at the end-zone and the ball is a "Dot's Pretzels" bag.
"I showed it to Hauck at the get together have a hamburger thing in July when we were shooting the bull after the meetings and he started laughing. And I said, 'You know what? I'm going to send the mighty Griz some Dot's Pretzels."
As the Grizzlies and the Vikings get set for the rematch outside of Portland at Hillsboro Stadium on Saturday, Hauck said the box of snacks has yet to arrive.
"He's fibbing because he's supposed to send me a bunch," Hauck said with a chuckle during his Monday news conference. "It's never showed up. So either the neighbors are stealing from my front porch of Barney has not followed through."
All jokes and snacks aside, last season's thriller in Missoula has not been forgotten by the Vikings.
"It was a big one for us of course because nobody ever wins in that place," Barnum said. "I've been an assistant coach, a head coach and I've never won there until that game. We've been close. But never."
Portland State has already won more games (five) this season than they did last season (four). Barnum's squad, ironically, is coming off a 31-29 loss to Northern Arizona. Luis Aguilar hit a 38-yard field goal with four seconds to play.
And a Montana team that has already won as many games (six) as it did last season is hungry for another shot at revenge. UM has already avenged last season's meltdown at home against UC Davis by whipping the Aggies 45-20 earlier this season.
"I think you ought to be excited to play every week," Hauck said. "We only get 12 this year and 11 most years. But certainly, when a team beats you the year before, they have your attention. I guarantee you that."
Montana defeated Eastern Washington 34-17 in Missoula despite missing senior quarterback Dalton Sneed. The Griz rushed for 254 yards on a season-high 55 rushes, including 131 yards on 26 carries for Marcus Knight, who scored three touchdowns on the ground.
"Certainly, that was a good win for our team," Hauck said. "We played a team that had played in the national championship game a year ago and had 16 senior starters. We beat them with our backup quarterback. I think that shows a lot of progress for our football team."
Now the Grizzlies prepare for the Vikings, a team with an anomalous schedule featuring non-conference games against Arkansas and Boise State along with Division II Simon Fraser and NAIA Southern Oregon.
In league play, PSU gave up 41 first-half points in a 51-24 loss at Idaho State. Portland State ripped off three straight conference victories, defeating Southern Utah (52-31), Idaho (24-0) and winning 38-30 at Northern Colorado. The two-point loss to NAU was Portland State's first this season.
"They are well-coached, athletic and they are undefeated at home this year," Hauck said. "We know we have to go compete."
QUICK HITS
Location: Portland, Oregon
Nickname: Vikings
Founded: 1946. Oregon's largest school is the only public university in the state located in a major metropolitan area.
Enrollment: The commuter school has 28,241 students and a $73 million endowment.
Stadium: Hillsboro High School Stadium is a multi-sport stadium in the northwest United States, located in Hillsboro, Oregon, a suburb west of Portland. Opened 20 years ago in 1999 and owned by the city of Hillsboro, the award-winning stadium is part of the Gordon Faber Recreation Complex located in the northeast part of the city, adjacent to the Sunset Highway.
The facility hosts home football games for Portland State University and Century High School, plus state playoff games for the Oregon School Activities Association's smaller school divisions. Hillsboro Stadium is also used for baseball, softball, soccer, and lacrosse and has hosted college and professional teams.
PSU is averaging 3,606 fans per game in four home games so far this season.
"I haven't been there so I'm probably the last one to ask," Hauck said. "When I was here before, we always played downtown. I don't really know."
THE TEAM (3-2 in Big Sky play, 5-4 overall
The Coach: Bruce Barnum, fifth season at Portland State. Barnum wrote one of the most compelling and entertaining storybook beginnings to a head coaching career when the longtime assistant took over at PSU in 2015.
Barnum had served as the Vikings' offensive coordinator on Nigel Burton's staff from 2010 until 2014. He took over a program fighting for its football life. And the life he injected into the Portland State program will remain the stuff of legend that first season.
Despite having no travel budget and riding a bus to all but one road game, the Vikings defeated two FBS opponents (Washington State, North Texas) and five ranked FCS opponents on the way to nine wins and the No. 6 seed in the FCS playoffs.
Barnum has worked to reach that level again, largely moving away from PSU's transfer-heavy recruiting style to prioritize high school talent. Portland State won just three games in 2016 and went 0-11 in 2017. But last season finished with three Big Sky wins and four wins overall. And this year, the Vikings have won three league games and five games total.
For now, football remains alive at Portland State.
"Barney is a great dude, great friend and he does a great job," Hauck said. "They make a lot out of a little. After our game last year, I told him I was proud of him for coming in here and getting us. We have our hands full and they do a nice job."
Barnum is 21-33 overall at PSU, including 14-23 in league play. He is 2-1 against Montana, including 1-1 in Portland against the Griz.
PLAYERS TO WATCH — The Offense
Davis Alexander, quarterback, 5-11, 195, junior — The Gig Harbor, Washington native backed up Jalani Eason for the first part of each player's freshmen seasons in 2016 before eventually taking over as the full-time starter under center. He has steadily improved ever since.
As a rookie, he completed 57 percent of his passes for 1,233 yards, five touchdowns and three interceptions while rushing for 120 yards and two TDs. As a sophomore, Alexander used his legs to get out on the edge more often, throwing for 1,786 yards, 11 touchdowns and seven interceptions. He also ran for 424 yards and 12 touchdowns.
This season, Alexander is having his best campaign yet. He is completing nearly 60 percent of his passes for 2,046 yards, 15 touchdowns and four interceptions. He has also already set a career-high with 432 rushing yards and four rushing touchdowns.
"The quarterback, Davis Alexander, is having a big year," Hauck said. "He's veteran. He does a nice job."
Alexander leads an offense that ranks fourth in the league in scoring (35.4 points per game), fifth in total offense (458.8 yards per game) and third in rushing offense (212.8 yards per game).
Charlie Taumoepeau, tight end, 6-3, 245, senior — Opposing coaches and media alike have struggled with pronouncing the hulking tight end's last name. But he is so prevalently referenced, most figure out a way to abbreviate it or give Taumoepeau a nickname.
"There is touchdown Charlie, who is the best tight end I've seen in awhile," Hauck said. "He's certainly the best one we've seen this year to date."
Taumoepeau's resume speaks for itself. The 2017 All-Big Sky selection earned second-team All-American honors last season after catching 28 passes for 580 yards (20.7 yards per catch) and five touchdowns. He led the country in touchdown catches with all five scoring snares three weeks into the season. He struggled with injuries during the second half of the season but still earned first-team All-Big Sky honors.
"He has great play-making ability, he is big and he's fast," Hauck said. "That's what the great tight ends look like is what Charlie looks like."
Entering his senior year, Taumoepeau had 73 catches for 1,253 yards and eight touchdowns during a 20-game span and 81 catches for 1,402 yards in his career. This season, he's added 25 catches for 366 yards and a touchdown.
Sirgeo Hoffman, running back, 6-0, 215, senor — The former junior college transfer shared carries with three other running backs. The local product (he went to high school in Gresham just outside of Portland) managed 80 carries for 299 yards and two touchdowns.
This season, Malik Walker and Carlos Martin are still involved in the run game but Hoffman has accumulated the biggest workload. He has carried the ball 129 times for 697 yards (5.4 yards per carry) and has scored eight touchdowns.
"It's really not about who's in there but what they are doing," Hauck said. "They added a few wrinkles for us last year that we have to be ready for. They do a good job schematically and they are pretty good up front. All of a sudden, the run game is good because the backs are good. The quarterback reads, some of the read game…they actually ran some triple option stuff a year ago that we will have to prepare for."
Hoffman has been particularly good in league play, rushing for 88 yards and two scores against Idaho State, scoring twice against Southern Utah, piling up 221 yards against Northern Colorado and rushing for 140 yards and a score last week against NAU.
PLAYERS TO WATCH — The Defense
David Joseph, rover, 6-1, 200, true freshman — The "Rover" position in Portland State's flex defense — "It's unique, like nothing we have seen the last couple of years," Hauck said — is one of the key moving parts. The player can sometimes be a safety, sometimes an outside linebacker, sometimes an inside linebacker, sometimes an edge and sometimes a combination of all of it.
"The front is different, how they roll the coverage is different," Hauck said. "Everything about it is different. It's not like anything we've played against. We are going to have to go back to the early 1990s and watch some Arizona Wildcat defense."
Joseph has started at the Rover spot since senior Romeo Gunt, a Big Sky Defensive Player of the Week, went down with an injury against Southern Utah. In his first career start against Idaho, he had 3.5 tackles for loss. He added another one a week later against Northern Colorado.
This season, Joseph has 26 tackles, 4.5 tackles florr loss and 1.5 sacks.
Kenton Bartlett, defensive tackle, 6-3, 270, senior — One of the keys to defensive coordinator Payam Saadat's unorthodox defensive scheme is having physical, tough defensive linemen. The Vikings have several, led by Bartlett, a third-team All-Big Sky selection last season who has started 31 of the last 32 games.
Last season, Bartlett had 21 tackles, 4.5 tackles for loss and a sack. He has already surpassed those numbers this season with 6.5 tackles for loss and three sacks.
PSU has 21 sacks, the third-best total in the league.
Anthony Adams, strong safety, 6-1, 185, sophomore — One of the top recruits in the state of Oregon as a high school senior in Newport, Adams proved that right away, starting all 11 games last season as a true freshman.
He rolled up 48 tackles, 6.5 tackles for loss, an interception and half a sack as a rookie. He has a season-high eight tackles against Montana. He's been even better as a sophomore.
The versatile, athletic safety has 39 tackles, the most on the Vikings. He also leads the Big Sky Conference with four interceptions. He had a season-high 10 tackles last week against NAU.
Photos by Brooks Nuanez, Portland State Athletics or noted. All Right Reserved.