After back-to-back home wins to start the season, the Montana Grizzlies will take a still-inexperienced squad on the road for the first time this season on Saturday.
The Griz will play the Western Illinois Leathernecks Saturday in their last game before Big Sky Conference play starts.
And though the Grizzlies are 2-0 and the Leathernecks are 0-2 so far in 2018, this might be Montana's toughest test yet.
Going on the road will certainly be a new challenge, especially for a Montana team that played 14 true or redshirt freshmen on Saturday in a 48-16 win over Drake.
"We've talked a bit about that as a team, and I'm excited to go on the road with these guys and see how they perform," Montana coach Bobby Hauck said Monday. "We need to understand that it's a different environment, but the field's the same size."
Aside from that, the Leathernecks will be a formidable opponent.
Western Illinois gave Montana State everything it could handle in Bozeman to start the season before losing to the Bobcats 26-23. Running back Steve McShane scored three touchdowns in that one.
In Week 2, Western Illinois took a 7-0 lead on FBS Illinois before falling 34-14.
"I like their team. They're good," Hauck said. "They've got good players at all three layers on the defense. They have a good quarterback. … They've got a lot of skill, they have good team speed. I think they play hard, so they do things right."
QUICK HITS
Location: Macomb, Illinois
Nickname: Leathernecks
Founded: 1899 as the Western Illinois Normal School. Like many similar institutions of the time, Western Illinois State Normal School focused on teacher training for its relatively small body of students. As the normal school grew, it became Western Illinois State Teachers College.
Enrollment: The University has 9,083 students and an endowment of $51 million.
Stadium: Hanson Field – Built in 1950 and expanded to its current capacity of 16,368 in 2007, the multi-purpose stadium is home to the Leathernecks' football and track and field teams. From 1996 through 2004, Hanson Field was the training camp home of the National Football League's St. Louis Rams. In four home games, the Leathernecks averaged 3,477 fans per game during an 8-4 season that culimated in a second straight playoff berth. Saturday marks WIU's first home game this season.
Famous alumni: Rodney Harrison, former Patriots and Chargers safety; Rick Reuschel, former Chicago Cubs pitcher; Mark Konkol, Pulitzer Prize-winning journalist
THE TEAM (0-2 in 2018; 8-4 in 2017, first round loss in FCS playoffs)
The Coach: Jared Elliott, first season at Western Illinois. Before Charlie Fisher took the WIU head coaching job in 2016, former Montana State head coach Rob Ash was a finalist to become the head coach of the Leathernecks. Elliott served as Fisher's assistant head coach and offensive coordinator for two seasons before Fisher joined Herm Edwards' staff at Arizona State in the off-season. Elliott has never been a head coach before. He helped WIU senior quarterback Sean McGuire to All-Missouri Valley recognition each of the last two seasons.
THE OFFENSE – PLAYERS TO WATCH
Sean McGuire, quarterback, 6-3, 228, senior — The sturdy, strong-armed senior captain enters his final season with 27 consecutive starts under his belt. Last season, he earned honorable mention All-MVC honors by throwing for 2,852 yards and 25 touchdowns, the second-most scoring strikes in WIU history.
McGuire has 7,365 yards and 55 touchdowns in his career thus far. This season, McGuire has completed 65.6 percent of his passes for 440 yards, four touchdowns and four interceptions. He threw for 164 yards and two touchdowns against Montana State. He threw for 276 yards and two touchdowns against in 34-14 loss at Illinois.
Steve McShane, running back, 5-8, 185 pounds, senior — The Freeport, Illinois native is the rare two-sport athlete that crosses over between the gridiron and the diamond.
As a junior last spring, McShane hit .317 with 45 hits, seven doubles, two triples and 14 RBI to earn first-team All-Summit League honors on the WIU baseball team. That was on the heels of earning second-team All-Missouri Valley honors for the second straight season as a versatile running back who can also catch the ball out of the backfield.
McShane rushed for 582 yards and a team-best seven touchdowns while also catching 31 passes for 307 yards. He also averaged 18.5 yards per punt return. As a sophomore, he rushed for 917 yards, second-most in the MVFC and led the team with eight touchdowns. He enters his senior season with 2,359 yards from scrimmage and 19 total touchdowns.
In Bozeman, the shifty McShane rushed for 76 yards on 11 carries, including a touchdown. He also caught six passes for 40 yards and two more touchdowns. He had 54 yards from scrimmage against Illinois.
Tony Tate, WR, 5'8", 170, sophomore — Tate has so far joined McShane as a big-play threat for the Leathernecks this year after transferring from Walsh University. The Dekalb, Illinois, native caught at least two passes in every game as a redshirt freshman last year at Walsh. He capped the year with a seven-catch, 97-yard performance against Northwood before transferring to Western.
So far, he's been a dual-threat for the Leathernecks, with 77 rushing yards on just eight carries and three catches for 68 more yards. He scored against FBS Illinois last week on a 49-yard catch. As a former state runner-up in the long jump in high school who also ran a 10.6 in the 100 meters, Tate has the athleticism to trouble Montana's defense, regardless of where he's used.
THE DEFENSE – PLAYERS TO WATCH
Khalen Saunders, defensive tackle, 6-2, 310 pounds, senior — The ferociously strong interior defensive lineman from St. Louis has NFL aspirations after earning first-team All-MVFC honors as a junior. He had a productive campaign last fall, notching 57 tackles, 12 tackles for loss and 7.5 sacks while also forcing three fumbles.  
"The best player I've seen on film as an interior defensive lineman since I've been here at the FCS level is (Saunders)," Montana State head coach Jeff Choate said before his team played WIU. "He's a really, really good player. He creates a lot of problems regardless of who he plays. A lot of teams choose actually not to block him and freeze him at the line instead of moving him because they are not going to move him. When he wants to go, he's a problem for everybody. He's an All-American player."
This season, the powerful senior has eight tackle and a tackle for loss this season.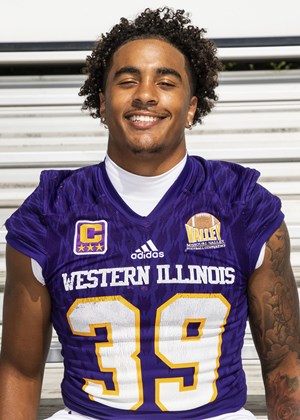 Quentin Moon, linebacker, 6-2, 232 pounds, senior — The Indianapolis native ranked a distant second behind two-time All-American Brett Taylor, a finalist for the Buck Buchanan Award last season and now a prospect with an inside track on making the Minnesota Vikings' roster this season.
With Taylor's production gone — he had an absurd 162 total tackles last season — Moon will be counted on to pick up the slack. Moon followed up his 88-tackle, six tackles for loss sophomore season with 70 tackles and 11 tackles for loss last season. He also has four sacks and three interceptions over the last two seasons and has been an honorable mention All-Missouri Valley selection each season.
Moon leads the Leathernecks with 21 tackles through two games.
Zach Glisan, linebacker, 6-2, 224 pounds, junior — Glisan has been a steady deputy for Moon so far this season at linebacker, racking up 19 total tackles to the senior's 21. The redshirt junior linebacker from Abingdon, Illinois is coming on strong after recording just 12 total tackles all of last year as a sophomore. Against Montana, Glisan and Moon will have to make plays in space after short passes, but they won't have to worry as much about the run game. That will be a big change from their other FCS game this year, a season-opening 26-23 loss to Montana State in which the Bobcats relied heavily on the run.
Andrew Houghton will be providing Griz football content for Skyline Sports this fall. Photos by Brooks Nuanez and contributed by Western Illinois Athletics. All Rights Reserved.