MISSOULA, Montana — The month of July usually means plenty of time at Flathead Lake for Bobby Hauck.
Montana's head football can always tell when he's chomping at the bit for fall camp to commence by the prevalence of conflict between him and his brother, former Griz All-American safety Tim Hauck. Once they start in on each other about who's catching more fish or who puts the right amount of ice in the drink, Bobby knows his favorite time of year is right around the corner.
"I really noticed that when we started getting toward the second half of July, we start getting a little more ornery with each other, start arguing a little bit more," Hauck said with a laugh at the Big Sky Kickoff media gathering in Spokane in July. "That's the nature of the beast. You start getting cranky and ornery and that means it's go time."
Hauck's first season back at his alma mater was trademarked by uncharacteristic meltdowns spurred on by prevalent turnovers and the inability to hold fourth quarter leads. Montana lost three straight home games for the first time since Washington-Grizzly Stadium opened in 1986.
All three home losses — 22-20 on a last-second field goal to Portland State, 49-21 to UC Davis after leading 21-13 late in the third quarter and 29-22 on a goal line stand by Montana State — came in heart-wrenching fashion. The Adam Eastwood fumble forced by MSU captains Grant Collins and Tucker Yates helped the Bobcats seal their third straight rivalry victory for the first time since 1985.
The victory also thrust Montana State into the playoffs for the first time since 2014. Montana meanwhile stood on the outside of the playoff picture for a third straight season, an unfathomable fate compared to Hauck's first tenure, part of a run that saw the Griz make the playoffs 17 seasons in a row.
From 2003 until 2009, Hauck ripped off 80 wins in 97 games, dominating the Big Sky Conference to the tune of 47-6 and advancing to the FCS national title game in 2004, 2008 and 2009. Montana has not won a Big Sky title since 2011 and not officially since Hauck's last season 10 years ago.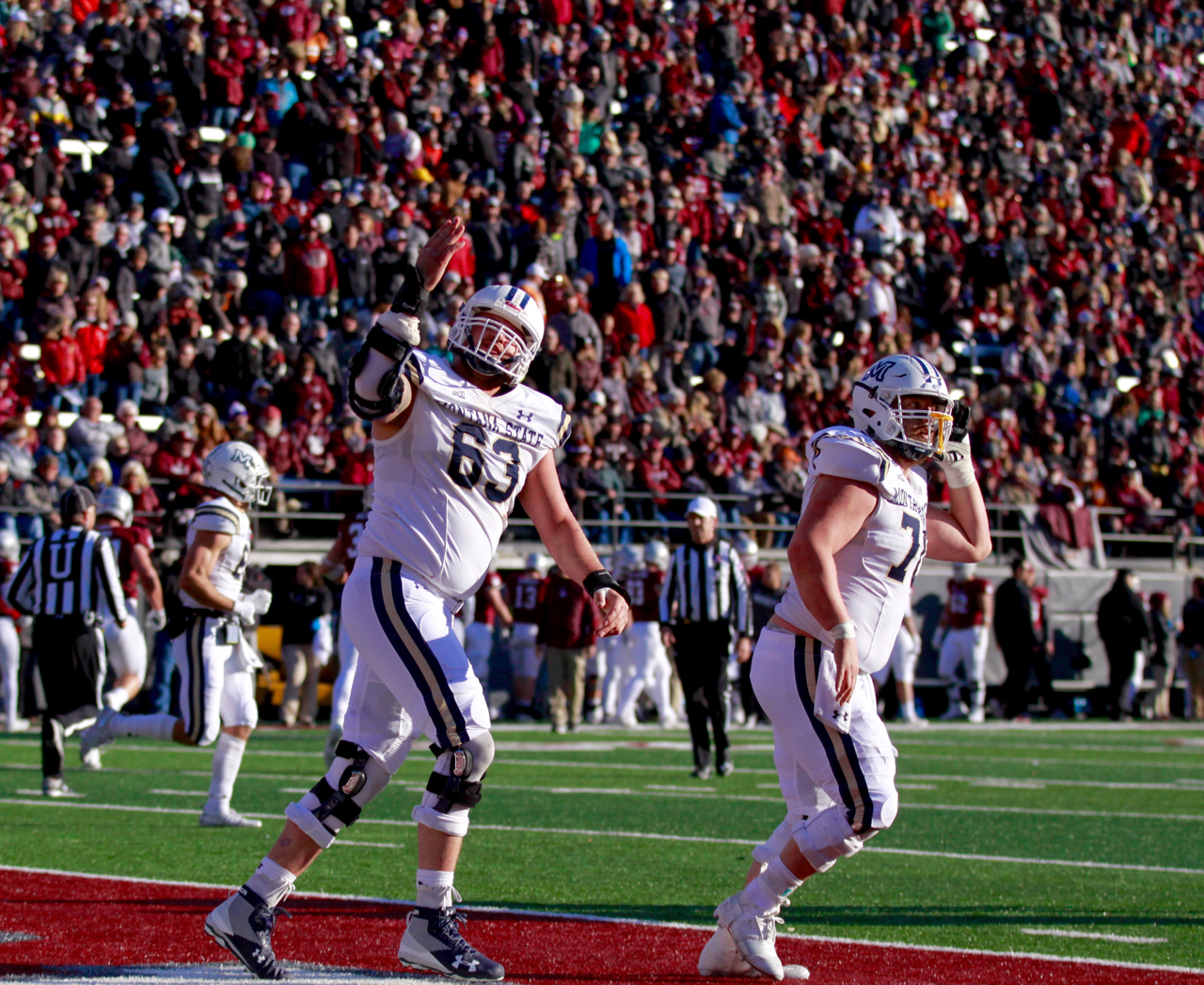 Montana finished at 6-5 overall in 2018, including just 4-4 in league play. Hauck only lost one Big Sky Conference game between 2006 and 2009.

Despite the vastly different levels of success between his first tenure and his first season back, Hauck is effusively optimistic about his team's prospects entering 2019.
"I'm excited," Hauck said. "Usually, I get to July and I'm looking for a few days off. But this year I'm really excited about the season. I could've started July 1. I really could have.
"I think we've made progress this off-season. In fact, I think it's been a helluva off-season. Hopefully, that translates into good things."
Here are the four biggest story lines of fall camp for the Montana Grizzlies.
– How much more efficient are the practices and is the level of buy in improved?
Through the saga of four coaching changes since Hauck left for UNLV following the 2009 season, the Griz have gone through wholesale changes schematically and otherwise. One noticeable dynamic, particularly during the Bob Stitt failed experiment, is the program gravitating toward a star-driven system that prioritizes individual standouts and requires high-level recruiting.
Hauck's speciality has always been projecting raw talent and developing it into elite skill within the scope of a no-star system. Almost every player Hauck helped put in the NFL — from Kroy Biermann to Colt Anderson to Shann Schillinger to Chase Reynolds to Marc Mariani — came from humble and often rural beginnings. And none were stars before putting in significant time toiling in mediocrity.
Montana's class that redshirted last year made a huge splash during spring practices. Safety Nash Fouch, quarterback/athlete Garrett Graves, wide receiver Gabe Sulser, running back Drew Turner, defensive tackle Alex Gubner and offensive lineman Cole Sain along with gray shirts linebacker Braxton Hill and Bandit end Cole Grossman will all push for playing time and even starting honors this season.
During fall camp last August, Montana did not operate as efficiently as Hauck would've liked. He bemoaned the way his team practiced for most of the first three weeks before the squad eventually turned a corner when it comes to the operation of Hauck's deliberate, repetitive and discipline-oriented practices.
During spring ball, Montana looked much more efficient and eager. If that trend continues, the Griz will continue to improve. In an effort to carry that momentum, Montana's coaching staff tried to empower its players and hand much of the leadership over to them for summer workouts.
"This time of year has changed a little bit because we can require attendance now," Hauck said. "We try to take a little time off in July as coaches but when we are in town, we are in the weight room with them and we are with them during workouts. That's changed the dynamic of the summer a little bit with everybody there. It's not haphazard at all. It's really structured.
"Consequently, I know that we are having a good summer. I love the effort level of our guys. And I think our players are unusual college kids that are excited for summer to get over. They can't wait to get going. That's contagious and I'm the same.
"It's good for your football team if you are going to have a good team and good leaders to turn some of it over to the players. That's hard for us as coaches because it's not how we are wired but it takes discipline to turn some portions over to them and trust they'll get the job done. Our guys are doing that.
"And we've empowered our seniors to run at least part of the show this summer and they are doing a great job. I think that's going to help bond our team and help us evolve."
If that's the case and Montana shores up some of its personnel issues, the Grizzlies could make a big jump next season.
– Can the offensive line function?
Hauck was not shy about addressing directly the issues on Montana's lackluster offensive line last season. Injuries and medical ailments to Angel Villanueva, Dallas Hart, Brandon Scott, Cody Meyer and Conlan Beaver plus the abrupt departure just before the season of Thayne Jackson put the UM offensive line behind the eight-ball.
A lack of developed talent made for a long season. The Griz relied on Dalton Sneed's legs as the primary cog in their run game as well as to save their bacon from pursuing pass rushers.
The Griz return five players — Villanueva as a senior guard, Beaver as a junior left tackle, senior Cy Sirmon as a guard who is moving to center, Colton Keintz as a sophomore right tackle and sophomore Skyler Martin, a third-year sophomore who started two games at guard last season — with starting experience.
But the addition of junior college guards Moses Mallory and Kordell Pilans could be the most important additions to the Griz roster this off-season.
Mallory is a three-star recruit who was one of the top JC prospects in the country at Eastern Arizona. The 6-foot-3, 335-pounder chose the Griz over offers from Weber State, Jacksonville State and North Alabama, among others. He also previously held an offer from West Virginia.
The 6-foot-6, 330-pound Pillans comes to Montana from Mesa Community College in the same Arizona JC league as Mallory. The Griz outlastsed Missouri State, Youngstown State and Albany for Pillans, who will likely start at the other guard spot, allowing Sirmon to switch to center.
One source close to the program confirmed that Sneed and Sirmon have "great chemistry and trust", meaning the JC additions could solidify UM's interior three offensive line positions.
If Beaver, a 6-foot-5, 295-pounder from Fredericksburg, Virginia, can gain back the weight that an illness cost him last fall while improving his leg bend, he could be more competitive as a left tackle in the Big Sky.
If the 6-foot-8, 290-pound Keintz, a former walk-on out of Missoula Big Sky, can continue to gain more courage and increase his physical strength, he can remain an intriguing prospect despite breaking into the starting lineup a few years ahead of schedule.
"In the history of Grizzly football, that was the youngest team we've ever put on the fields so I think the fact that we are maturing both physically and our worldliness in the game will lend itself to improvement," Hauck said. "We will probably go as far as the offensive line lets us. We will be better there than we were a year ago. How far they improve in six months will probably dictate how well we play."
– How will the Griz defense operate outside its "stars"?
Dante Olson was a relative unknown entering last season. The Medford, Oregon native spent most of his first three seasons with the Griz floating between a variety of positions, including inside and outside linebacker along with playing on the edge.
Upon moving to inside linebacker in defensive coordinator Kent Baer's 3-3-5 stack, Olson transformed into the most prolific linebacker in the Big Sky Conference. His 151 tackles led the FCS. His 11 tackles for loss, six sacks, two interceptions and three forced fumbles earned him a spot as one of three finalists for the Buck Buchanan Award given to the top defensive player in the Football Championship Subdivision.
Baer's multi-gap scheme frees up the two inside linebackers to roam more freely and chase down ball carriers more prevalently. Last season if Olson, Josh Buss or Jace Lewis didn't make the tackle on a play in the box, most often strong safety Robby Hauck ran the alley to finish up the tackle.
As a redshirt freshman, Bobby's only son elicited comparisons to his uncle Tim after showing the fearlessness that seems to run in his family. The 5-foot-9, 170-pounder piled up 95 tackles, earning a spot on the Jerry Rice Award finalist list given to the top freshman in the FCS.
Buss, the preseason Big Sky Defensive Player of the Year entering last season, battled an ailing shoulder/peck for most of last season. He still managed 75 tackles, nine tackles for loss and 5.5 sacks, the second-most on the team behind Olson.
Olson, Hauck and intriguing junior inside linebacker Jace Lewis return to this year's defensive squad. Can Montana get top-level contributions from any of its other defensive starters this fall?
Lewis proved to be a great playmaker (62 tackles, 7.5 tackles for loss, 2.5 sacks) last season in his first real playing time as a Griz. As the starter next to Olson, what will his production look like?
Senior Josh Sandry made a smooth transition from traditional safety to UM's third safety, a rover hybrid spot that saw Sandry lined up against opposing slot receivers last season. The Bigfork native had 61 tackles and two picks.
Montana will need to have unproven players step up. UM's starting cornerbacks Dareon Nash and Justin Calhoun, a pair of converted wide receivers, combined for three of Montana's 10 total interceptions. That group adds multiple players, including former San Jose State transfer Kadeem Hemphill and former Hawaii transfer Mykal Tolliver.
The Grizzlies will need to find a player or group that can consistently rush the passer. Grossman earned some reps with the first-team defense. The continued development of sophomore R.J. Nelson and junior Jed Nagler will be crucial.
Gubner, along with sophomores Eli Alford and Braydon Deming are intriguing young talents on the interior of UM's defensive line. If they can improve, senior stalwart Jesse Sims can finally move out to his more natural position at strong end.
Montana's defensive line combined for seven of its 24 sacks last season. If Washington State transfer Mason Vinyard, NC State transfer Joe Babros or Rocky Mountain College transfer Ryder Rice can help win one-on-ones on the edge, the Griz won't have to scheme up so much pressure with their linebackers.
If increased depth can lead to increased production, a defense featuring a few of the league's best players has a chance to make a step forward.
Bobby Hauck is unquestionably confident. Do the Griz believe, too?
During Grizzlies' spring tour around the state of Montana, Hauck overheard a conversation on the golf course regarding where the Griz should be voted in the preseason polls. The answer to the inquiry said the Griz would likely finish fourth or fifth in the preseason rankings in the Big Sky.
As the story goes, Hauck quickly intervened, sharply asking, "And just who do you think we are going to lose to?"
Playing at Oregon will be a tall task on September 14, The Griz play at 2018 Big Sky co-champion UC Davis and at rival Montana State. Montana hosts Big Sky co-champions Eastern Washington and Weber State. Of the five top vote getters in the preseason polls, the Griz are the only one that plays the other four. But Hauck refuses to back down to any team, Big Sky member or otherwise.
Hauck's first seven Griz teams made a living his first tenure by converting tough yardage situations with the ability to run between the tackles. His first tenure was highlighted by almost always peaking in the fourth quarter and at the end of the season. Last season, the inability to punch the ball in against the Bobcats in the final seconds proved to be an agonizing symbol for how the rest of the season went.
Yet Hauck remains confident in his team's prospects for 2019.
"I'm centrally focused on us and the guys wearing the maroon and silver," Hauck said at the Big Sky Kickoff. 'We need to play better, we need to close people out, we need to not make big mistakes, we need to take care of business at home.
"We will play closer to error-free in games. Our record will be better. It's all about us. We don't worry too much about everybody else."
Montana's headlining players last season — Olson, Sneed, Buss, Hauck, All-Big Sky wide receiver Samuel Akem — played with the edge that characterized most of Hauck's rosters last decade. But many of the rest of the Griz lacked that same nastiness that has been so intertwined with the mystique surrounding the Montana program over the last 30 years.
Do Montana's players believe the way their head coach does? If Hauck can channel that confidence into his charges, the swagger that helped Montana win 12 straight Big Sky titles will be one step closer to returning.
"It's not like playing four quarters wasn't emphasized a year ago," Hauck said. "It's not like we can redo that. But we did not finish people off well last year. It's well documented in our world and certainly, it's something we are going to continue to focus on and improve on.
"The maturity will lend itself to that. We will be more confident. And maybe they are listening a little better. The school of hard knocks."