MISSOULA, Montana — Coming into the 2020 football season, before the action was called off, a national media outlet released a story stating all the reasons the top FCS contenders would and would not win the national championship.
The blurb about Montana focused on the Grizzlies' defensive line as the weakness of UM.
That in itself is a spark for a long dialogue about all the reasons the Griz have been searching for how to return to dominance. For a two-decade span, Montana had never a worry with its defensive front.
Entering the fall of 2020, the narrative surrounding the Griz defensive line centered upon the lack of flash or award-winning statistics. But the opinion that Montana cannot win a national championship because of it's defensive front is a shortsighted, uneducated one at best.
When told about the article referencing the "weakness", gregarious Griz defensive line coach Barry Sacks exclaimed, "Send me the link. I will print that out and put it in every one of their lockers."

Much of the misperception of the Montana defensive front stems from the scheme UM operates under godfather defensive coordinator Kent Baer, he of 44 years as a Division I defensive coordinator, does not put a high priority on putting defensive linemen in statistic-producing mismatches.
Secondly, it does not account the physical and cultural gains Montana has made since its last game of consequence, a 17-10 loss to Big Sky Conference rival Weber State in December of 2019.
Alex Gubner is no longer an upstart freshman. Neither is Eli Alford, a former transfer from Air Force Prep who got extra time to acclimate to the program and put on mass.
Elder statesman Justin Belknap has been waiting for his final hurrah since January of 2020. Fellow 24-year-old end Joe Babros is fully healthy. And Jacob McGourin has put on 30 pounds, giving him the physical stature of very few of his FCS contemporaries.
In other words, the Griz defensive line is locked and loaded for the 2021 season even if most of the expected contributors don't have much of a reputation outside the Montana locker room…yet.
"We don't listen to the outside noise but we want our whole defense to fly around as a whole and be the best we can be," said Alford, a 6-foot-1, 290-pound defensive tackle who's uncle, Tony Alford, is an assistant at Ohio State. "The way we run things, we work our butts off to make things happen for other guys on the field. We are not a group that needs a lot of credit. We just want to do what we need to do to help this team win. Period.
"We don't compare ourselves to others. We just want to be the best we can be," Gubner added.
"But we know what people are talking about."
From Mike Murphy to Kroy Biermann with Lance Spencer, Dustin Dlouhy, Alan Saenz, Craig Mettler and Jace Palmer in between, Montana head coach Bobby Hauck had teams flush with defensive line talent and depth during his first tenure at UM between 2003 and 2009.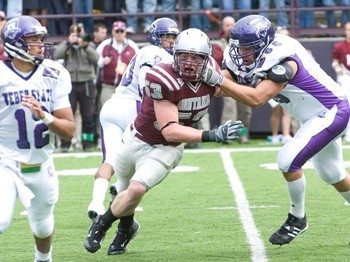 Since Hauck returned before the 2018 season, the Griz front has been a work in progress. The late Jesse Sims was a stalwart in the middle, a tough bruiser who sacrificed statistics to wrestle offensive linemen while 2019 Buck Buchanan Award winner Dante Olson ran free at inside linebacker.
Other than Sims, the Griz defensive front has by and large been made up of young, inexperienced players recruited by Hauck's staff. Entering Montana's 2021 season opener at Washington on Saturday night in Seattle, the Griz front has grown in age and stature.
In fact, the unit is bookended by a pair of old dogs in Belknap and Babros who come from the FBS ranks — Babros transferred to Montana before the 2019 season from North Carolina State while Belknap joined the team in January of 2020 as a graduate transfer after spending four years at Arizona —  and also features some of the up-and-coming talents in the Big Sky in Gubner, Alford and McGourin.
"We absolutely have the desire to show people what we can really do this year," Gubner said with a smile.
Gubner, a 6-foot-3, 294-pounder out of Chaminade Prep (the same high school that gifted UM with unforgettable All-Big Sky shooting guard Michael Oguine in men's hoops), flashed immediately in his first spring ball as a Griz in 2019. He secured the starting nose tackle position as a redshirt freshman because of a penchant for playing with a high motor and running to the football.
He also had one of the atypical statistical finishes of any big man in the middle of a defense. Because of Montana's high-pressure, zone-blitzing scheme, Gubner often dropped into coverage. And he took full advantage, leading the Grizzlies with four interceptions, one of the top totals in the Big Sky.
"You have to be quick and you have to have that enthusiasm to run to the ball," Gubner said. "Everyone on our d-line is quick and athletic compared to other d-lines and we are chasing to the ball, with all the backers and safeties.
Alford, a 6-foot-1, 290-pounder out of Park City, Utah, made frequent appearances on Montana's social media as one of the off-season's top performers in the weight room. That helped him move from end to tackle, where he will be in a constant rotation with Gubner, according to Hauck.
"I think it will be those two back and forth all season long and whoever plays best each Saturday will start the next week," Hauck said.
"For the most part, our front seven on defense is strong. And Eli is one of the strongest guys on the team. Gub is not too far behind. We are kind of back where that is the case, which is how it should be."
Babros, a 6-foot-4, 230-pounder from Mission Viejo, California, is sort of the forgotten man on Montana's d-line. The former Saddleback Junior College standout redshirted at NC State in 2018 before transferring to Montana. He battled a shoulder injury yet still appeared in 12 games, notching 17 tackles, a sack and a clutch interception against Idaho to help seal a Griz win. Now he's fully healthy.
"He brings wisdom because he's older than me (laughs)," Belknap said. "I know Gub and Eli said I was the old man but we are both 24 and he's a couple months older than me. I love playing on the line with Joe. He's someone who has also transferred in, an older guy and we have similar mentalities as far as we are both crazy as hell."
"Health is the key, no way around it, for him and everybody else," Hauck added. "Injuries happen. Sometimes, you get a bad break. Joe is a good player. He's got good athletic ability. He has good speed, good instincts and he plays hard."
Belknap, a 6-foot-2, 245-pounder who Sacks calls "the Tasmanian Devil", is as intense a practice player as has played at Montana since the first glory days under Hauck. Belknap grew up outside of Las Vegas and went to high school around the same time Hauck's daughters and football-;were in high school. He said he always dreamed of playing for Hauck when Hauck was the head coach at UNLV.
Instead, Belknap walked on at Arizona. By his redshirt sophomore season in 2017, he was a full-time starter, rolling up 23 tackles, four tackles for loss and 2.5 sacks. In 2018, he suffered a freakish foot injury that almost cost him his career. He made it back to the rotation in 2019 but was not able to crack the rotation as heavily.
He was granted a medical following the 2019 season, giving him the ability to transfer to Montana for a sixth season.
"Every time we step out here and put the pads on, we try to take each other's heads off,," Belknap said. "We practice like Montana football players. So every time we get out here, we just love practicing regardless of if there is a game coming up.
"I thought it might be over for me so every time I take the field, I treat it like it's my last."
And then there is McGourin, the 6-foot-5, 265-pound man child from Cheney, Washington who's dad played for the rival EWU Eagles. McGourin flashed as a true freshman in 2019, notching sacks against Eastern Washington and UC Davis while still maintaining his redshirt. He might've benefited from the elongated off-season as much as any player on the Griz roster.
"Jacob personifies that a little bit," Hauck said. "Jacob, a younger guy who didn't just sit around. He worked and it paid off. Jacob looks good."
The improvements of the aforementioned means that R.J. Nelson, a part-time starter as a redshirt freshman in 2018, is running with the third string, as is DeAri Todd, a 6-foot-2, 277-pound bull who transferred from Michigan State in the off-season. And few are talking about the departure of Braydon Deming, a two-year contributor out of Billings who transferred to Illinois State in the off-season.
Montana's defensive scheme caters to the inside linebackers and strong safety piling up the glut of the tackles. The blitzing, high-pressure attack also puts a variety of players, most of them not defensive linemen, in the best position to pile up sacks.
Yet to assume that statistics equal success is not adequate when it comes to the Griz defensive line.
"It's certainly a tough guy position and you are in the mix every play," Hauck said before a particularly physical fall camp practice in August. "I think it's hard to play as hard as it's required around here to play the whole game so you have to have depth. With that group, we don't necessarily think we have starters. We have a two-deep group."
"Generally speaking, your defense is as good as your front. And we like our front."
Montana and Washington kick off from Husky Stadium in Seattle at 6 p.m. on Saturday night.