MISSOULA, Montana — Following his team's third straight score to take what seemed like a commanding 17-0 lead over the Grizzlies, Idaho State head coach Rob Phenicie did not want to give Montana any momentum.
Despite a 15-yard penalty on the host Griz following the touchdown that let the Bengals kick off from midfield, ISU kicker David Allish kicked the ball out of bounds two straight times. After each illegal procedure, Montana head coach Bobby Hauck called for Phenicie's Idaho State team to kick it again.
It's a testament to just how dangerous Montana is with its special teams. That added third phase alongside a defense that has been smothering against the run and an offense that has been tearing the league apart has the Grizzlies riding high entering their bye week this week.
"They are right there," Phenicie, the offensive coordinator on seven straight Big Sky Conference championship teams between 2003 and 2009, said when asked how close Montana was to retaining that level following ISU's 59-20 loss in Missoula on Saturday. Phenicie's Bengals were outscored 59-3 over the final 42 minutes of action.
"They are clicking in all three phases. It's scary to punt the ball to (senior) Jerry Louie-McGee. It's scary to kick off to (sophomore) Malik Flowers. And they are dangerous on both sides of the ball."
Although Bob Stitt only made is as the head coach at Montana for three seasons, starting strong for the first half of a campaign has been commonplace this decade for the Grizzlies. It's the finishing portion that has been cumbersome.
Montana started 5-1 in 2016 only to finish 6-5, including a humiliating 24-17 loss to rival Montana State in which the Bobcats didn't even try to throw the ball. The 2017 Griz won five of its first seven only to finish 7-4, again losing to the Bobcats and again missing the playoffs. That proved to be the final straw for Stitt, who was released after a 21-14 mark that included a 14-11 mark in Big Sky play.
In 2010, the first season after Hauck left for the head coaching job at UNLV, the Griz started 6-2 but finished 7-4, missing the playoffs for the first time since 1992. The following season, UM started 2-2 only to rip off nine straight wins on the way to destroying No. 1 Montana State in Bozeman and advancing to the semifinals of the FCS playoffs.
In 2012, Montana endured its first losing season since 1985 in Mick Delaney's first of three seasons at the helm. Delaney took over as UM's head coach after the swift and surprising firing of Pflugrad. In 2013, Montana began the season 6-1 and finished 10-3. In 2014, UM started 5-2 and finished 9-5. The Griz made the playoffs each year.
With Hauck back at the helm with the stated goal to help the Griz "return to dominance," Montana teased its loyal fans around the Treasure State and around the nation. UM blitzed No. 13 Northern Iowa, building a 26-0 halftime lead and hanging on for a 26-23 win.
The Griz breezed past Drake, shot themselves in the foot in a 31-27 loss at Western Illinois and needed all of quarterback Dalton Sneed's 440 yards of total offense and four total touchdowns in a 41-34 win over Sacramento State. The Griz moved to 4-1 with a 48-28 win at Cal Poly. Then the wheels came completely off.
Portland State true freshman Cody Williams named a 52-yard field goal at the final buzzer to give the Vikings their first Division I victory of 2018, a 22-20 win at Washington-Grizzly Stadium that serves as PSU's first in Missoula in more than three decades.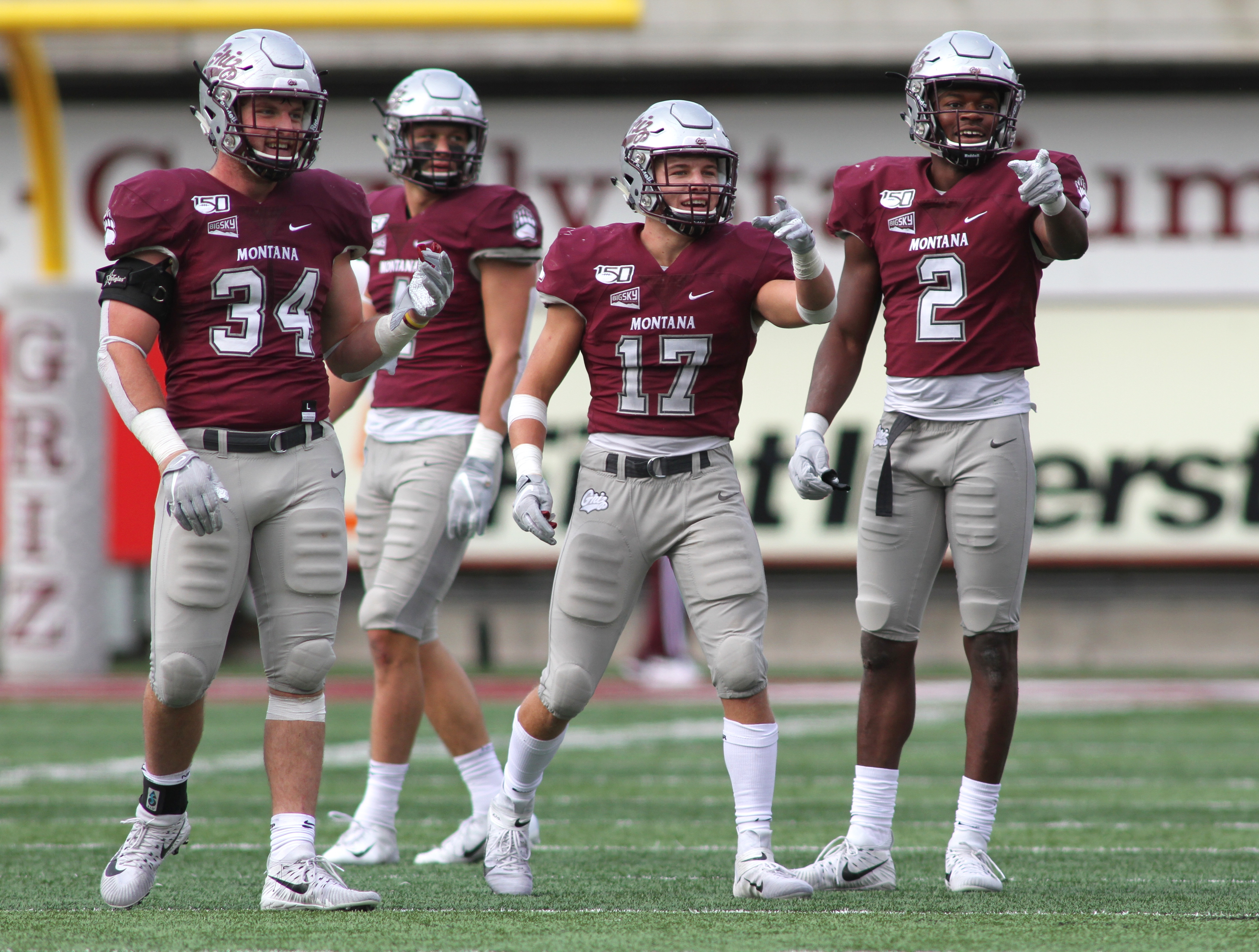 The following week, Montana puked the ball all over the field in a 41-14 loss at North Dakota. UM took its bye the next week searching for answers and didn't find any, instead blowing a 21-3 home lead by giving up 46 points in the final 17 minutes of a 49-21 loss to No. 6 UC Davis. The Griz rallied for wins at Southern Utah and Idaho only to lose to Montana State in heart-breaking and well-chronicled fashion by fumbling on the goal line with eight seconds to play in a 29-25 loss that saw the hosts blow a 22-0 lead.
All that history is to say this: Montana's 5-1 start in 2019 feels distinctly different as the Griz enter their 2019 bye.
"It was huge for us to get a win today," UM sophomore safety Robby Hauck, Bobby's son, said following the ISU win. "We weren't able to do that last year going into our bye week. This year and going forward, it's definitely big. We have a positive mindset and attitude going into the bye week so we can heal up all the way around."
Despite Stitt's perceived offensive acumen, the last time the Griz were truly deadly on offense came during the 2013 season, quarterback Jordan Johnson's first back after enduring a controversial rape trial that ultimately saw him being exonerated.
Johnson threw for 3,387 yards and 32 touchdowns compared to just five interceptions, Jordan Canada rushed for 1,062 yards and 16 scores, Ellis Henderson averaged 23.4 yards per catch during a 1,008-yard season that saw him catch 14 touchdowns and the Griz averaged nearly 38 points per game.
The 2016 averaged 39.5 points per game, the most this decade entering this season. But the statistic is skewed thanks to the 67 points the Griz laid on Mississippi Valley State, the worst FCS program in the country. And the 68 points the Griz scored while running it up against a hapless Sac State squad starting 16 freshmen. UM also scored 62 against an Idaho State team that won one Division I game. The Griz averaged 29.6 points per game outside of those three runaways.
Led by Sneed, the midseason favorite for Big Sky Offensive Player of the Year honors and a rising Walter Payton Award candidate, and arguably the most naturally talented wide receiver corps in school history, this Montana offense has a chance to be one of the most statistically productive this century.
The Griz are averaging 48.9 points per game this season against FCS opponents. Montana is averaging nearly 30 points per game in the second half alone. It took the Griz nearly 22 minutes to score this season in their opener at South Dakota before they scored 31 unanswered points. Montana trailed 17-16 in a 61-17 win over North Alabama that saw Montana score 24 third-quarter points. UM scored 21 points in the second quarter and 14 straight to close out a 47-27 win over Monmouth. And UM scored 28 straight points between the third and fourth quarters in a 45-20 thrashing of No. 4 UC Davis at Aggie Stadium to avenge last season's loss.
"I'm extremely blessed to play in the offense with the guys I do," said Sneed, who earned his third straight Big Sky Offensive Player of the Week honor last week after totaling a career-high 464 yards of total offense. "They turn five-yard hitches into 50-yard gains and that goes for every game. You throw a swing route to your running back and he is making everybody miss. That's the beauty of our offense. You get the ball into our play-makers hands and they do the rest."
Those play-makers, from Louie-McGee's joystick style to the physical dominance of junior duo Sammy Akem and Samori Toure to the addition of slick running back Marcus Knight from the California junior college ranks to a much-improved offensive line, UM's offense is a well-oiled machine.
"We have a really great offense in general and when everybody does their jobs, I don't think there's too many people who can stop us except ourselves,' Toure said. "We had to trust in the system and keep on going, keep on staying persistent, keep on doing our jobs and let the results speak for themselves."
That attack combined with a defensive unit that is allowing 100 yards per game to FCS opponents, is third in the league in scoring defense (22.7 points per game) and leads the league in interceptions with seven have the Griz thinking big entering the second half of 2019.
"You assess our performance by the record," Hauck said. "They put them in front of you and you either beat them or you don't. We are happy to be where we are right now. There's always room to improve. The perfect game has not been played yet. We are still trying to get it done. We are going to try here in two weeks."
Photos by Brooks Nuanez. All Rights Reserved.