The Montana Grizzly football team took to the field for the first time since spring drills on Tuesday, starting fall camp in preparation for the season opener at the end of the month. Head Coach Bobby Hauck and his team have some difficult practices ahead of them, shaking off the off-season rust and beginning the pursuit of breaking a stunning three-year absence from the post-season.

In fact, Hauck may have surmised the feeling of returning to the field better than anyone.
"The day you don't enjoy this or aren't excited about getting out here then you probably ought to quit coaching, or playing for that matter," Hauck said ahead of the first practice of the year.

There is a feeling of familiarity for the whole team as they return for a second fall camp in Hauck's second stint leading his alma mater. After learning the ropes in the first year under the veteran head coach, the team now enters prepared and aware of the high expectations he has for the team.

Not only is Hauck more familiar with the current players, his entire staff returns along with him, bringing a familiarity that is very uncommon in today's college football. Fifth-year senior quarterback Dalton Sneed said that the coaching continuity is something that has helped build team chemistry.

"It's all about relationships, especially in college," Sneed said. "It's so hard because it is such a cutthroat business and coaches are moving on year after year, but to have the whole staff back and everyone knowing and building that relationship, it only strengthens our team and our chemistry."

The Griz return a collection of players from last season's team as well, particularly in the secondary where senior Josh Sandry and sophomore Robby Hauck will likely start at two of UM's three safety positions. Sandry said that the familiarity with fellow players and coaches has made things a little easier.

"It's the second year we've been with Coach Hauck and the second year with all the guys together — obviously we have some freshmen in here — but I think the main difference is everyone is just familiar with everything, with the coaches and what they expect out of us," Sandry said. "It's good to be back and we're all excited and ready for the season."

"I think we've had one of the best offseasons I've been apart of, so it's good to be back out here and starting the process of watching it all pay off… I think we have more strength as a team and are just in a little bit better shape as well," said Sims, a Stevensville native who's year-round dedication to the weight room and the nutrition is unmatched. "Usually, I feel like there are more people dying on the first day out here. We had a couple go down but we did pretty dang good as far as everybody going hard during practice, so I feel good about it."

A mandatory summer training schedule has helped the team stay in shape and, in some cases, gain weight. In fact, Hauck said that it was one of the best summers that he has seen as a head coach. Fifth-year senior Jesse Sims, who packed on 10 pounds of muscle in the offseason to get up to a hulking 280 pounds, backed up his head coach's sentiment.

Hauck said that there aren't any specific position battles that he is looking at during the fall, but his main focus is on the effort and the execution of the team. The team will have just three off days between Tuesday and the season-opener on the road against South Dakota on August 31. No scrimmages are planned.

Hauck has said several times this off-season that he doesn't know exactly what to expect out of this year's team, and that he doubled down on that Tuesday. When does he think he will have a good idea of what the team is capable of?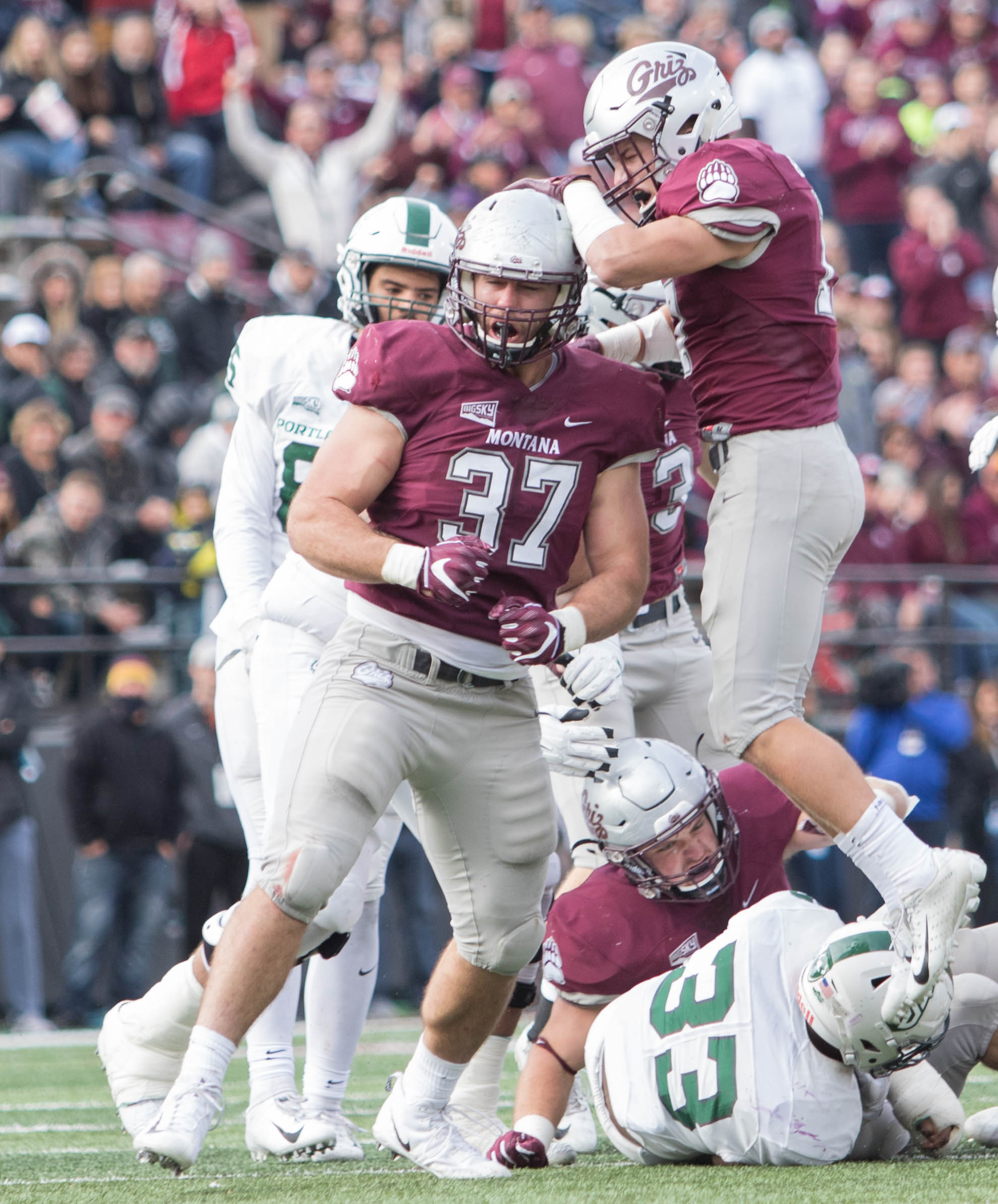 "Probably October to be honest," Hauck said. "We will play a few and see how the non-conference schedule goes, but you never really know until things get into the season. There are so many unknowns and there a lot of things we didn't do well enough to win consistently, or as consistently as we'd like to, last season."

The Grizzlies were crisp in their drills and in their movement throughout Tuesday's practice, something that Hauck and his staff had expected in Year 2. It was a relatively smooth practice, which players and coaches have come to expect under Hauck's leadership.

There is a remarkable flow to the practices, with no wasted time by players or coaches. Redshirt junior receiver Samuel Akem said that the team is very aware of what Hauck and his staff want.

"You just know that he's not going to take any B.S., you know that he wants you to work, you know that he wants you to grind," Akem said. "He has high expectations for us on a daily basis and you know that coming in so you just bring your best every day."

Still, on just the first day back, there was plenty for the team to work on moving forward over the next month. Sneed said he saw room for improvement right away, but that there is a huge difference from where the team was last year entering fall camp as opposed to this season.

"It's night and day, last year I was still trying to learn all the plays and the ins-and-outs," Sneed said. "Now it is kind of, when you get to the point where you don't have to think about things as much and it kind of just clicks and now you're thinking about what the defense is doing moreso than what your offense is doing. Not only myself, but I think that's where everybody is at."

Sandry said that the team needs to make sure they know what they are doing every time they take the field and that they need to get into football shape. Despite the good summer workouts, nothing gets you into football shape like playing the game. For Sims, he said the goal is daily improvement.

"Especially after the first day there is always a million things that could be better so it's just about finding something each day to improve on and make sure we have those things settled before we go into the first game," Sims said.

The high expectations that were evident at the first day of fall camp reflect Hauck's belief in the program that he wants to build; a program that, during his last tenure, competed for championships every single season. The players are starting to share that belief with their head coach.

"Everyone has bought in to what Coach Hauck has brought to us and laid on the table," Sneed said. "How he wants us to come in everyday and perform, the mentality and all that has changed completely. I think he's building something great here and I think the guys have bought into it."
Jackson Wagner is a freelance journalist living in Missoula, Montana providing University of Montana football content for Skyline Sports. He is a Montana alum who spent the last year working in sports information at Portland State. The Anaconda native can be reached at fmmswagnerj@gmail.com.