BOZEMAN — As Tyler Hall sat outside the training room at Brick Breeden Fieldhouse, sweat still dotting his brow after a short but vigorous mid-week summer workout with teammates both familiar and new, the one of the Big Sky Conference's premier talents seemed at peace.
The time between Montana State's disappointing loss to North Dakota in the first round of the Big Sky Tournament and the day after the 4th of July has been filled with new beginnings, challenges and a renewed loyalty to the Bobcats.
The talented, subtle star shooting guard declared for the NBA Draft shortly after a third straight first-round exit from the league's postseason tournament. But he declined to hire an agent, leaving the door open for his return to MSU.
Hall spent mid-March through late June in Chicago working out with Ethan Happ, a standout from Wisconsin who played on the same club team as Hall in high school in Rock Island, Illinois. Hall had private workouts with the Atlanta Hawks and the Boston Celtics. He eventually decided his draft stock and NBA prospects would best be served by playing his senior year in college.
But the speculation did not calm during the weeks between Hall withdrawing his name from the draft and his return to the Montana State campus last week. Some speculated that Hall would try to accelerate his academics in an effort to move either as a graduate transfer or to capitalize on the proposed new NCAA rule that would eliminate the requirement to sit out a season when transferring from one Division I program to another.
Neither one happened. Instead, Hall will return to Montana State with a collection of school and conference records in his sights. He is already MSU's all-time leader in 3-pointers made with 312. He enters his senior season with 1,861 career points, the third-most in MSU history and the 10th-most in league history.
"I'm happy to be back," Hall said with a shy smile. "The last few months have just been working hard and changing my work ethic, getting myself out there, playing against some guys, working out for some teams, building some confidence.
"When I made the decision to come back, I wanted to be back. When I got back, I was excited to be here and get everything started with everything because I'm a senior and this is our last shot.
"More than any of the records, we want to win games."
If he stays healthy, he will likely become the sixth player in Big Sky history to score 2,000 points in his career. Hall needs 174 points to pass Larry Chanay as Montana State's all-time leading scorer. He needs 309 points to surpass Bogdan Bliznyuk as the Big Sky's all-time leading scorer, a mark that last season's MVP earned last season.
"We were all super excited to see what was going to happen with Tyler but selfishly, I'm glad to have him back," MSU senior Sam Neumann, one of Hall's closest friends on the team, said following the July 5 practice. "We've been through it all together so it was different not having him around for workouts and whatnot but we were all excited, all following what he was doing, talking to him.
During Thursday's 90-minute practice session, Hall displayed the same silky shot that has helped him form a full-on assault on both the Big Sky and NCAA career 3-point mark. He also appeared leaner and quicker, gliding to his spots with ease. MSU fifth-year head coach Brian Fish said Hall lowered his body fat percentage under 11 percent and is down to 208 pounds following his vigorous spring training regimen.
"If nothing else, it really helped him get in better shape going through all his stuff and he now has a different work ethic from going against some top guys," Neumann said. "Now he's come back and we are already getting in a lot more individual workouts than we did last summer. If the seniors aren't in the gym, the young guys aren't in the gym. We have to show them. He's been showing that already so I'm excited to see how it translates."
Because Hall did not hire an agent, Fish helped serve as a sort of liaison as his pupil explored his NBA prospects. Fish helped set up his individual workouts and had a third set up with the Oklahoma City Thunder before Hall withdrew from the draft right before the deadline.
Throughout the process, Fish talked about his role as an educator who wanted to help his student reach his ultimate dream. Hall making it to the highest level of basketball would only be good exposure for the MSU program, Fish said. Trying to plan his roster for next season without Hall, the league's Freshman of the Year in Fish's second season and the primary building block for Fish's program, proved challenging for the coach.
"I don't know how you plan anymore," said Fish, who enters his fifth season in the final year of his contract with a 50-75 overall record that includes a 30-46 mark in Big Sky play. "I've talked to a lot of head coaches who have been in our situation. If your guy might go pro or they go pro or they don't come back, you can't plan it until you know the answers. It would be hard to find a guy who could go get 25 points in a game June 1.
"You see a kid who averaged 18 points per game and you say, 'Hey, he didn't have a very good year. Averaged 18 points per game – that's still pretty good. And he has a chance to have a big year returning next year for his last year."
The whirlwind surrounding Hall began during the non-conference portion of his sophomore season. The 6-foot-5 combo guard scored 42 points in a narrow loss to Central Michigan, going shot for shot with CMU senior scoring machine Marcus Keene. By the time Hall scored 33 in MSU's Big Sky Conference triple-overtime loss Southern Utah in the first round of the Big Sky Tournament, he already had 10 30-point games to his name.
Hall ended his sophomore season as the seventh-leading scorer in the country at 23.1 points per game. He hit 120 3-pointers and shot 43 percent from deep, making him one of the four most accurate and prolific 3-point shooters in college basketball. His 739 points broke MSU's single-season record and he entered his junior year having surpassed 1,200 career points already.
The Quad Cities product entered last season as the preseason MVP of the Big Sky. National outlets, including Sports Illustrated, turned attention to Bozeman to get a look at a player many thought could be the next small-school star to make a splash in the NBA. Hall entered his third season at MSU ranked as one of the top 50 prospects in the nation.
"There was a lot of preseason things, stuff like that, I'm trying to not focus on any of that now," said Hall, who was a second-team All-Big Sky selection following his junior season. "It's my last go-around this year so I'm focused on working hard, going out, playing hard and winning."
The lead up to and the early season action during Hall's junior season all contributed into what amounted to a largely disappointing campaign. Hall spent much of last off-season trying to build up his body, putting on what he now calls "unnecessary weight." He said he topped out at 225 pounds last season.
"The amount of training and things you need to do to prepare your body for the next level and whatever is thrown at you," Hall said. "I'm in way better shape and there's more room to improve."
In MSU's first true home game against Montana Western, Hall sprained his ankle. Days later, MSU embarked on a 13-day road trip that included a swing through Mexico where they won the Cancun Classic title, the program's first tournament title of any kind in more than a decade. Hall wore a walking boot for most of the trip, a remedy that helped his ankle heal but caused his Achilles to swell.
The most elite part of Hall's game is his ability to elevate on balance from nearly every position on the floor and shoot his feathery jump shot. The sore ankle and Achilles altered the way he landed, putting a hitch in his entire release. He played just 11 minutes and went scoreless at Central Michigan, the first time he did not score as a Bobcat at the peak of his pain.
During league play, Hall's performance swung like a pendulum. Sometimes he looked like a future pro. Other times he looked like a beleaguered star awash in the pressure of expectations. He scored 36 points in MSU's Big Sky opener at Southern Utah. He averaged 26.5 points per game to earn Big Sky Player of the Week in Montana State's sweep of Northern Colorado and North Dakota in its first league home stand.
Perhaps Hall's best performance of his sophomore season came in a virtuoso 37-point explosion as Montana State topped rival Montana for the first time in 12 matchups. In the rematch in Bozeman in January, Hall finished with just 10 points, the first down game in what could become an inconsistent final stretch.
He scored just seven points in an embarrassing overtime loss to last-place Northern Arizona. He rebounded with 23 points in a home win over Southern Utah but scored just six in a one-point loss at North Dakota. He had 27 in a lopsided loss at Northern Colorado and 28 against Sacramento State on February 8 in a 92-76 win, a victory that would be MSU's last of during a 13-19 campaign that saw the team lose 13 of 15 after its first 4-0 start to league play in more than a decade.
"You always want to look back on how things went individually and as a team," Hall said. "I wanted to step away for a week and do that and look at what I want to get better at. I think we are doing a good job of attacking those weaknesses."
One weakness Hall harped on during the recent interview for both himself and for the Bobcats overall is physical conditioning. He said one of his primary goals for his senior season is to maximize his own physical potential while hopefully inspiring his teammates to follow his lead.
"Conditioning is a real big thing in basketball, being able to sprint to that spot or sprint coast to coast," Hall said. "That was a big thing I worked on.
"NBA athletes are just that much more in shape and that's pretty much what I took away from this whole process. Every year, the off-season has been different for me and what I need to do with my body. This year, it's fine tuning everything, getting in the best shape of my life."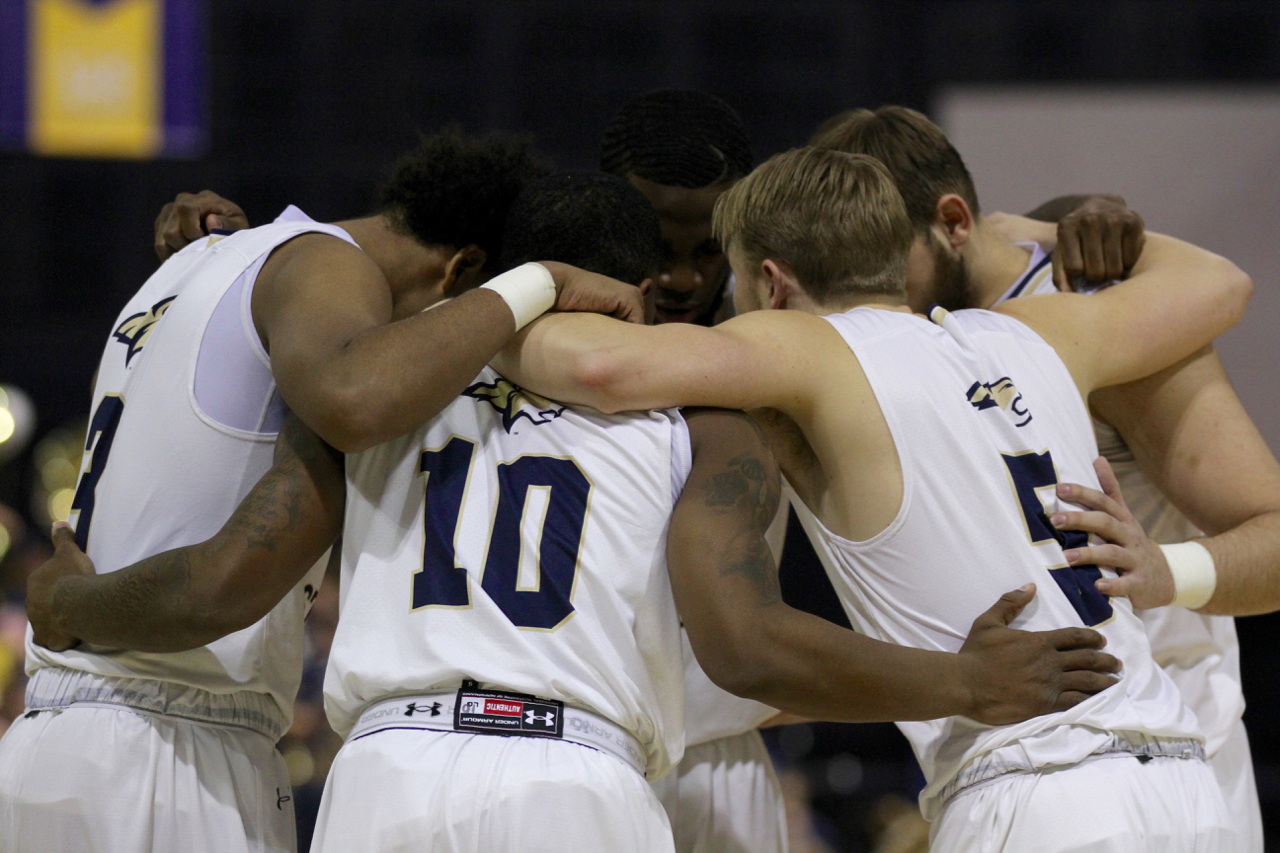 Montana State lost seven games decided by five points or less during the final six weeks of the season, including surrendering a 19-point lead in the 76-74 season-ending loss to North Dakota in Reno. Hall said he, Neumann and fellow senior Keljin Blevins have talked about setting the tone this summer in an effort to have the legs to finish.
The experience of the last three months have provided Hall with a good deal of perspective and knowledge for his present and his future. Unlike last year, no questions linger for what options he might pursue. He will finish his career as a Bobcat before chasing his NBA aspirations full force.
"Right now, I'm not worried about anything but my senior season," Hall said. "I'm just taking it one day at a time right now, getting better every day."
Photos by Brooks Nuanez. All Rights Reserved.