During a time that will certainly always been remembered for its uncertainty, the University of Montana athletic department broke its unprecedented silence on Wednesday in brand new fashion.
UM athletic director Kent Haslam and recently anointed interim head women's basketball coach Mike Petrino addressed a collection of members of the Montana media on a video conference.
The Zoom call included Haslam laying out the timeline for his shifted decision, one that included verbally offering former Lady Griz head coach Shannon Schweyen a two-year contract extension on March 12 but ultimately choosing to not renew her contract at all on April 1.
Haslam said Wednesday: "We started the negotiation process for a contract. I did initiate those negations. A new contract was never formerly offered nor was it circulated for signatures."
What followed after Montana's season finished with a 17-13 record and another postseason one-and-done was 20 more days of silence with no official announcement of Petrino's elevation to his interim head coaching role nor an official announcement from the department about Schweyen not returning. This despite the fact that Schweyen, formerly Shannon Cate, had one of the most decorated playing careers in the history of UM or the Big Sky Conference as a Lady Griz player in the early 1990s.  And her non-renewal marks the first non-volunteer coaching change in the program since 1977.
With the world enraptured by the COVID-19 global pandemic, nearly every element of normalcy has been redefined since the Big Sky Tournament and college basketball tournaments around the country were called off that same Thursday, March 12.
The pandemic has caused for UM to shift classes to exclusively being conducted online. The state of Montana is currently experiencing a hiring freeze, a circumstance particularly trying for the flagship and land-grant universities.
And the pandemic has also caused for many things around the UM athletic department to shift, including Haslam's decision regarding Schweyen's renewal following her first winning season in four guiding her alma mater.
In an interview with the Missoulian newspaper on April 1, Schweyen expressed genuine surprise that Haslam would change course. After Skyline Sports broke the news of her non-renewal with confirmation from nearly a dozen sources; after Schweyen went on the record with a statewide news source to confirm and dispute the separation; after nearly three weeks of no comment whatsoever on the situation, UM had still not made an official announcement of Schweyen's termination until Wednesday.
During the video conference, Haslam attempted to explain his navigation of the situation, including confirming that Petrino will lead the Lady Griz under an interim tag until at least the end of next season.
"In the time between that meeting (March 12) and the time I made my decision, I just came to understand more the status of our roster and what that would look like going forward and I felt like I needed to make a change," Haslam said.
"The hiring freeze certainly plays into and just the situation we are in certainly impacts how we would search right now. That makes it sounds like I just settled on Mike Petrino. That's not the truth. I have great faith in his abilities but the hiring freeze does add a wrinkle to it that made it different.
"Shannon Schweyen is the greatest women's basketball player and possibly the greatest basketball player to ever be at the University of Montana. And probably in the Big Sky Conference. Anyone who makes these kind of decisions, they are agonizing. And if someone tells you they are not agonizing, I don't think they are telling you the truth.
"And I understood there were going to be a lot of complexities to this change. I did. But I realized there needed to be a change moving forward. I understood those. I understood there was a lot of things. I know it's easy for me to say this but it does not change how great of a player she was and how great of a coach she was and how much she accomplished here in the three decades she was here. That does not change but it certainly makes it difficult. It's a decision that is really not about me and I recognize that."
To further complicate an already complicated situation where interactive details between Schweyen and Haslam are unavailable for a variety of reasons, legal and otherwise, Schweyen's long tenure, iconic reputation and family embedment in the UM athletic department further strained the decision.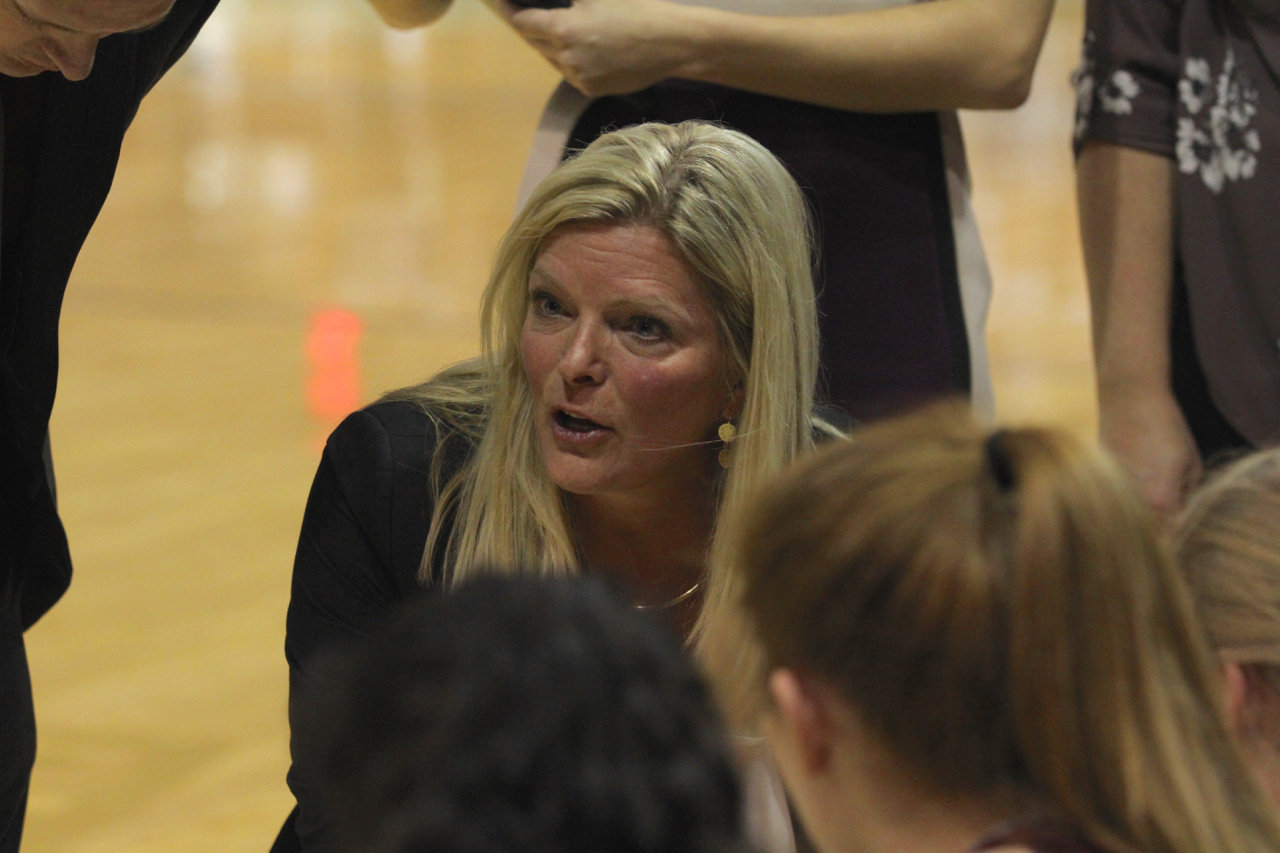 "There was some time where there was some back and forth conversation with Shannon," Haslam said. "I don't want to get into the details of what those were. But it was contributing to the length of (the silence) and also just the state we are in right now with campus."
During her playing career at UM from 1989-1992, Shannon Cate carved out a legacy like no other player in the history of a program steeped in tradition. The former Big Sky MVP is the only first-team All-American player legendary head coach Robin Selvig ever coached.
After a brief pro career derailed by numerous shoulder injuries, Cate joined Selvig's staff in 1993 and spent the next 24 years working for Selvig, who won a total of 865 games and advanced to 21 NCAA Tournaments in his peerless time coaching the Lady Griz.
While working for Selvig, Shannon Cate became Shannon Schweyen when she married Brian Schweyen, a former All-American decathlete at Montana State originally from Helena.
Brian Schweyen has served as the director of Montana's track and field program for 12 years. The Schweyens have three daughters, including two — Jordyn and Shelby — who redshirted for the Lady Griz this past season.
Cate finished her career as the all-time leader in conference history in scoring and rebounding. She was named the Big Sky's top female athlete during the league's 25th anniversary celebration a few years ago.
Two days after her initial conversation with Haslam, she was set to be a part of the inaugural Big Sky Conference Hall of Fame induction class. The banquet was supposed to take place Saturday before the men's tournament championship game.
Instead, the next three weeks played out in damning fashion. The news of Schweyen's presumed renewal caused for senior Gabi Harrington and junior Kylie Frolich to enter the NCAA Transfer Portal.
Those transfers combined with the graduation of seniors McKenzie Johnston (first-team All-Big Sky), Emma Stockholm and Taylor Goligoski meant the Lady Griz would enter next season with question marks and roster holes regardless of head coach.
Add in the mid-season departure of former 3-star recruit Sammy Fatkin, a move that brought the total of Lady Griz that left the program before graduating to 15. The speculation surrounding the program reached an all-time high for a program that won nearly 75 percent of its games in 38 years under Selvig
Several others considered leaving over the last three years. Two standout players – Kayleigh Valley and Alicia (Sims) Harris — did not take extra seasons of eligibility they were granted because of injury hardship. None of the other dozen transfers ever stated why they left.
That constantly overturning roster and the mystery behind it, a 52-69 overall record, a 1-7 record against rival Montana State and a 1-4 mark at the neutral site conference tournament all contributed to Haslam making the first non-retirement related coaching changing in more than four decades for UM women's basketball.
"I just got a better understanding of what the culture was and what the roster was going to look like," Haslam said of the space between March 12 and April 1. "That's really the best way I can describe it."
Last week former 4-star recruit and two-time Montana Gatorade Player of the Year Jamie Pickens flipped the script. The Helena High product transferred back home and will play at Carroll College. She did provide a reason why.
The 6-foot-3 forward who was ranked as the No. 89 recruit in America by ESPN her senior year went on the record with multiple outlets, stating she left because of Schweyen's non-renewal. Pickens seemed set to stay with the Lady Griz when the understanding was that Schweyen would receive a two-year renewal.
Petrino is left with a roster that includes six scholarship players. Three projected returners— the Schweyen sisters and Carmen Gfeller — redshirted last year because of injuries. Senior Madi Schoening has been a starter for parts of the last three seasons but has been nowhere close to fully healthy for two.
Junior guard Sophia Stiles, herself a former two-time Gatorade Player of the Year from Malta, had surgery this off-season and will miss most if not all of UM's non-conference schedule next season.
"This was an unexpected, emotional three weeks," said Petrino, who was born in Glasgow, grew up in Kalispell and went to college at Montana State-Billings. "I have tremendous respect and admiration for Shannon and the fact that she brought me here. Everyone on last year's team was brought here either coach or player because of her. Her history and her legacy is forever etched in all that she was a part of here. This has been a very unique situation. But we are doing our best to move forward.
"This is a special place, a special, historic program and it's bigger than one individual, including myself, of course. We look forward to moving forward together."
Despite Haslam's stated goal for a culture change, Schweyen is the only person associated with the program that moves on not by choice. Petrino's staff will be the same as Schweyen's, except he will serve as a college head coach for the first time and Jace Henderson, UM's director of basketball operations last season, will be a full-time assistant. Henderson will work alongside fellow former Griz players Jordan Sullivan (Selvig's niece) and Nate Covill as Petrino's assistants.
"It's definitely a new challenge and one that my staff and I are aggressively going after," said Petrino, who began coaching Division I women's hoops in 2011, his first of four years as an assistant at Wyoming. He spent a year at Colorado before joining Schweyen's staff before her first season in 2016.
"I really believe our staff is significant in this. When someone mentions my name, they have to mention Jordan, Nate and Jace. We have been very aggressive. This was three weeks ago. It was a very emotional night, the first night and from that point on, it's been us trying to pick each other up and move forward.
"The one thing about all four of us is we have emotional roots in this program and the history here. We are going to do our best to move forward with it. We think we have a great program here to share with other people and recruits. We've already been very aggressive doing it. We want people to be excited about this program."
Montana has signed four incoming high school players — Montana Gatorade Player of the Year Kyndall Keller of Havre, Joelnell Molberg originally from Box Elder, L'Tia Lawrence of Harlem, and Billings West forward Willa Albrecht — for next year's recruiting class. Only junior center Abby Anderson returns as a healthy starter from last year's team.
Wednesday, Haslam and Petrino both acknowledged the disadvantage the interim tag could have for Petrino and the Lady Griz staff during the late recruiting season. But Petrino, who comes from family of well-known football coaches, is eager to embrace his new challenge.
"Being named the head coach means that I am very humble and fortunate enough to be a part of one of the most historic programs our state has ever had," Petrino said. "It's a program that is recognized nationally. With that honor comes huge responsibility. Hearing the expectations I know we have, that's why you want to be here at a place like this."
Haslam, who is in his eighth year as the AD at Montana, was asked about and addressed directly his expectations for the Lady Griz program this season and moving forward.
"Well, certainly next year, I expect them to compete hard and we expect to win," Haslam said. "If we weren't going to go out there to win, this isn't YMCA basketball. We have big scoreboards for a reason. We do keep score.
"I also understand that I have inserted some dynamics into this situation that make it a little bit different and a little bit more difficult because of some of the changes I have made. But with the fan base we have, the commitment we make to women's basketball, the facilities we have built, the scholarships we fund…now I say all that with not knowing what COVID-19 and the future might bring…but we do right now expect to win conference championships and make it to the NCAA Tournament.
"We have high expectations here. We have high expectations on the court, in the classroom, in the community. We are the University of Montana and we need to set those and have high expectations. I don't think we waiver from that and I don't think Mike Petrino waivers from that. That's part of what is so attractive about coming to the University of Montana."
Photos by Brooks Nuanez or attributed. All Rights Reserved