BOZEMAN, Montana — The Bobcats found a new formula for victory on Thursday against Portland State.
Montana State earned its first road sweep of Northern Colorado in 15 years last weekend. The Bobcats rode its dynamic, athletic backcourt to each win, including needing all 58 points from Xavier Bishop and Amin Adamu in a two-point overtime win last Saturday.
Thursday, Bishop — who earned his second Big Sky Conference Player of the Week honor after piling up 50 total points in two games against UNC — struggled to find the mark shooting. And Adamu, who poured in a career-high 36 points in Saturday's 76-74 overtime win in Greeley, struggled with foul trouble all game on Thursday against the up-tempo, hyperactive Vikings.
Instead, a new wave of Bobcats helped boost Montana State to its third straight Big Sky Conference victory. Mike Hood came off the bench to carry the scoring load, pouring in 19 points. MSU big man Jubrile Belo battled through a frantic pace through the game, posting a 15-point, 11-rebound double-double. Borja Fernandez continued to provide a spark off the bench on the way to 13 points and seven rebounds. And the Bobcats gutted out a third straight league victory, outlasting the Vikings 71-64 on Thursday evening at Brick Breeden Fieldhouse.
"The biggest thing about this team is our heart and our togetherness," Hood said. "On and off the court, we are a close team and that says a lot about us."
"We don't care who gets the shot any night. We just ready to play at all times."
Under head coach Barret Peery, Portland State has employed a full-court press style that has pushed the pace and caused opponents to speed up and panic because of PSU's relentless pressure. The Vikings send four and sometimes five players to the offensive glass and had not been out-rebounded in a game entering Thursday's matchup.
In Montana State's eye-opening 91-78 win at UNLV, the lightning-fast Bishop raced pasted the Runnin' Rebels' pressure, leading MSU to one of the signature Big Sky wins in the truncated non-conference. After last weekend's explosion that saw Montana State's guards have their way against Northern Colorado's normally stingy defense, the matchup against PSU seemed to favor the Bobcats' explosive, veteran back court.
But Adamu got into foul trouble early. And Bishop could never find the groove, finishing 1-of-6 from the field. He did dish out seven of MSU's 13 assists (on 23 made field goals) and snared four rebounds. Adamu finished with eight points on 4-of-8 in 18 minutes.
Enter Mike Hood.
The transfer from Southern Idaho junior college has stepped up a few times this season off the bench, with Thursday's performance arguably his biggest yet.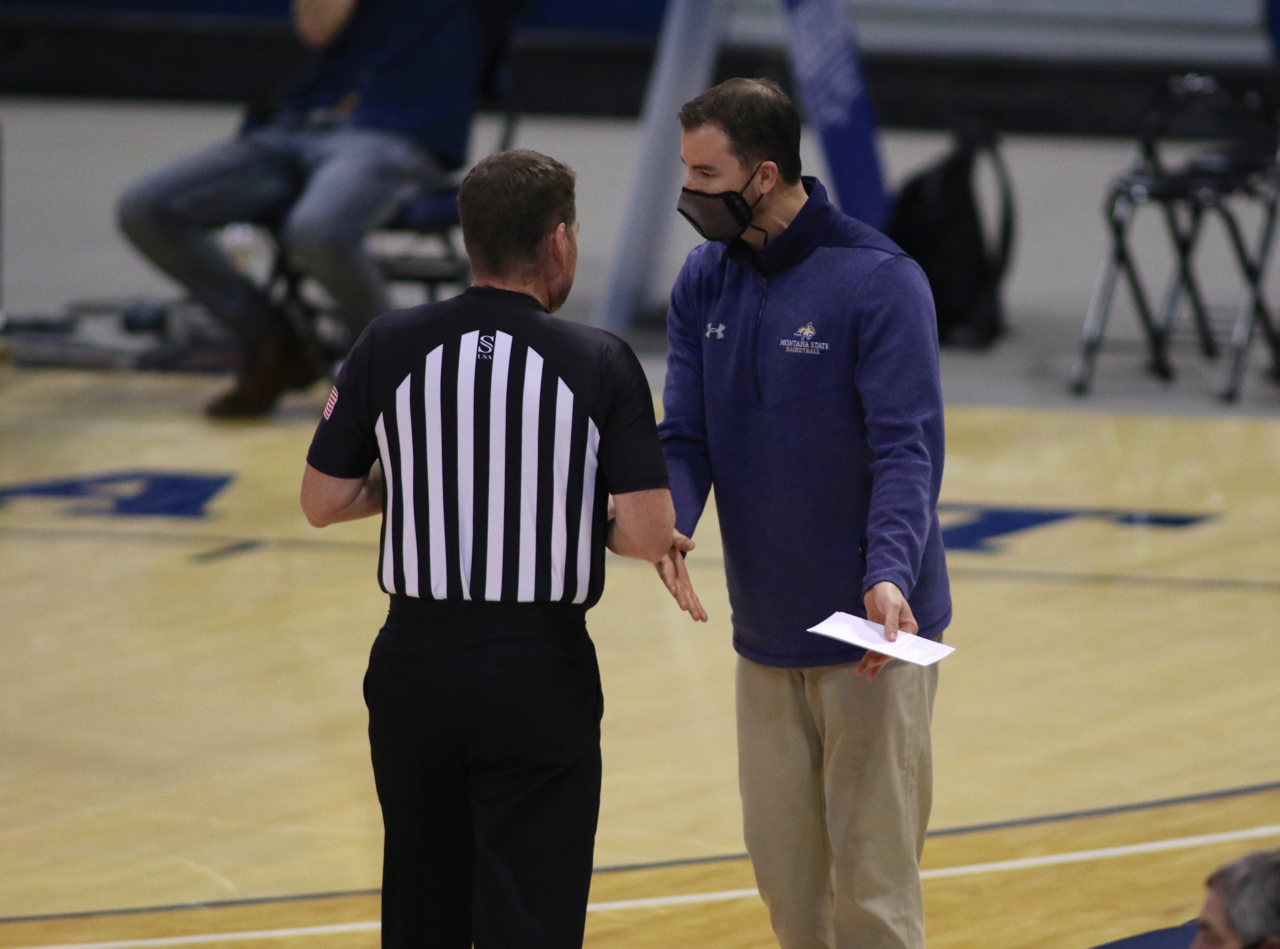 Hood tallied 11 points in the first half to help stake Montana State to a 37-29 halftime lead. In the second half, he scored eight more, totaling 19 points in 28 minutes on 7-of-13 shooting. His 3-pointer with 2:55 left was part of a 6-0 MSU run that took a 59-58 game and gave it some separation in the Bobcats' favor.
"I'm proud of him because he hasn't given in," MSU second-year head coach Danny Sprinkle said. "I know it hasn't been easy for him adjusting from junior college to now and we've all challenged him a lot and gotten him out of his comfort zone.
"We know what kind of player he is because of practice. There's times in practice where he just takes over. But getting him to play a Division I style, playing defense every possession, doing those little things that win games, he's really starting to come along and you can see it tonight."
"Mike was incredible," Belo added. "He really stepped up for us. That's the thing with this team – it could be anyone's night. It's never one person. We have so many weapons." (CLICK)
Hood's triple with 2:55 left stretched the MSU lead to 65-58, then the usual subjects closed out the game. Adamu and Bishop each scored a pair and Abdul Mohamed, a grad transfer from North Texas who continues to impress with his versatile defensive skill set, cashed in a pair of free throws, as the Bobcats kept the Vikings at bay.
Belo scored 11 of his 15 points and grabbed a total of 11 rebounds to help MSU earn a 40-38 advantage on the glass against one of the best two-way rebounding teams on the West Coast.
"Sticking together, staying with it, rebounding, getting stops," Belo said. "Facing adversity when it comes, we just have to stay the course and keep doing what we do best which is score and rebound. We have to keep it simple and that's what helped us down the stretch.
"We have veterans, guys who have been at this level and we do our best to make the right decisions because when it gets to the last four minutes, it's a grind," Belo said. "We just try to help everyone to help everyone to know what the best thing to do is and to know the time to finish it."
Montana State now must reload to face the Vikings again in Bozeman, this time with a noon tip on Saturday scheduled from Bozeman at Brick Breeden Fieldhouse.
"We don't need to change anything up, we just need to come with more energy and more intense," Belo said.
Photos by Brooks Nuanez. All Rights Reserved.