BOZEMAN, Montana — Mitch Brott may seem mad. He's not mad. The Montana State senior captain just motivated.
When former Montana State All-American offensive linemen John Weidenaar and J.P. Flynn were veteran starters, they used to always wonder what was irking the stoic yet talented under classman. Brott wasn't mad. He felt slighted. And he wanted to prove a point.
During his time as Montana State's starting right tackle the first half of his freshman year and the duration of his sophomore year combined with some time at left tackle as a redshirt freshman as well, Brott might of seemed grumpy. His teammates called him "Angry Mitch", poking fun at his quick temper and his aggressive play on the football field. But he never stopped producing and he never gave up his starting spot.
Last season, Brott's first as MSU's full-time starting left tackle, he earned All-Big Sky Conference honors for the first time. But a second-team nod did nothing but stoke his internal fire.
And on Saturday, the fifth-year senior captain's historic career will take another step toward becoming record-setting. The 6-foot-6, 305-pound Billings native will make his 48th straight start on the Montana State offensive line. The Bobcats host No. 25 Albany in the second round of the FCS playoffs. If MSU advances, Brott will get a chance to tie Weidenaar's Montana State record of 49 straight starts.
Somehow, even after one of the great careers of the decade by a Montana State offensive lineman that is part of a journey of personal growth for Brott, the Bobcat stalwart still remains motivated. He still has something to prove.
"Knock on wood, the first thing that has led to so much success is he's been able to stay healthy," Montana State offensive line coach Brian Armstrong said. "Mitch is a tough guy too. A really tough guy, physically and mentally.
"I think probably his greatest asset is the nastiness he plays with.
"It's easy to talk about being big and being physical but not all those big guys are physical and nasty. Mitch exemplifies what it means to play offensive line. He's a good guy but you get between those white lines, you don't really want to tangle with him."
Brott's internal motivation and elite level of aggression came to fruition in the last regular-season start of his standout career two weeks ago. With the Bobcats gunning to make history against rival Montana in Bozeman and MSU's already memorable three-game Cat-Griz winning streak on the line, Brott played one of the best games of his career.
The Bobcats rushed for a rivalry game record 382 yards, the 11th-most in the history of Montana State football. On a seemingly endless string of runs, Brott and the Montana State offensive line destroyed the Griz defensive front at the point of attack, blasting holes for MSU's stable of ball carriers on the way to averaging nearly seven yards per carry.
On several different running plays, Brott broke into the second level and leveled Montana All-American linebacker Dante Olson. On more than one occasion, Brott bulldozed the two-time Buck Buchanan Award finalist, leaving the 6-foot-3, 245-pound NFL prospect on his back as the ball carrier whizzed by. Olson was on his back with Brott looking down on him as Isaiah Ifanse scored his third and final touchdown of a 171-yard day from 17 yards out to put a bow on the biggest Bobcat ass-kicking of the Griz in more than 50 years.
"He finishes," Montana State fourth-year head coach Jeff Choate said. "That's what he does. He flat finishes people. He's a good technical blocker. But the thing that separates him is his desire, like he likes to say, to move one man from Point A to Point B against his will."
Less than 48 hours after Montana State's signature win was in the books, Brott earned first-team All-Big Sky honors. The preseason All-American is well on his way to earning post-season national honors as well.
"He's been a dominant player, he really has," Choate said. "When I see him play, he is a dominant offensive linemen. He's not just a guy who is doing his job who is capable of getting his body between his man and the ball. He is dominating other people. That's an impressive thing for offensive linemen."
On the surface, Brott can seem sullen and surly. But that's mostly because he is a no-nonsense player and, frankly, a nonsense person. And the former Billings West standout has always felt as if he has something to prove.
That seed was planted years ago.
"When I got a call from (former MSU head coach) Rob Ash my senior year, he told me I was the best offensive linemen in the state over the phone," Brott said. "And then I was only offered a 37 percent scholarship, which didn't make sense to me.
"That was the biggest motivation. I was quite upset about that."
Throughout his entire redshirt season, Brott "woke up and thought about that every since day." He said he tried to "do better than every player on scholarship every single practice just to prove a point.
"I wanted that money. I wanted that recognition and that sense of accomplishment," he said.
As a redshirt freshman, he earned MSU's starting right tackle spot. Midway through the season, veteran left tackle Dylan Mahoney went down with an injury, Brott had to figure out how to anchor the left side of the offensive line.
By the spring heading into his sophomore season, his third in the program and his fourth semester overall, Brott earned the full scholarship he coveted
"I don't think I've ever beat Mitch on a rep in practice," said MSU fifth-year senior inside linebacker Josh Hill, who joined Brott on the first-team All-Big Sky list this season. "Not once since we were freshman until now. It's never a question he is going to do his job."
Brott started every game at right tackle as a sophomore before making the challenging switch from the power side to the blind side. He has not missed a beat, playing an integral role on anchoring an offensive front that has helped Montana State lead the Big Sky in rushing two of the last three seasons.
The Bobcats are the only team other than Cal Poly since the Mustangs joined the league in 2012 to lead the conference in rushing. Cal Poly's vaunted triple option offense has consistently ranked at or near the top of the FCS. But that distinction now belongs to MSU. The Bobcats are rushing for 270 yards per game, including 295 per contest over their last nine games.
And Brott deserves plenty of credit for leading a unit that features two all-conference junior guards in Taylor Tuiasosopo and Lewis Kidd along with three sophomores (Zach Redd, Connor Wood, Denver Krone) who play consistently.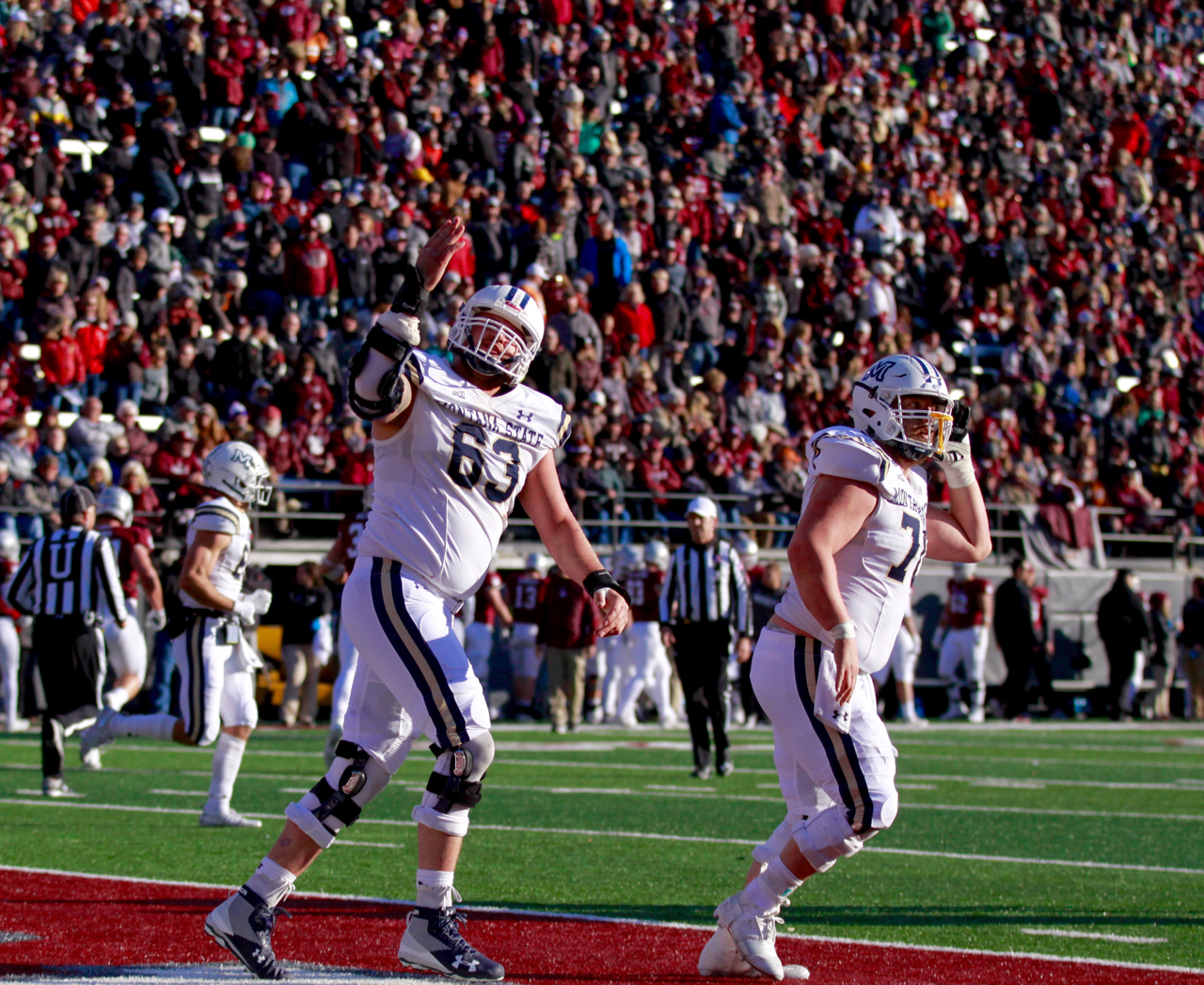 "Without him, we wouldn't have the same attitude," MSU senior captain Kevin Kassis said. "He's a guy we rely on heavily. Those guys up front don't get enough credit and he's the leader. They do it to help the team any way they can and he's a guy who has busted his butt for the past five years. Without him, we would be a different team."
Throughout his career, Brott has battled some of the Big Sky's best players, particularly when it comes to edge rushers. His first real playing time at left tackle came against NAU. Siupeli Anau, who has floated in and out of the NFL in recent years, baptized Brott, right tackle Patrick Carroll and the rest of the MSU offensive line, rolling up three sacks in a 20-14 Lumberjacks' win in Bozeman.
As Brott has improved, he has been able to tangle favorably against some of the best in the league. When asked who his favorite foes have been, he mentions former Idaho Buck end Kaden Elliss, currently of the New Orleans Saints – "He was somebody I really enjoyed going against because it really tested my skills" — along with current Sac State senior edge menace George Obinna, a "guy with a great motor, very physical, would always finish the play."
But some of the best players Brott has faced over the last five seasons have been the teammates he battles in practice every day. Brott squared off against former All-Big Sky defensive linemen like Tyrone Fa'anono and Tucker Yates for years. And he calls current Bobcat ends senior Bryce Sterk and junior Amandre Williams "two of the best players in the entire conference."
"I get to go out every day and try my best against those guys and that's only going to make me better," Brott said.
Brott's steady yet impressive improvements have been made possible by his consistent health. He hasn't experienced much bad luck. He's had bangs and bruises, tweaked ankles and stingers in his shoulder, surely. But he's never needed an operation. Part of his health comes from his consistent concentration on fundamentals.
"I feel like I play with a pretty good base on the o-line and do a good job moving my feet," Brott said. "Most of the injuries on the o-line come when people stop their feet and get rolled up on. I think it just comes down to finishing each and every play. Once you start think about getting injured, that's when people get hurt."
Another motivation for Brott has been two-fold: his pride in his Montana roots and the support system provided by his family. He got a chance to play with his older brother, Wilson, for four years. The Brott brothers' parents Craig and Gina Brott have attended every single Bobcat home game for more than five years.
"It's a great honor; I love being from Montana," Mitch Brott said. "People like John Weidnenaar are the ones who paved the way for me, showed me the ropes and I appreciate that. Those guys who were also from Montana and dedicated everything they had to being successful, which inspired me.
"And it's a huge blessing to have a support net like mine. My parents have been to every game my whole career. Hat's off to them. They have to pay for the travel and I just have to ride on the plane and eat pretty food. They do all the hard work. I just go along for the ride."
The growth in Brott has been both physical and mental. He has learned how to consistently channel what many mistake for anger into an elite competitive mentality on the gridiron.
"I think he is really matured a lot," Choate said. "I think early in his career, Mitch was a guy who had a lot of talent and had a lot of anger. Football was a good release.
"Now I see him as one of the best leaders in our locker room. I think he's thoughtful. I think he's good with our young players. And I think he's good about putting an arm around somebody and helping him through a tough time. But he still has that standard for himself in terms of how he plays and that has elevated our entire offensive line and our entire team."
Flynn, a three-time All-Big Sky selection who started for four seasons and spent a pair of seasons on the San Francisco 49ers' practice squad, remembers when he first met Brott when Brott was redshirting in 2015.
The former Bobcat recognized Brott's natural talent and penchant for violence right away. Flynn, a native of Bettendorf, Iowa who moved back to Bozeman after suffering a devastating knee injury, has stayed close to the program. He monitors the offensive line play in particular and loves the group he calls "straight up nasty." Flynn gives Brott credit for setting the pace for that group.
"Brott has developed into a mean, mean, awesome football player," Flynn said. "This kid, I would describe his past demeanor off the field as Ee-Yore. He walks kind of goofy, moping around, he's huge…and you get him on the football field and he has this fire in his eyes.
"Being on the field on the sideline, I almost want to go down there and pat him on the back and tell him to calm down, relax. And that's not how he is. Guys play that way and guys need to play that way and that's how he plays. Angry Mitch is his alter ego for sure and he has harnessed it to become such a great player.
"I absolutely promise you: you do not want to (mess) with Mitch Brott."
As Brott's final season of college football has progressed, his friends back in Billings have been sure to remind him "just how good they think I am." But Brott doesn't listen to that outside noise. He is concentrated on helping MSU to its first playoff run in a generation.
Brott remembers the first day Choate walked into the Montana State meeting room. Brott and five of his classmates had signed to play for Ash but Ash was abruptly fired after a 54-35 loss to the Grizzlies in Bozeman to cap a disappointing 2015 season. That 5-6 finish marked MSU's first losing season since 2001.
Instantly, Brott said he knew the program was about to change drastically. Even if it meant two more losing seasons and two more Thanksgiving weekends spent with no playoff game to prepare for.
"I knew right away there were a lot of people on the team that weren't going to make it just because at that point, the standard had slipped," Brott said. "People were getting away with a lot of things that weren't part of a team effort. People weren't trying anymore. You could definitely tell what Choate has built now is a succeeding program. His culture behind is something to be proud of."
That culture has helped Montana State reach this moment. Since racing to the 1984 national championship, MSU has won a total of four playoff games. One of those wins came last season in the first round against Incarnate Word before the Bobcats ran into the brick wall that is FCS juggernaut North Dakota State.
Brott himself wants to play football as long as the game allows. He will likely get a chance to prove himself in front of NFL scouts in the spring. He has the measurables, he has the experience and he plays with the mean streak that translates to the next level.
But before any of that, Brott is squarely concentrated on today and tomorrow, nothing more. He is closing in on his degree in construction engineering & technology. Regardless of his football future, he knows he has a second career path, likely in the booming Gallatin Valley, to fall back on.
"But if you start looking forward, you will miss something in the present," Brott said.
He credits Choate and the program for teaching him how to manage his time. He has become adept at balancing football and school even with his demanding major.
Brott knows his time as a Bobcat is wearing thin. He is soaking it all up. And although the burly, powerful tackle still carries an edge, he will be the first to tell you that his time as a Bobcat has transformed him.
Angry Mitch is now a man.
"I'm really glad about the structure that I've learned," Brott said. "I think I've become a lot more responsible here with my time management. I feel like I always attack everything with a good work ethic. I have learned a lot and grown up quite a bit. Choate has been a major key in all that.
"This experience has changed me."
Photos by Brooks Nuanez. All Rights Reserved.