BOZEMAN — Sometimes, the best of stories don't have storybook endings.
The Montana State Bobcats had dinner at MSU president Waded Cruzado's house to wrap their first fall camp under Jeff Choate. The grueling grind in August of 2016 began laying the foundation of toughness that Choate hoped his program would be built upon.
The previous spring and that fall camp, John D'Agostino was on the grind, too. The third-year sophomore was a local preferred walk-on from Bozeman High who had worked to establish himself under former head coach Rob Ash and his staff.
When most of the Bobcat coaches were fired following MSU's 54-35 loss to Montana in Bozeman to cap the 2015 season, D'Agostino and many of the other non-scholarship Bobcats who had not played in games yet sat on pins and needles, wondering if the new coaching staff would keep them around.
The 6-foot, 190-pound wide receiver put his nose to the grind stone, emerging from MSU's group of receivers because of his attention to detail, his crisp route running, his ability to find soft spots in defenses, particularly against zone coverage and his sure hands.
By the end of fall camp, D'Agostino had earned a scholarship.
"I had to prove myself over again," said D'Agostino, who earned MSU's Offensive Scout of the Year in 2014 while redshirting and catching two passes in 2015. "I felt like I had proved myself to the old coaches when I first walked on. Then the new coaches came in and I knew I had to go through that process all over again."
Montana State University President, Waded Cruzado, made a special announcement tonight! Congratulations Johnny D! pic.twitter.com/7JqRAQXYYy

— Bobcat Football (@MSUBobcatsFB) August 23, 2016
That fall, the storybook continued. D'Agostino caught a team-high six passes for 47 yards in MSU's season-opening 20-17 loss at FBS Idaho. He caught his first career touchdown for Montana State's first score of its annual Gold Rush game, igniting the sellout crowd in a 27-24 win over Bryant. He caught his second touchdown the following week, a 55-0 win over Western Oregon.
He caught five more passes total over the next three weeks, three losses in what would become a six-game skid to open Big Sky Conference play. D'Agostino suffered a separated shoulder that ended his season in MSU's 20-14 loss to Northern Arizona in MSU's sixth game.
The following week, true freshman Chris Murray replaced junior Tyler Bruggman as MSU's quarterback and the Bobcat passing game largely disappeared. D'Agostino finished the season with 19 catches for 176 yards and two touchdowns, all second on the team to Mitch Herbert, who had 26 grabs for 476 yards and three touchdowns.
"Johnny D, he never complains, he just gets open," MSU junior captain Kevin Kassis said in August.
The separated shoulder was a setback but only just the beginning of the misfortune for the local product. D'Agostino tore his ACL while running a route during the spring of 2017 in a non-contact drill. The fluke injury cost him all of the 2017 season and held him out of most of the competition during the final spring football practices of his college career.
"Physically, it was hard but also mentally, going out there and watching games and watching practice and you want to participate but you physically can't, that's the hardest part," D'Agostino said. "I didn't get to play in a game for almost two years. That was tough."
After participating in a limited fashion last spring, D'Agostino competed for a spot in the suddenly crowded rotation with the further development of Kassis, the addition practice reps received by converted junior quarterback Travis Jonsen and the emergence of second-year players redshirt freshman Willie Patterson and sophomore Lance McCutcheon.
Still, D'Agostino held faith that he might return to form in his final season.
"It's been awesome to get back out on the field with no restrictions," D'Agostino said in an interview in August. "In spring ball, I played a little bit but with restrictions. It's been awesome to get back out there and play actually football."
"He's just a really tough, resilient guy, a steady Eddy, always in the right place, always doing the right thing, always encouraging his teammates, always bringing other people with him," Choate said in August. "He's a Bobcat legacy guy who really gets what this program is about, takes a tremendous amount of pride being a part of the Bobcat family and is a great example to younger guys. He's always positive fighting through the injuries and you see him out here now making plays. He's a great example to these young guys."
D'Agostino's father, Mark, was a defensive standout for the Bobcats in the late 1980s.
D'Agostino caught a pass for a 19-yard gain in MSU's offensive explosion in a 47-24 win over Wagner. He caught a pass for an 11-yard gain in MSU's 43-23 win at Portland State to open Big Sky Conference play.
He has played snaps on special teams all season, making tackles on kickoff against Wagner and Idaho. He also assisted on a tackle against Weber State. But in late October, D'Agostino "got tripped up, went to catch myself, fell on the turf and my elbow popped out."
"I dislocated my elbow," D'Agostino explained. "It was really painful."
His latest injury effectively ends his career. The former Class AA first-team all-state selection helped Bozeman High to the 2013 state championship. On Saturday, he and nine senior classmates will celebrate their Senior Day before the final home game at Bobcat Stadium this season.
"It's always been a dream of mine to come play here so it was always in the back of my mind," D'Agostino said. "When I got the opportunity to walk on here, there wasn't really another option I was pursuing."
"The relationships will stick with me the most. I've definitely made some good memories but I have some relationships that I will cherish and hold on to for life.
"It's crazy it's over. It goes by so fast and it's so nuts that it's come to an end. It means a lot to make it all the way through. Not a lot of guys do that."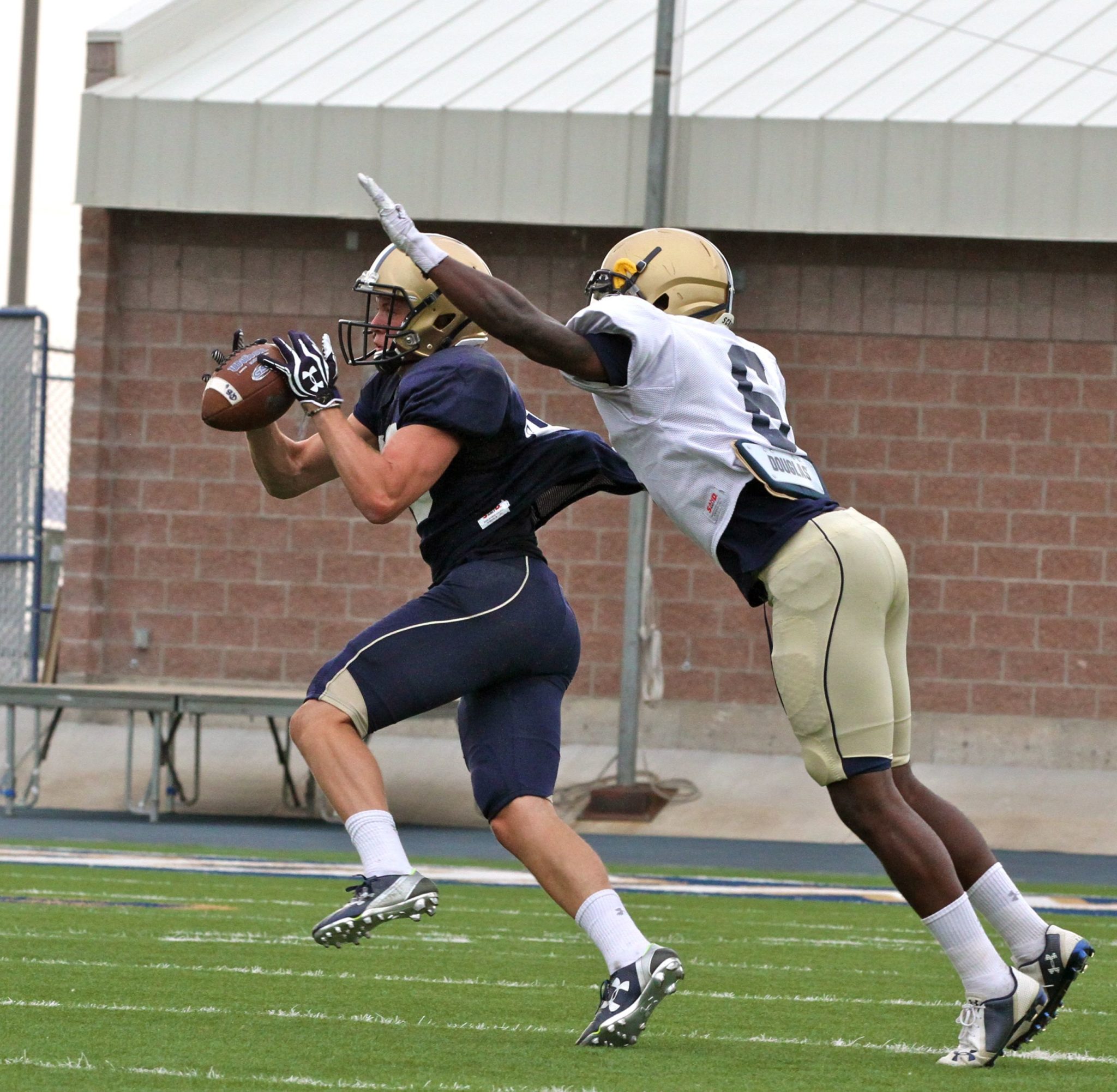 Photos by Brooks Nuanez. All Rights Reserved.