MISSOULA, Montana — On the first two sacks of his Griz career, Patrick O'Connell celebrated with what looked most like a calf roper tying his prize.
It makes sense. O'Connell, like so many rodeo cowboys, is a hard-nosed Montanan through and through. And that passion for the University of Montana has helped O'Connell become UM's leader in sacks.
But O'Connell had to walk a different path to earn a chance to become one of UM's breakout stars this fall.
During his high school days, O'Connell played for five Montana state titles. Kalispell Glacier High School played for three state title games during O'Connell's time playing for Grady Bennett. The Wolfpack, new to the Montana high school scene as of 2007, won its first state title in 2014 when O'Connell was a sophomore.
Glacier played for state titles in 2013, 2014 and 2016. As a senior the fall of 2016, O'Connell notched 135 tackles, 18 tackles for loss and four sacks in a season that abruptly ended with a 33-21 loss to sudden Billings Senior dynasty.
O'Connell also played for Glacier's 2017 state champion basketball team. And O'Connell, a three-year captain for the Kalispell Lakers American Legion baseball team, hit .484 with 60 RBI and 76 hits to lead his club to a runner-up finish at the Legion state tournament in 2016.
All the while, O'Connell dreamed of playing football for the Montana Grizzlies.
"I have followed the Griz ever since I was young," O'Connell said the first week of October. "Me, my dad, my brothers, we'd always come to Missoula for the games almost every weekend when I was a kid."
While playing the "stud" position in Glacier's defense, O'Connell earned Class AA all-state honors as a junior and a senior, including first-team honors his final season. When his recruiting felt stuck in the mud, O'Connell and Glacier head coach Grady Bennett, a former Griz, reached out to former UM head coach Bob Stitt and his staff.
"There wasn't too much interest," O'Connell said. "So I had to focus on doing something else than coming to play for Montana."
O'Connell wanted to play right away if he couldn't play for the Griz. So he decided to go to the University of Mary in Bismarck, North Dakota.
As a true freshman, O'Connell played in 10 games, posting 33 tackles, 3.5 tackles for loss and a fumble recovery he returned for 39 yards.
That season set the tone for O'Connell's future.
"There's a huge difference between playing at the high school and college level," O'Connell said. "It was huge for me to be able to have a year to play a lot and adjust to the speed."
Following the 2017 season, Stitt did not have his contract renewed as Montana's head coach. After his dismissal, recruiting coordinator Justin Green was one of the assistant coaches that maintained his job.
O'Connell had a previous relationship with Green and always dreamed of playing for Bobby Hauck, the man who earned the UM coaching job after Stitt's dismissal.
"Once we started talking and Coach Hauck knew how much I wanted to be a Griz, it took off," O'Connell said.
O'Connell gave up his starting position with the Marauders to bet on himself. He joined Montana's roster last winter, beginning the intense work that would result in him playing pivotal roles in UM's long-yardage defensive situations this fall.
"It was a gamble," O'Connell said. "I was talking to my family a lot about it. I wasn't too worried about that just knowing what I can do personally and what I've done before, my hard work and where it's gotten me."
Because of NCAA transfer rules, O'Connell sat out last season. He dedicated himself to the weight room, giving credit to strength and conditioning coach Matt Nicholson for his physical growth. And O'Connell credits Hauck for instilling toughness "in me, the scout team and the entire team."
As a redshirt last season, O'Connell earned Montana's Defensive Scout of the Year, setting the tone for his rapid progression up the depth chart. He notched six tackles during UM's spring game in O'Connell's hometown last April.
Throughout 2019, O'Connell has continued making strides and continued impressing his teammates.
"Pat is doing a lot of things right, making some plays, taking advantage of his opportunities," Hauck said. "Always like to see guys come on and get a chance to perform. He's done a nice job the last couple of weeks."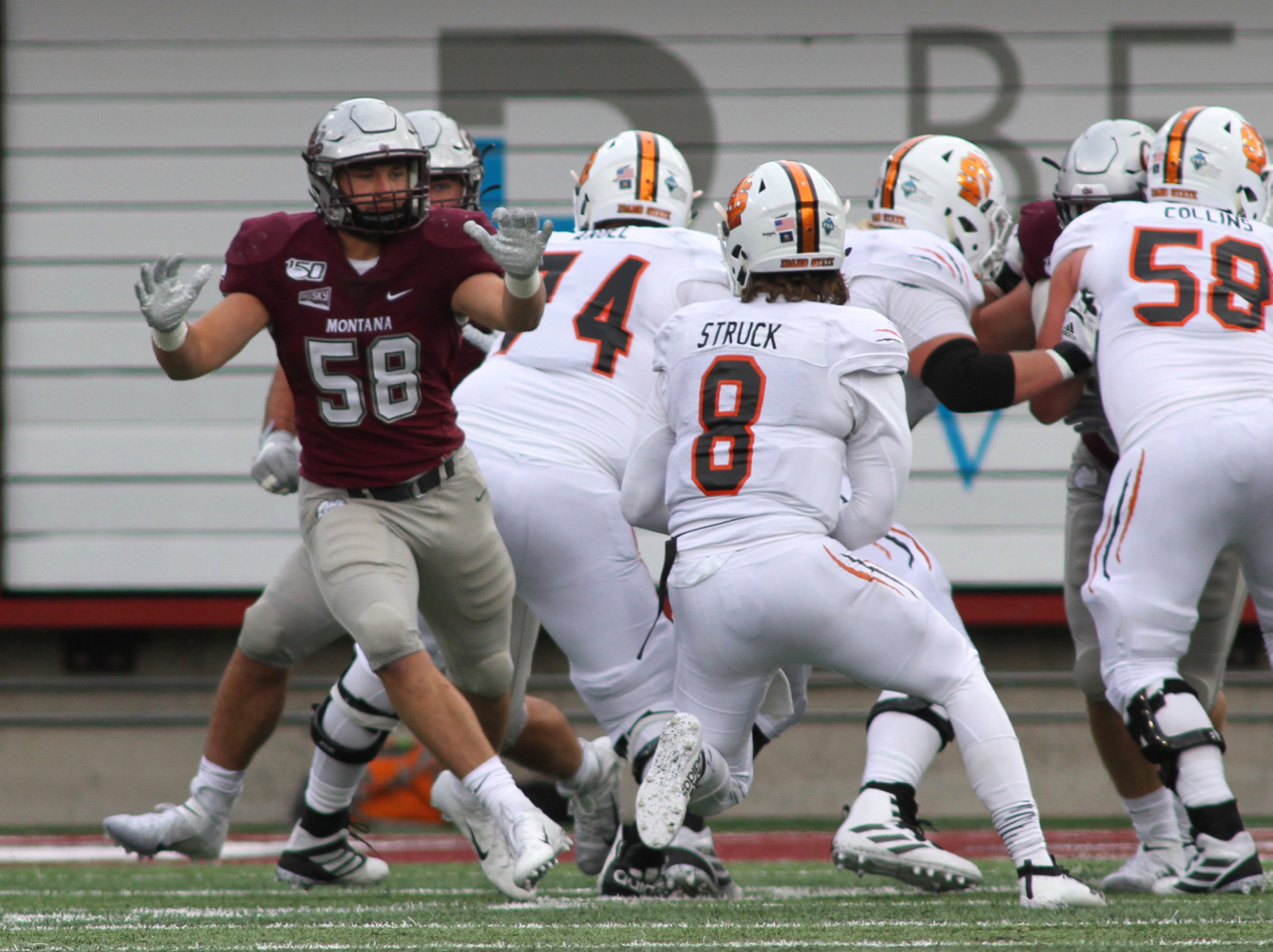 O'Connell enters Saturday's Griz game at No. 15 Sacramento State with four sacks, the most on the Griz and tied for the third most in the Big Sky.
"He's awesome. He's a really hard-working, tough dude. He plays fast and physical and he symbolizes what we want to be on defense," UM sophomore safety Robby Hauck said. "I hope he continues to thrive."
The 6-foot-2, 225-pound O'Connell admits that sometimes lining up on the edge against tackles "that are so tall, 6-7, 6-8" is intimidating. But he has the innate ability to "sneak a move, duck somebody" and find his way to the quarterback.
O'Connell already has as many sacks this season as he did during his standout senior year of high school.
"I'm just enjoying it," O'Connell said. "This is what I've always wanted. I'm just working hard and trying to maximize my opportunity."
Photos by Brooks Nuanez. All Rights Reserved.