Editor's Note: This story originally was printed in the program for the inaugural Montana Football Hall of Fame banquet in the spring of 2019.
Thatcher Szalay's family lived about 40 miles outside of Whitefish during his childhood. Szalay estimates his nearest neighbor lived "five miles down the road."
The Szalay family home drew its heat from a woodstove. Thatcher's father, David, was a logger so it only seems nature that Thatcher spent a good amount of his childhood chopping wood.
Watching television was a foreign concept. Szalay remembers spending all the time he wasn't wielding an axe or shoveling snow instead exploring the woods. He didn't know earning an athletic scholarship to play a sport in college was even a reality until his junior year at Whitefish High School.
"I was always just outside getting my hands dirty," he said. "It wasn't probably until my junior or senior year of high school that I was even aware that you could get a scholarship, go to college. I guess what carried me through was the work ethic my parents instilled in me.
"The Montana lifestyle is not an easy one. There's something to be said there."
Szalay didn't have a TV nor did he watch sports regularly. But he knew what the NFL was. When he got to middle school and started playing football competitively, he was drawn to the fortitude, toughness and relentlessness the sport requires.
But it's the commitment – commitment to never feeling 100 percent physically, the commitment to his teammates, the commitment to what it takes to play the game at its highest level — that carried Thatcher Szalay to the top of the gridiron mountaintop.
"Since I started playing football ever since I was able to, I committed 100 percent to the play," Szalay said. "I committed to knocking the shit out of the other guy. That's what allowed me to make it all the way to the NFL. To lay it on the line, to really knock people, to move them out of the way as an NFL offensive lineman, that takes a tremendous commitment."
That commitment shined through for Szalay during his tremendous football career. Szalay came to Montana as a 6-foot-4, 225-pound offensive lineman short on mass and long on desire. He left the school as a two-time All-American offensive guard who captained the 2001 Grizzlies to the school's last Division I-AA national championship.
Szalay played three seasons for the Cincinnati Bengals, the 2005 season for the Baltimore Ravens and the 2006 campaign with the Seattle Seahawks.
Throughout his playing career, the 6-foot-4, 300-pounder carried a reputation as a tireless worker who used effort and speed to punish defenders as a devastating lead blocker. That reputation earns him induction into the Montana Football Hall of Fame.
"Thatcher had the perfect mentality for an offensive linemen," said Jon Kasper, the director of championships for the Big Sky Conference and the Griz football beat writer for the Missoulian newspaper during Szalay's playing days.
"He most definitely played the game with a mean streak. Thatcher was not out there to make friends. He was out there to do a job, and wanted to be the very best in the nation at his position. He took tremendous pride in wearing the maroon and silver, and had an unmatched passion to compete and dominate.
"The offensive lines he played with – guys like Derek Decker, Dylan McFarland, Brian Pelc – were the heart and soul of those teams. The Griz of that era entered games with the attitude that they could not be beat. Thatcher exemplified that mentality."
Kasper said his most clear memory of Szalay involved the menacing guard "pulling and destroying opponents 10 years down the field as Yohance Humphery galloped to the end-zone."
Humphrey did that plenty. The slasher from Alaska still holds Montana's single-game record for yards in a game with his 265-yard effort against Weber State in 2001. He also scored four touchdowns that game, tying him with four other Griz backs for the most ever.
Humphrey ran for 201 yards against Eastern Washington in 2001 and holds seven of the top 40 single-game totals in Griz history. His 1,658 yards in 2001 is still the most by a Grizzly running back. His 4,070 rushing yards in his career rank at the top of the UM list, ahead of legends like Chase Reynolds, Lex Hilliard and Rocky Klever. Humphrey galloped into the end-zone 43 times, third in UM history.
Szalay, a three-year starter who helped the Griz to three straight Big Sky Conference titles between 1999 and 2001, was a lead blocker on almost all of Humphrey's trips to the end-zone.
"Thatcher was so good, man," said former UM All-American receiver Etu Molden, one of 11 fifth-year seniors along with Szalay and Humphrey who endured UM's coaching change from Mick Dennehy to Joe Glenn long enough to taste the national championship in 2001. "It was incredible to see some of the things he could do at his size. He blocked for me on a lot of my touchdowns, coming out on screens. He would get down field, push people out of my way. It was amazing to watch."
One of the most iconic photos in the history of the Griz football program ran on the front page of the Missoulian the morning after Montana defeated Furman 13-6 in the national championship game in Chattanooga, Tennessee. That win capped a 15-1 season and immortalized Szalay and his teammates in UM lore.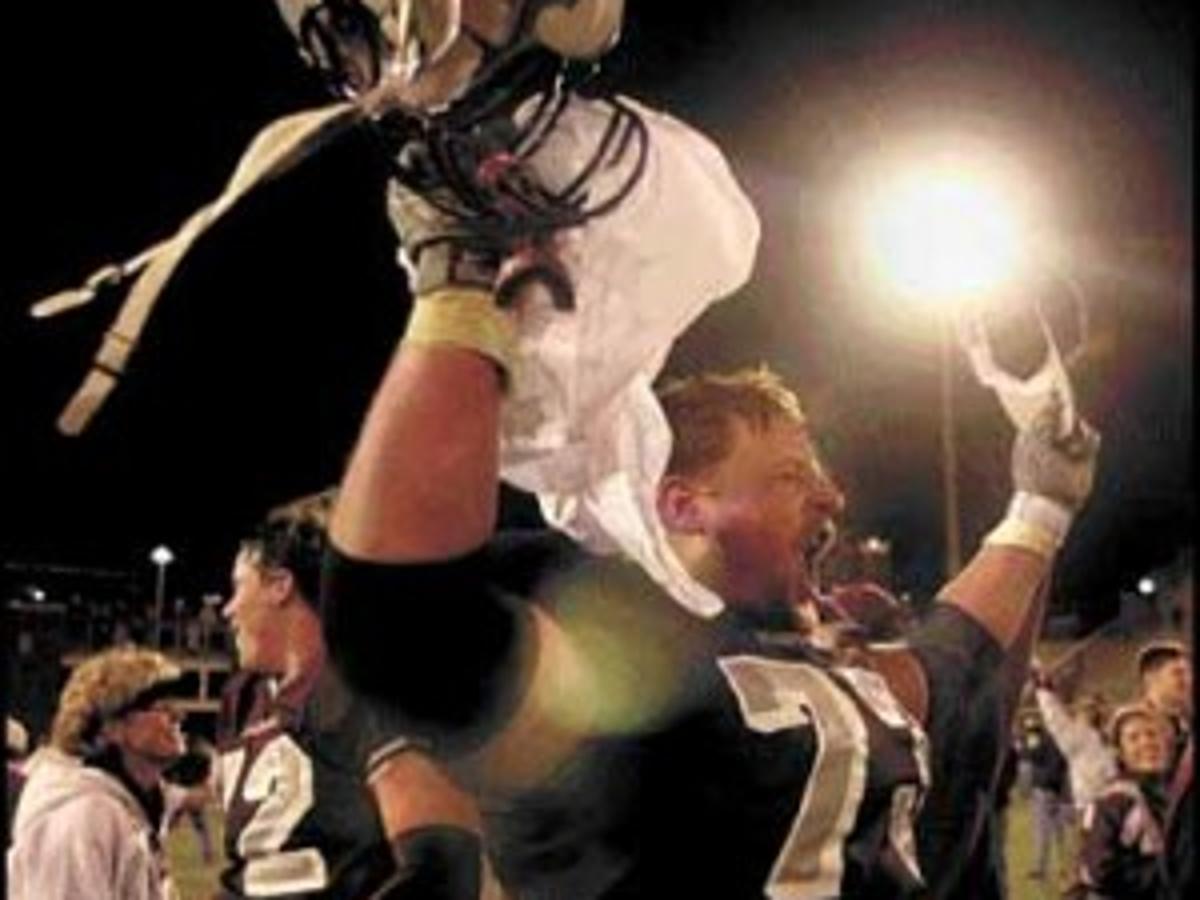 "Everybody got along," Szalay said. "We all hung out together, most of us lived together. As far as the rest of the team, the family atmosphere was always in the locker room. There wasn't anybody I can remember that wasn't a part of it. We all were a part of it together."
Szalay remembers the Griz sending a plane to Whitefish to pick him up for his official recruiting visit to Missoula. But Szalay did not consider himself a big recruit. The former standout tennis player ended up choosing the Griz despite strong recruiting efforts by Montana State. His first few weeks on campus, he remembers getting his first piece of motivation.
During his first fall camp, someone (unnamed) muttered to Szalay, 'You're never going to make it. I can't believe they wasted a full ride on you."
By his second year in the program, Szalay was up to 275 to 280 pounds. He started to have the ability to hold his own physically, which transformed his confidence mentally.
As a junior, Szalay was one of the top players for a Griz team that advanced to the 2000 national title game, losing to Georgia Southern. As a senior, Szalay was a consensus All-American.
Because he had always felt doubted, he was unaffected by all the outside noise surrounding his NFL potential. In his late teenage years, Szalay looked up to former Griz offensive lineman Kirk Scrafford, who played most of the 1990s in the NFL. As a UM underclassmen, Szalay remembers watching Scott Curry draw attention from NFL scouts.
When he found a way to make the Bengals, Szalay realized he was living in a different world.
"It was pretty cutthroat," he said. "It was not an easy route at all. To go from being a national champion to the worst team in the NFL, that was a shocker.
"And to me, the writing was just on the wall. There was no unity. It was the craziest thing. You would think that at that level, they would have that part figured out. But they don't. Some teams are known for being good to their players and some teams aren't.
"But to have the realization that it is the best in the world, the top and being out there meant you are a part of that – Coming to that realization is pretty profound."
Living in giant cities like Cincinnatti, Baltmiore and Seattle "was not easy for me", Szalay said. He missed the rural lifestyle where "all it costs to do something is the gas to get where you're going in the mountains."
Szalay remembers the offensive line coaches for the Bengals and Ravens telling him when he was released that if it were up to them, they would've retained the blue-collar interior offensive lineman. He joined the Seahawks in 2006 after training camp. After that season, the Seahawks invited him back to training camp.
He considered the offer. But he knew it would be an uphill battle to make another active roster.
"I just decided I wanted to try to have a family," said Szalay, who married Katie Connors in September of 2003. "We did a lot of long distance time with her finishing up school. I just decided it was time.
"Every training camp, I would go through and they'd have a high-round draft pick on the offensive line who couldn't remember the plays in the playbook. Everywhere I went, the offensive line coach always said, 'If it was up to me, you're my guy.' But that's not how it works. It's the people upstairs who invest the money, they aren't going to invest a million dollars or more and get rid of them. For me, I was just a walk-on free agent. Nobody had any money invested in me. So I decided to walk away."
Szalay still has the aches and pains that are inevitable for those who play the game at its highest level. But the 40-year-old feels lucky to not have the issues that ail some.
On one hand, Szalay wishes he would've gotten more of a fair shake in the NFL. On the other hand, the memories he made, from all the wins at Montana to having a locker next to NFL Hall of Famer Ray Lewis in Baltimore are memories he wouldn't trade.
For those who watched his fearsome persona and his hard-hitting style, Szalay will not soon be forgotten as one of Montana's most memorable Griz.
"Thatcher was a self-made player," Kasper remembered. "He made himself great with hard work. He was very serious and focused. He played with tremendous pride and passion. He truly loved wearing the Griz uniform. I believe he was one of the greatest offensive linemen in school history."