The Bobcats snapped their skid with a must-have win in Moscow on Sunday afternoon.
The Montana State men's basketball team has navigated a hellacious last 30 days. After jolting to a 6-0 start in Big Sky Conference play, MSU's best start since 1987, the hits kept coming.
First, MSU had its series against rival Montana scheduled for the final weekend of January cancelled because of Covid-19 protocols, calling off the first rivalry series in more than a decade in which the Bobcats sat ahead of the Griz in the league standings entering the games.
Then came a four-game losing streak at the hands of the two best teams in the league. Weber State averaged nearly 90 points per game sweeping MSU in Ogden. Eastern Washington also scored 178 points in two games, same as Weber, to post a pair of convincing wins over the Bobcats in Bozeman.

Then last week, Montana State had Covid issues among its coaching staff, causing for its home and home against Idaho State to be called off.
After a 10-day break that caused MSU to move its games against Idaho to Friday and Sunday instead of the typical Thursday-Saturday format, Montana State retook the court, this time in Moscow, for the first time since February 13 on Friday night.
The Bobcats did not hit a 3-pointer for the first time in more than seven seasons and Idaho broke through to snap a 19-game losing streak to post the first win of the season for the Vandals, 74-69.
On Sunday in the last men's basketball game that will be played at Memorial Gym, Montana State gutted out a 71-61 victory that snaps a five-game losing streak heading into the final weekend of the regular-season.
Amin Adamu helped lead the way, pouring in a game-high 21 points and finishing 8-of-11 from the floor. He also shared team-high rebounding honors with senior Abdul Mohamed, who also scored 11 points as MSU moved to 7-5 in league play while dropping Idaho to 1-17 in conference. MSU's win also marks the first time in 12 years Idaho lost on its Senior Day.
"I thought our energy was tremendous today," Montana State head coach Danny Sprinkle said in an athletic department press release. "Amin was great all game. He really gave us some confidence and he was aggressive. He's hard to guard when he's playing like that.
"I thought Abdul was terrific in the (second half). He got some second chance points, He had some big rebounds, he really provided a spark for us."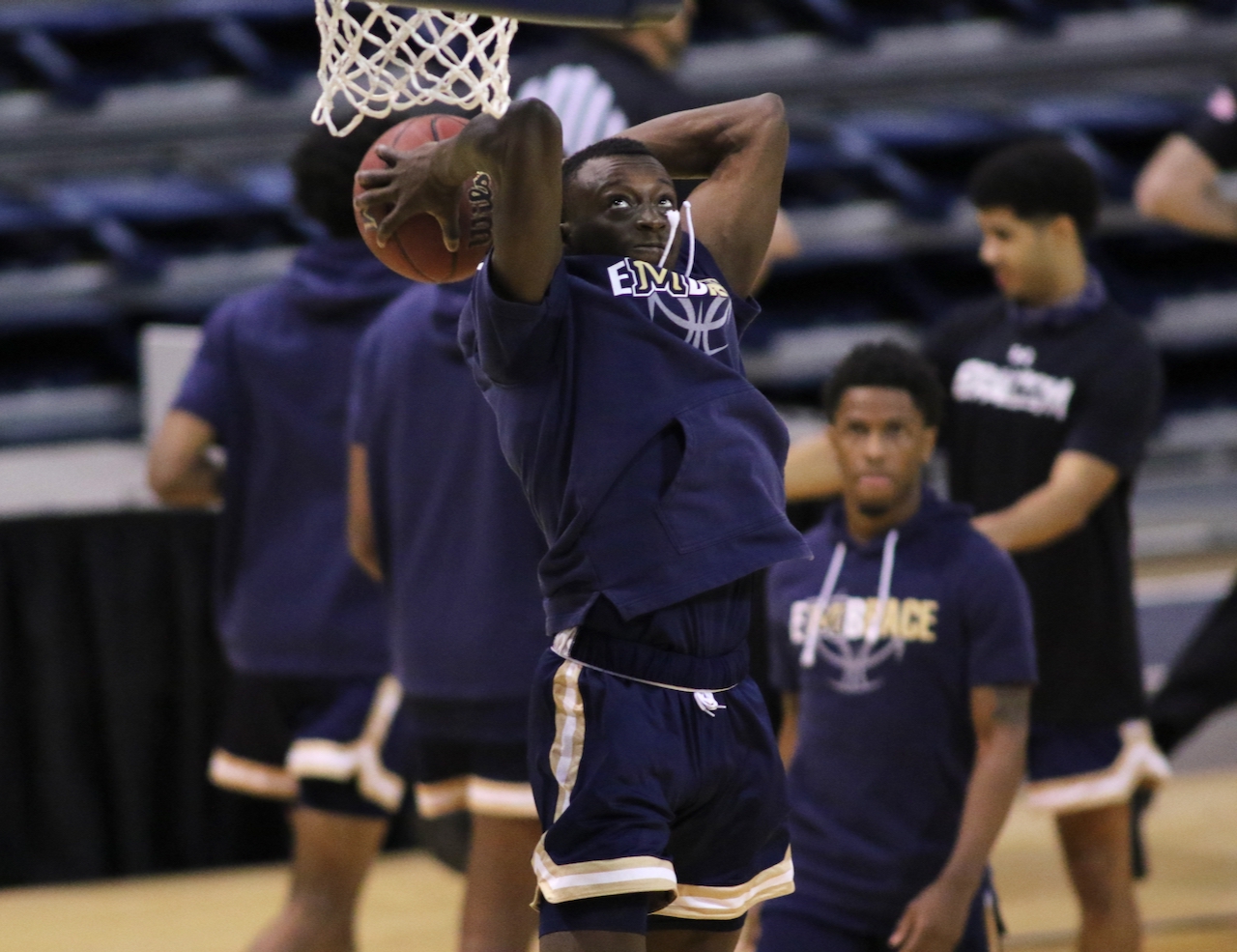 The first half went back and forth in a low-scoring slugfest. MSU built the largest gap of the first 20 minutes, leading by four on four different occasions. Adamu scored 12 first-half points, including a late jumper that gave the visitors a 32-30 halftime lead.
Idaho scored the first bucket of the second half before MSU exploded on a 15-0 scoring run that gave MSU a 47-32 edge. Senior Xavier Bishop hit a pair of 3-poitners, Adamu scored five points and Mohamed scored a pair of buckets during the spurt that came over the first five minutes of the second half.
A DeAndre Robinson bucket with 9:37 left cut the Bobcat advatange to 54-49. MSU responded over the next three minutes, scoring eight straight to push the lead to double figures, where it would stay for the final 7:15 of the game.
Tanner Christiansen led Idaho with 12 points off the bench. Gabe Quinnett hit a pair of 3-pointers – Idaho went 4-of-10 from distance while MSU went 4-of-11 — and had 10 points, the only other Vandal in double figures.
Bishop finished with 14 points and four assists. Junior Jubrile Belo had 12 points and six rebounds in just 24 minutes while battling foul trouble.
MSU wraps up its regular-season schedule next weekend with games against Sacramento State on Thursday and Saturday in Bozeman.
Sac State fell 82-73 and 72-70 in home games to Weber State to fall to 4-8 in league play. The Hornets have lost six conference games in a row. The last Sac win came on January 23 in double overtime against the Grizzlies.
| Standings | Conference | Pct. | PF | PA | | Overall | Pct. | PF | PA | | Home | Away | Neutral | Last 10 | Streak |
| --- | --- | --- | --- | --- | --- | --- | --- | --- | --- | --- | --- | --- | --- | --- | --- |
| Eastern Washington | 11-2 | .846 | 85.1 | 73.5 | | 12-6 | .667 | 80.4 | 72.3 | | 6-1 | 6-5 | 0-0 | 9-1 | W 9 |
| Southern Utah | 10-2 | .833 | 79.6 | 73.7 | | 17-3 | .850 | 85.6 | 69.7 | | 14-0 | 3-3 | 0-0 | 8-2 | W 7 |
| Weber State | 11-3 | .786 | 81.9 | 70.0 | | 16-5 | .762 | 83.1 | 69.3 | | 10-0 | 6-4 | 0-1 | 9-1 | W 5 |
| Idaho State | 7-5 | .583 | 63.5 | 61.7 | | 12-9 | .571 | 68.8 | 60.6 | | 8-3 | 4-4 | 0-2 | 6-4 | L 2 |
| Montana State | 7-5 | .583 | 71.9 | 72.0 | | 10-8 | .556 | 74.8 | 72.3 | | 4-2 | 6-6 | 0-0 | 5-5 | W 1 |
| Portland State | 6-6 | .500 | 67.6 | 64.5 | | 9-10 | .474 | 70.2 | 65.5 | | 7-4 | 2-6 | 0-0 | 7-3 | W 1 |
| Northern Colorado | 6-7 | .462 | 67.8 | 68.2 | | 10-9 | .526 | 69.4 | 67.6 | | 6-5 | 4-4 | 0-0 | 5-5 | L 1 |
| Montana | 7-9 | .438 | 69.0 | 69.3 | | 11-12 | .478 | 70.0 | 66.8 | | 6-4 | 5-8 | 0-0 | 5-5 | W 2 |
| Sacramento State | 4-8 | .333 | 69.9 | 73.0 | | 7-10 | .412 | 71.2 | 70.7 | | 5-3 | 2-7 | 0-0 | 2-8 | L 4 |
| Northern Arizona | 4-10 | .286 | 64.8 | 73.1 | | 5-15 | .250 | 62.7 | 75.4 | | 1-7 | 4-7 | 0-1 | 2-8 | L 4 |
| Idaho | 1-17 | .056 | 61.9 | 77.6 | | 1-20 | .048 | 60.9 | 76.8 | | 1-9 | 0-11 | 0-0 | 1-9 | L 1 |