As his outstanding two-sport career at Arizona State wound down, Shane Collins faced a decision most young men are never fortunate enough to tackle.
In April of 1992, the reigning Super Bowl champion Washington Redskins selected Collins in the second round of the NFL Draft. Less than a month later, he earned All-American honors for the third time by placing as the national runner-up in the shot put at the NCAA Outdoor Track & Field Championship meet at the University of Texas.
Two years earlier, Collins claimed the NCAA championship in the event with a throw of 66 feet, 3 ¼ inches, one of the top marks in the world. In 1992 as a senior, his silver medal finish also marked as one of the top throws in the country and in the world.
"I had a really legitimate chance of making the U.S. team and it was an Olympic year," Collins remembered nearly 30 years later. "I had a decision to make.
"I had just gotten drafted and I remember walking up the stairs in the Redskins practice facility and Coach (Joe) Gibbs is looking at me. He says, 'What is this I hear about you going off to try to make some Olympic team? I didn't draft you in the second round for you to go to the Olympics. How much does the shot put pay?'
"When I told my dad that same line and he echoed Coach Gibbs, that was all I needed to hear."
Injuries ended up derailing Collins' football career, but not before he established himself as a starter and rising star on one of the NFL's most consistently successful franchises. By 1995, Collins was forced to begin the next chapter of his life. And he sometimes wonders what would've been had he chosen the shot put circle over the gridiron.
"There is a huge part of me that wonders, if we do come back in our second lives, to see how far I could've gone in track," Collins said in an interview in January of 2020. "Go over to Europe, where it is 10 times bigger, see what that was like. Go meet to meet, be a gypsy for awhile on the track circuit would be cool."
After becoming the first athlete in the history of the state of Montana to earn Gatorade Athlete of the Year honors in multiple sports (football and track) in one season, Collins' athletic career featured a seemingly endless streak of what ifs.
What if Mick Delaney had stayed as the head coach at Bozeman High instead of moving on to Montana Western? Would the Hawks have won more than two games during Collins' senior year in 1986?
What if Montana State had not fired Dave Arnold just two years after the head coach led the Bobcats to the 1984 Division I-AA national championship? Would Collins have stayed home as a two-sport star in his hometown?
What if John Cooper would not have left Arizona State for Ohio State the year after Collins arrived on the ASU campus just a few years removed from leading ASU to a Rose Bowl win over Michigan?
And what if Collins chose track instead of chasing Lombardi Trophies on a Redskins team coached by Gibbs, one of the legendary coaches the NFL has known?
But Collins chooses not to dwell on any of those unanswerable questions. Instead, one of the greatest all-around athletes to ever grace the Treasure State chooses to think of all that football has taught him. And he chooses to express gratitude for the trail he has helped blaze for those who have come after him
"That's what I'm proud about what I've accomplished," said Collins, a part of the Montana Football Hall of Fame Class of 2020. "It gives these other Montana kids opportunities and goals to strive for.
"The most important thing you learn from football and sports is don't be afraid to fail. You are going to fail. I don't care what you do. And if you don't fail, you are not moving up. All the injuries I've gone through, fight through adversity, people telling me I can't play. I never listened. And then all of a sudden, I'm spying Steve Young in a playoff game."
Growing up, Collins was such a prodigious athlete, failure didn't enter his reality until the first of what became a string of reoccurring shoulder injuries struck his senior year of high school. Keeping that shoulder healthy would become a theme but not a hindrance until nearly a decade later.
At Bozeman High School, Collins penned one of the most impressive resumes in the history of prep sports in the state of Montana. The three-sport athlete earned a total of 10 varsity letters, including four in track and field. He won three straight state shot put titles and the 1987 state discus title as a senior. He was a first-team all-state selection in football and basketball as a junior and senior, garnering college interest for all three sports from universities across the nation.
According to his family, Collins had close to 60 Division I offers, many for a combination of football, basketball and track. Back before heavy recruiting regulations, the halls at Bozeman High would sometimes be flooded with recruiters from the top schools across the country waiting to talk to Collins in between classes almost daily.
In the 1980s, Bozeman was an epicenter of elite throwing talent. Havre native Steve Steckel, at the time the Montana all-class record holder in the shot put, competed at Montana State. There, he learned from legendary MSU throws coach Mike Carignan. Steckel competed alongside Lance Deal, who would eventually earn a silver medal at the 1996 Summer Olympics in Atlanta in the hammer throw.
Collins spent the springs of 1985 and 1986 chasing Steckel's record with Steckel encouraging him consistently. Collins did break the record. And he did it in resounding fashion, throwing the shot put more than 65 feet, farther than any high school athlete in the United States.
In September of 1986, Collins appeared in Sports Illustrated's famed "Faces in the Crowd" section. The passage read:
"Shane, a 17-year-old senior at Bozeman High, won his second consecutive TAC National Junior Olympic shot put title for his age group, in Lincoln, Neb. His 65'½" throw was the best effort by a high-schooler in the nation this year."
The following spring, Collins won his third straight state shot put title, shattering his own record. He also earned Montana and National Gatorade Track Athlete of the Year honors in 1987.
That massive success helped Collins become one of the most highly recruited athletes in the country. He could've done a combination of football, basketball and track at dozens of schools. He could've done all three at most of them, including Montana State.
The winning in track offset a peculiar struggle in football. Collins' senior season, the Hawks won just two games despite a lineup featuring him and future New York Giants starting middle linebacker Cory Widmer. Collins knew his potential in football was high but he'd need the individual successes of the shot put circle to keep him driven.
"I wanted to go to a school with a good throws coach and a good football program," Collins said. "Montana State had that but they fired Dave Arnold. I would've loved to thrown for Mike Carignan.
"I looked at Washington, Arizona State, the University of Texas, the University of Kansas and the University of Minnesota. I checked out Kansas and Minnesota because they had really good throws coaches.
"I wanted to throw because I really enjoyed being in a sport where it was just you and the other guy. You didn't have to count on another 10 guys.
"And to be honest, I go down to Tempe to visit Arizona State, it's the middle of winter in Montana, I have my Sorrell pack boots on, my winter coat, and I walk off the plane. Honestly, I'm in heaven."
Collins remembers watching the ASU players grind through "Devil Stairs", a conditioning test at the legendarily steep upper stairs at Sun Devil Stadium during his recruiting trip. He was already leaning toward Arizona State because of the recent success of the football program — ASU beat Michigan in the Rose Bowl the previous season — and the top-notch track and field program.
"Watching those guys run those steep stairs, I thought, 'I wonder if I could do that?' The ASU recruiting coordinator looked at me and said,' There's only one way to find out.' I knew he was right and I knew I was coming," he said.
At 6-foot-3, 265 pounds, Collins arrived in Tempe physical ready to play. But a few weeks into his first August training camp, he dislocated his previously troublesome shoulder "doing summersaults as extra conditioning with a few of the other guys." On the way down from ASU's famed Camp Tomazona some 7,000 feet above sea level, the decision was made that Collins would redshirt in the 1987 season.
By 1988, he was a full-time starter. By 1989, he was an All-Pac 10 performer who also earned his second of six combined indoor and outdoor track & field All-American nods. And by 1990, he was an All-American candidate on the gridiron and a national champion in the shot put circle.
"Shane was the best athlete at his position that I coached in my 25 years coaching college football," former Arizona State defensive line coach Mike Ackerly said in an interview from his home in Phoenix in January of 2020. "From an athletic standpoint, he was absolutely elite in the things he could do. He was one of the best in the nation in football and in track. Someone might say he just threw the shot put but that takes a ton of athletic ability, balance, and explosiveness.
"I had a kid when I was coaching at Colorado State (defensive tackle Mike Bell) who was the second player taken in the draft and I would put Shane right up there with him if not even better an athlete.
"There's a lot of things that go into making a good football player. Shane was top-notch athletically but Shane mentally, was a sharp guy who could play more than one position. He was a guy we could plug in anywhere. Probably if we would've been smarter coaches, maybe we would've used him on offense (laughs)."
During that redshirt year in 1987, Collins distinctly remembers the season ending with a matchup in the Freedom Bowl against Arizona State. And he remembers the day the team learned Cooper was leaving ASU for Ohio State.
"I still remember at halftime of the bowl game, Cooper said, 'Hey boys, we are only down seven but keep it going. I won't see you anymore because I'm heading to Ohio State," Collins said. "He said that during halftime during the game! I couldn't believe it."
The Sun Devils elevated defensive coordinator Larry Marme, a tough-nosed coach who demanded constant effort, edge and hard-hitting practices.
"Trust me, we aren't running shell drills like they are now," Collins said with a laugh.
During the spring of his sophomore year, Collins summited the mountain, winning the national title in the shot put. That came on the heels of his first All-Pac 10 campaign on the football field. Collins said "I still get goose bumps thinking about the memory" of winning his national title at the same meet in Durham, North Carolina where Shannon Butler, a Montana State distance running legend from Eureka, Montana, won the 10,000 meters.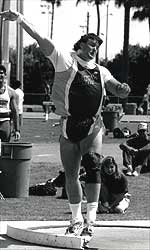 This day and age, head coaches want their football players to practice football as often as possible. The athletes who participate in track instead of spring football practices are more rare by the year. Ackerly remembers being very impressed with Collins' ability to never miss football practice while training at an All-American level in another sport.
In fact, Ackerly saw the training in the throws paying off in football.
"As a thrower, he used that spin technique and that takes a lot of balance and body control and you have to be comfortable in space and be able to control your body in a confined area, which is right up the alley of a defensive lineman," Ackerly said.
"I think the two go hand in hand. Being able to have a feel for what's around you, being able to work in a confined area, he was pretty damn good at it."
Collins saw the cross-training paying off in both sports as well.
"I actually think it's a positive," Collins said. "I think kids get burned out playing one sport. And the thing about football and shot put, the training is so much the same. Back then, we were doing a ton of Olympic lifts. I was a weight room junkie. I was always in there. It was my hobby and my passion, my life. Shot put is an explosive event so the carry over to the defensive line was perfect."
Collins sites some of his greatest memories stemming from his travels around the world competition in shot put. He won meets from coast to coast in his teenage years and early 20s. As an 18-year-old, he won a gold medal at the Pan Am Games in Cuba.
Despite the unforgettable experiences, Collins ultimately chose football. He recovered from a devastating knee injury against UCLA that cost him most of his junior season in 1990 to earn All-Pac 10 honors for a third time in 1991. His resilience and diligent rehabilitation left an impression on scouts and coaches from around the NFL, including from the Redskins. And despite playing just six games his senior year, Collins' performance in the East-West Shrine game helped his draft stock skyrocket.
Gibbs was known as an old-school coach who rarely ever started rookies. But Collins proved to be an exception, moving into the starting lineup by Week 11 as Washington moved into the playoffs for the eighth time in Gibbs' 12 seasons.
In the Divisional round of the 1992 NFC playoffs, the 'Skins ran into the San Francisco 49ers. A Bay Area rainstorm had the Niners' field "covered in kitty litter to try to dry it up."
"In certain packages I had to spy (NFL Hall of Famer) Steve Young," Collins said. "That was my job. Every time he took a step, you'd sink to your ankles in mud. Those conditions were terrible. Unfortunately, we fumbled last in the game, down two late in the game. The rest is history."

Following the 1992 season, Gibbs aided in the trend of Collins' coaches leaving. Gibbs retired for the first time with one of the great coaching resumes in NFL history, a run that included three Super Bowl championships in a decade. Richie Petitbon coached just 1993 season but was fired after a 4-12 finish. In 1994, Collins' last year in the nation's capital, Norv Turner took over. Washington finished 3-13, the worst record for the once-proud franchise in 30 years.
More than the on the field results, Collins remembers the times spent with teammates, some who had reached enormous levels of fame.
"Five of the original 'Hogs' (offensive linemen) were there and I remember them and (Hall of Fame running back) John Riggins would host a card game almost every night after practice," Collins remembered.
"They claimed Gibbs never knew about it but the Bud Light truck was backing up to that shed with an hour left in practice (laughs). That's one of my fondest memories, listening to some all-time greats tell lies to each other all night.
"I'm a kid in the candy store just sitting here watching these old guys. I never had a choice. They made me go. I think they won my signing bonus off of me that year. But I wouldn't trade those memories for anything in the world."
Following the 1994 season, Collins was traded to the 49ers. But the injuries were finally catching up. His shoulder continued giving him problems. His knee had reached the point of aching so bad "I could hardly get out of my stance.
"I got to training camp and I could hardly practice," Collins said. "I knew I was young but knew I was done.
"It was a long drive home and I reflected the whole way back. I'll tell you what, when a guy calls it quits, it's a devastating time in your life. It's hard. Now you have to figure out what the hell to do with the rest of my life. That wasn't easy for me just like it's not easy for a lot of people."
Collins' life after football has been arguably just as successful if not more. He has been married to Lisa since 1992. The couple has two children, each who reached high levels of athletics in their own right.
Their son, Grant, received interest from colleges around the country as a middle linebacker and the 2013 Class AA Defensive Player of the Year at Bozeman High. He elected to stay home and play for the Bobcats.
Despite battling shoulder injuries like his father, Grant overcame more than half a dozen surgeries to still start more than 40 games at MSU. His most memorable moments came as one of his last when he and Tucker Yates stripped Griz running back Adam Eastwood on the goal line at Washington-Grizzly Stadium to cap a historic comeback and seal a 29-25 victory for the Bobcats, their third straight over rival Montana.
Shane and Lisa's daughter, Averie, earned Montana Gatorade Player of the Year honors in soccer as a senior at Bozeman High in 2015. She was a contributor on three straight Pac 12 title teams at Stanford, starting for the 2017 NCAA National Championship-winning Cardinal. She graduate transferred to Washington State for her final season in 2019.
In January of 2020, she was drafted No. 17 overall by the Washington Spirit of the National Women's Soccer League. She will get a chance to start her professional career in the same city as her father.
Shane Collins remains as humble as the kid from Bozeman who once had a choice between the Super Bowl champions and the Olympics. His career is filled with what-ifs but also with rich memories of all he did accomplish. And all that he learned still resonates with him to this day as he is honored with induction into the Montana Football Hall of Fame.
"There's just so many unbelievable lessons learned in athletics no matter what level you go to," Collins said. "I really commend all these young men and women today that attempt to do any sport at the college level. You can carry over all those things to be successful in life."
"Through all of this, and I always tell my kids this, is there are two things you can control in your life: your attitude and your effort,' Collins said. "If you can control those to the best of your ability, you are going to be successful no matter what you do. And football, starting as a kid in Montana, taught me that."