The running joke around the Sacramento State football facility is that his fellow Hornets will have to start calling Sac State's veteran quarterback "Doctor Thomson".
"By the time I get out of here, I will have my master's degree so I'll be sort of close," Kevin Thomson said with a laugh during an interview on Tootell and Nuanez on 102.9 FM ESPN Missoula the first week of October.
"It's been a bit of a different journey than most but one that I'm incredibly thankful for."
Teammates might joke about Thomson and a college career that will have lasted seven seasons by the time his eligibility runs out. He earned his undergraduate degree in communications in the spring. He is now tackling Sac State's educational technology master's program with hopes of becoming a high school or college administrator.
Teammates might playfully call him doctor. But the fact is, Thomson has needed a doctor more often than not since gradating high school in the spring of 2014.
Back in the fall of 2013, Thomson was a senior at Riverside High School in Auburn, Washington playing his final varsity season. Four games into a campaign that would see him earn league Offensive Player of the Year honors by throwing for 2,132 yards and 24 touchdowns, Thomson first heard from Bobby Hauck.
At the time, Hauck was in his fourth season as the head coach at UNLV. He and Timm Rosenbach, who are back at Montana for a second season together, identified Thomson as a dual-threat with potential. The Rebels ended up landing a commitment from Thomson later that fall, beating out Idaho and New Mexico State for his services.
"It was great getting to meet and get to know Coach Hauck," Thomson said. "I'm very appreciative of him and Coach Rosenbach for giving me the opportunity to have a shot at playing college football.
"I had no idea what my future with football was going to be going into my senior season. I was just focused on having fun and trying to win but they called me out of the blue and offered me a scholarship. I'm forever going to be thankful for Coach Hauck for giving me that chance. That opportunity put me in the position I'm in today."
Thomson redshirted in 2014 and hoped to be in the quarterback competition the last season, which turned out to be Hauck's final as the head coach in Las Vegas.
Heading into his second year, a constant, searing pain plagued Thomson's throwing (right) arm. The pain resulting in the redshirt freshman having Tommy John surgery, a serious and potentially career-threatening procedure usually associated with baseball rather than football.
He had the operation on September 2 of 2015, his birthday. Following the 2015 season, Hauck took the special teams coordinator job at San Diego State on head coach Rocky Long's staff. Thomson, not yet healthy, did not return to UNLV in the fall of 2016. For a brief moment, he contemplated never playing football again.
Former Sac State offensive coordinator Paul Wulff — the head at Eastern Washington for 2000 until 2007 and Washington State from 2008 through 2011 — called Thomson out of the blue.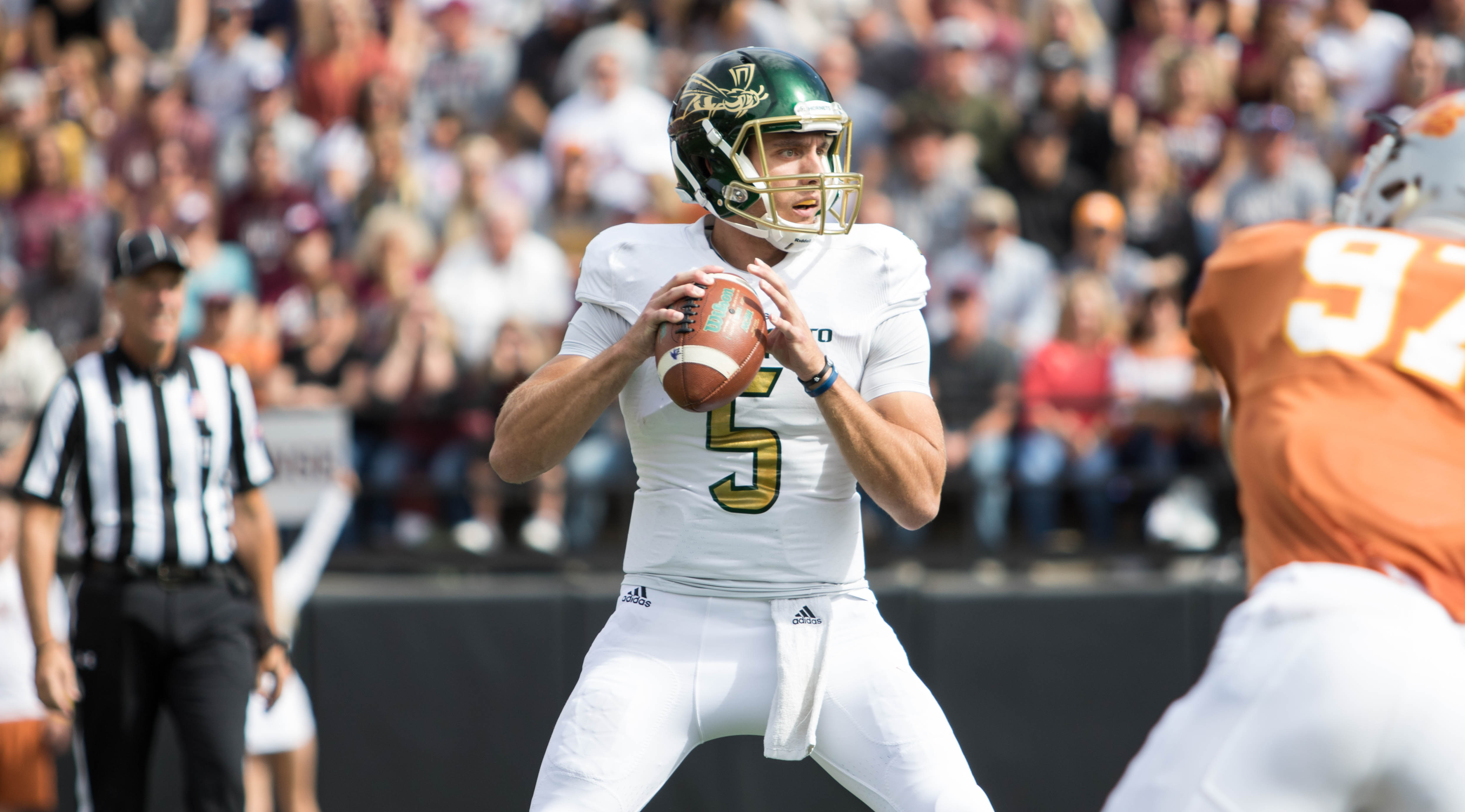 "Coach Wulff said he had heard about me, and said they'd offer me a half scholarship, and that if I won the job, I'd get a full, and asked me what I thought? Sounds good to me!" said Thomson in an interview with the Sacramento Bee last month. "I'm very thankful to be here, to have a final chance. I thought I could play Division I football, but I had no college film and hadn't played since high school. I didn't know if anyone would take a chance on me."
In the fall of 2017, despite the fact that Nate Ketteringham (now at North Dakota) entered the season as a two-year starter, Thomson started his first college football game nearly four years after his last live game action his senior year of high school. In the fourth game of the season, Thomson put his full skill set on display.
The athletic quarterback threw for 256 yards and three touchdowns while rushing for 149 yards and four more touchdowns in a 56-27 win over Southern Utah. By his eighth start, Thomson had thrown for 1,828 yards, 17 touchdowns and just three interceptions. His 171.8 quarterback efficiency rating set a Sac State record as did his 10.45 yards per pass. He also added 494 yards rushing and nine touchdowns before a back injury ended the 2017 season.
Although Thomson missed the final three games, Sac finished 6-2 in Big Sky play against a schedule that did not include Montana, Montana State or Weber State and 7-4 overall. Losses to Weber and Idaho in the non-conference and No. 9 Eastern Washington (52-31) and No. 17 Northern Arizona (37-17) during conference play denied Sac its first-ever FCS playoff berth.
Still, optimism surrounded the program. In November of 2017, Jody Sears signed a two-year contract extension after being named the Big Sky Coach of the Year. The following season, he served a one-game suspension in Sac's opener because he played an ineligible player. By the end of last season's 2-8 campaign, Sears was dismissed.
The fact that Thomson missed five weeks and four games— Sac's second-to-last regular-season contest against NAU was cancelled do to forest fires in California's Central Valley — with a back injury did not help. The Hornets went 0-7 in league play.
"Last season, it was tough, really disappointing," Thomson said. "In the moment, when we were going through the season, it was tough and a lot of people were really down on themselves, especially the way it finished out. But looking back on it, those are great experiences, going through tough times, losing but if you can turn that into a learning experience, it can actually be a positive.
"It's motivation. It was a good experience for us to go through that. We had a lot of hype going into the season and didn't live up to it. That stuff really doesn't matter, especially in this conference when teams can go from the bottom to the top just like that."
Sac State is trying to be that team that goes from the bottom to the top. Last season served as the fifth year of Thomson's career since he graduated from high school. But he applied for a medical hardship waiver and got two full seasons back. That's is how the player currently in graduate school might end up playing seven seasons of college football.
And it's why Montana State head coach Jeff Choate calls the Hornets "one of the 10 or 12 best teams in the country" with his Bobcats preparing to host Sac for a homecoming showdown in Bozeman on Saturday.
"The Thomson kid is a true dual threat, a bigger, more physical runner," Choate said on Monday. "…He is a between the tackles guy. He's not going to shy away from contact. A big, physical dude (6-foot-2, 205 pounds) and also has the ability to hurt you with his arm, which isn't always the case with that style."
This season, Thomson is completing nearly 64 percent of his passes for 295 yards per game. He has thrown for 1,475 yards, 16 touchdowns and three interceptions during the Hornets' 3-2 start. He has rushed for 172 yards and three more scores during what is officially his junior season.
"It's not just the designed quarterback runs he can hurt you with," Choate said. "He is going to extend plays and create plays outside and you are going to have to defend him even when things break down."
Thomson is operating an offense that scored 77 points against Southern Oregon in Week 1, 50 more points in a 50-0 win over Northern Colorado two weeks later and 48 points last week in a 21-point victory over No. 22 Eastern Washington. Sac is averaging 40.4 points per game, including 46 against FCS opponents and 58.3 against non-FBS foes.
It seems as if the reputation of Troy Taylor, a former Sacramento-area high school coach who spent 2016 as the offensive coordinator at EWU and each of the last two seasons in the same position at Utah, is living up to the billing so far. And Thomson is playing an important role as the triggerman.
He (Taylor) is certainly a legend around this area," said Thomson, who helped the Hornets stay in games until the fourth quarter in losses to Arizona State (19-7) and Fresno State (34-20). "Right when he got hired, I would go out in public and people would see me wearing Sac State gear and they would boom, talk about Troy Taylor. He's really well known around this community which is really great to have. People are really excited about Sac State football around here. It's been great working with him.
"It's different offensively than anything I've done but it's really creative and innovated. It's a great system for a quarterback to play in. It's about finding guys in open spaces, get them the ball and let them do their thing. This offense is the most fun I've had playing football for sure."
Thomson will have another season and a half to have fun if he wants it. But right now, he's squarely focused on leading the Hornets through the most treacherous schedule in the Big Sky Conference. Sac plays at No. 6 MSU on Saturday before hosting No. 8 Montana the following week with the Griz fresh off a bye.
The Hornets finish October at Cal Poly before hosting No. 4 Weber State the first week of November. Sac plays at Northern Arizona and at Idaho before hosting the Causeway Classic against rival UC Davis, the reigning co-league champions. Thomson sees the schedule as a chance for the Hornets to finally break on to the national stage.
"We are all very confident," Thomson said. "I think the defense is playing really well this season. We think every time we step on the field, we are going to have a chance to win the game. If you don't have that mindset every game, why are you out there? We are just having a lot of fun and I have a lot of confidence in my teammates."
Photos by Brooks Nuanez or Jason Bacaj. All Rights Reserved.