As we usher in what some are predicting is the second coming of the roaring 20s, Skyline Sports is celebrating the end of the second decade of the 21st century with All-Decade teams for the Montana State and Montana football programs.
Skyline Sports senior writer Colter Nuanez first began covering Montana State football in 2010 at the Bozeman Daily Chronicle. Over the last 10 years, MSU has claimed three Big Sky Conference championships and qualified for the FCS playoffs six times. Montana State also has six wins this decade over rival Montana, including the last four in a row.
Players considered for these lists needed to only fit one rule: each athlete must have played two seasons this decade. Because of this, players like offensive tackle Mike Person and safety Mike Rider, the captains of MSU's 2010 Big Sky title team, were not up for selection. We will be putting together an all-decade Bobcats team for the first 10 years of the 21st century soon as well.
MSU won 78 games this decade, advancing to the postseason in 2010, 2011, 2012, 2014 and each of the last two seasons. This most recent year marked the first time MSU advanced to the semifinals of the FCS playoffs since 1984. Here are the players most influential in a decade of success for the Bobcats.
Montana State all-decade team – Defense
Defensive end – Caleb Scheibeis
It's a true testament to the former walk-on out of Billing West's ability to walk softly and carry a big stick that his biggest contributions to the Bobcat football program surpassed even his storybook senior season.
Schreibeis' ability to lead by example and his strong faith combined with his gifts as a spiritual leader has a lasting impact on the program even now years later. But his ability to get after quarterbacks was pretty damn good, too.
Coming out of the 2010 season, Schreibeis faced a crossroads and was almost forced out of the Bobcat football program. But he improved his athleticism enough to have a solid junior year in 2011.
In 2012, he emerged as the premier defensive player in the country. He rolled up 12.5 sacks, including half a dozen sacks in clutch moments at the end of the games. Of his eight forced fumbles, three came on the final drive by the opposing offense and sealed a victory for the eventual league champions.
Schreibeis became the first Buck Buchanan Award winner in school history when the defensive end claimed the FCS national defensive player of the year award in 2012.
Defensive end – Brad Daly
Daly's story had similar parallels to Schreibeis' in his wavering status with the program early in his career. After playing as a true freshman in 2009, Daly walked away from football and went to work on an oil rig in North Dakotain 2010.
He returned as a walk-on in 2011 and quickly earned his scholarship back by leading the Big Sky Conference in sacks (12.5) despite serving as a pass rush specialist on long yardage downs.
In 2012, he battled through countless injuries to bookend Schreibeis' historic senior season. And in 2013, Daly put forth an unforgettable season of his own. He piled up 14 sacks and 20.5 tackles, both totals that led the country and rank fourth in MSU history, on his way to earning the Buck Buchanan Award.
Daly finished his career with 34 sacks, the fourth-most in MSU history. His 46 career tackles for loss ranks eighth.
Defensive tackle – Zach Minter
When his hamstrings were stretched out, Minter was the most explosive defensive tackle in the Big Sky and one of the most ferocious interior linemen in the country.
As a junior in 2011, Minter earned All-American honors after totaling 7.5 sacks and 11 tackles for loss. In 2012, despite battling a hamstring injury, he earned first-team All-Big Sky honors.
Minter will be remembered as much for his play-making as for his deceiving speed and his flashy smile. He had a cup of coffee with the Chicago Bears before embarking on a CFL career that has continued since he moved to Canada in 2015.
Defensive tackle – Tucker Yates
Coming out of Colstrip High School as a partial scholarship player, many wondered if the prep former heavyweight champion wrestler would have the athleticism to play defensive line at the college level.
Yates broke into the starting lineup as a redshirt freshman and never looked back. He battled the injuries that are par for the course for a nose tackle and outlasted the transfers that often come with a new coaching staff. He emerged as a two-time All-Big Sky selection who earned second-team all-league honors as a senior.
Yates will be remembered most of all for his role in one of the most iconic Montana State plays of the century. With eight seconds left and the ball two yards from the end-zone, Montana had a chance to defeat Montana State in Missoula in November of 2018. But Yates and fellow senior Grant Collins punched the ball out of UM running back Adam Eastwood's hands, Derek Marks recovered and "The Stuff" sealed 29-25 come from behind victory for the Bobcats.
Linebacker – Jody Owens
Owens came to Montana State as an undersized linebacker from Mesquite, Texas known for his ability to run. In his four years as a starter for the Bobcats, Owens never stopped running.
Between 2009 and 2012, Owens wracked up 343 tackles, the eighth-most in program history. He earned first-team All-Big Sky and All-American honors in 2011 by leading MSU with 105 tackles, 17 tackles for loss and five sacks.
The following season, Owens earned Big Sky Defensive Player of the Year honors by rolling up 96 tackles, 14.5 tackles for loss and four sacks. His five forced fumbles that season were the second-most in one year forced by a Bobcat behind Schreibeis that same fall.
Linebacker — Alex Singleton
Owens battled injuries late in his career, a fact of football for four-year starters. Down the stretch of the 2012 season, Singleton emerged as a fourth linebacker behind Owens, captain Clay Bignell and future captain Na'a Moeakiola.
When Singleton entered games, he flashed like a player with superior talent and elite tackling ability. He piled up three tackles for loss in MSU's playoff loss to Sam Houston State that season and ended his sophomore year with six tackles behind the line of scrimmage.
In 2013, he took over as MSU's primary defender and dominated. He speared his way to 110 tackles, 69 solo tackles, 16.5 tackles for loss, three interceptions, two sacks, two forced fumbles and two blocked kicks. And in one of the most head-scratching snubs this decade, he earned just honorable mention all-conference honors.
The following season, Singleton outdid himself, screaming his way to 136 tackles, 86 solo tackles, 15 tackles for loss, two sacks, a pick, a forced fumble and two blocked kicks. He was a first-team All-Big Sky and All-American selection.
Singleton spent 2015 bouncing around practice squads in the NFL before entering the CFL Draft as a Canadian national due to his mother's bloodlines. He was the NO. 6 overall pick by the Calgary Stampeders. In 2017, he was the CFL's Outstanding Defensive Player and in 2018, he was part of Calgary's Grey Cup championship team.
In January, he signed with the Philadelphia Eagles. He has been on the active roster of the NFC East champions since last month.
Linebacker – Mac Bignell
The son of legendary Bobcat tight end Joe Bignell carved out his own legacy as one of the best play making outside linebackers in Montana State history.
Despite severe hearing impairment, Bignell lived in opposing backfields in 2015 and 2016. As a junior, he rolled up 101 tackles, 70 solo tackles, 20.5 tackles for loss, two sacks and forced four fumbles.
As a senior, he earned first-team All-Big Sky and All-American honors with 97 tackles, 61 solo tackles, 14.5 tackles for loss, 3.5 sacks and two forced fumbles. His nine forced fumbles in his career are the most in Montana State history.
Cornerback – Darius Jones
The flashy, smooth cornerback from Dallas was certainly one of Montana State's most confident players of the decade.
The four-year starter as part of a Lone Star State pipeline that helped Montana State take the next step to become Big Sky champions. And Jones' ability to lock up opposing receivers played a big role.
He earned second-team All-Big Sky honors in 2011 and 2012, leading the squad with four picks his senior year, including one he took to the house for a touchdown.
Cornerback – Deonte Flowers
Flowers was the understudy who then blossomed into the star. He cut his teeth behind Jones and Sean Gords, among others, before snagging a full-time starting job in 2012.
By 2013, he was a second-team all-conference cornerback. And by his senior year in 2014, he was a first-team All-Big Sky and All-American selection. Those two seasons, he totaled 83 solo tackles, broke up 25 passes and picked off two more.
Safety – Joel Fuller
In a secondary that has had quite a few standouts, the former high school quarterback from Libby is the most decorated safety of the decade for the Bobcats.
Fuller nearly went to Montana as a gunslinger before coming to Montana State. His choice paid off as he was a second-team All-Big Sky pick at free safety as a junior and a first-team all-conference selection as a senior.
Safety – Brayden Konkol
If not for an egregious snub as a junior, Konkol would've likely joined Fuller as the most decorated safety in school history. Even with his honorable mention accolade last season, Konkol is still a program icon and arguably the most important player on Montana State's most recent dominant defense.
This season, Konkol earned first-team All-Big Sky honors and All-American nods from several outlets by guiding the Bobcat defense on a historic run. Although his tackle stats took a dip partly because he didn't play in the box as much and partly because MSU's defensive line was so dominant, Konkol still managed to cement his place in Bobcat lore.
The four-year starter from Belgrade contributed at both safety positions, nickel back and outside linebacker, bringing his enforcer style and irreverent attitude to the back end of the Bobcat defense.
Punter – Rory Perez — Perez is one of the most underrated players on this list. He gets the slight nod over Jered Padmos because Perez slid over and kicked field goals as a junior and a senior as well.
He averaged about 42 yards per punt in his career, the fifth-best average in MSU history. He also hit 24-of-25 field goals.
Perez will best be remembered for his epic performance in MSU's 16-7 win over Montana in Missoula in 2012. That afternoon, he punted the ball nine times and pinned the Griz inside the 20-yard line five times. He also hit three field goals, including two in the second half that served as the only points of an otherwise brutal rivalry affair.
Punt Returner – Shawn Johnson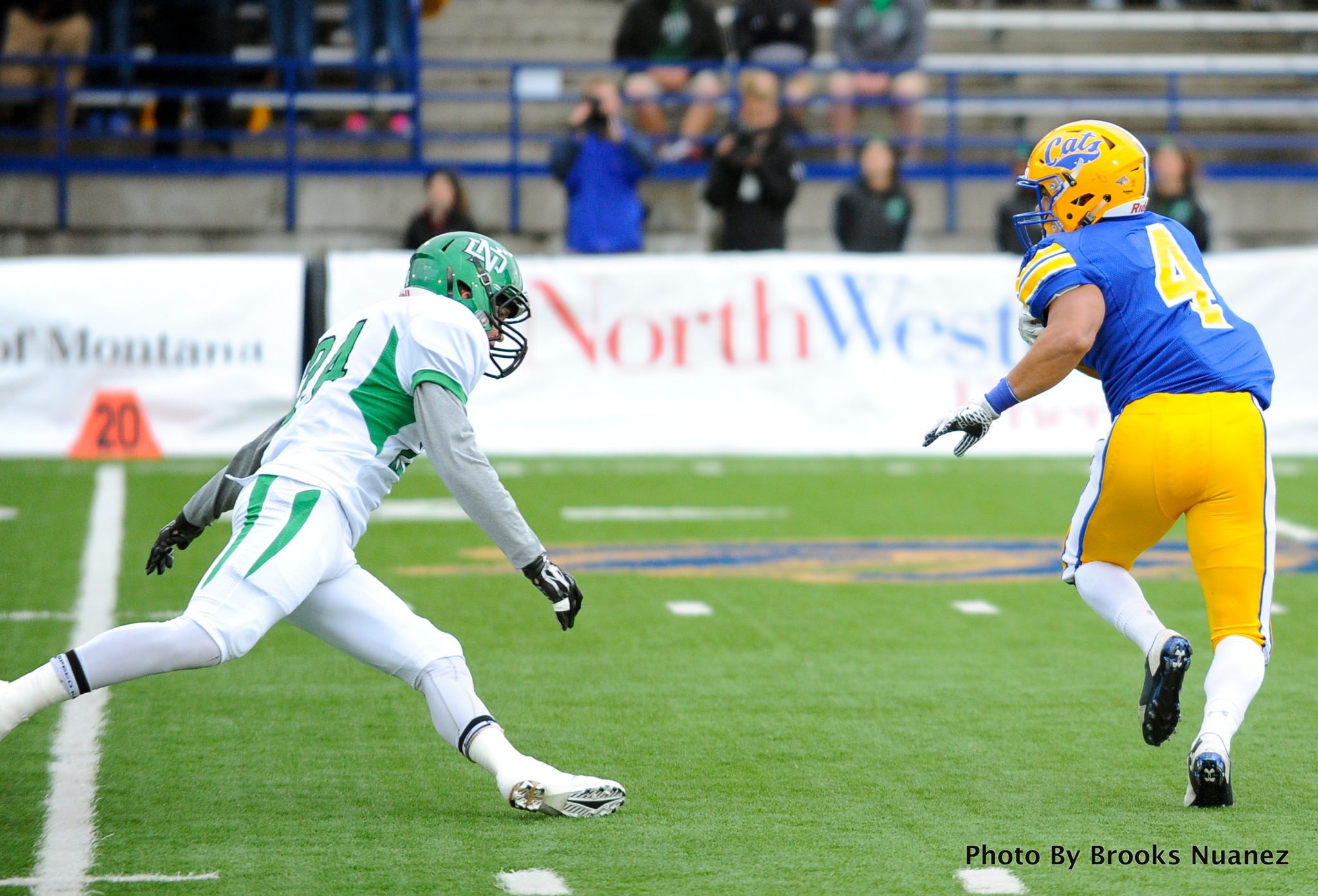 The electrifying, versatile player was in consideration as a running back as well after rushing for nearly 1,500 yards between 2011 and 2014. But it's his 4,453 all-purpose yards, the most in school history and mainly compiled as a kick and punt returner, that land him on this list.
Johnson's skills were on full display in MSU's 2014 game against Eastern Washington, an afternoon that saw Johnson set the school record with 374 all-purpose yards. He finished that season with four 100-yard rushing days. But he had three kick returns for touchdowns of 100 yards in his career, including two in 2013.
Johnson's 742 punt return yards rank third in school history while his 1,846 kickoff return yards are the second-most ever, just two yards behind Everett Gilbert. Johnson also returned two punts for touchdowns in his career.
Honorable mention: DE Bryce Sterk, DT Taylor Sheridan, LB Clay Bignell, LB Cole Moore, LB Na'a Moeakiola, P Jered Padmos.