Leading up to his team's Big Sky Conference opening weekend, Danny Sprinkle said he "still didn't know about my team completely."
"We are still a work in progress and we still need practices and games to figure everything out," the second-year Montana State head men's basketball coach said the third-to-last day of 2020.
Following the cancellation of last weekend's slated home games in Bozeman against Southern Utah, the wait continues for Sprinkle and his staff.
Entering Sprinkle's second season guiding a program he starred for nearly a quarter century ago, Montana State's roster features nine players in their first seasons as Bobcats and only one hold-over from the Brian Fish era: senior reserve center Devin Kirby.
For all the underachieving of Fish's five seasons — the Bobcats went 65-92, including 41-51 in Big Sky Conference play, never finishing higher than fourth — the Bobcats pretty much knew exactly who to turn to when they needed a bucket for at least the last six years.
Tyler Hall went from Big Sky Conference Freshman of the Year to perennial first-team all-league selection on his way to becoming the leading scorer in the history of the league. Upon his graduation — the league's career leader in made 3-pointers currently plays for the Rochester Knicks of the NBA G League — the offensive controls belonged to Harald Frey. The Norwegian southpaw point guard was a unanimous first-team all-conference pick as a senior and finished as one of just two players in league history to score 1,800 points and dish out more than 500 assists.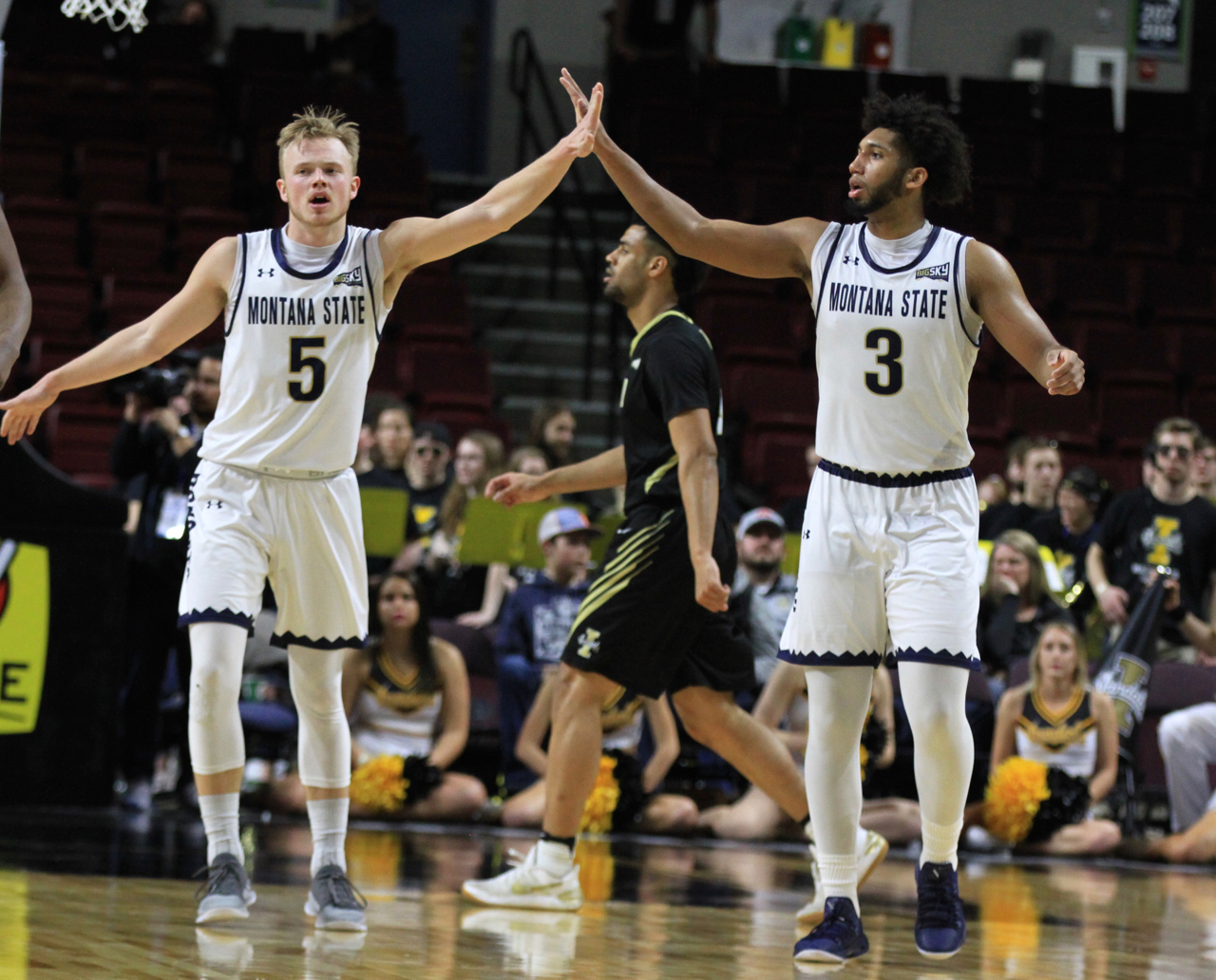 Only Kirby, a 6-foot-11, 225-pounder from Chandler, Arizona, remains from Fish's recruits. Only junior all-conference center Jubrile Belo, junior guard Amin Adamu, and sophomores forward Borja Fernandez, power forward Finn Fleute and shooting guard Caleb Bellach played for Sprinkle's first team.
A total of eight Bobcats have started this season through five games. During MSU's 3-3 non-conference schedule — a slate that includes just one Division I win: a 91-78 victory at UNLV in the first game of the season — 11 Bobcats are playing at least 11 but no more than 29 minutes per contest.
Only Belo and true freshman shooting guard Tyler Patterson have started all six of MSU's games. Adamu and senior point guard Xavier Bishop each did not play against Yellowstone Christian College while recovering from injury while Ferandez played just four minutes in the 40-point MSU victory.
All of it amounts to Sprinkle still wondering how his team might compete against "like" competition with next weekend's trip to Greeley to play Northern Colorado upcoming.
"There's been good moments for each player, especially our new guys," Sprinkle said. "They are still trying to figure it out, we are still trying to figure out the best way to use them and to play together as a team."
"We do have better depth this year than last year but we don't have the separation like we had last year," Sprinkle said. "Last year, we clearly knew Harald Frey was the best guard on our team. We clearly knew that Jubrile Belo was the best five-man on our team. We don't have that separation this year at spots right now."
The Bobcats went to overtime in a 74-70 loss at Pacific, a West Coast Conference team coached by former NBA standout point guard Damon Stoudamire that won 23 games last season
MSU started slow and gave up 40 first-half points to a YCC team that scored 42 points the entire game a day before in Missoula against Montana. But the Bobcats ended up scoring 114 on the way to a 40-point win.
"Our rotations have bee sporadic. We are trying to just figure it out," Sprinkle said. "But that takes 10, 12 games to figure out, allowing guys to separate themselves. I appreciate our guys. They are working hard. They are coachable. I'd love to have a better record right now but it is what it is."
Montana State held a 32-22 lead at Portland and had a seven-point lead nine minutes into the second half. The 'Cats went on to lose 62-59, to yet another West Coast Conference team coached by a former NBA standout, in former Portland Trail Blazers shooting guard Terry Porter.
Six days after the Yellowstone Christian win, the Bobcats got punished in Pullman. Playing a D-I team for the first time in 16 days, MSU trailed by 12 less than eight minute into the game and by 21 just 14 minutes into the action. Wazzu led 46-21 at halftime and cruised to an 82-54 victory.
"Our offense, the last couple of games…Washington State, that's one of the best defensive teams on the West Coast statistically and just how big they are. It showed up how we need to do a better job of spacing, moving the ball, not taking quick shots. It will help us down the line but how soon, I don't know."
Sprinkle called the two-plus week stretch between the Pacific game and the Washington State contest "training camp" for his team. He intentionally wanted the Bobcats to have tired legs against YCC so they could prove they could play tired even if the opponent was significantly inferior.
The opening weekend of Big Sky play was supposed to be the first trial to see if Sprinkle's experiment worked. Instead, a nine-day break turned into 10 as MSU experienced its first cancellation. The Thunderbirds remain in first place in the Big Sky at 2-0 after posting a pair of one-point victories at Montana the first weekend of December. Southern Utah is No. 24 in the latest CollegeInsider.com Mid-Major Top 25 poll due to a 7-1 start.
"It's weird and it's a disadvantage," Sprinkle said of being the only team that still has not opened Big Sky play. "Southern Utah has played eight games. We've played five. Those extra three games, those help. It's guys getting used to each other, learning how to play together, guys getting confidence. It's three more going through scouting reports. It's an advantage."
To get a little action in this weekend, Montana State was able to schedule game Friday against Montana Western. The Bobcats led just 28-27 at the under-8 minute media timeout in the first half. MSU went on a run to close the half up 46-34, then dominated the second half on the way to a 96-67 win.
Adamu, an explosive 6-foot-4 former junior college transfer originally from the United Kingdom, currently leads the Bobcats in scoring at 14.6 points per game. That's just a single point ahead of Bishop, a shifty, lightning-fast southpaw point guard who sat out last season after transferring to MSU from the University of Missouri-Kansas City. Belo, a 6-foot-9 brute who also hails from the UK, is averaging 13.0 points per game and is tied with grad transfer Abdul Mohamed (5.3 boards per contest) for the team lead in rebounding.
But what do those numbers mean? MSU looked electric and diverse on the first day of the college basketball season in the win over UNLV in Sin City on November 25. Since then, Montana State has looked out of sorts offensively and a work in progress, particularly when it comes to rotating and communicating, defensively.
The delay of this weekend's Big Sky games means MSU's break between Division I games will again be 16 days when the Bobcats take the court at Northern Colorado on Thursday.
Sprinkle led Montana State to a winning record in his first season as a college head coach. He and the rest of his head coaching colleagues are all in the same boat when it comes to navigating an unorthodox league schedule for the first time. Big Sky teams play twice in the span of less than 48 hours (sometimes, the turnaround is as sharp 36 hours between tips) each weekend.
"It's going to be interesting to see how coaches coach the second day," Sprinkle said. "You look at Idaho State-Northern Colorado last week. Northern Colorado won the first one (69-64) and Idaho State won the second one convincingly a day or two later (71-56). It's human nature when a team loses, they are going to come out hungry. Are you going to zone on the second day? Are you going to press? It's going to be fun going through the conference slate like that."
The Bears are off to a 2-2 start, including a victory in Missoula over Montana the first league weekend of 2021. The Bears beat UM 64-62 on Bodie Hume's shot with one second left on Saturday. Montana countered with a 56-54 win thanks to Josh Bannan's game-winning jumper with 4.9 seconds left on Monday.
Sprinkle spent most of the last 20 years coaching in the Big West with stops at Cal State Northridge (2000-2006 & 2008-2013) and Cal State Fullerton (2013-2019) with a three-season stint as an assistant at MSU from 2006 to 2008 in between. The Helena native said he is glad the Big Sky is not playing Friday-Saturday or Sunday-Monday back-to-backs like the conference he spent nearly 20 years coaching in.
During the Christmas Break, Sprinkle spent some time watching other mid-major teams around the country. He found himself checking in on Missouri State at Northern Iowa. In the first game in Cedar Falls, Iowa on December 27, the Bears never trailed on the way to a 79-59 victory. The very next day, UNI found itself with a 26-point first-half lead on the way to an 85-75 victory.
Expect much of the same across college basketball this season, Sprinkle said.
"It made no sense," Sprinkle said. "You go from getting blown out to up 26 in the first half in less than 24 hours. It's 2020, man."
Photos by Brooks Nuanez. All Rights Reserved.