Editor's Note: This is the first installment of a series of stories profiling Montana State's stellar senior class. This series is proudly presented by Jake Doubek, your Montana realtor.
BOZEMAN, Montana — Lance McCutcheon prefers to do his work in the dark.
No matter when he's grinding, he always remembers one of his shining lights.
The Bozeman native has waited his turn to emerge from the shadows. In his final season playing for his hometown team, the 6-foot-2, 202-pound senior wide receiver is taking full advantage of his last shot.
"I still work in the shadows but now that I know it's my last year, my senior year, my hard work that's been done in the dark, it's coming to light," McCutcheon said earlier this season.
Before his final campaign, McCutcheon inquired to the Montana State sports information department about what the single-season receiving records at MSU might be. During the first nine games of his senior season, he's put forth an assault on those marks.
And all along the way during his final fall playing for his hometown team, McCutcheon keeps in mind the work ethic that has been made an example to him his entire life from his mother.

Katie Brooks has worked as an administrative assistant for the Montana Highway Patrol and as an employee of UPS ever since Lance and his little brother, Latrell, were young. That example left an impression on Lance growing up.
So while he's working in the dark, he thinks of his mother's light.
"My family, my mom, she sacrificed a lot for me and my brother to get where we are," McCutcheon said earlier this year. "I didn't want to disappoint her in my college career.
"With this coaching staff coming in, I wanted an opportunity to have a bigger role and I didn't want to let that go. That really comes from my mom."
Since first-year head coach Brent Vigen took over for Jeff Choate after Choate split for a gig as the co-defensive coordinator at Texas, McCutcheon's initiative to shine as bright as possible has been apparent.
Coming out of the 2019 season, McCutcheon had about as many career starts under his belt as he did career catches. He snared 31 balls total in three seasons as a starter alongside current Detroit Lions taxi squad member Travis Jonsen and record-setter Kevin Kassis.
McCutcheon felt a sense of urgency before a global pandemic altered the entire college football universe. He used the elongated off-season to get bigger, faster and stronger.
That grind has also helped McCutcheon prove himself to Vigen, offensive coordinator Taylor Housewright, wide receivers coach Justin Udy and the rest of the new coaches on the MSU staff.
"It was apparent from the time I got the job back in February, he saw himself making the plays and making the contribution he has right now," Vigen said earlier this season. "It was easy for us to see early between the workouts we did in the winter and spring ball that he was capable that he was becoming the guy he has been so far."
The strong, explosive receiver has been one of THE guys in the Big Sky Conference so far this season. McCutcheon has caught 44 passes for 813 yards.
He is fourth in the Big Sky Conference in catches. His yardage total leads the league. Only Beau Kelly of Portland State (8) has more touchdowns than McCutcheon's six touchdown grabs.
The blossoming pass catcher spent the first three seasons of his Bobcat career making plays on the perimeter with his noticeable blocking skills while waiting his turn behind Jonsen, a former Oregon transfer who spent last season on the practice squad of the Tampa Bay Bucs, and Kassis, one of the most consistent and prolific pass catchers in Bobcat history.
Now he's chasing the marks of a few Bobcat legends that have stood for decades.
Unforgettable tight end Joe Bignell caught 88 passes for 1,149 yards during MSU's run to the 1984 national championship, arguably the greatest season for a tight end in Big Sky Conference history. Both serve as program records.
Sam McCullum holds the MSU single-season record for touchdowns in a season with 12 in 1972, a campaign that set the stage for a 10-year NFL career.
Coming out of Montana State's 23-20 win at Eastern Washington — McCutcheon snagged five passes for 150 yards, including a 67-yarder, MSU's longest score of the year — the yardage and touchdown totals are certainly within reach. It's unlikely McCutcheon will double his catch total, if only because Isaiah Ifanse is the Big Sky Conference's leading rusher.
But McCutcheon has at least three guaranteed opportunities left to add to his notable last ride.

"This season has really been his opportunity to shine," Udy, who spent one non-season as the Bobcat offensive coordinator, said earlier this season.
"It really starts off the field. Watching him grow as a leader and as a person has been tremendous and I think that that's really led to his success on the field. His devotion to being able to mature into all the extra film, in the relationship building and all the things that you would like to see a young man do, that's helped him have this success."
When Cal Poly joined the Big Sky Conference leading up to the 2012 campaign, the Mustangs brought a prolific and impressive triple option offense that led the conference in yards per game on the ground for the first six seasons of Big Sky membership.
In Choate's second season at the helm at Montana State, the Bobcats stole the league rushing title from the Mustangs. The following season, the unorthodox yet unforgettable production of linebacker turned quarterback Troy Andersen helped MSU challenge Cal Poly. And in 2019, Montana State used a run game that averaged a Big Sky-best 260 rushing yards per game to roll to 11 victories and a berth in the semifinals of the FCS playoffs for the first time since 1984.
McCutcheon earned plenty of playing time but very few opportunities for statistics.
During his rookie season in 2017, McCutcheon first broke into the lineup and showed flashes of the big-play master he's become this year. The first catch of his career? A 59-yard bomb in a loss at South Dakota State. His second career catch? A 64-yard touchdown against Weber State.
He caught one more pass that season, 15 as a sophomore and 13 as a junior in 2019. In other words, McCutcheon has caught 13 more passes this season than his entire career previously. His nearly tripled his career receiving yards total as well.
"Lance is a monster, like D.K. Metcalf out there, throwing dudes around, spinning, showing his strength," MSU senior captain offensive lineman Lewis Kidd said following last week's win over EWU that helped the Bobcats stay unbeaten in Big Sky play as the team chases its first league title since 2012. "That's a testament to how hard he's worked, how far he's come. He's having a great senior year."
Down the stretch of the 2019 season, Choate could feel McCutcheon building for the breakout that is now happening. During Choate's seasons at the helm, MSU ran the ball about 70 percent of its offensive snaps. That caused for a variety of receivers, including former 3-star talents like Mekhi Metcalf and Koby Duru, to transfer before really cutting their teeth.
McCutcheon certainly could have found another place to finish his career. But he stuck out playing for his hometown squad. And now he's reaping the rewards.
"It's a real testament to who he is," Choate said. "Loyal. Local kid. Definitely gifted and has some talent. But didn't get discouraged by the lack of targets early in his career.
"I always like to tell those guys, make the long run. Don't get frustrated. If you are in the right place, there's value in what you are doing so keep working and it's going to work out. Lance is a great example of that."
McCutcheon had a breakout senior season in high school reminiscent of the one he is building currently. Back in 2016, he earned first-team all-state honors on both sides of the ball. He caught 40 passes for 780 yards and 12 touchdowns, all from current Bobcat junior starting inside linebackers Callahan O'Reilly, who originally came to MSU out of Bozeman High as a quarterback.
Defensively, McCutcheon snared a Bozeman High record 10 interceptions. He was also a standout basketball player, excelling particularly well as a rebounder and scoring at the rim.
"I'm not one bit surprised he was an outstanding rebounder, because ultimately, it's about high-pointing the football and some guys have it and some guys don't," MSU offensive coordinator Taylor Housewright said. "Timing that up, having the body control, having the explosion to go and get it, that all comes from his rebounding ability."
When Housewright and Udy first started working with McCutcheon, each coach realized they had a special talent that had only scratched the surface of his abilities. The upstart coaches simply had to harness that unbridled potential.
"I don't coach anybody harder than I coach Lance McCutcheon," Udy said. "And he knows that. The best players on your team need to be the guys who are coached the hardest.
"We are going to need him all the way through if we're going to accomplish the goals that we want to accomplish. He's handled that pressure as well as any other player that I've ever been around."
Since Montana State's most recent playoff run ended for the second consecutive year in Fargo against North Dakota State, McCutcheon has spent countless extra hours "on the jugs machine catching as many footballs as I possibly can." He has set a goal to catch 100 balls a day.
He also worked tirelessly on his route running, which has in turn added to his personal bravado. You could argue that McCutcheon is playing as confidently as any wide receiver in the Big Sky Conference.
"He's an extremely strong kid and he is an extremely fast kid, one of the fastest guys on our team, which you don't see all the time," Housewright said. "He can jump. He really has good body control. You can really see his body control downfield and when to go up for the ball.
"He can run full speed and stop. If I had a center guard me at point guard in basketball, he ain't going to come close and it's the same thing as a receiver in college. You have to be able to run and you have to be able to stop. He can do both and still use his speed and strength."
The honing of that strength and explosiveness took plenty of strain. Choate knew McCutcheon would have that work ethic within him when he first started recruiting the local talent.
Choate instantly recognized the example Brooks had set for her sons. It was one of the things that drew Choate to taking a chance on a raw local prospect.
"His mom is one of the hardest working ladies in Gallatin County and everybody loves her," Choate said. "He grew up watching her making those sacrifices so he could be on the traveling basketball team or he could go to Montana State football camp.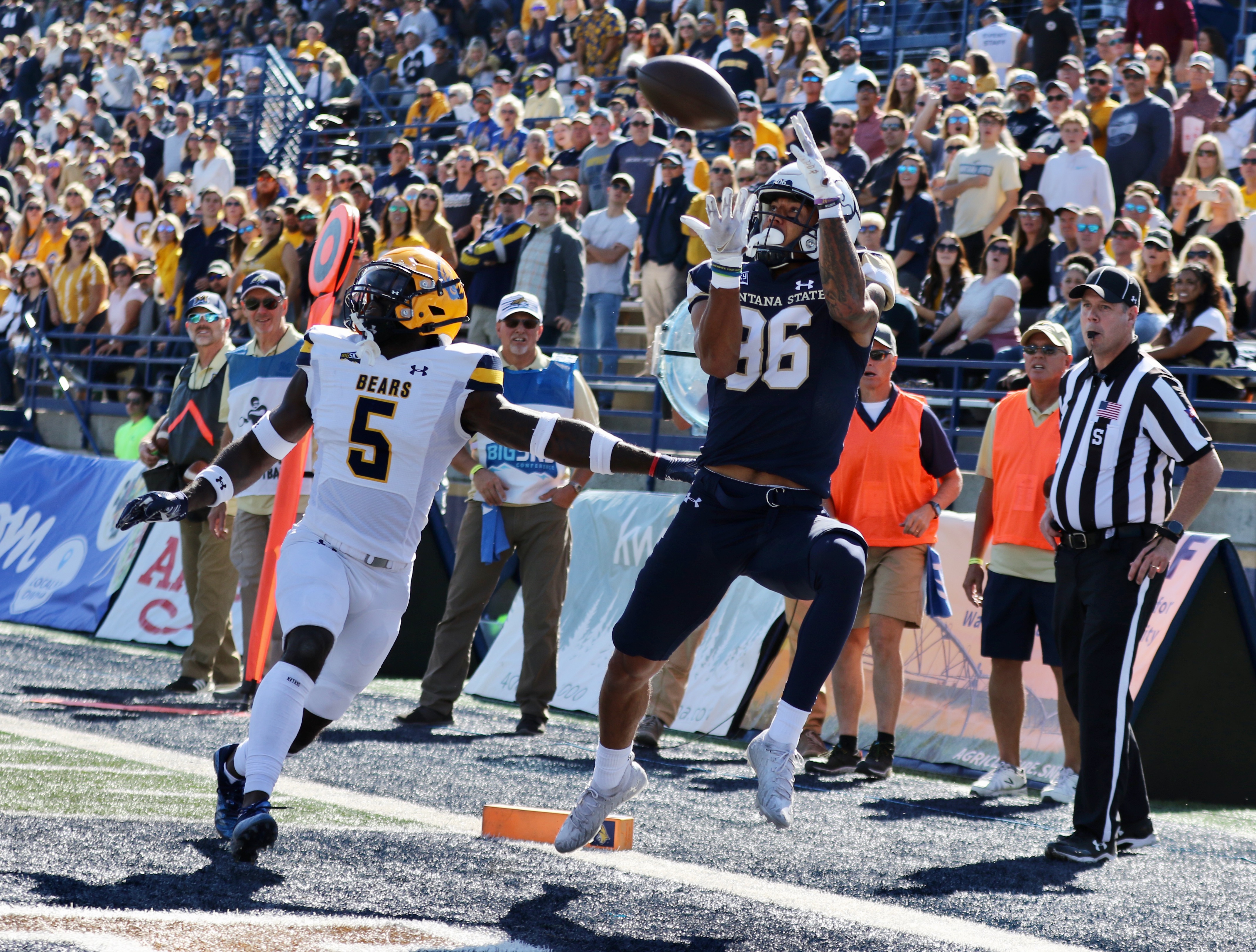 "Now that he has the opportunity to take care of his education and put on a show, he definitely honors her every time he steps on the field."
When McCutcheon first started diving into the marks he wanted to chase, he kept those opportunities provided to him in his youth at the front of his mind. He told himself if he mother had to work 14 or 15 hours a day, he should never complain about a two-hour workout or a three-hour football practice.
McCutcheon makes sure to go visit his mom when he can. Her social media pages are filled with photos displaying the pride she has in her sons.
Bozeman High has produced many players who became Bobcats. Those players have had various results and it's been apparent that being a local product has come with a fair amount of pressure and expectation.
This season, McCutcheon is having one of the best seasons in recent memory by a former Hawk. The motivation of turning opportunity into accomplishment combined with the fierce awareness of the importance of making his hometown proud has helped McCutcheon emerge from working in the dark to being showered by the spotlight.
"Being a man of character, our core values, working hard for everything because nothing is ever given to us here, that's what this has taught me," McCutcheon said. "I've sat back and watched and learned from the guys ahead of me. I refuse to not be the best I can be.
"I don't want to go out without leaving a bang. I want to leave my mark."
Photos by Brooks Nuanez. All Rights Reserved.