Editor's Note: This story is the next installment in a series of feature stories about some of the top players, coaches, storylines and history of the Big Sky Tournament. The league's postseason gets underway on March 9, 2020 in Boise, Idaho.
BOZEMAN, Montana — McKenzie Johnston has among the best endurance of any player in the Big Sky Conference.
Montana's hard-nosed point guard played the full 40 minutes of action in 15 of UM's 29 games last season, including a stretch of seven games where she did not come off the floor.
This season, Johnston has received a little bit of reprieve but has still played the full 40 eight times in 27 games for the Lady Griz. Johnston has played more than 4,108 minutes in her career.
All of those numbers are important because it makes one realize just how impressive Darian White's afternoon in her Dahlberg Arena.
On the first day of February, Montana State's precocious true freshman point guard was basically attached to Johnston's hip from opening tip until final buzzer. For almost every single one of the 42 minutes of action she played, including a valiant second half to keep the Bobcats in the game and solid on-court leadership from her floor general spot in overtime.
The former Idaho Gatorade Player of the Year scored 13 points, snared four steals, dished out three assists and, perhaps most importantly, never let Johnston get comfortable.
In the first rivalry game against the Lady Griz of her already promising career, White helped Montana State will the Bobcats back from a deficit that reached as many as 14 points late in the third quarter to force overtime. MSU eventually pulled out a 66-60 victory, part of the current 13-game winning streak Montana State rides into the final weekend of the regular season.
"She has been big for them," UM head coach Shannon Schweyen said a few days before her team's second matchup against MSU, a game that ended as a 92-78 win for Montana State. "She is an extremely quick guard. She can push on constant pressure for 40 and that's always a bonus. It's hard to get in a rhythm when she presses like that."
That Cat-Griz debut is just one example of the influx of energy the bold, confident freshman has brought to the Big Sky Conference champions. From her relentless on-ball defense to her aggressiveness driving to the rim to a high basketball IQ that has helped her learn how to operate 15th-year head coach Tricia Binford's offense quickly, White has been one of the biggest difference makers in the league in her first year in the conference.
"Clearly, she's very high energy and she demands a lot from everybody else," said MSU center Blaire Braxton, one of five seniors on MSU's. "She likes to take risks defensively because she knows we will have her back on that.
"She's a high-energy kid on and off the court. She's super fun to be around and she has changed our mindset defensively. You can tell with the urgency we have on the defensive end that she's a big part of that."
With the Big Sky Tournament in her hometown of Boise — the 5-foot-6 point guard prepped at Mountain View High, same as MSU starting quarterback Tucker Rovig — White is a leading candidate for Big Sky Freshman of the Year honors. She is averaging 12.8 points and 3.6 assists per game in league play, each average ranking in the top 13 in the league, and she has started every game for a team that sewed up the regular-season conference title with two weeks left in the regular season.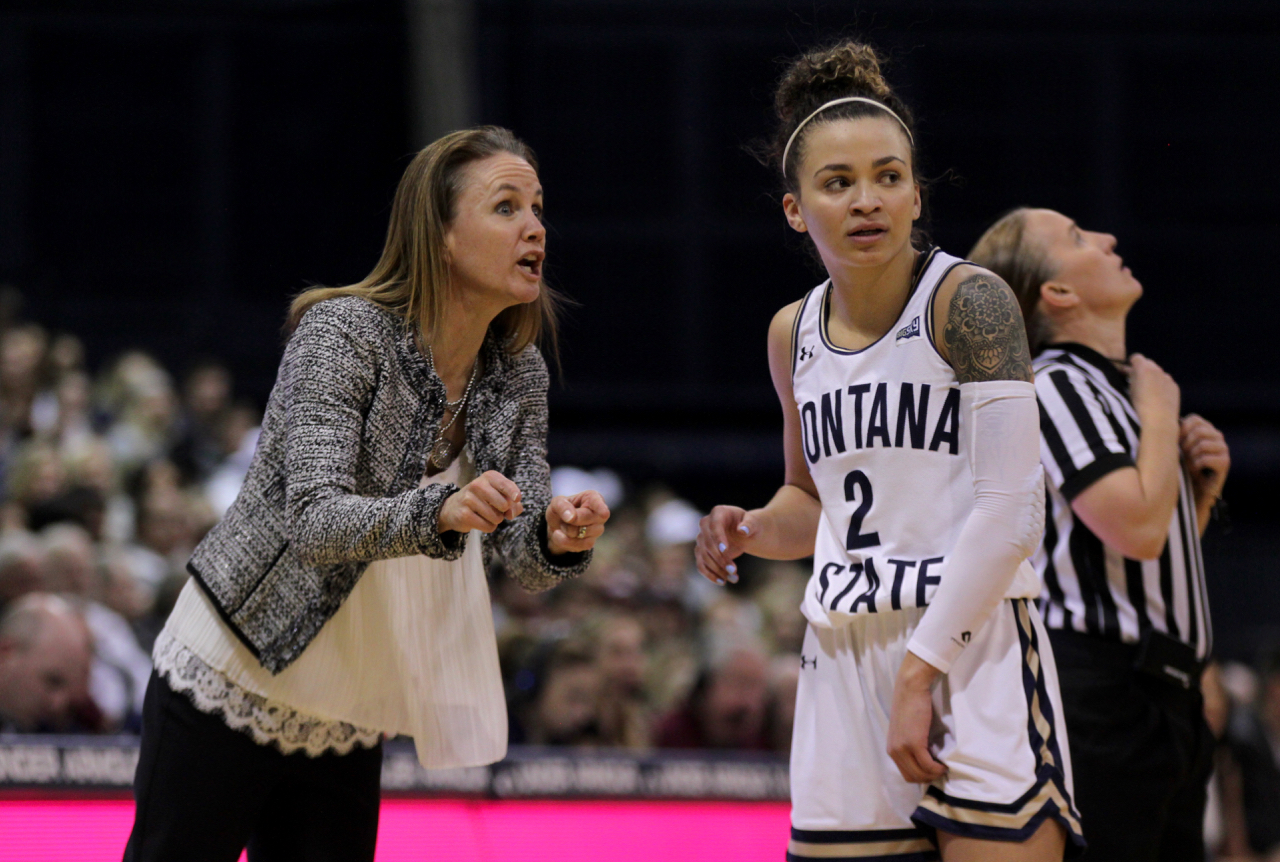 But it's been White's defensive intensity and ability to consistently pressure opposing point guards that has helped Montana State reel off 17 conference victories in 18 Big Sky outings. White is averaging 2.9 steals per game in league games and 2.5 steals per contest overall. Only Southern Utah senior Rebecca Cardenas has more overall steals (81) and more steals in league play (58) than White's 67 and 51, respectively.
"Her on-ball defense and her tenacity have been huge keys to what we have been able to do defensively this season," Binford said earlier this year. "She is great at creating havoc but she also understands the team concepts and she trusts her teammates. They trust her, too."
Montana State's unbelievably balanced scoring attack has garnered most of the headlines during MSU's run to its third Big Sky championship in five seasons. But the defensive relentlessness has been the key, a prime example coming in that rivalry win in Missoula.
MSU is leading the league in scoring offense in league play, averaging 81.8 points per game. But the Bobcats are also third in scoring defense at 62.7 points per game allowed. Montana State is holding opponents to 37.3 percent shooting from the floor and hold a league-best +7.4 rebounding advantage in Big Sky games.
Braxton has long been one of the league's top enforcers, an aggressive rebounder who plays excellent help defense. The addition of Fallyn Freije, a former transfer from North Dakota who is playing her final year at MSU, has been key on both sides.
But it's been White's tone-setting defensive mindset that has helped a program long known for their smooth offense execution.
"It's been awesome, the steals that she gets, and I know especially for me watching Darian play that good of defense and be that high energy makes me want to be better on defense and motivates me a little bit more," MSU senior guard Oliana Squires said.
During her high school career, White grew very accustomed to winning, whether it was at Capital High in Boise to start her career as a freshman or at Mountain View, where she led her team to consecutive podium finishes or whether it was with the successful club program, Idaho Hoop Dreams.
As a freshman, White earned second-team All-Treasure Valley. As a junior, she led Mountain View to a 19-8 record that included a third-place finish at the Idaho 5A state tournament. And her senior year, White earned Gatorade Player of the Year, 5A All-Idaho Player of the Year, 5A Southern Idaho Conference Player of the Year and the Idaho Press Player of the Year after leading her team to a 25-1 record, the lone loss coming in the state championship game.
"I don't know about surprising but the change of coming from high school to here, the mental aspect of things, it's been a challenge," said White, who also had offers from Eastern Washington, Idaho and Idaho State of the Big Sky Conference along with Hawaii and New Mexico. "The change and the difficulties that I've had, it's been hard but I'm learning.
"My coaches and my teammates, them having confidence in me has really helped myself have confidence, too."
The transition might have seemed challenging to White but it's looked seamless to everyone who has watched her. She is still finding her 3-point shot – she is 15-of-51 from deep – but other than that, her play has been hard to criticize.
She is shooting 45 percent from the floor and 81.1 percent from the free throw line. She is Montana State's shortest starter yet she is averaging 5.0 rebounds per game. She has 10 more steals (67) than she does turnovers and nearly twice as man (90) assists.
"She picks things up so quickly, which has been impressive," said Binford, herself an All-Big Sky point guard during her playing days at Boise State in the early 1990s. "When we put something in or talk about something, she gets it almost right away, which is a gift and one of the things that makes her so talented.
"Her aggressiveness gives us an edge and for everyone else on our team, it's contagious."
Montana State has already secured the top seed for the conference tournament. The Bobcats have already set the Big Sky mark for league victories in a season. MSU has won 21 games and could reach the single-season record for wins in a season (26) if the Bobcats keep winning.
MSU's five seniors — Freije, Braxton, Squires, Madeline Smith and Martha Kuderer — are one win away from becoming the most prolific senior class in school history, although Kuderer and Freije joined the group later in their careers. Braxton, Squires and Smith were each freshman on the last MSU team to claim a regular-season Big Sky title.
As she prepares to return to her hometown for the first time as a Bobcat to help her new team navigate a postseason tournament, White is enjoying the ride that has been her first college basketball season.
"This season has been super exciting," White said. "I think this team is really special and we have a really good relationship on and off the court so it makes playing with them so much more fun.
"It's by far met my expectations. It's been even better than my expectations. And to be champions is pretty cool."