BOZEMAN, Montana — The situation is the same therefore the message is the same for the second consecutive week for the Montana State Bobcats.
Last week, staring a three-week stretch without a win square in the face, MSU prepared for a once-struggling, suddenly surging team in the Southern Utah Thunderbirds. SUU had scored 59 points in its first Big Sky Conference victory of the season the week prior against Idaho State. Montana State wasted no time, building a 21-0 lead by the time SUU had run seven offensive plays on the way to a 42-7 victory that was never in doubt after the first 20 minutes of action in Bozeman.
This week, Montana State looks for its seventh victory of the season against a Northern Colorado team that wins have eluded. But the 2-7 Bears won for the first time on the road defeating Idaho State 26-20 in Greeley, Colorado last week.
"It's a tough place to play and a big win for them on the road last week at Idaho State," Choate said. "It' created a lot of momentum for them.
"We have to go down there, again have that one game at a time mentality and prepare to play our best game against this group."
With three games remaining, including two straight road trips, Montana State sits at 3-2 in Big Sky Conference play, 6-3 overall. The Bobcats will likely need to win two more games to solidify a playoff spot for the second year in a row. Despite the fact that Northern Colorado has almost always been toward the bottom of the Big Sky since joining the league in 2006, the last few weeks around the conference has earned the attention of Choate and his team.
"This league is nuts," Choate said. "They do what they did to Idaho State a week ago and you are like, 'Oh my gosh, what do we have coming in here, a steamroller?' Finding their groove, getting their momentum but for whatever reason, the ball bounced our way early and that was it."
Earlier this season, Northern Colorado had scored six points in a two-week span that included a 50-0 shellacking at the hands of Sacramento State and a 14-6 loss to otherwise unimpressive South Dakota. The Bears sat at 0-4 and had scored 41 total points in four games, giving up 40 points per game in those contests.
Idaho took it to rival Eastern Washington for a half and hung on for a 35-27 win the week UNC lost to USD. But the following week, the Vandals blew a 24-10 third quarter lead in a 27-24 loss at Nottingham Field in Greeley, Colorado. Ben Raybon's 32-yard field goal with 4:06 left proved to be the game-winner.
Losses at Northern Arizona (41-23), at Eastern Washington (54-21) and at home to Portland State (38-30) followed before UNC's second break through of the season last week against Idaho State.
The Bears are scoring just 18.7 points per game, a number that jumps to 25.4 points per game in Big Sky play. UNC is giving up 37.2 points per contest, a number that dips to 35.4 in five league contests.
The last time the two teams faced off, Montana State decimated Northern Colorado thoroughly. Troy Andersen ran for three touchdowns and threw a fourth and the Bobcat defense smothered UNC's offense in a 35-7 win.
That game came the second week of November and preceded MSU's rivalry showdown against Montana. This trip to Greeley comes ahead of Montana State's trip to UC Davis and season-finale in Bozeman against the Griz.
Montana State is 8-3 under Choate in the month of November. That record includes two straight wins to end an otherwise dismal 2016 season. It also includes three straight wins over Montana and a three-game winning streak to end last season that boosted MSU into the playoffs for the first time since 20014.
Choate and his team are squarely focused on continuing that success this weekend.
"It's about staying focused on the process and not worrying about things you can't control," Choate said. "I know this sounds ridiculous but I didn't know we were even ranked. I really don't listen to outside noise. Because you can't.
"I can't imagine how miserable my life would be if I did. And conversely, how quickly you would lose track of reality and focus if you listened to all the good things that were said about you on a good week and all the bad things that were said about you on a bad week. You have to have some balance.
"That's what you have to do in November football. You can't worry about what's going to happen three weeks from now. You have to worry about what is going to happen today. Northern Colorado is a really, really big game for us and we have to be focused on them."
QUICK HITS
Location: Greeley, Colorado
Nickname: Bears
Founded: 1889. Established as the State Normal School of Colorado, UNC has a long history of teacher education and is recognized as an earlier innovator in the field. In addition to education awards and rankings, UNC claims nationally ranked programs in business, performing and visual arts, nursing, and sports and exercise science.
Enrollment: The university has 12,862 and an endowment of $81.49 million.
Stadium: Nottingham Field. The 8,533-seat venue was built in 1994 for $4 million. The Bears won back-to-back Division II national titles under former Montana head coach Joe Glenn in 1996 and 1997 and averaged more than 4,500 fans per game in the then-6,500-seat venue.
Attendance peaked in 1999 with an average of 6,650 and then again in 2005 with 7,510 per game. UNC hasn't averaged 5,000 fans a game since 2010, but the Bears are drawing 5,192 fans in three home games so far this season.
THE TEAM (2-3 in the Big Sky, 2-7 overall)
The Coach: Earnest Collins Jr, ninth season at Northern Colorado
The UNC alum was a standout defensive back and punt returner for Joe Glenn between 1991 and 1994. His coaching career began as the defensive backs coach at Northwest Missouri State from 1996-1999. He coached defensive backs and coordinated the special teams at UNC from 2000-2003 before spending five seasons in the FBS. He coached at Kansas from 2003-2006 and spent 2007 at Central Florida.
Collins Jr. became the head coach at Alcorn State in 2009 and spent that season and the next one before his hiring at UNC. His is 28-69 overall, 19-50 against Big Sky competition. He led UNC to back-to-back winning seasons in 2015 and 2016 but has only won seven combined games the last three seasons, six of them in league play. He received a five-year contract extension following the 2016 season that saw the Bears go 4-4 in Big Sky play, 6-5 overall.
Jacob Knipp, quarterback, 6-4, 213, senior — Knipp is the rare sixth-year senior quarterback, although he is one of three players in that same category in the Big Sky. Case Cookus is currently in his sixth year at Northern Arizona. Kevin Thomson is a sixth-year junior signal caller at Sac State who still has another year of eligibility remaining.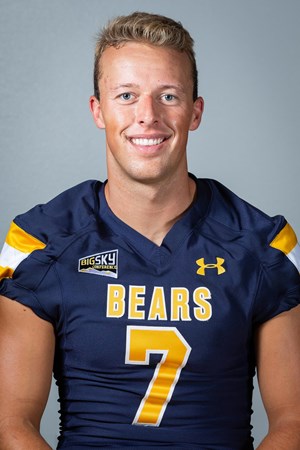 "They see the field so well," said Choate, who's Bobcats beat Cookus and NAU 49-31 to begin league play and who's Bobcats lost 34-21 to Thomson and Sac State last month. "Knipp has a comfort level with what he's doing. I think you need to be smart about mixing coverage. If they see the same thing three or four times, they are going to find the matchup that works for them. Whereas with a younger quarterback, you can show them the same thing three or four times and get away with it."
After earning Colorado first-team all-state honors as a senior at Ralston Valley High in Arvada outside of Denver, Knipp redshirted in 2014 at UNC. In 2015, he took over as Northern Colorado's starting quarterback four games into the season and ended up throwing for nearly 2,000 yards and 13 touchdowns. The Bears finished 6-5 that season and the future looked bright.
In 2016, Knipp suffered a season-ending shoulder injury the second game of the season. Kyle Sloter took over and ripped up the Big Sky. He threw for 2,665 yards and 29 touchdowns, guiding the Bears to wins over Northern ARiona, Sacramento State, Portland State and Montana on the way to a second straight 6-5 finish that earned Collins Jr. his contract extension. Sloter is currently Kyler Murray's backup for the Arizona Cardinals.
Knipp threw for 1,352 yards and nine touchdowns in four games before suffering the same injury in 2017. And last season, he lasted three games before the injury bug struck again.
"I really like their quarterback," Choate said. "The Knipp kid is a really good player. He's a big, strong, accurate passer and he has some good targets to throw to."
"He's not afraid to run. He's had an injury history but that does not deter him from pulling the down and going. He's definitely been an issue for people in that regard too."
This season, Knipp is completing 59.8 percent of his passes and has thrown for 2,001 yards and 10 touchdowns. He threw for 411 yards and two scores against NAU and he threw for three more touchdowns last week against Idaho State.
Many NFL Draft prognostications rate Knipp as the No. 1 quarterback prospect in the Big Sky. Despite his injury history, Choate sees that sort of talent.
"He definitely has prototypical size and arm strength," Choate said. "I don't think there's any doubt about that. The one thing that they are going to look at is win-loss record but I don't think they are going to look at that. This guy operates the system very well and he's a talented guy."
Milo Hall, running back, 5-8, 190, senior — The former Colorado Class 5A Player of the Year at Cherry Creek High outside of Denver is one of the last true workhorse running backs in the Big Sky. The former Wyoming transfer has carried the ball 20 times or more in a game seven times this season, including surpassing 30 carries three times with a season-high 39 carries for 135 yards against Idaho.
"He's a really good inside zone runner and that's what they do with him," Choate said.
Hall has gone over 100 yards rushing three times, including rushing for 113 yards and a touchdown against Washington Sate. He had 118 yards on 30 carries last week against Idaho State.
This season, Hall has rushed for 690 yards on a league-high 210 attempts and has scored seven touchdowns. He is averaging 3.3 yards per carry and 76.7 yards per game.
Willie Fairman, wide receiver, 5-10, 168, senior — As a sophomore, Fairman recorded a career-high four tackles against Montana State. That was when he was still a defensive back. Last season, he switched to wide receiver and helped take pressure off of track champion and leading wide receiver Alex Wesley.
"He's their true speed guy and they do a nice job of creating mismatches because they move their speed guys into the slot and if you play quarters coverage on them, you are basically going to get a safety man-to-man on a speed guy and they have taken advantage of everyone they have played in that regard," Choate said.
Fairman caught 33 passes for 469 yards and a touchdown last season. This season, he ahs hauled in 39 passes for 369 yards and four scores. His best day: an eight-catch, 102-yard afternoon with a touchdown against Northern Arizona.
THE DEFENSE — Players to watch
Luke Nelson, linebacker, 6-0, 230, senior — Northern Colorado runs a diverse defense with multiple fronts, an average amount of blitzing and a mix of coverage on the back end, according to Choate. And Montana State's head coach notices that Nelson is the conductor of all of it.
"You can tell he's the leader in that group and everything goes through him with the communication going through him," Choate said.
The three-year starter has been a tackling machine for the last three seasons. He had a career-high 20 tackles against Montana during a sophomore season that saw him finish with 79 tackles and 4.5 tackles for loss. Last season, he rolled up 86 tackles and five tackles for loss.
This season, Nelson has almost already equaled those numbers. He has 84 tackles and a tackle for loss. Nelson has notched double-digit tackles in four games, including piling up a season-high 20 last week against Idaho State.
Eddie Gonzalez, defensive tackle, 6-3, 295, junior — Gonzalesplayed in 11 games as a redshirt freshman in 2016. He appeared in eight games as a sophomore but missed all of last season with an injury.
This season, he's back in the middle of Northern Colorado's defensive line and is anchoring the front.
"I think he has a high motor," Choate said. "He is their best interior defensive lineman."
In 2017, Gonzalez notched a career-high eight tackles against Montana State. This season, he has 16 tackles and one tackle for loss.
Michael Walker, cornerback, 6-1, 192, senior — Last week, Walker earned Big Sky Defensive Player of the Year honors for the second time this season, becoming the first defender in the league to accomplish that feat.
Walker forced a fumble on the first play of the game to set up UNC's first touchdown as Northern Colorado won at Idaho State for the first time since 2009. Later, Walker returned an interception for a touchdown to put the Bears up 18-10. He also snared a pick in the end-zone to help preserve UNC's 26-20 lead.
"He had a pick-6 and two interceptions, a forced fumble against Idaho State so he had a huge game last week," Choate said. "He shows up consistently on tape. He's a really good athlete and a guy you have to be aware of all the time when he is on the field."
This season, Walker is tied for the league lead with four interceptions, the 10th-best total in the country. He had two picks against Idaho to earn his first Big Sky weekly award. All told, Walker has 38 tackles, 30 solo tackles and half a tackle for loss.
Photos by Northern Colorado Athletics, or Brooks Nuanez. All Rights Reserved.