Northern Arizona 37, Missouri State 23 — Case Cookus returned to the lineup and threw for 290 yards and two scores to help NAU to a 1-0 start as the Big Sky moved to 1-0 in the Big Sky-Missouri Valley challenge. NAU struggled to run the ball (2.4 yards per carry) but Cookus and Brandon Porter hooked up six times for 140 yards, including touchdowns of eight and 62 yards, the latter giving the Lumberjacks a 27-6 lead five minutes into the third quarter. Porter also threw a 55-yard touchdown on a reverse pass to Stacy Chukwumezie midway through the second quarter.
Cal Poly 52, San Diego 34 — A year after posting a 1-10 mark, Cal Poly trounced a playoff team with a new triggerman at the helm of CP's triple option offense. Jalen Hamlter threw for 221 yards and three touchdowns and rushed for 96 yards and two more scores to earn Big Sky Offensive Player of the Week honors. All three of Hamler's touchdown passes came in the second quarter as Cal Poly took a 14-14 game and blew it open, taking a 38-14 lead into halftime. The Mustangs pushed the advantage to 52-14 after Duy Tran-Sampson ripped off a 34-yard touchdown run as part of his 172-yard day.
San Diego State 6, Weber State 0 — The Wildcats went toe-to-toe with the Aztecs in a slugfest that Weber head coach Jay Hill surely relished. SDSU's field goals in the second and fourth quarters proved to be the only scores in a contest in which the hosts outgained the visitors 238-154. SDSU managed just 14 first downs while Weber only had five. Rashid Shaheed's 99-yard kick return for a touchdown was negated in the second quarter but could've provided the game-winning score.
Arkansas 20, Portland State 13 — A two-yard touchdown run with 2:20 left in the third quarter proved to be the difference, giving Arkansas a 17-6 lead in a battle where the Vikings never stopped swinging. The Vikings held the Razorbacks to 395 yards, including 191 passing. Jalani Eason hit All-American tight end Charlie Taumoepeau for a fourth-quarter touchdown that serves as PSU's only TD of the day.
Cal 27, UC Davis 13 – Davis jumped out to a 10-0 lead but could not hang on, missing out on an FBS win for the second straight year. Cal scored 13 unanswered points in the last 10 minutes of the first half, sparked by Kekoa Crawford's 37-yard touchdown grab and a pair of long field goals by Greg Thomas. The score was knotted at 13 until 3 minutes to play in the third quarter before Cal pulled away. Ulonzo Gilliam rushed for 89 yards and a touchdown for Davis.
San Jose State 35, Northern Colorado 18 — Northern Colorado's Dontay Warren scored a seven-yard touchdown midway through the third quarter to cut the SJSU lead to 21-13. With 13 minutes to play, the Bears trailed just 28-18 before a touchdown with 5:21 left proved to be the final margin of victory. Warren's touchdown was UNC's lone TD of the day. Colin Root hit all three of his field goals for the Bears.
Penn State 79, Idaho 7 — Penn State posted the fourth-largest win in program history, serving as the second-worst loss in Idaho history in a game that netted the Vandals $1.45 million, the biggest payout for a Big Sky team from an FBS team ever. Penn State piled up 673 yards of total offense, rushed for 331 yards and notched 35 first downs. Idaho managed five first downs and rushed for four yards on 28 attempts, or 0.1 yards per carry.
Washington 47, Eastern Washington 14 — UW jumped out to a 28-0 lead before halftime, then pushed the margin to 42-7 with four minutes left in the third quarter. The Huskies piled up 570 yards of total offense, including 370 passing. In his first start for UW, Jacob Eason threw for 349 yards and four touchdowns to three different wide receivers. Andrew Boston hauled in six catches for 112 yards, including a 64-yard touchdown with a minute left in the first half for EWU.
UNLV 56, Southern Utah 23 — The Rebels built a 35-7 lead and rushed for 331 yards to dispatch the Thunderbirds. SUU rushed for just 46 yards on 38 carries. Southern Utah rallied for 16 fourth-quarter points but trailed 56-7 before that spurt.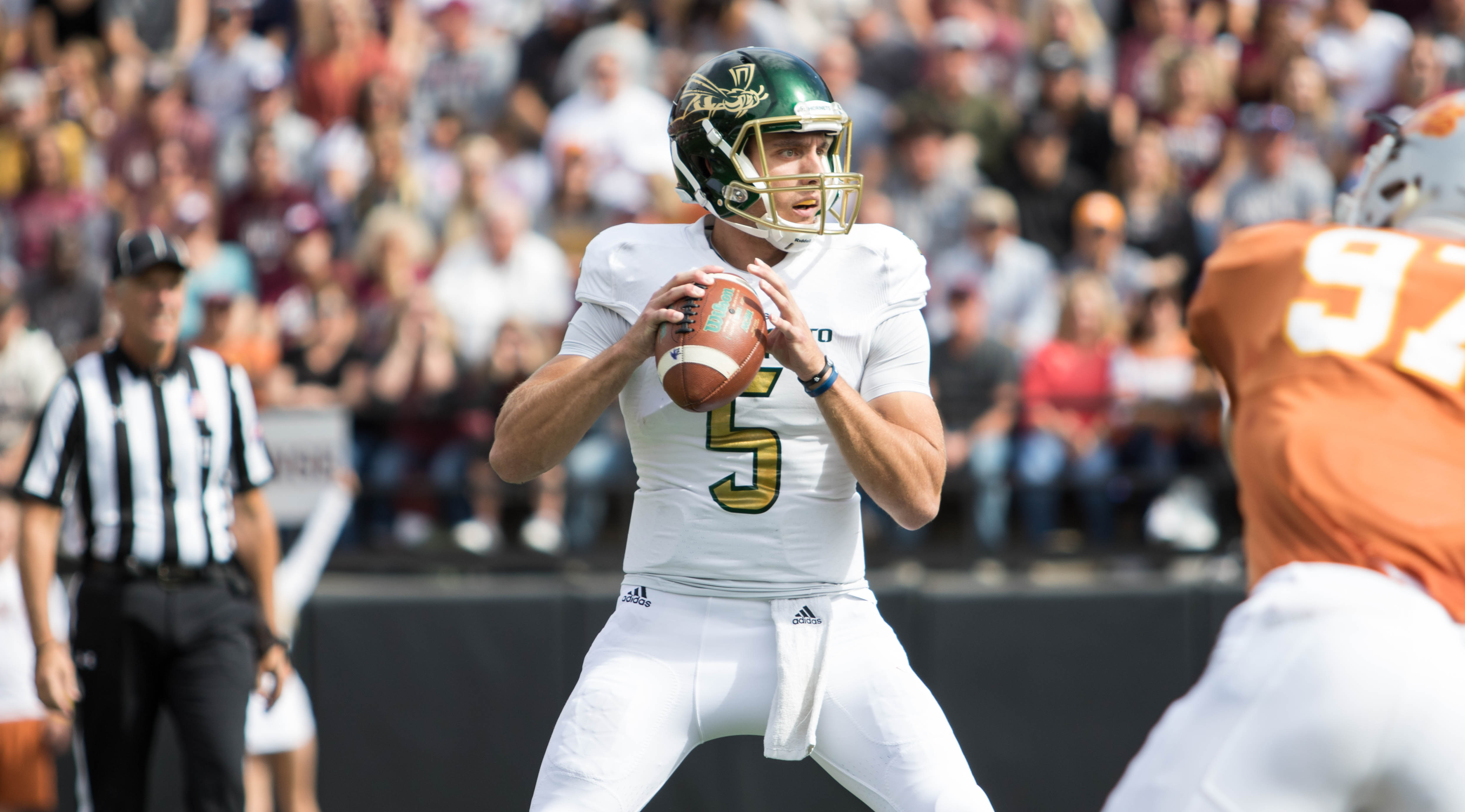 Sacramento State 77, Southern Oregon 19 — The Hornets scored at least two touchdowns in all four quarters. Kevin Thomson threw for 303 yards on just 20 attempts, tossing four touchdowns. Pierre Williams had five catches for 140 yards and three TDs. Sac picked off SOU quarterback Wyatt Hutchinson four times.