BOZEMAN, Montana — Following the completion of the first set of spring drills under a new head coach, Montana State learned it was losing one of the Treasure State's most popular football figures.
On April 23, Skyline Sports confirmed through a source that B.J. Robertson would be leaving the Bobcat football program. On May 4, Montana State is expected to confirm the departure.
Robertson, a native of Sheridan, Montana, has been a fixture in Montana's coaching ranks since graduating from Montana Western in 1998. The 46-year-old served as the head coach at his alma mater from 2013 until 2015 before joining Jeff Choate's first staff at Montana State in December of 2016. Robertson was one of Choate's first hires and, along with offensive line coach Brian Armstrong, are among the only holdovers left from that first Choate staff.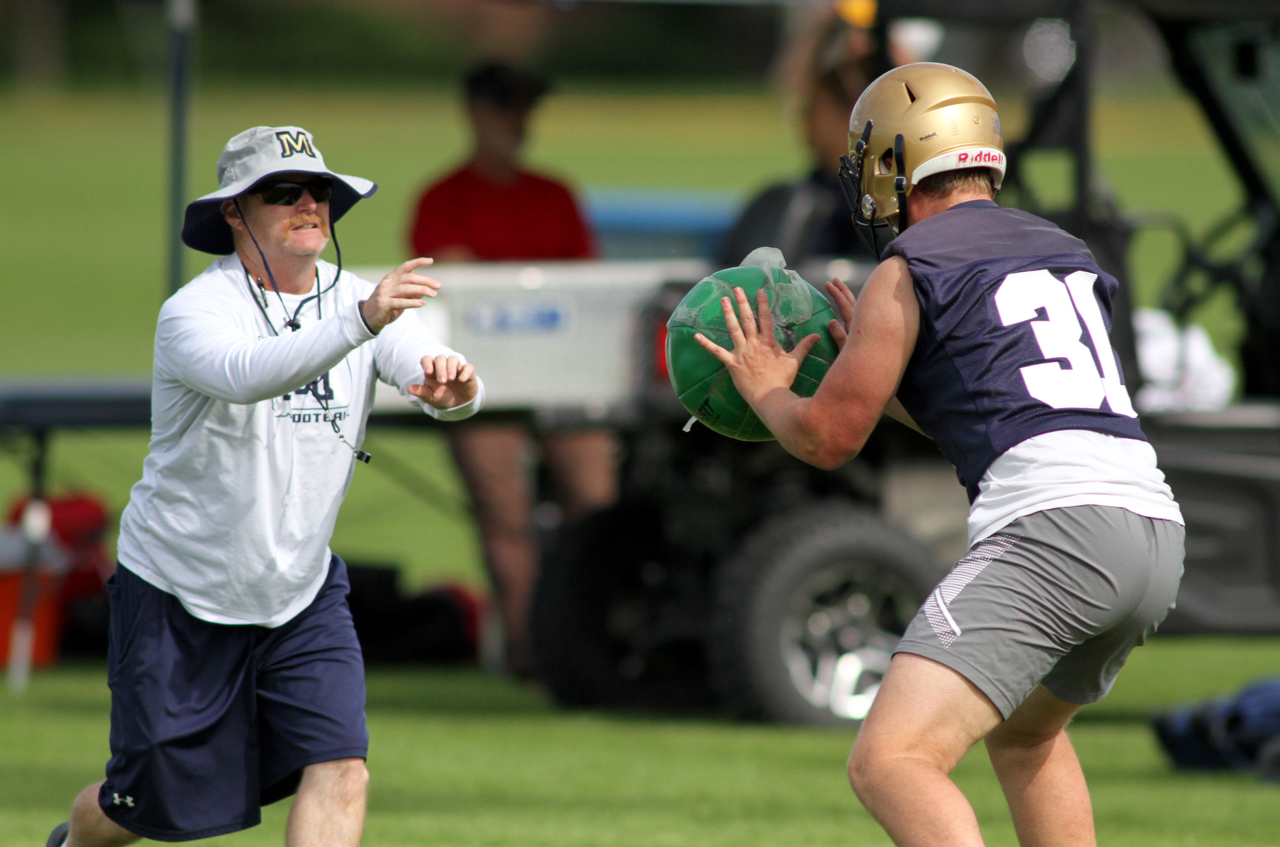 Choate carved out a new yet immediately integral role for Robertson as the director of high school operations. Over the last five seasons, Robertson has served as MSU's special teams coordinator while also sometimes coaching tight ends. But his role as the director of high school operations, with a strong and crucial focus on in-state recruiting is the role that will prove tough to replace for new head coach Brent Vigen.
Robertson leaves after four seasons and five years at Montana State just a few months after Choate bolted for the co-defensive coordinator position at Texas on Steve Sarkisian's staff. Two sources confirmed Robertson was taking a job as a teacher and coach in the Montana high school ranks, but it remains to be seen exactly where Robertson lands.
As the director of high school operations, Robertson served as a liaison between high school administrators, high school coaches, in-state athletes and MSU's recruiting efforts around Montana.
Montana State made waves almost instantly, getting a verbal commitment from versatile Dillon athlete Troy Andersen just a month after Andersen finished his junior year at Beaverhead County High School by sweeping the 100 and 200 meters at the State A track state championships.
Andersen highlighted an initial in-state recruiting class that also included future starting middle linebacker Callahan O'Reilly (Bozeman), starting wide receiver Lance McCutcheon (Bozeman), starting fullback R.J. Fitzgerald (Dillon) and rotating nickel back/cornerback Tadan Gilman.
The following in-state recruiting class was highlighted by Class AA Defensive MVP Nolan Askelson, an inside linebacker for state champion Billings Senior, and speedy Huntley Project halfback Lane Sumner, who figures to have a large role in the Montana State offense in the fall of 2021.
The 2019 recruiting class featured in-state players expected to contribute in the near future like safety Rylan Ortt (Missoula), offensive lineman Holden Sampson (Helena), defensive lineman Marcus Wehr (Billings) and tight end Ryan Lonergan (Bozeman).
In 2020, Montana State made another big splash, landing Butte quarterback Tommy Mellott, the Montana Gatorade Player of the Year as a senior. The class also included Brody Grebe, a 6-foot-3, 225-pound edge player out of Class C Melstone who Choate compared to Andersen.
And the most recent recruiting class yielded MSU signings from standouts like Class AA Defensive MVP Kenneth Eiden IV out of Bozeman, Flint Creek do everything athlete Kade Cutler and the Billings West defensive end duo of Neil Daily and Paul Brott.
With nearly 20 years of coaching experience between his stops at Rockford (2001-2005), Southern Oregon (2006), Rocky Mountain College (2007-2012) and his three-year stint as Western's head coach, Robertson has coached 43 all-conference players.
In 2016, 2017 and 2019, Robertson helped coach punter Jered Padmos into All-Big Sky form, including second-team honors in 2017 following the sophomore season of the Boulder native's career. Padmos finished in the top 20 nationally in the FCS in punting average as a junior and a senior.
In 2019, MSU 14th in the FCS in net punting and 35th in punt returns.