Editor's note: Brooks Nuanez provided the interviews, photos and color commentary for this story.
BOZEMAN, Montana — Jeff Choate gave a three-minute statement about the potential perils of the Big Sky Conference when he was asked Monday about preserving the health of his do-everything junior captain, two-way superstar Troy Andersen.
On Saturday against an overmatched visitor in Norfolk State, the Bobcats did not play Andersen at all with Big Sky play looming next week. Sophomore starting running back Isaiah Ifanse sat out, bringing his unavailable streak to 10 quarters and counting. Senior running back Karl Tucker II also did not dress for the second straight game.
And after rushing for more than 100 yards and scoring two touchdowns to help stake Montana State to a 28-14 lead over Norfolk State at halftime, senior Logan Jones did not take a snap in the second half.
None of that attrition meant a thing to the Montana State run game. The Bobcat offensive line won at the point of attack from start to finish and MSU's rushing attack made sophomore Tucker Rovig's first start at quarterback this season go smoothly as the Bobcats ran away with their third straight victory.
Jones (101), redshirt freshman Lane Sumner (111) and his classmate Shane Perry (113) each rushed for more than 100 yards, the first time that has ever happened at MSU. Montana State piled up 449 yards rushing and averaged 8.6 yards per carry, the third-best single-game total in school history.
That ground dominance opened things up for Rovig, a sophomore who threw for 221 yards and four touchdowns as Montana State cruised to a 56-21 victory in front of 17,647 at Bobcat Stadium in Bozeman on Saturday afternoon.
During Montana State's 2-1 start that included a dominant 38-17 home win over No. 12 Southeast Missouri State and a sloppy, disjointed 23-14 win at Western Illinois last week, the Bobcats took care of the football, rushed the passer ferociously, ran the ball with authority and forged a two-game win streak.
Through three games, redshirt freshman Casey Bauman had not thrown an interception and had taken just one sack. But the 6-foot-7, 235-pounder had also completed just 48.6 percent of his passes for 135 yards per game.
So Choate elected to go with Rovig, a 6-foot-5 sophomore from Meridian, Idaho outside of Boise. Rovig failed to beat out Chris Murray in the spring of 2017. He failed to beat out Andersen during MSU's 2018 fall camp. And when he was projected as the starter in mid-October last season, he suffered a season-ending injury during MSU's bye week.
Earlier this week, Choate said he had a conversation with Rovig. That led to the sophomore making his third start as a Bobcat and his first this season.
"I basically said, 'You know you've let this thing slip through your hands twice now. This opportunity may not come again," Choate said after moving over .500 (20-19) for the first time in his career. "You've just got to believe in yourself and go play.' And I think he did that.
"If we were going to look at somebody else this was the time to do it," Choate said. "I did not want to go into preparation for NAU with indecision about (QB). Really felt like Tucker had performed at a higher level over the last couple weeks in practice so he deserved an opportunity to get a start."
Jones, a former walk-on from Kalispell Glacier High, had his second straight big day. A week after rushing for 167 yards and two touchdowns including an 87-yard rip that served as the third-longest rushing score in MSU history, the 5-foot-9 dynamo rushed for 95 yards on his first five carries Saturday.
He had gashes of 10 and 19 yards on first scoring drive late in the first quarter before capping it with a 16-yard touchdown. He had all 40 yards on the ground, including a 36-yard rip that set up a short touchdown two minutes later as the Bobcats took a 14-7 lead following a forced fumble by Michael Jobman that Amandre Williams recovered.
Jones finished with 101 yards on just seven carries. He has surpassed the century mark two weeks in a row. He has 268 yards and four touchdowns on his last 28 carries (9.6 yards per carry). After garnering a fifth and final year when he played just four games his true senior season last fall, Jones has scored seven touchdowns in his last seven games played.
The former Class AA state champion deserves plenty of credit for his production. So does an MSU offensive line that is living up to lofty preseason expectations.
"They were an impressive group today, for sure. Quite honestly we saw some things different from what we thought we were going to see from what we'd seen on film," Choate said. "They'd primarily been a post safety defense and (today) they played a lot of quarters, a lot of cover four, a lot of post safety looks, which lightens the box in the run game. So I think that played into our hands a little bit.
"I can't say enough about Logan Jones, Shane Perry, and Lane Sumner. Logan went out of the game, Shane and Lane hadn't played a lot of football for us. They stepped in, the O-line held up their end of the bargain, and we continued to operate."
Getting 449 yards on the ground despite missing three of the four players listed on your depth chart at tailback is quite a way to ease Rovig's reentry into the starting lineup. That proficiency allowed Rovig to ease in on a day he completed 21-of-27 passes.
"I was looking at the rushing yards and the net was 449. That's all props to the running backs, whoever was carrying the ball, and the O-line," Rovig said. "I'll be honest: I do not remember getting hit one time today on a pass play. I don't think there was one time."
MSU took a 21-7 lead when Rovig hit sophomore Coy Steel for a 34-yard touchdown, the second score of the year for the former Wyoming Gatorade Player of the Year.
"Tucker operated at a high level today, took what the defense gave him, threw accurate passes and had great protection from our offensive line," Choate said.
But the Spartans would not go away. Norfolk marched 70 yards in 17 plays, eating up eight minutes, 23 seconds of game clock capped by an eight-yard touchdown pass from Juwan Carter to Kevin Johnson. Carter, a three-year starter, went 7-of-10 for 52 yards on the march. He finished the game 21-of-32 for 243 yards and two touchdowns.
Montana State responded with a 10-play, 80-yard drive highlighted by a heavy dose of Perry, a former walk-on from Danville, California who has received rave reviews during the most recent off-season. On a day in which he rushed for 111 yards on 13 carries, the smooth upstart notched 42 yards on the march.
Jones' four-yard rush to begin that drive proved to be his seventh and last carry of the afternoon. That opened the door for Perry and Sumner to showcase their up-and-coming talents.
Rovig completed 5-of-6 passes, including a 13-yard scoring strike for Steel's second touchdown today as MSU opened the second half with a 10-play, 69-yard scoring drive.

MSU earned a foruth down stop, leading to a six-play, 69-yard drive sparked by a 19-yard Wildcat quarterback run by senior Travis Jonsen and capped by senior captain Kevin Kassis' first touchdown catch of the season from 21 yards out. That score gave the hosts a 42-14 advantage.
Choate praised the speed and big-play ability of "No. 35" from Norfolk State during the week leading up to the game. No. 35 true freshman Kevin Johnson showed that speed on an 84-yard touchdown sprint that gave NSU a brief glimmer of hope. The score also marked the second-longest run in Bobcat Stadium history, behind only Shawn Johnson's 90-yard TD against Monmouth in 2013.
But Perry, Sumner and true freshman converted inside linebacker Jaharie Martin helped the Bobcats pound the Spartans to secure the decisive victory. Sumner's 3-yard touchdown marked the first career trip to the end-zone for the Huntley Project and capped an 11-play, 67-yard drive that gave MSU a 49-21 lead. Sumner's 58-yard touchdown run on MSU's next possession put the game on ice with 7:39 to play and the Cats up five touchdowns.
MSU's offense looked dangerously explosive despite the absence of its most explosive playmaker (Andersen) and their most physical skill player (Ifanse). The defense gave up several big plays, including a 57-yard completion by Juwan Carter to Da'Kendall James that set up a short Carter touchdown pass that gave NSU a 7-0 lead.
Most of Norfolk's 351 total yards came on big plays. The Spartans tallied 78 percent of their 108 rushing yards on Johnson's long run. Carter completed 21-of-32 passes for 232 yards, two touchdowns and no interceptions. But Montana State sacked him four times, including 3.5 sacks by senior defensive end Bryce Sterk.
Sterk now has 8.5 sacks this season, the top total in the FCS. He finished with 10 tackles Saturday, including five behind the line of scrimmage. He now has 11.5 TFLs a season after leading the league with 17 tackles for loss.
"We see different things, tells, that we try to exploit, and we've been doing really good with that so far," Sterk said about MSU's defensive line play. "(Senior captain) Derek (Marks), it doesn't show on paper, but he has so many QB hits and QB hurries, and he's affecting the quarterback so much in the last couple games. Same with Amandre (Williams)… Getting to the quarterback and dominating the line of scrimmage has been huge for us this season so far."
Montana State rested Andersen and Ifanse to aid in their respective recoveries heading into next week's Big Sky opener against Northern Arizona in Bozeman.
Ifanse became the first Bobcat freshman to rush for more than 1,000 yards in his rookie season despite playing hurt for the final eight games of the year last season. Andersen, the 2017 Big SKy Freshman of the Year, earned unanimous first-team All-Big Sky honors at quarterback even though he played running back and linebacker his first season and is supposed to be MSU's starting Same linebacker this season.
Even without that prolific duo — Andersen and Ifanse combined to gain 76 percent of MSU's total yards last season — MSU still set a school record with 26 first downs. The Bobcats gained 670 yards of total offense, the fifth-most in school history.
"It makes you nervous when you go for the better part of two-and-a-half games without two of our best guys, (Ifanse and Andersen)," Choate said. "But we've been able to go 2-0 in that stretch and hopefully we'll get those two back going into league play."
League play begins next week with NAU coming to town. The Lumberjacks fell 40-27 to No. 15 Illinois State despite 357 yards and four passing touchdowns from super senior quarterback Case Cookus.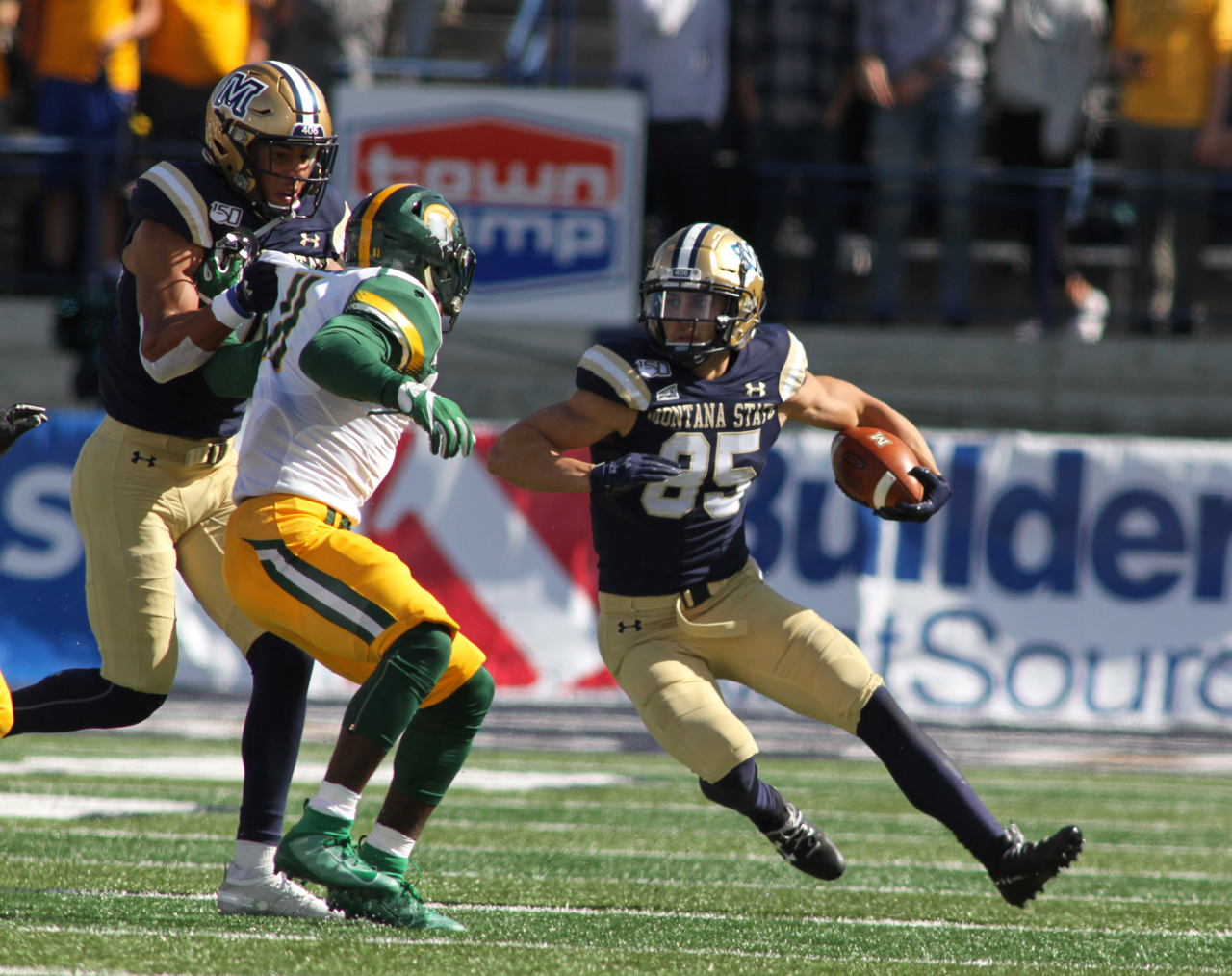 "I think this was a very competitive non-conference for us," Choate said. "Playing a Power 5 school to open up the year (Texas Tech). Opening up our home slate with the No. 12 team in the country. Tough road test against a Missouri Valley team (Western Illninois). And then a test against another FCS opponent. There was no Division II teams on that schedule. We played up or we played level. And I think we accounted ourselves very well.
"We are 3-1 but as I told our guys right now, what do we get for that in Big Sky play? Not a dog gone thing. It's 0-0 and that's our record right now. We have to go to work."
Photos by Brooks Nuanez. All Rights Reserved.