MISSOULA, Montana — The Grizzlies could never quite seize the momentum in the first half against Monmouth despite a few slick trick plays that led to touchdowns and an electric kick return for a score by Malik Flowers.
Coming out of the halftime locker room, No. 19 Montana continued its trend of dominating the early portion of the third quarter, scoring on its first possession, getting a stop, and scoring again.
But Monmouth would not go away, cutting the Griz lead to 33-27 with 11 minutes, 32 seconds left to play. Last season, Montana lost three straight home games, blowing fourth quarter leads in each. UM led in the fourth quarter 10 times in 11 games in 2018 but posted just a 6-5 record that caused the once-proud Griz to miss the playoffs for the third year in a row.
With those demons resurfacing in front of a relatively mellow crowd of 23,119, Montana instead began writing a new narrative. Senior quarterback Dalton Sneed engineered two efficient, fast-paced scoring drives, junior running back Marcus Knight continued solidifying himself as Montana's feature tailback and sophomore Bryson Deming put an exclamation point on a stellar day by UM's tight ends as the Griz raced to the finish in a 47-27 victory to wrap up non-conference play.
"You always have to fight for it," Montana second-year head coach Bobby Hauck said following his 90th win at UM all told including his first seven-year stint between 2003 and 2009. "That was a good win over a Monmouth team that, I think feels like they are a playoff-caliber football team and they might be right. They are awfully good, they are well coached and they just do a really nice job. They play hard, schematically they are very sound and they did some things that tried to manage the game that were effective.
"From our standpoint, it's great to win and we did a lot of good things as well. There's certainly a lot we need to clean up moving into next week (at No. 4 UC Davis) or we are not going to survive."
With Montana clinging to a one-score lead, Sneed led the Griz on a six-play, 62-yard drive that took just 103 seconds thanks to a 30-yard reception by senior tight end Colin Bingham and capped by a 5-yard touchdown throw by Sneed to fellow senior Jerry Louie-McGee.
That score answered Monmouth's impressive march highlighted by 62 of senior quarterback Kenji Bahar's 393 yards passing. With the Griz up 41-27 — Sneed hit junior Sammy Akem for the two-point conversion following his third touchdown pass of the game — UM junior Dareon Nash came up with an interception for the first takeaway of the day for the hosts.
Knight, a fast and powerful runner who came to UM from Citrus College, took over on the ensuing possession. The 6-foot-1, 220-pounder began the drive with a 17-yard gain. He added a 16-yard spurt and a 31-yard highlight reel run highlighted by three broken tackles. He rushed for 64 of his game-high 149 yards on that drive.
His 31-yard burst gave the Griz possession on the MU 4-yard line. Three plays later, Sneed threaded the needle to Deming, who made a leaping catch in the back of the North end-zone for his second touchdown of the day, the fourth scoring grab for UM's tight ends.
"We knew we had to score a touchdown, extend the lead," Bingham said. "That's been one of the things we've preached ALL off-season is finishing in the fourth quarter. We wanted to go down, have a physical drive, burn up some clock and score a touchdown. Everyone in the huddle was really motivated to do that."
All of a sudden, the Griz led 47-27 with 3:49 left. The home team would cruise from there, sewing up their third non-conference win in four outings with a game at No. 4 UC Davis looking next week to open up Big Sky Conference play.
"I think that's what good teams do," Hauck said. "We didn't' run the ball very effectively a week ago (in a 35-3 loss at Oregon) and our guys took that to heart. We rushed for 221 yards today and our goal was 200. We got after it some and it was fun.
"The backs are running hard. Marcus had a great day. I can't wait to watch the one run on film…I'm pleased in my initial impressions with our run game."
Monmouth's offense did a great job possessing the ball early even as Pete Guerriero and the Hawks' run game struggled to get going. The Griz only had the ball for 4:32 in the first quarter, possessing the ball just twice during a scoreless first frame.
Montana got on the board first on a misdirection play that wasn't quite a trick play but was close. After a slick play-action fake, Sneed threw to a wide open Deming, who scored a 23-yard touchdown to put UM up 7-0 with 12:35 left in the first half.
Monmouth answered with an 11-play, 77-yard drive as Bahar executed efficiently and with confidence just like the 6-foot-3, 190-pound dual threat would all afternoon. MU 235-pound running back Devell Jones capped the march with a one-yard touchdown plunge to tie the score.
Hauck has long been known for his prowess as a brilliant special teams mind. That showed again on a perfectly executed kick return scheme that included stellar blocks by Bingham, sophomore defensive lineman Eli Alford and sophomore wide receiver Gabe Sulser. Those blocks combined with Flowers' exceptional speed meant the longest kickoff return for a score in the modern era of Griz football.
Flowers' 100-yard rip is the longest by a Griz since Milt Popovich, the Butte Missile, took a kick 102 yards for a score in 1936.
"When they pooch it, it's a sign of respect," Hauck said. "We tell these guys in camp that if you are any good, they will quit kicking it to you.
"When I got to Colorado (in 1995), Colorado had been 20 years without returning a kickoff for a touchdown," Hauck said. "It's hard to do. We expect our guys to do it here and there within a season. That's the expectation of the guys on that team. I wasn't sure they were going to kick it deep to us and these guys made them pay."
Montana took a 21-7 lead with 1:38 left in the first half as junior wide receiver Samori Toure capped a 12-play, 90-yard drive by catching a screen pass from Sneed then throwing a 24-yard touchdown to a wide open Bingham.
"It set up really well, the way we wanted it to," Bingham said. "I know Bryson had a really good block on the outside to keep Samori there. And the o-line did a good job. Samori threw a perfect ball and I just had to go make the play with my boys."
Bahar and the Hawks' offense responded again, going 75 yards on seven plays and just 78 seconds capped by 6-foot-8 Shawn Clark's eight-yard touchdown grab to close the gap to 21-14 with 20 seconds left in the first half.
Bingham's second touchdown catch capped an impressive opening drive of nine plays and 59 yards — the Hawks pooch kicked the rest of the game to avoid letting Flowers get the ball in his hands — on an afternoon UM's tight ends owned the day. Bingham finished with four catches for 72 yards and the two scores.
"Our coaches put together an incredible game plan with everything from the passing game to the running game," Bingham said after helping the Griz finish with 579 yards of total offense and 33 first downs. "We knew what their tendencies were and to do certain things. We went from there, played and reacted."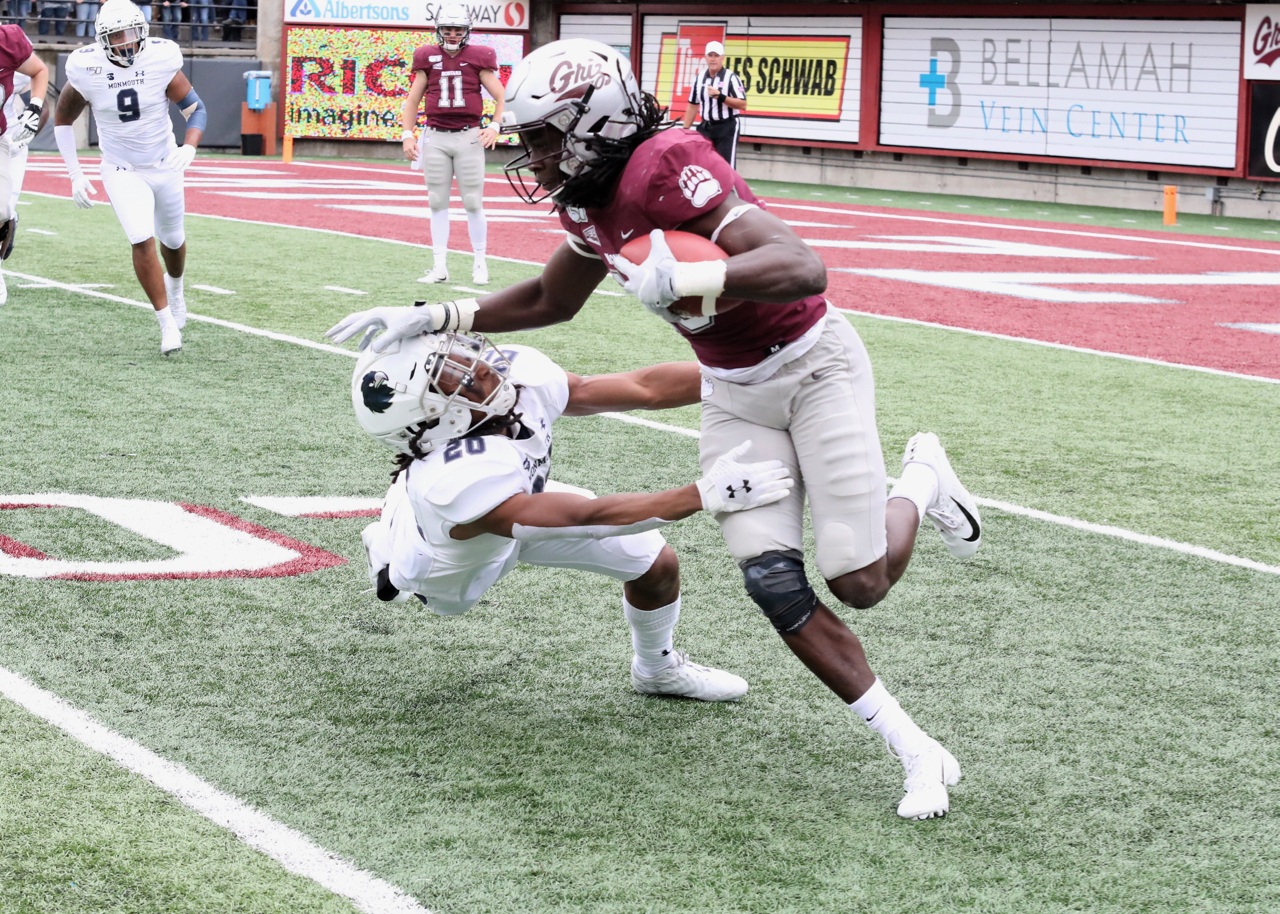 Deming finished with four grabs for 46 yards and two scores. Those two were part of an outing that saw Sneed complete 30-of-40 passes for 334 yards and four scores.
"The tight ends and (sophomore receiver) Mitch Roberts (five catches, 80 yards) had big days," Hauck said. "Everybody of those three, Mitch and our two tight ends, really caught the ball well and got good, hard yards after catch and after contact.
"I thought the offensive coaches had a nice plan and did a really good job."
After a stop, the Gri z again marched, this time with an eight-play drive of 47 yards that took just 2:57 capped by Knight's fourth touchdown of the game. That 5-yard plunge gave the Griz a 33-14 lead with eight minutes left in the third frame.
Bahar and the Hawks kept coming. The Monmouth veteran signal caller stood in the pocket all day, dicing Montana's blitzing defense consistently. His receivers found one-on-ones on the perimeter more often than not and he put the ball on the money, completing 34-of-50 passes.
On a fourth down from less than a yard away from the end-zone, Bahar lept over the goal line for the first of two straight Monmouth touchdowns that helped the upstarts from West Long Branch, New Jersey cut a 19-point lead to six with 11:32 left.
"They run a 3-3 stack so having our line adjust to the different twists and pressures they brought was crucial," Bahar said. "I feel like our line did really good protecting.
"It's definitely an experience to come out here. We prepared all week for it being loud. I think we handled it really well as a unit. We had one false start on the day but other than that, the experience was enjoyable. They are a very good team so I wish them luck the rest of the season."
But the Griz would not be denied. Montana's coaching staff set a goal for the Griz defense to hold Monmouth to 50 or less rushing yards. The Hawks got to 81 yards but rendering the attack one-dimensional was crucial nonetheless. Guerriero, a former Freshman All-American, finished with 48 yards on 18 carries after rushing for more than 100 yards in three straight games entering Saturday's action. Nineteen of Guerriero's rushing yards game on two carries.
"Our goal was 50 and they got 81," Hauck said. "I don't know what to say. We didn't' meet expectations. But with that being said, that was the No. 4 rushing offense in the nation. They are good at it."
"I don't know if there is a specific key but we play hard and try to get the ball back in our offense's hands," UM senior linebacker Dante Olson said after finishing with a game-high 13 tackles that included 2.5 tackles for loss. "If we have the ball, the other team can't score. That's the overall goal playing defense. We gave some things up but we got the win and that's what we are here to do."
And the Griz defense got interceptions from Nash and safety Nash Fouch in the fourth quarter to make sure Monmouth's upset bid never gained momentum late in the afternoon. With 2:51 left, Sneed fumbled the ball while fighting for extra yards and Monmouth recovered. But Fouch's first career interception thwarted any momentum that MU takeaway might've garnered.
"Dalton was really good, did a nice job aside from the one play," Hauck said. "He was awfully good when you need it. When you can go down the field and get points, whether it's coming out of the locker room in the third quarter or the last two scoring drives, I thought it was great and just what we needed."
Montana's attention now turns to Big Sky Conference play. The Griz went 4-4 in league play last season after Hauck posted a 47-6 league record in his first go-round at his alma mater. Montana opens at UC Davis, the No. 4 team in the country before Saturday's 27-16 loss at No. 1 North Dakota State. The Griz take a 3-1 record into conference competition.
"Winning is hard," Hauck said. "And we have three of them. We would like to have four. I really love our football team. I love how they play. I like how the men are in our locker room. I like how they approach the game. They are focused. I think we have made a move forward in terms of who we are and how we approach the game. I feel good about where we are."
Photos by Blake Hempstead for Skyline Sports. All Rights Reserved.