BOZEMAN – It was all Bobcats and then some as Montana State rattled off 28 second quarter points to run out to a 35-0 lead before coasting to a 45-7 win for its homecoming.
MSU, now 3-0 in the Big Sky and 5-1 overall, substituted freely in the second half. The defense collected four interceptions. The offense got three touchdowns from junior Isaiah Ifanse, while junior quarterback Matt McKay threw for two, including one to Ifanse.
The game, as well as the first half of the season, served as a preparation of sorts for Friday night's showdown with reigning Big Sky champion Weber State in Ogden, Utah. It's the moment MSU has been building toward for the first six games of Brent Vigen's head coaching tenure.
Montana State will finish with three of its final five games on the road, including next week's trip to play WSU, a November 6 trip to face undefeated Eastern Washington and a November 20 showdown with rival.
"I think we're a pretty unified team first off," Vigen said following the victory. "A team that believes in one another and that's so important. We play complimentary football pretty darn well in terms of our ability to stop the run and get after the quarterback on defense, and, offensively, to be able to run the football, but be explosive on the perimeter.
"It all works together not only from a player perspective, but then from the coaching staff we understand the makeup of this team."
With a Weber State team that has won or shared each of the last five Big Sky Conference titles on tap this Friday, the Bobcats have a short turnaround, while the Wildcats had the week off. WSU entered its bye week off a 38-7 win at Cal Poly to move the Wildcats to 1-1 in league play, 2-3 overall. Montana State is 3-0 in league play.
"Just gotta go out there and do our job," said McKay, a former transfer from NC State who completed 14-of-18 passes for 183 yards and two scores during his sixth start . "We have to execute at a high level. It'll be fun for sure. Friday night game."
MSU has cruised through their first half schedule with five straight solid, if not lop-sided, wins.
"There's going to come a time when we're in a slugfest and we've got to, offensively, make plays." Vigen added. "(McKay) has got to understand that we've got a lot of good players, so it's not all about him and he gets that."
The Bobcats scored in a variety of ways as junior Callahan O'Reilly tallied the last TD with a pick-6 in the third quarter. Freshman kicker Blake Glessner booted a 46-yard field goal. Ifanse scored twice on the ground and once on a reception.
Backup tight end Treyton Pickering scored his third touchdown of the season and Tommy Mellott had the highlight of the day with a scintillating 74-yard touchdown run out of the Wildcat. Ifanse dragged a defender to the goal line on his TD reception and then held the ball over the goal line on an afternoon he moved into sixth in school history in career rushing yards.
The Bobcats got a big boost with the return of cornerback Tyrel Thomas. The senior wasted little time in asserting himself as he came up with an interception in the first quarter after MSU safety Jeff Manning knocked the ball away from the intended receiver.
"It was exciting just having him back out there," Manning said of Thomas.
As for the interception, "It was more crazy than anything. I hit the receiver and then I heard the crowd roaring and saw Tyrel running with the ball."
"I think he was pretty stoked," O'Reilly said of the enthusiastic Thomas. "It's always tough when you miss a couple games due to injury, especially with all the preparation and stuff, so to get out there and make a big play is pretty awesome."
McKay looked efficient once again. He checked out of a play on Ifanse's first touchdown as he turned and told his running back the change after setting up in the shotgun.
"I just checked to a run play based on what the defense was in," McKay explained. "I just made sure he had the call and just let him go do his thing."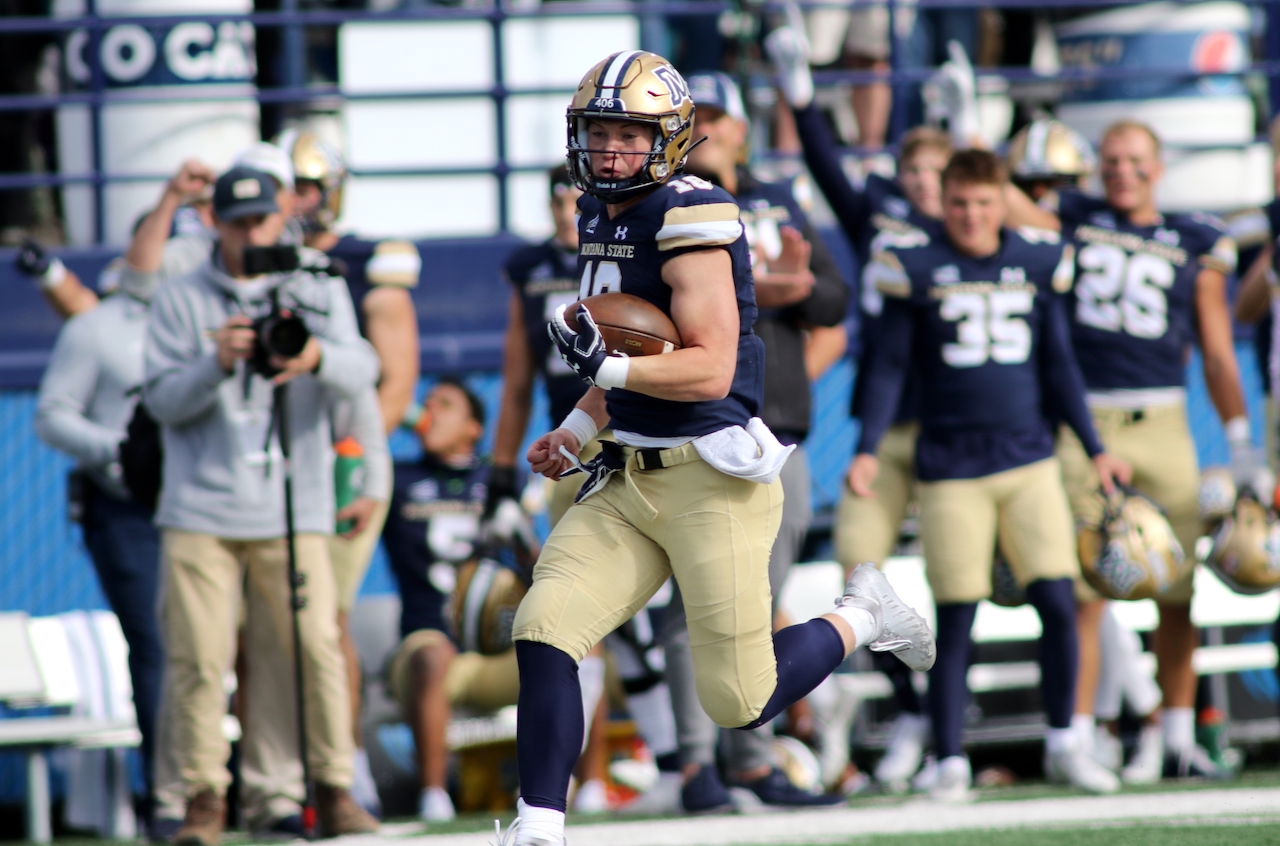 Ifanse has been doing his thing for two and a half seasons and he jumped two MSU legends (Matt Engelking and Tony Boddie) to move into sixth in career rushing yards. He finished with 58 yards on 13 carries on Saturday, giving him more than 2,600 yards in his career.
McKay also noted the play of his backup Mellott, who primarily comes in to run the Wildcat, but also sets up in the slot receiver position.
"He's a great athlete, great quarterback and he's smart on and off the field," McKay said.
MSU tight ends, Derryk Snell and Treyton Pickering, accounted for seven receptions for 57 yards and a touchdown.
O'Reilly's touchdown was the second of his career. He also scored on a trick play out of punt formation against Northern Colorado in 2019. He only needs to score a TD out of an offensive formation to complete the rare career hat trick.
"Obviously, anytime you touch the ball you want to score," O'Reilly said. "We preach takeaways in practice, so to get one feels pretty good."
Statistically, MSU didn't overwhelm the Mustangs, but the Bobcat' coaches had a steady stream of reserve players in the game.
Tadan Gilman, a junior out of Kalispell Glacier, thwarted a potential scoring drive late in the game when he literally took the ball out of a Mustang receiver's hands around the MSU 10 and returned it 25 yards on a fourth down play.
MSU also had short fields after two interceptions and a partially blocked punt by Ty Okada to keep its yardage total in check.
The MSU pass defense was off the charts and it caused Cal Poly quarterback Jaden Jones to barely make the passer rating chart. He would finish with a 0.1 passer rating. McKay, by comparison, was at 190.4.
Cal Poly reverted to his triple option ways that have trademarked the program for most of the last 25 years. Shakobe Harper was a bright spot for the Mustangs. He rushed for 96 yards on 14 totes. Cal Poly averaged 4.7 yards per carry and ran for over 200 yards. The quarterbacks, however, were just six for 18 for 45 yards with four interceptions.
Next Friday's showdown will kick off at 8 p.m. Mountain Standard Time from Stewart Stadium in Ogden.
Photos noted – by Brooks Nuanez or Jason Bacaj. All Rights Reserved.