During one third-quarter timeout of Montana's game against Dixie State on Saturday, the Montana public address guys decided to get the Griz crowd moving a little bit.
Out of the stadium speakers came the hip-shaking beat of the Isley Brothers' classic "Twist and Shout." On one sideline, the entire Dixie State defensive huddle started grooving, hands waving in the air.
On the other, the Montana offensive huddle stood silent and still.
It was emblematic of a spark that was missing for the Grizzlies for most of the game, before three straight touchdown drives in the third quarter eventually carried them to a bounceback 31-14 win over Dixie State on a beautiful fall day at Washington-Grizzly Stadium.
Making his first career start in place of the injured Cam Humphrey, redshirt freshman Griz quarterback Kris Brown finished 20 of 30 for 241 yards, one touchdown and one interception. He also had two 1-yard touchdown runs and lost two fumbles, one of which Dixie's Devin Chandler returned 38 yards for a touchdown.
"He hadn't started a game since high school, and it wasn't a simple game plan," Montana head coach Bobby Hauck said. "We didn't simplify anything, and I thought he did a good job. I think he'll take corrections this week and go play a great one next week."
The victory got No. 6 Montana (4-1) back in the win column after last week's 34-28 loss to Eastern Washington in Cheney.
Griz fans were calling for Brown to get a shot at quarterback even before Humphrey went down in the final minute of that game.
In his actual debut Saturday, the tall gunslinger from Bozeman didn't look overwhelmed — but also didn't do much to fulfill the faithful's fantasies of Dave Dickenson, who replaced the more experienced Bert Wilberger in 1993 and went on to lead the Griz to the 1995 national championship.
On the opening drive, Brown led a run-heavy Montana attack inside the Dixie State 30…but then was hit and fumbled on a blindside pressure, giving the ball back to the Trailblazers.
Montana then gained 38 yards on its next four drives combined. Dixie State, which is playing an independent FCS schedule this year as the Trailblazers transition from Division II to Division I, had lost its previous three games, to ranked teams Weber State, UC Davis and South Dakota State, by a combined score of 156-37.
On Saturday, they outgained Montana 100 to 62 in the first quarter.
"You know leading up to it, I'd mentioned to you all that I thought (Dixie State) was really sound in what they did," Hauck said. "I thought they played hard and I thought they tackled really well. I thought that was a good football game, a good fundamental, fun game to be a part of."
The Grizzlies eventually got on the board with two minutes, 12 seconds left in the second quarter, after an 11-play, 57-yard drive that Kevin Macias capped with a 27-yard field goal.
Montana had a chance to add another short field goal with seconds remaining in the half, but holder Mitch Roberts flipped the ball to Macias on a trick play, Macias was stoned at the 5-yard line for a turnover on downs and the Griz led 3-0 at the break.
Brown was 10 of 18 for 100 yards and the interception at halftime.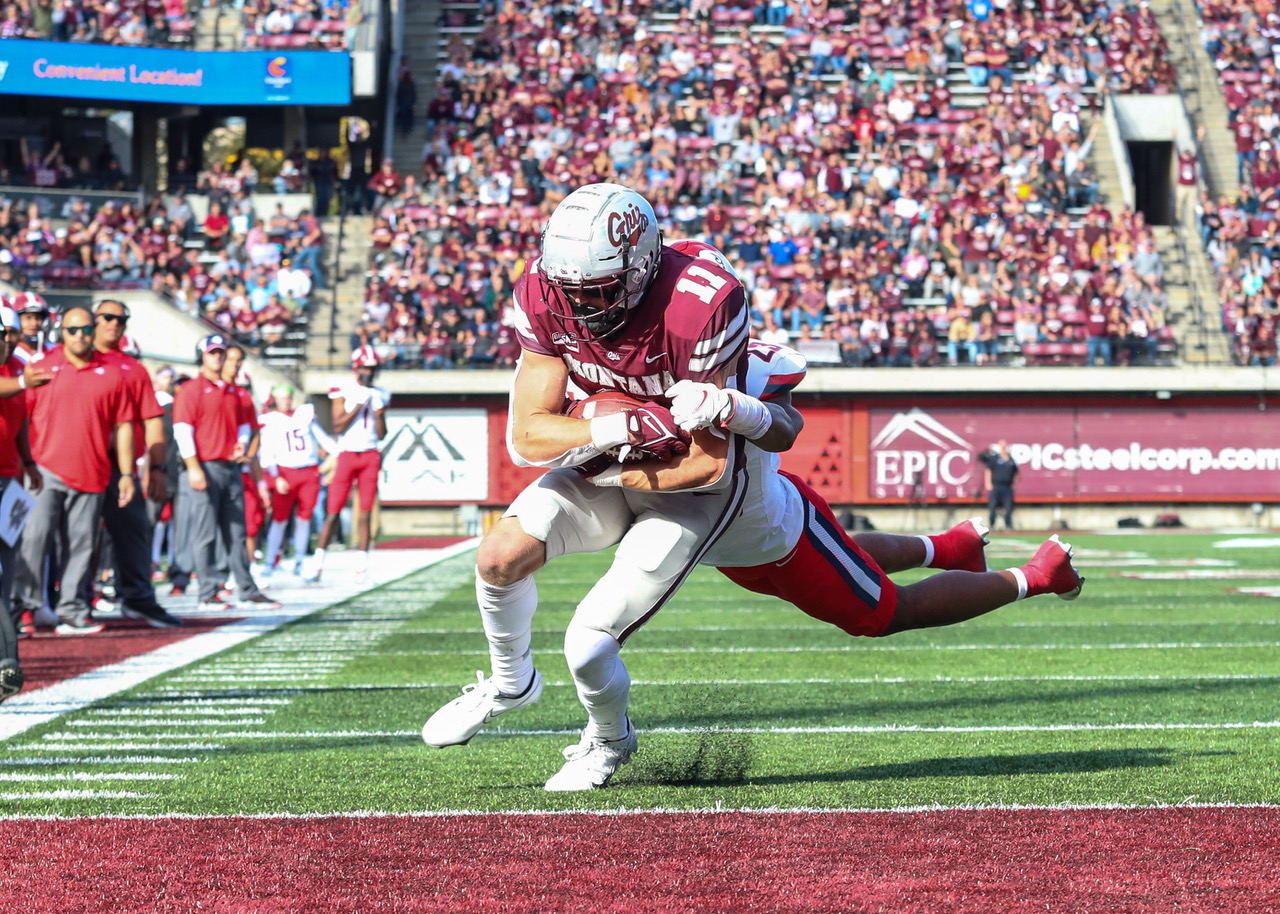 "I would say, as the game went on, the game just kind of sorted itself out and started to slow down," Brown said. "I was able to notice things that the defense was doing, and it was helpful to just be able to keep going out on the field and just see what looks the defense was giving me."
As it has all year, Montana's defense gave Brown plenty of time to figure things out.
After Dixie State gained 70 yards on its second drive of the game — a possession that ended with Montana cornerback Justin Ford making a diving pick in the end zone, his third interception in as many games — the Trailblazers didn't have a drive longer than 10 yards until the fourth quarter, a streak that lasted nine straight possessions.
The shorthanded Griz defense was missing defensive ends Joe Babros and De'Ari Todd, plus starting safety Gavin Robertson, who missed his third straight game with an injury.
It didn't matter.
"Our defense tries to stay even-keeled," Ford said. "Every down is just as important (as the next. … We did a good job of that. Ultimately, we didn't come away with a shutout. I wish we would have, but we played fast and physical."
And after Hauck challenged them at halftime, Brown and the Griz offense started to grind up through the gears as well.
Macias missed a 37-yard field goal wide left at the end of a 55-yard drive to start the second half.
Montana followed with back-to-back 51-yard touchdown drives, with Junior Bergen running in from six yards out and Cole Grossman catching an 8-yard touchdown pass from Brown.
The scores were the first of both players' careers.
Dixie State then went for it on fourth down from its own 33-yard line and didn't get it, giving the Grizzlies a short field for their third-straight touchdown drive, which Brown capped with the first of his two touchdown plunges to give Montana a 24-0 lead and essentially put the game to bed 30 seconds into the fourth quarter.
"Maybe I didn't learn it today, but getting the win is the most important thing at the end of the day," Brown said. "This team fought and we came away with the W in the win-loss column, so that's what's really important."
Xavier Harris ran for 119 yards on a career-high 29 carries for Montana.
"I thought he ran hard," Hauck said. "There's a couple plays today where I thought he ran bigger than he is. I thought he finished some runs real physically. And I think 29 carries is probably too many, but that's hindsight. When the game is going on, we don't really have a firm pulse on that."
Isiah Childs, who missed the Eastern Washington game, left this one after his only carry, an early 13-yarder.
Marcus Welnel led the defense with eight tackles but struggled to keep his balance against ball carriers in space for the first time this year. Ford added a forced fumble and fumble recovery to his interception, coming on a blitz to obliterate the Dixie State quarterback with the Trailblazers threatening to score late in the game.
He didn't pick up the loose ball cleanly or he could have returned it for a touchdown, but the transfer corner from Louisville did try to lateral the ball to senior linebacker Jace Lewis when Ford was being dragged down around midfield, a play that was eventually ruled an illegal forward pass and got Hauck his biggest laugh in the postgame press conference.
"I remember what I said to him. Here's what I said. 'The fans love it. And I hate it. You decide who you want the good favor from,'" Hauck said as Ford sheepishly pointed towards his coach.
Montana hosts Sacramento State next week, with kickoff set for 1:05 p.m. at Washington-Grizzly Stadium.