BOZEMAN, Montana — Freddie Banks was blunt when talking to some of the senior leaders on MSU's league'leading defense this week.
With the final regular-season home game at Bobcat Stadium in front of an anticipated sixth straight sell out — MSU had never accomplished such a feat until Brent Vigen's first season this fall — on the horizon, Banks did not want to talk about Senior Day.
"Screw your senior day," Banks said earlier this week. "We will celebrate you at the end of the year. The goal is to be ready by the end of the year."
Montana State has stuffed its opponents all season long. MSU has given up 12 offensive touchdowns and 11.3 points per game. The heart and soul of the Bobcat defense lies in the middle where a pair of Montana-born stalwarts have MSU in first place in the Big Sky Conference standings in mid-November.
Troy Andersen, a 6-foot-4, 245-pounder with as much myth-making in his legacy as any player in Big Sky Conference history, is one of the leading candidates for Big Sky Defensive Player of the Year.
If defensive tackles could get any love, the silent giant from Helena would absolutely be in the mix as well. Chase Benson, a 6-foot-4, 295-pounder who's in his fourth year as a starter, is the anchor of the Bobcat front.
And those two are bookended by a pair of the best edge players in the Big Sky. Amandre Williams, a 6-foot-2, 238-pound former Washington transfer, has acclimated to switching to defensive end nicely. He is third on MSU with seven tackles for loss and his four sacks are second on the team.
Daniel Hardy, a 6-foot-3, 239-pounder, leads the team and ranks in the top four in the Big Sky Conference in both sacks (8) and tackles for loss (13.5).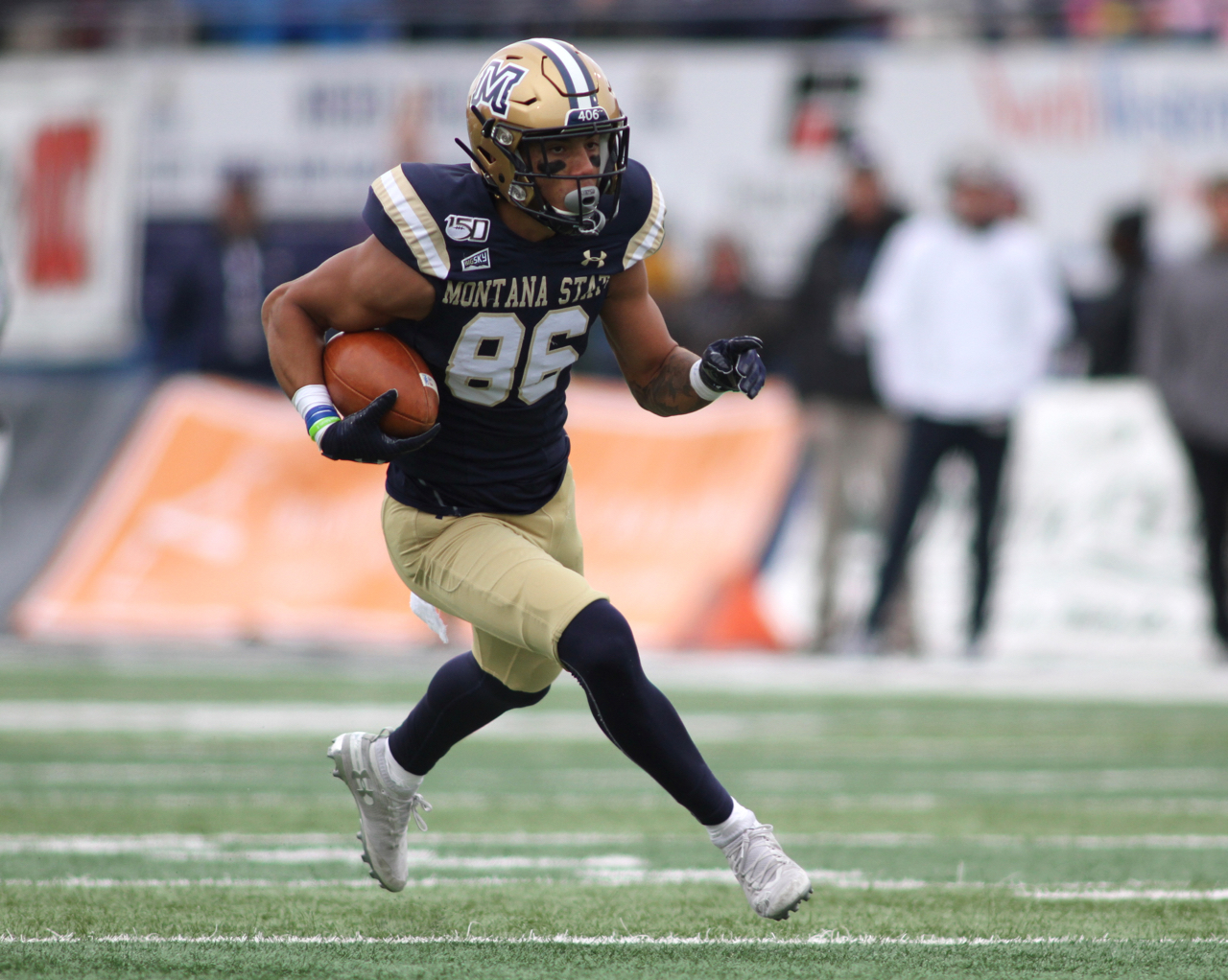 That front has cut their team for years against one of the stoutest offensive fronts in the league. MSU leads the league in rushing for the third season in a row. All-league guard Taylor Tuiasosopo and all-league offensive tackle Lewis Kidd, each four-year starters, have been stars along the offensive front their entire careers.
"We have confidence out the roof but having the ability to still stay humble as a program, kind of really not look at the record and just think about going 1-0 each week, that's the goal, always," Tuiasosopo said of MSU's march to No. 3 in the national rankings.
Lance McCutcheon, a 6-foot-3, 202-pound local product that Kidd calls the D.K.Metcalf of the Big Sky, is having a career year. He leads the league in receiving yards (813) and is tied for second in receiving touchdowns (6).
Tyrel Thomas is a four-year starter at cornerback. Ryan Davis is a four-year starter at tight end. Tre Webb is a former All-Mountain West performer who had a line on grad transferring to Notre Dame before landing at Montana State.
Other veterans who could still have a year left if they so choose like starting defensive tackle Byron Rollins and former starting quarterback Tucker Rovig are among the 19 players who will play their final regular-season game at Bobcat Stadium on Saturday.
The group is among the most successful in MSU history. Those that have been in Bozeman for five years like Andersen and Benson have contributed to 32 wins. They joined a team that won four games in Choate's first season in 2016 and are now working on three consecutive trips to the playoffs. The one thing that has eluded a group that led MSU to its first FCS playoff semifinal in 35 years is a Big Sky championship.
Banks doesn't want to sound salty. The rapidly rising Bobcat defensive coordinator just wants to make sure one of the most talented and veteran senior classes in Montana State's storied history finishes writing their memorable chapter.
"I told them this is a different team and we are going to honor our seniors a different way, hopefully if we continue to prepare and we continue to work hard," Banks said. "If we do, we will have more home games to play."
The Bobcats have rolled through Vigen's first season at the helm. MSU hosts a struggling Idaho team coming off its second conference victory, 42-24 over Southern Utah last week in Moscow.
Montana State is riding an eight-game winning streak that could've been nine if MSU would've held on to a game it largely dominated in a 19-16 loss at Wyoming to open the Vigen era.
The Bobcats have used a consistent formula of ferocious and fast defensive execution, a bruising run game spearheaded by soon-to-be All-American running back Isaiah Ifanse and a collective calm among everyone in the organization.
Vigen recognized right away that he inherited a player-run program where the locker room was going to be hard to derail for any reason.
"The transition coaching-wise couldn't and wouldn't hurt their opportunity to achieve what they want to achieve," Vigen said. "That was clear. I appreciate them for buying into the changes and helping us through the changes. It will be great to send them off on Saturday. But hopefully, we find ways to make sure that this isn't their last home games."
Montana State has secured a playoff spot already and enter Saturday's action as a three-touchdown favorite against an old rival still trying to find its feet since returning to the Big Sky. One more win and Vigen will have the most of any first-year Bobcat coach. MSU will almost certainly have the inside track on a playoff seed.
"Their time is short, even if it's been six years, what they have left is short and they want to make the most out of it," Vigen said. "So you want to make their season as special as possible.
"I think we knew right away that we had a talented group, a talented group of seniors who had been through a lot and come very close. Now we have to finish it."
Photos by Brooks Nuanez. All Rights Reserved.