BOZEMAN, Montana — Bobby Daly sees a familiar football player when he looks at Walker Cozzie.
Montana State's linebackers coach and assistant head coach has similar roots to Cozzie, a fifth-year senior linebacker for the Bobcats. And those roots are what have helped Cozzie reach his final season of college football in the eyes of his coach.
"I think the fact that he has stuck it out speaks volume to the type of person he is and the family he came from," said Daly, himself a former Bobcat linebacker. "I grew up in Helena, Montana and went to Capital High School very similar to him. You see that toughness that I'm used to being around. My dad was a coach at Helena Capital for nearly 25 years.
"There's a different type of kid that is on the West side of Helena, Montana and he is definitely one of those kids. He has that toughness. He's just a football player and a smart one."
After completing an all-state career for the Bruins, Cozzie passed up a chance to play for Carroll College, a Frontier Conference power where Cozzie's father, Brad, was a Hall of Fame linebacker. Cozzie had offers from around the Frontier but elected to take a partial scholarship to MSU. He signed as a part of Rob Ash's final recruiting class, one of 31 new Bobcats, a group that has experienced as much attrition as any on school history.
But Cozzie has made it to the end. He has pushed through despite irregular opportunities. At Montana State, Cozzie's playing time has come consistently on special teams and sporadically otherwise.
When he's had his number called — like to start the first two games of the 2018 season or in spot duty as MSU's primary backup at both inside linebacker spots — Cozzie has always been ready to contribute.
"He's unbelievable," Montana State head coach Jeff Choate said. "He is one of our hardest working guys. He never says a word. He always shows up and does his job and does it to the best of his ability every single day.
"Whatever role we have for him, whether he's gotten passed up by a young guy or as a starting linebacker, he is ready to go because he takes such pride in his preparation."
"Walker Cozzie is very physical, understands our defense and understands the game," added senior cornerback Damien Washington. "Being able to plug him in whenever is so beneficial because it's the next man up mentality. It doesn't matter if he's the starter or not. We know we aren't going to skip a beat when he's in."
Montana State's linebacker unit has endured a seemingly endless string of injuries over the last four years. From Grant Collins' constantly ailing shoulders to Balue Chapman's wrecked vessel of a body to Josh Hill's surgically repaired back to Chad Kanow's suddenly fragile frame to Michael Jobman's recently injured knee, Cozzie has been called on to play spot snaps in place of a whole group of players who came to Montana State with more fanfare than the workman like, stoic Capital City product with long blonde hair.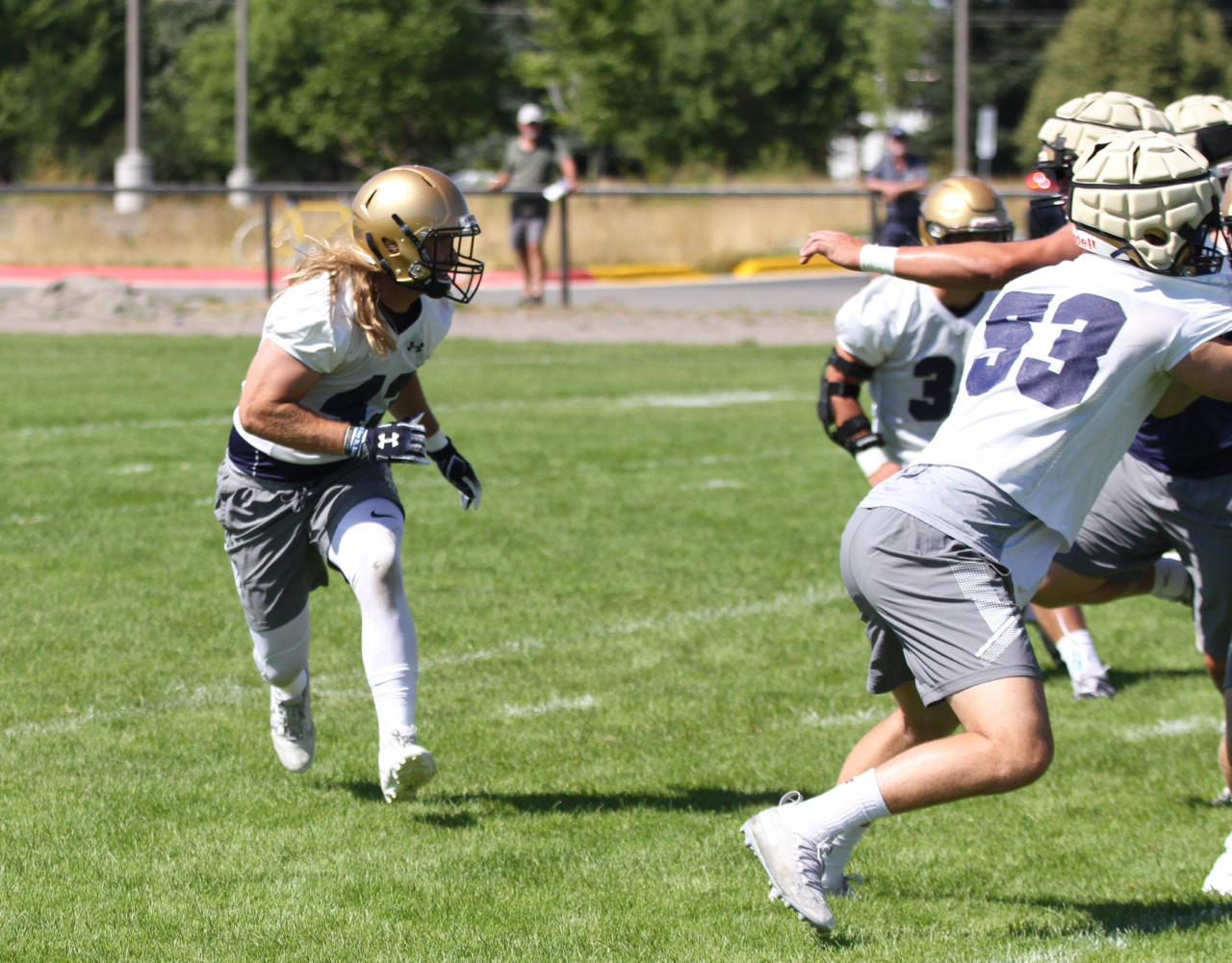 Most Bobcat observers hardly notice when Cozzie enters the game. And that's probably the biggest compliment you can give him. He does his job and rarely ever becomes noticeable by making a mistake.
"He's excellent to have in my room," Daly said. "He has great leadership and great knowledge of the game. He's always in there taking notes, getting better. He's at the front of every line in practice.
"I just have a ton of respect for the kid. Whenever he gets the opportunity to get in the game, he makes the most of it. He prepares himself like a starter, whether that's on special teams or on defense."
Cozzie has loved football since the first time he ever put on pads. His dad introduced him to the game at a young age and Walker's admiration for Brad drove him to excel.
To watch Cozzie practice is to watch someone who's love of the game is apparent in his diligence and consistent effort while competing. Cozzie is often at the front of every line during practice drills. He takes each rep seriously and tries to pass that on to younger players through example.
"Walker brings an edge and if you ever come to a practice, you'll be able to see it," said Hill, who is back in the starting lineup and wreaking havoc. "Whether it's coaching up young guys or staying in line in a drill, if somebody messes up, Walker is going to let you know about it. That's the standard we hold each other to."
Last season was the 6-foot, 212-pounder's most productive. He notched 20 tackles, including nine tackles and a tackle for loss in his first career start in MSU's season-opening 26-23 win over Western Illinois. He also had five tackles the following week against Wagner.
This season, Cozzie made four tackles in MSU's season-opening loss at Texas Tech (45-10). He has only played in four games total this fall but he has made it into the last two, setting the stage for him to contribute during a two-week stretch that include his final two guaranteed games as a Bobcat.
"I've always wanted to play football ever since I was a little kid so I'm just living the dream every day," Cozzie said. "I'm always ready whenever the time is going to be and I just love being a football player."
That love of being a football player came naturally but was really honed and developed at Capital High under head coach Pat Murphy. Lee Carter, a former Bobcat player who is Capital's linebacker coach and strength and conditioning coach, served "like a second dad" to Cozzie, he said. Carter taught Cozzie "how to study film, correct technique, lift weights and how to hit."
Those things helped Cozzie earn a scholarship with the Bobcats. That Bruin toughness that Daly has himself and that the coach noticed in Cozzie right away also became sharp during Cozzie's prep days.
"I think it's just kind of how we are brought up," Cozzie said. "Lifting at 6 a.m. ever since we were freshmen. We are one of the only schools to not have a turf field. We still have that grass field. We've never had it easy. We are used to that dirty work and just grinding.
"I always love representing for Capital High. They have always been a great team with such a rich history. I just hope I am representing them well and making everyone proud from Helena."
Cozzie's recruiting class included eight transfers, most who fizzled outside of future captain Bryson McCabe. Cozzie was one of 23 prep signees, including 10 from the Treasure State.
Entering the final two games of the 2019 season, only Cozzie, Hill, left tackle Mitch Brott, strong safety Brayden Konkol, defensive end Marcus Ferriter and defensive lineman Byron Rollins (a sophomore after taking two years off for an LDS Mission) are still on the roster. The accountability the group has forged and their collective buy-in to Choate's teachings are part of what has helped Cozzie reach his final season.
"Those other Montana guys have kept me going," Cozzie said. "We all have a good bond togheter and we are all resilient dudes. We have been through so much, the head coach change, multiple position changes. We just take a lot of pride in being from Montana and representing the program as best we can."
When Choate first took over the MSU job in December of 2015, he said he inherited a roster devoid of discipline, both personal and academic. Choate called Cozzie a "marginal student when I first got here."
"I challenged him on that," Choate said. "Every year, he's gotten better and better as a student, he's gotten better and better as a player, he's gotten better and better as a man."
Cozzie himself credits Choate for teaching him about intrinsic motivation and what it means to be a man. Now the Bruin turned Bobcat is closing in on his degree in exercise science. He will graduate in December and has thought about pursuing physical therapy or coaching, or both.
Before that though, Cozzie wants to enjoy his last road trip to California with the Bobcats this weekend to take on UC Davis. He wants to contribute in helping Montana State chase a fourth straight win over rival Montana. And he wants to soak up his last days playing the game he loves.
"Pushing through adversity is what I've learned," Cozzie said. "Beating Montana three years in a row, that's awesome, one of my favorite memories. Growing up with this senior class, there's only six of us left and we came in with a class of 20 plus. That really says something about this senior group.
"The behind the scenes stuff with those guys is the stuff I will never forget."
Photos by Brooks Nuanez. All Rights Reserved.