In a rematch of the previous two Big Sky Conference Tournament championship games, the two-time defending champions made a statement on the road on Thursday night.
The Montana Grizzlies went 16-2 and 16-4 in Big Sky play each of the last two seasons, respectively. The Griz then went 3-0 in consecutive league tournaments to reach the Big Dance in March two years in a road. UM then opened up league play this season with three wins in four games and eight days.
But Thursday's matchup at Eastern Washington was certainly circled on the calendar. And the Grizzlies played like a team with something to prove.
EWU entered the game averaging 86 points per game, the third-most in the nation, including 101 during a 6-0 start at home. The Eagles had won 70 of their last 80 over the last five seasons at Reese Court. And Montana lost in Cheney each of the last two seasons before avenging those defeats with wins in competitive league tournament title games first in Reno, Nevada, then in Boise, Idaho.
The Griz bolted to three straight league victories to start this Big Sky season despite the graduation of the most successful class in school history in terms of total wins following last season. UM head coach Travis DeCuire said he felt last Saturday's game at Northern Colorado was a chance for the Griz to make a statement to the rest of the league that the champs are the champs until someone knocks them off.
UM fell 74-66 in Greeley. But that loss seemed to ignite the Grizzlies, particularly junior guard Timmy Falls and Montana's inexperienced but improving young big men.
The Griz put the rest of the Big Sky on high alert that the path to a Big Sky banner still runs through Missoula by dismantling Eastern Washington in every facet on the way to a 90-63 victory in front of 1,837 at Reese Court on Thursday night.
"We had everybody's attention," DeCuire told Voice of the Griz Riley Corcoran in a post-game interview on the Grizzly Radio Network. "We had a couple of one-on-one meetings with guys about some things we needed, about some changes to make offensively.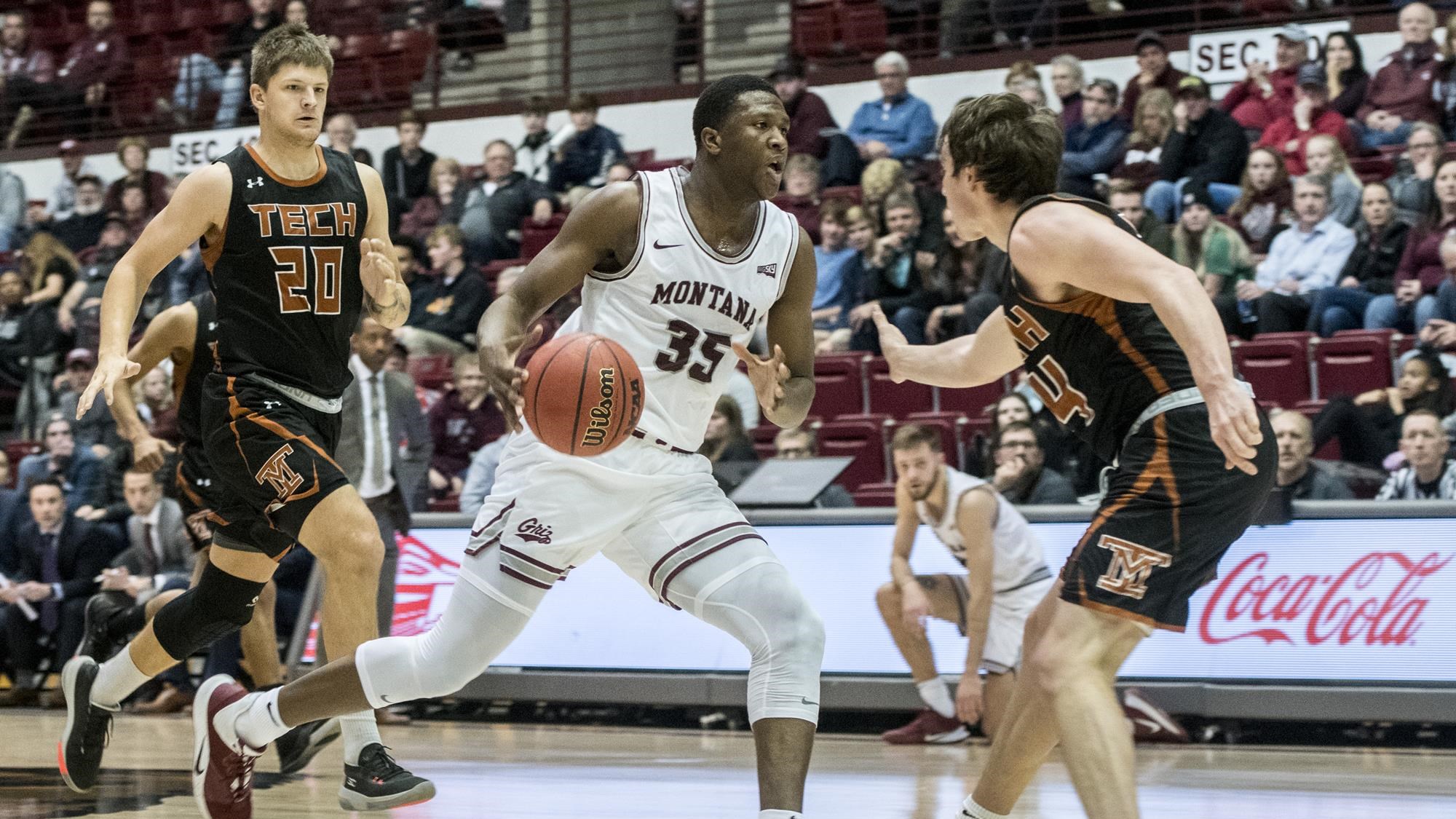 "Our shot selection was killing us, our pace was killing us offensively. And then our offense turns into pressure on your defense, we gave up a lot of transition against Northern Colorado. That was an issue.
"So we demanded their attention."
True freshman forward Derrick Carter-Hollinger gave Montana the best boost of his young career, playing excellent defense both in defending EWU's high ball screen actions and in helping protect the rim. Despite not getting many set plays or offensive actions run for him, Carter-Hollinger hustled relentlessly on a career night.
The 6-foot-6 jumping jack from Southern California bounced and blocked his way to 20 points and 14 rebounds in 30 minutes of action. He blocked four shots, grabbed four rebounds and turned a 7-of-7 start from the floor into a 9-of-12 shooting evening overall. He also helped ensure Eastern Washington senior forward Mason Peatling, an All-Big Sky selection last season, fouled out with more than five minutes to play.
"He came in and he was ready to go," DeCuire said. "The way he was bouncing around, his defense got him going. The blocked shots, the deflections…they decided not to guard some guys and leave us open we've been shooting a lot of shots. So at some point, the ball has to start going in. To see him knock down two 3s was huge. But his rebounding and his defense are what got him going."
Against UNC, Falls found no rhythm and flow in the Griz offense. He missed all seven of his shot attempts, did not score and looked completely out of sync. Thursday, the mercurial combo guard had his steadiest and most productive game in weeks.
Falls finished with 12 points, just three less than he had in the last five games combined. More importantly, he dished out six of Montana's 21 assists and looked much more like the floor general DeCurie expects of his primary ball handlers.
From the outset of the game, Eastern Washington head coach Shantay Legans seemed determined to take UM senior forward Sayeed Pridgett out of the flow of the Griz offense.
For the first 30 minutes of action, the traps and the double teams worked in reeling in Pridgett's scoring. He started just 1-of-5. But with 11 minutes to play, he already had his eighth assist and the Griz led 61-40.
For the last 11 minutes, Legans elected to pull the double team off Pridgett. The Big Sky's preseason MVP scored 16 of his 18 points in those final 11 minutes and flirted with the fourth triple-double in Griz basketball history. He finished with 18 points, eight rebounds and eight assists. He was 10-of-11 from the free throw line on a night UM went 20-of-23 from the stripe.
"We told them at some point, we have to let the offense work," DeCuire said. "You have to read the screens, play off the screens, set the screens and let the defense react, you are going to see what's there and you are going to get good shots. You can't premeditate every possession.
"I thought guys found themselves wide open for shots. We got a ton of layups by driving to the paint, coming to a stop instead of settling for a contested pull-up and that's where Timmy and Sayeed were getting their assists. Our wiliness to be patient and share the ball was huge."
Carter-Hollinger and sophomore Mack Anderson gave Montana productive minutes off the bench, excuting DeCuire's defensive game plan in holding the high-flying Eagles to 23 points less than their season average. Anderson scored eight points in 18 minutes before fouling out but showed renewed confidence and a contagious defensive energy.
"When Mack subbed in and the way he was dialed in on the ball-screen coverage and on Peatling, he wasn't getting angles, he stole a pass over the top…when his activity started to become contagious and I knew we could defend Peatling, I knew we had a chance," DeCuire said. "When I saw Mack was doing a pretty good job to set the tone, I started to get fairly excited.
"And then D.J. (Carter-Hollinger) got going on the glass and once that happen, it was over."
And Kendal Manuel continued his hot shooting. The senior from Billings earned Big Sky Player of the Week last week by hitting 19-of-30 shots and scoring 47 total points, including a career-high 30 points against Northern Colorado last week. Thursday, he went 6-of-9 from the floor and made both of his 3-point attempts on the way to 14 points in 37 minutes.
The Grizzlies held Eastern Washington to 38 percent shooting, including 4-of-14 from beyond the arc. EWU came into the game averaging about 30 3-point shots per game, a key to their gaudy scoring average DeCuire said. Simply not letting EWU shoot from beyond the arc and also making it hard on Peatling (12 points, nine rebounds), slashing forward Jacob Davison (15 points) and sophomore enforcing Kim Aiken Jr. (eight points, six rebounds).
"Attention to detail defensively, minimizing attempts on 3s, that was huge," DeCuire said. "We had talked about minimizing the 3s, ball pressure, taking them out of the offense. If they can't rack up 3-point attempts, it's pretty difficult for this team to score the way they have."
Montana is now 4-1 in league play, 8-8 overall. The Griz host Portland State on Monday at Dahlberg Arena in Missoula.
"Now this is a point in time where we had a little desperation because Eastern hadn't played great against some teams they thought they should blow out so we thought if we could come in here and pull this one off, we would still be in first place and we would push another team behind us and people would be a little nervous," DeCuire said.
"We need some people to be nervous. We don't want them with too much confidence…this league is going to be a roller coaster ride. We know that And we just need some teams to respect us a little more and be more nervous going into games. That gives us a better chance."
Photo attribution noted. All Rights Reserved.