BOZEMAN, Montana — Jeff Choate knew the moment Montana State signed a home-and-home agreement with Western Illinois, his team's trip would provide distinct challenges.
Choate spent one season coaching in the Ohio Valley Conference during the 2005 season at Eastern Illinois. The Panthers did not play WIU that season but Choate had heard from coaching colleagues across the country just how difficult it is to get to and play in Macomb, Illinois.
On Saturday in Montana, Bobcat followers from across the state took to social media, message boards and wherever else fans express themselves in the 21st century to complain of the non-existent television broadcast of MSU's game at WIU from Hanson Stadium. The issues of the stream trickled on to the field, accentuating a trip that had already included a three and a half hour flight, a 150-mile bus ride to a resort in Iowa where MSU stayed and 75-mile bus trip to Hanson Stadium.
And that's not to mention the 225-mile bus trip back to the airport following MSU's messy yet hard-fought 23-14 victory, the first non-conference win of the Choate era. And that doesn't consider the three and half our flight back to Montana.
"Happy to get out of Macomb with a win, really not excited to go back there any time soon," Choate said. "The trains, planes, automobiles to get there, five hours on the way back…tough place to play as I mentioned a number of times going in. I told people last spring this was a trap game. You know you are going to have a great environment (in Bozeman) Week 2 and home and you have to go there.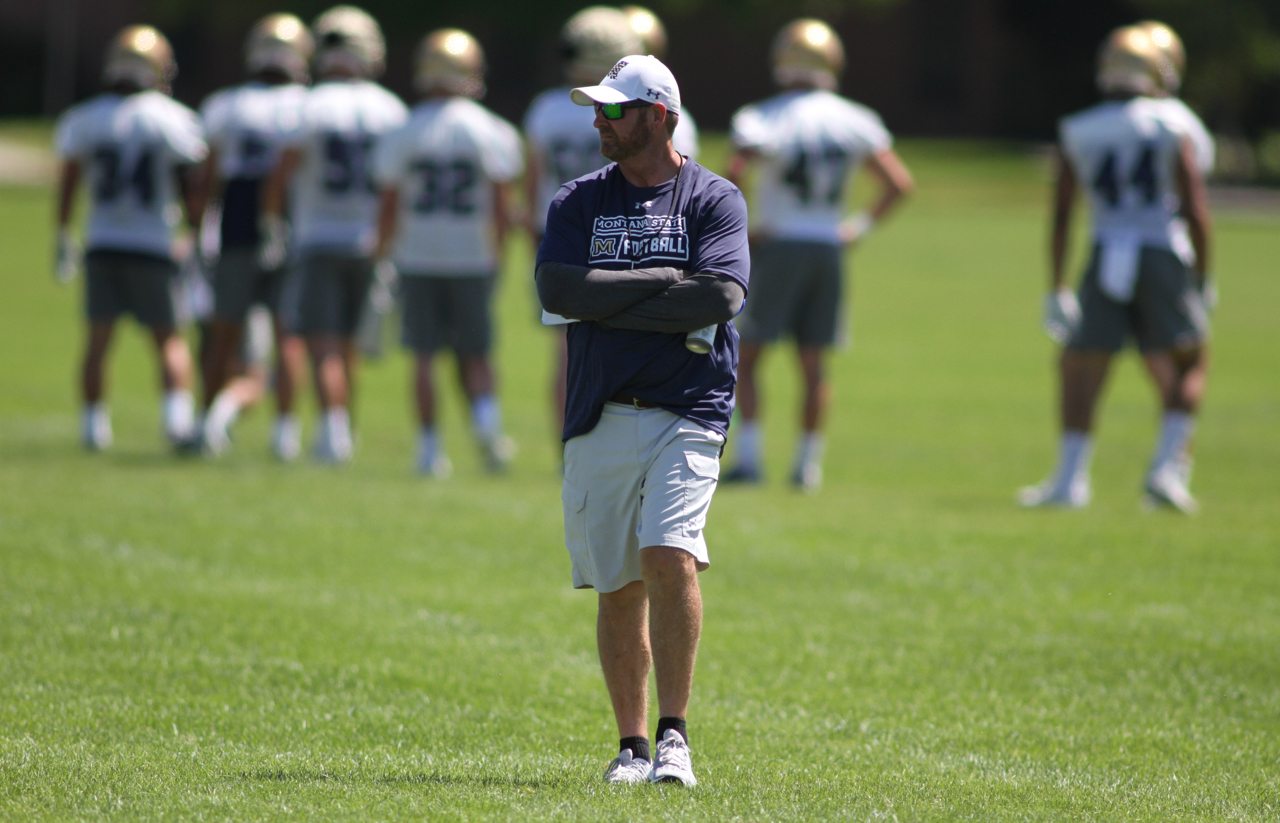 "And they are good at home. And now I know why. There is nothing easy about playing there, nothing easy at all. The atmosphere is not great, the walking back and forth to the locker room…walking to the field house would've been shorter for us than what we had to experience there. There is no time to make adjustments. It's basically get there, get the guys hydrated, get them settled down and relaxed and you have to go back and play again."
"…It was hard to even get someone to tell you when the TV timeouts were. That's how bad it was. It was not a great environment. It was not well organized. I don't know what else to say. But it is what it is and we got the W. We are moving on."
Montana State was the first team in the last 13 seasons to win at Macomb in WIU's home opener. Three different Big Sky Conference teams, including the Montana Grizzlies last season, fell victim at Hanson Stadium. The Leathernecks defeated Youngstown State and Northern Iowa in addition to Montana at home last season.
MSU moving on means a fourth and final game of the non-conference. Every five years, FCS teams play 12 games instead of 11, providing extra opportunity for revenue generation as well as player development.
Norfolk State of Virginia comes to Bobcat Stadium on Saturday afternoon for the first matchup between the two schools. Montana State. The game marks the first time Montana State has played a team from the Mid-Eastern Athletic Conference or the state of Virginia.
The Spartans began the season with a narrow 24-21 loss at Old Dominion, a former FCS power who literally shares the same back yard with Norfolk State. In Week 2, NSU took down Virginia State 44-21, a Division II school where Norfolk head coach Latrell Scott posted a 19-3 record in in two seasons before taking the NSU job before the 2015 season.
Last week, Norfolk State went on the road to play Coastal Carolina in Conway. The Chanticleers, formerly of the Big South and now FBS, rushed for 401 yards in a 46-7 win.
Montana State is riding a two-game winning streak entering the contest. Those victories have the Bobcats up to No. 8 in this week's STATS FCS Top 25 poll, MSU's highest ranking since the first few polls of the 2015 season. But Choate, for one, knows Montana State has plenty to work on in its final contest before Big Sky Conference play begins.
"I don't think we played our best football by any stretch of the imagination (at Western Illinois)," Choate said. "It was a sloppy game. We had 12 penalties for 92 yards. The real story on those penalties: they took away two touchdowns, a possession and 263 yards of field position. That had a huge impact on this game.
"Twenty-one flags is too many in any contest. It's too many. Regardless of who they are going thrown on. But at some point in time, you have to let kids play. That was frustrating. It's very difficult to overcome the momentum that is created in those situations and then it's gone."
QUICK HITS
Location: Norfolk, Virginia, population 242,803.
Nickname: Spartans
Founded: Founded in 1935, NSU is a public historically black college that is part of the Thurgood Marshall College Fund and the Virginia High-Tech Partnership.
Enrollment: 5,305 students, including 4,689 undergraduates and an endowment of $31 million.
Stadium: William "Dick" Price Football Stadium is a 30,000-seat multi-purpose facility located on the Norfolk State campus. It opened in 1997 and is named for former NSU head football and track coach Dick Price.
The Coach: Latrell Scott, fifth season at Norfolk State. The accomplished wide receivers coach began his career as a full-time assistant coaching that position at Western Carolina in 2001, three years after his playing career at Hampton came to an end.
Scott coached wide receivers at VMI (2002-2004), Richmond (2005-2007), Tennessee (2008) and Virginia (2009).
In 2010, he was named the head coach at Richmond, replacing Mike London, who had led the Spiders to the FCS national championship two years earlier. At 34 years old, Scott was the youngest head coach in Division I football at the time.
Less than two years into his tenure and just a week before the first game of the 2011 season, Scott resigned abruptly after being charged with driving while intoxicated.
He got back on his feet as the tight ends coach at James Madison in the spring of 2012. In 2013, he took the head job at Virginia State. He went 19-3 there, leading the team to the second round of the Division II playoffs in 2014.
In 2015, he became the head coach at Norfolk State. He in 16-28 in four seasons at NSU.
"Coach Scott was hired several years ago from Virginia State, a Division II school," Choate said. "He did a great job there and you can see what he's building at Norfolk State. It's a hotbed of football talent. There's tons and tons of athletes within 100 miles of that campus."
THE OFFENSE – Players to watch
Juwan Carter, quarterback, 6-1, 175, junior — Choate did not need to see much Norfolk State film to find a comparison for Carter.
"He's slick," Choate said. "He's not a big guy but he runs well. I told our guys yesterday he's a shorter Chris Murray."

Murray started 17 games during the 2016 and 2017 seasons at quarterback for Montana State, rushing for nearly 2,000 yards in one of the most electrifying and frustrating careers in recent Big Sky memory.
Carter isn't the runner, at least in terms of production, that Murray was. But he certainly uses his legs and his athleticism to make plays. He has 453 yards and five rushing touchdowns in his career.
"He creates outside the offense. He's a problem," Choate said. "We haven't played a guy like that this year. We are going to have to be really disciplined in stopping the run but also knowing where that guy is at on third down, leveraging him. He can extend plays and create chunk plays down the field with his leg and his arm."
Carter threw for 1,827 yards and 13 touchdowns in 2017.He threw for 2,302 yards and 13 touchdowns last season. This season, he has completed 59.7 percent of his passes for 458 yards and seven touchdowns. Carter has thrown 24 interceptions in his career, including 14 last season and four more this fall so far.
"He's their leading passer, their leading rusher and in short-yardage situations on the goal line, you are going to have to defend him," Choate said. "Whether the play breaks down or its designed quarterback runs, it really doesn't matter."
Aaron Savage, Gerald Hulett, Kevin Johnson, NSU running backs — Choate identified three running backs while prepping for the Spartans.
"They are each good in their own right and 35 (Johnson) can fly," Choate said.
Savage, a 5-foot-11, 205-pound fifth-year senior, is the most seasoned of the group as a Spartan. He has rushed for 922 yards and five touchdowns in his career, including 58 yards in two games this season.
After transferring from Fullerton College, Hulett rushed for 206 yards and two touchdowns last season. The 6-foot, 190-pound fifth-year senior has 55 yards on 24 carries so far this season for a team that is averaging just 88.6 rushing yards per game.
Johnson, a true freshman from Suffolk, Virginia, has been the most productive ball carrier thus far this season for the Spartans. He posted a career-high 44 yards on seven carries against Virginia State. He also caught two passes, including a 33-yard touchdown, the first of his career. He has 10 rushes for 63 yards and three catches for 43 yards three games into his career.
Da'Kendall James, wide receiver, 6-1, 190, redshirt freshman — In his first career start, James made his mark. He caught five passes for 101 yards and a touchdown in NSU's narrow 24-21 loss at Old Dominion.
"I think he's a really good player, very athletic ," Choate said.
James leads the Spartans with nine catches for 128 yards. Norfolk State has seen eight different players catch at least one touchdown but none have caught more than one.
THE DEFENES – Players to watch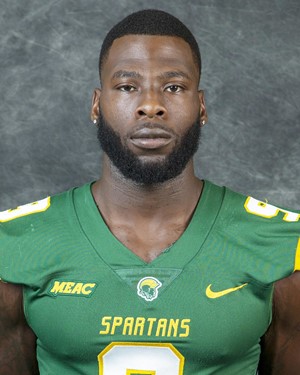 Nigel Chavis, inside linebacker, 6-2, 230, fifth-year senior — Chavis played running back and defensive end during his standout career at Armstrong High School in Richmond, Virginia. He did not get many looks at either position.
Once Chavis moved to outside linebacker, he began to blossom. As a redshirt freshman, he started nine games, piling up 55 tackles, 6.5 tackles for loss and 1.5 sacks. As a sophomore playing an outside linebacker/defensive end hybrid, he notched 82 tackles, 8.5 tackles for loss and five sacks to earn third-team All-MEAC honors.
Last season, Chavis was a first-team all-conference performer after finishing with 71 tackles, 13 tackles for loss and a team-high 5.5 sacks.
"I think No. 9 is one of their best players on defense," Choate said. "He is probably a guy who can play just about anywhere. When you watch the film, he definitely stands out. He can play tackle to tackle but he can get out in space and run as well. I'm really impressed with his athleticism."
Chavis piled up 11 tackles last week, bringing his total to 22 this season. He has two tackles for loss and a forced fumble, the sixth of his career.
Chris Myers, defensive line, 6-6, 245, junior — The LaVergne, Tennessee native played his first three seasons of his career at Middle Tennessee, appearing mostly on special teams.
In three games with the Spartans, the tall and athletic edge rusher is already making an impact. He leads NSU with four tackles for loss and three sacks. He had a sack against Old Dominion and two more against Virginia State.
De'Shaan Dixon, defensive end, 6-5, 235, junior — The long, lean edge rusher was the first player Choate identified when breaking down NSU's defense.
Last season, he had 32 tackles and four sacks. This season, he has 20 tackles although he is still working on notching his first quarterback takedown.
"They return 18 starts, they have a ton of redshirt seniors…they are a veteran team," Choate said. "On defense, they are very sound, good tacklers, long, athletic defensive line.
"I would describe this as athletic and opportunistic. They play post safety defense, four down front, rarely if ever blitz. Very sound, keep things in front of you, make you earn it. A lot of teams end up kicking field goals in the red zone instead of getting touchdowns. You are going to tighten things up."
Norfolk State photos courtesy of Norfolk State University. Other Photos by Brooks Nuanez. All Rights Reserved.