The New Orleans Saints drafted Idaho linebacker Kaden Elliss late in the seventh round of the NFL Draft Saturday, making him the only Big Sky player picked by an NFL team in 2019.

Elliss, a first-team All-Big Sky selection in 2018 after finishing second in the conference in tackles for loss, turned heads with dynamic workouts in the weeks before the draft, including running a 4.58 second 40-yard dash and recording a 34.5-inch vertical leap.

"This kid was an ultimate playmaker at Idaho," ESPN's Mel Kiper Jr. said on the broadcast, per the Idaho Statesman. "He beat offenses in a variety of ways, tested off the charts. This kid has a chance as a guy that was way, way under the radar."

That, combined with his strong track record of four years of production at Idaho, was enough to get a team to take a late-round flyer on the versatile linebacker — barely.

Elliss was the 244th pick out of 254 on an uneventful day for the Big Sky and FCS football in general.

Just 13 players were drafted out of FCS schools, making it the worst year of the decade for the level.

If Elliss hadn't gone with 10 picks left, it would have been the first time since 2000 and only the third time ever that the Big Sky hadn't had a player drafted.

Elliss was Idaho's first draft pick since 2012, when linebacker Korey Toomer went in the fifth round to the Seattle Seahawks.

Following the draft came the usual flurry of news as undrafted players received UDFA deals and invites to training camp.

That included a number of Big Sky players. Skyline Sports will keep this list updated.

Marquez Tucker, Southern Utah OL, Chicago Bears … Listed at 6-4, 291 pounds…From Chandler, Arizona…Started all 11 games for the Thunderbirds in 2018 and was third-team All-Big Sky…Named second-team All-Big Sky as a junior in 2017…Transferred in to Southern Utah from Mesa Community College for his junior and senior years…Recorded a 30-inch vertical leap and put up 31 bench-press reps at 225 pounds during Southern Utah's pro day.

Brian Fineanganofo, Idaho State OL, Cleveland Browns … Listed at 6-6, 295 pounds…First-team All-Big Sky in 2018 after anchoring Idaho State's line as the left tackle…Appeared in 34 games over four years for the Bengals…from Los Angeles.

James Madison, Idaho State RB, Cleveland Browns (minicamp invite) … 5-11, 227 pounds…Physical running back was first-team All-Big Sky as a junior in 2017 after running for 933 yards…Ran for 974 yards and was named second-team all-Big Sky as a senior…Seventh on the Bengals' all-time rushing list…Started on defense at Idaho State before switching to running back after his redshirt freshman year…from Banning, California.

Andre Lindsey, Sacramento State WR, Kansas City Chiefs … 6-3, 200…from Stockton, California…Transferred to Sac State from San Joaquin Delta College after his freshman year…Burner WR broke out as a junior with 756 yards on an FCS-leading 30.2 yards per catch…Was second-team all-Big Sky that year…Broke his arm and didn't play the last four games of his senior season…Also ran track for the Hornets, winning the Big Sky championships in the 110 hurdles in 2017.

Logan Parker, Southern Utah TE, Kansas City Chiefs … 6-4, 251 pounds…from South Jordan, Utah…Played in all 45 games over his four years of eligibility for SUU…Best season was 2017, when he had 43 catches for 560 yards and five touchdowns as a junior…Had 241 receiving yards as a senior…Considered a strong blocker as well as a receiver…Ran a 4.84 40-yard dash at the Thunderbirds' pro day.

Alex Wesley, Northern Colorado WR, New York Giants … 6-0, 190 pounds…from Murphy, Texas…Maybe the fastest player in the Big Sky…Ran track for the Bears, winning three Big Sky titles in the 400…Had 55 catches for 1,010 yards as a junior, earning second-team all-Big Sky honors…Improved on that slightly as a senior with 57 catches and 1,050 yards, again being named second-team all-Big Sky…Received an invite to the NFL Combine, where he ran a 4.45 40-yard dash (tied for 12th among receivers) and recorded a 38.5-inch vertical leap (tied for 7th), among other marks.

Keelan Doss, UC Davis WR, Oakland Raiders … 6-2, 211 pounds…from Alameda, California…One of the most decorated receivers in Big Sky history…Broke onto the scene as a sophomore in 2016 with 66 catches for 911 yards…Dominant junior year saw him named Big Sky Offensive Player of the Year and a consensus All-American after he finished with 115 catches for 1,499 yards…With defenses keying on him as a senior, still finished with 118 catches for 1,334 yards, earning his second-straight first-team all-Big Sky nod…UC Davis' all-time leader in receptions and yards…Was injured at the Combine and put up a disappointing eight reps on the bench press, the only event he participated in…Meshes speed, strength and route-running skills to rack up the catches.

Nsimba Webster, Eastern Washington WR, Los Angeles Rams … 5-10, 180 pounds…from Antioch, California…Started as a kick returner at EWU, showing his speed…Broke out as a receiver in 2017 with 59 catches for 693 yards…Followed that up with 84 catches for 1,379 yards and 11 touchdowns in 2018 as the Eagles advanced to the national championship game…Ran a 4.51 40-yard dash at EWU's pro day.

Jay-Tee Tiuli, Eastern Washington DT, Seattle Seahawks … 6-4, 320 pounds…from Seattle…After a first-team all-Big Sky season as a junior in 2016, missed most of 2017 with an injury…Came back in 2018 with 38 total tackles and four sacks despite being double-teamed most of the time…One of the biggest, most dominant forces in the Big Sky since his sophomore year, when he led the Eagles with 4.5 sacks…missed the FCS semifinals and championship game this year after being charged with second-degree misdemeanor assault…put up 26 bench press reps and ran a 5.18 40-yard dash at EWU's pro day.

Ketner Kupp, Eastern Washington LB, San Francisco 49ers (minicamp invite) … 6-0, 225 pounds…from Yakima, Washington…brother of NFL wide receiver Cooper Kupp…finished with 115 total tackles as a senior, including a season-high 16 in an FCS quarterfinals win over UC Davis.

Iosua Opeta, Weber State OL, Philadelphia Eagles … 6-4, 301 pounds…from Stansbury Park, Utah…Started as a defensive lineman at Weber, but soon switched to the offensive line and went on to start all 39 games there in his last three years…Led all players at this year's NFL Combine with 39 reps of 225 pounds on the bench press, three more than former Clemson, now New York Giants defensive lineman, No. 17 overall pick Dexter Lawrence.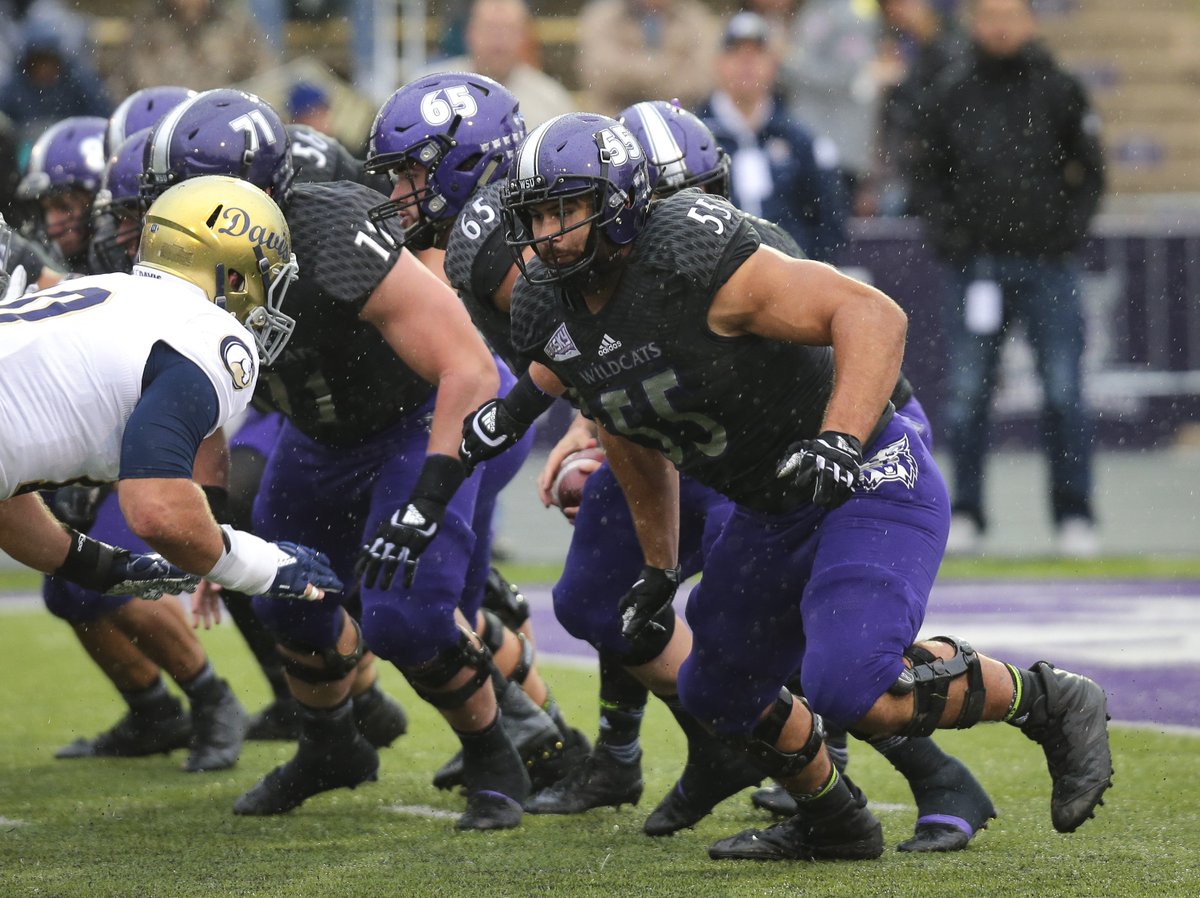 Mason Moe, UC Davis LB, Philadelphia Eagles … 6-0, 210 pounds…from Kaneohe, Hawaii…Transferred from West Hills College, where he was primarily a defensive back, to Davis for his junior year…Played sparingly as a junior, recording 31 tackles…Became one of the best pass rushers in the Big Sky as a senior, leading the conference in sacks (10.5) and tackles for loss (20.5)…Named second-team all-Big Sky and also received a nomination to the Buck Buchanan Award watch list…DB background might make him the rare pass-rushing linebacker who can also hold up in coverage.
Josh Lewis, Eastern Washington CB, Seattle Seahawks (minicamp invite) … 6-0, 190 pounds…from Lakewood, Washington…Started on special teams before breaking into the lineup as a sophomore…Named honorable mention all-Big Sky as a junior, racking up 52 tackles and leading the Eagles with three interceptions…Picked off five passes and broke up 12 others as a senior, leading to second team all-Big Sky honors…Ran a 4.52 40-yard dash and recorded a 37.5-inch vertical leap at EWU's pro day.
Jacob Bobenmoyer, Northern Colorado LS, Denver Broncos (minicamp invite) … 6-2, 235 pounds…from Cheyenne, Wyoming…Snapped all four years for the Bears…Also played linebacker and edge, recording 26 total tackles and blocking a punt in his career.
Emmanuel Butler, Northern Arizona WR, New Orleans Saints … 6-4, 220 pounds…from Phoenix…One of the best pure athletes in the Big Sky, combining rare size and speed…Played in all 12 games as a true freshman for NAU…Had incredible back-to-back seasons as a sophomore and junior, receiving two straight first-team all-Big Sky honors…Was in some All-America teams after recording 1,208 yards and 15 touchdowns as a sophomore in 2015…Followed that up with 1,003 yards as a junior…Suffered a shoulder injury and missed all but two games of his senior season in 2017…Returned in 2018 to post 676 yards and seven touchdowns in just nine games…Ran a reported 4.48 40 at his pro day.
Reid Miller, Montana, SS, New Orleans (minicamp invite) … 5-10, 208 pounds…The Hollidaysburg, Pennsylvania native started in eight games and played in 11 at Montana after grad transferring from Arkansas, where he played mostly on special teams for three seasons….With the Griz in 2018, he had 68 total tackles, which were the fourth most on the team, two interceptions and two fumble recoveries.

Joe Protheroe, Cal Poly RB, San Francisco 49ers (minicamp invite) … 5-11, 230 pounds…Big Sky legend for his production as the dive back in Poly's triple option offense…Three-time first-team all-Big Sky selection…All-American in 2016 and 2018…Ran for 1,810 yards in 2018, setting the all-time single season record at Poly…That took him to 4,271 yards in his career, also a school record…Missed most of 2017 with an injury…Skill set is suited to play fullback at the next level…Ran a 4.75 40 and hit 22 reps on the bench press at Poly's pro day.
Brady May, Weber State FB, New Orleans Saints (minicamp invite) … 5-11, 235 pounds…from Heyburn, Idaho…Played in 46 games for the Wildcats…Back-to-back first-team All-America and first-team all-Big Sky honors on special teams as a junior and senior…Was second-team all-Big Sky as a fullback both those years as well…Wasn't used a runner, but did have 17 catches for 101 yards as a senior.