Travis Jonsen and the Montana State Bobcats found a way once again on Saturday night in San Luis Obispo, California.
The trend for the last 10 games including the end of last season and the first five games of this season, MSU has made a habit of starting slow and finishing strong. Saturday at Alex G. Spanos Stadium on the Cal Poly campus, Montana State reversed that trend, taking a 14-7 lead to halftime. Jonsen, MSU's newest Swiss Army Knife, scored a 13-yard touchdown with two minutes, 19 seconds left in the third quarter to give the visitors a 28-7 lead.
A week after rallying from deficits of 21-0 in the first half and 31-14 midway through the third quarter to win going away, 49-31 against Northern Arizona. A week later, the Bobcats were the ones who let a three-score lead slip away.
Despite operating one of the most consistently bludgeoning triple option offenses in college football, Cal Poly suddenly became explosive. Jalen Hamler threw a 31-yard touchdown strike Quentin Harrison, Hamler's second passing touchdown of the game, to spark a 21-point fourth quarter. Hamler and Drew Hernandez each score rushing touchdowns to tie the game 28-28 with seven minutes left.
Since a 24-17 loss at Idaho State last October, Montana State has turned a corner, learning how to finish and earning victories in eight of its last 10 outings leading into Saturday's game. In the first contest at Cal Poly of the Jeff Choate era, the Bobcats only possessed the ball for 21 minutes and change but were able to stay the course.
When the game went to overtime, the Bobcats took control. Cal Poly got the ball first, committing a false start that led to a missed 48-yard field goal attempt from Colton Theaker.
The Bobcats took possession and Jonsen took over the game. On read option plays, Jonsen kept the ball three times in a row, ripping off back-to-back nine-yard gains before pulling the ball late, one-cutting up field and scoring the game-winning touchdown from seven yards out to lift Montana State to a 34-28 victory in front of 8,236 on Saturday night.
"We don't flinch," Jonsen said. "Last week, we were down 21-0 and we didn't flinch. When we say we are going to win, we are going to win. Our whole sideline knew. Defense said we were going to stop them. We stopped them. Offense said we were going to score. We scored. I love my team, I love how they have faith and it was a great win."
The win moves Montana State to 2-0 in Big Sky Conference play, 5-1 overall. The Bobcats are off to their best start since 2012, a season that saw MSU win its third straight Big Sky title.
"Travis is the type of guy on the sideline, he wants the ball in his hands," Choate said after the 22nd win of his career. "After they missed the field goal it's pretty much, 'Let's go put this thing away,' and he was the right guy to put the ball in his hands for sure."
Cal Poly used its triple option to control the clock at an elite level. Montana State punted after five plays on the opening possession of the game. MSU did not see the ball again until there was 70 seconds left in the first quarter.
The Mustangs operated an 18-play, 94-yard drive that ate up 11 minutes, 40 seconds. Cal Poly had a long play of 11 yards twice, otherwise chewing up the clock with its bruising, unorthodox style.
"We knew they were going to come out firing off the ball hard and we can't simulate that in practice," MSU senior defensive end Derek Marks said. "Part of it was just settling into the game, seeing what blocks we were going to get, option plays they were going to face."
Montana State capped its second possession, which trickled into the second quarter, when sophomore Tucker Rovig lofted a ball to the corner of the end-zone and senior captain Kevin Kassis hauled in a highlight reel 10-yard touchdown catch to tie the game.
In typical CP fashion, the Mustangs ate up nearly six minutes of game time on 10 plays despite gaining over 10 yards. The Bobcats held and forced a punt, then gave the hosts a taste of their own medicine. Montana State executed a 13-play, 87-yard drive highlighted by a 25-yard completion from Rovig to Kassis. Rovig, making his third straight start, capped the drive with a one-yard touchdown plunge to give MSU a 14-7 lead with 1:23 left in the first half.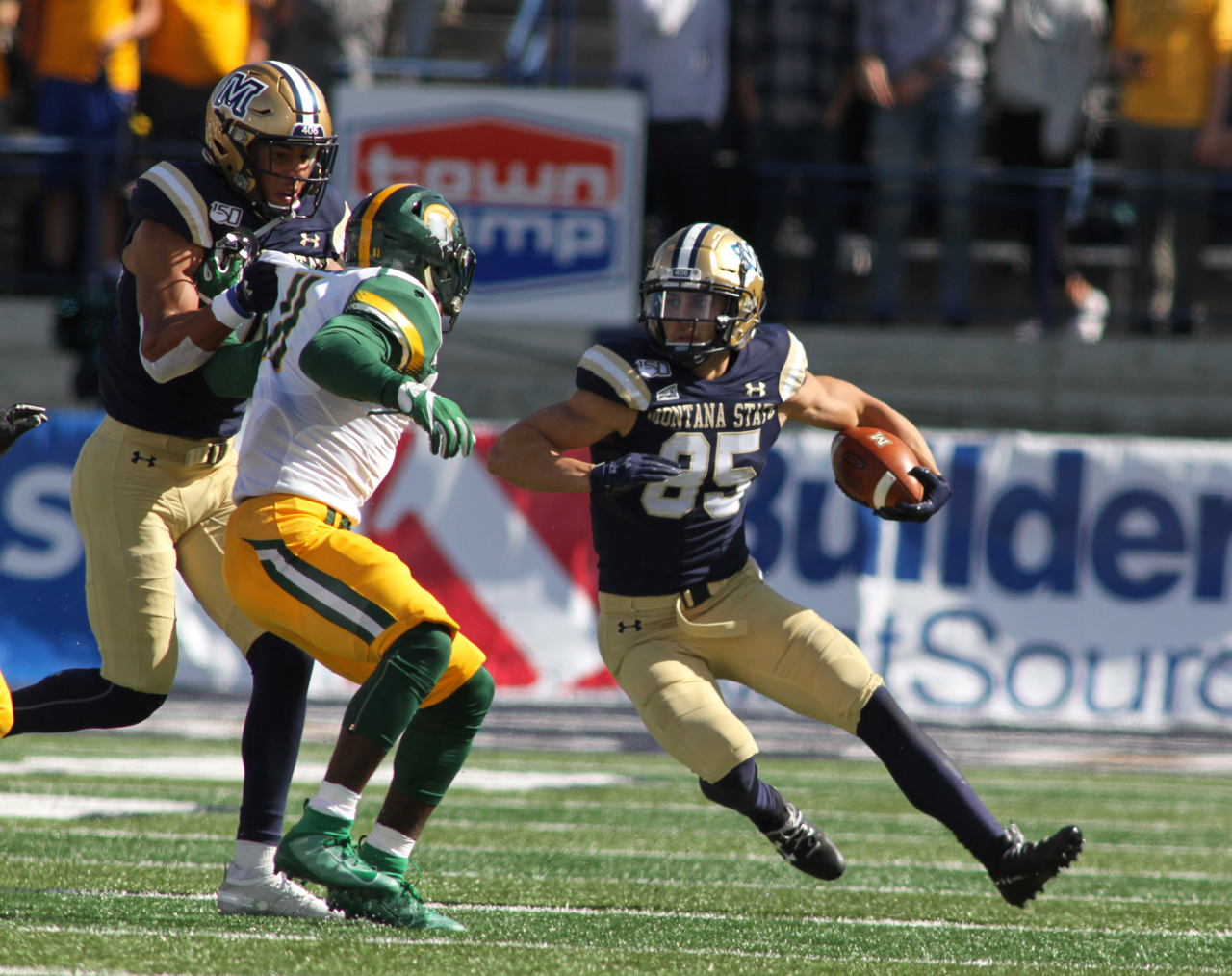 Jahque Alleyne entered the game midway through the third quarter and promptly made a difference. The senior safety and returner took a punt 38 yards to the Cal Poly 40-yard line with 6:32 in the third. Isaiah Ifanse, a sophomore playing his first snaps since the first half of MSU's second game, pounded runs of 17 and 16 yards to set up Logan Jones' four-yard touchdown run to give the 'Cats a 21-7 lead.
Jones, a fifth-year senior, has now scored nine touchdowns in his last nine games, including six touchdowns this season.
Senior JoJo Henderson sacked Hamler to force a Cal Poly punt on the Mustangs' next possession. On the first play of the ensuing drive, Rovig hit Jonsen for a 51-yard gain to the Cal Poly 13. Then Jonsen lined up in the Wildcat and ripped off a 13-yard touchdown run to give Montana State a 28-7 lead with two minutes left in the third quarter.
"There was definitely highs and lows. We were up 28-7 and we got a little loose," Jonsen said. "In the future, we have to keep scoring and the defense had to keep stopping."
"We are built for this and we have been working all summer for this and it's time to go make it pay off," Marks said.' We were the better conditioned team and it showed in the end. We were able to come out victorious."
Hamler, a redshirt freshman out of Lawndale, California, was the next in line after former MSU starting quarterback Chris Murray at the Los Angeles-area high school. On Saturday, he guided a spirited come back, sparked by the 31-yard touchdown to Harrison on the second play of the fourth quarter.
That score cut the lead to 28-14 and the Mustangs' defense forced a punt on the next MSU possession. Usually elite senior punter Jered Padmos shanked a punt six yards and Cal Poly took over 38 yards from the end-zone. A 17-yard Hamler spurt set up a 1-yard Hamler touchdown to cut the lead to a single score with 10:28 left in the fourth quarter.
Old demons rose again as Rovig threw an interception that Carter Nichols returned 32 yards into MSU territory. Five plays later, Drew Hernandez scored from three yards out to tie the score 28-28 with 7:05 remaining in regulation.
With less than a minute remaining, MSU drove to the CP 33 before lining up for a 50-yard field goal. Senior Tristan Bailey missed just short and just right.
Alleyne snared an interception with 13 seconds to play in regulation but MSU could not capitalize.
In overtime, Marks and junior Chase Benson combined for three tackles for no gain or a loss. Cal Poly also committed a false start to bring up Theaker's 48-yard field goal try that did not find the mark.
"We are built for this and we have been working all summer for this and it's time to go make it pay off," Marks said.' WE were the better conditioned team and it showed in the end. We were able to come out victorious."
That set up Jonsen for glory. The former transfer and current captain, who finished with 85 yards rushing and 70 yards receiving, dominated the final moments of the game.
"I thought we operated how we needed to operate to go win a game," Choate said. "It doesn't matter how, it just matters how many. It's tough to win on the road in this league, and clearly when you've got to play extra football, I think it shows again the character of your team."
Photos by Brooks Nuanez. All Rights Reserved.