BOZEMAN, Montana — On Thursday night following Montana State's 54-46 win over Northern Colorado, MSU captain Darian White gushed about the defensive corner she felt her team has turned in recent days and weeks.
"I can't even tell you how excited and proud I am of us coming together defensively," said White, one of the best thefts (3.1 steals per game) in the country. "Tonight we had something we haven't really had this year. Seeing that on the defensive end and see our chemistry finally come together, defense is going to win us championships so I'm going excited to watch that continuing to improve."
That defense continued for the reigning Big Sky Conference women's basketball champions on Saturday afternoon. But White and the Bobcats could never get on track as Northern Colorado earned the weekend split with a 57-49 win over MSU in Bozeman.
The loss is the first by the Bobcats to a Big Sky opponent since January 7, 2020. Since that 68-67 defeat at the hands of Idaho, Montana State won 18 straight league contests, including winning its league opener earlier this week.

"I didn't like (the back-to-back), but that wasn't because of the slate or the conference schedule; I didn't like our performance," Montana State 16th-year head coach Tricia Binford said. "I think you have to make the most of any situation, simply what's on your mind and execute it. To be honest, we executed at a very poor level."
As a team, the Bobcats finished 17-of-56 from the floor, just one make better than the Bears converted on Thursday. MSU made 8-of-24 from beyond the arc. MSU committed 16 turnovers, including nine in the first half and six in the second quarter.
"Honestly, I think our shot selection…at times, we are jacking up shots when we could probably find a better shot," MSU freshman K.J. Limardo, a starter, said after scoring eight points. "It's about finding a groove and continuing our offense and finding more flow in the game."
The Bears closed the first quarter up 15-14 but then won the second frame 14-7 and kept that cushion for more of the second half.
"There was some fatigue that showed but more importantly, it's really deflating when you are giving yourself come chances and then you give up offensive rebounds on the free throw line," Binford said after her team gave up 12 offensive rebounds and 14 second-chance points. "To be quite honest, we just have too many momentum things that can disrupt you and kill you. That was deflating for everybody."
Junior Gabby Mocchi, who's emerged as a starter in recent weeks after playing limited minutes the last season and a half, led the Bobcats with 11 points.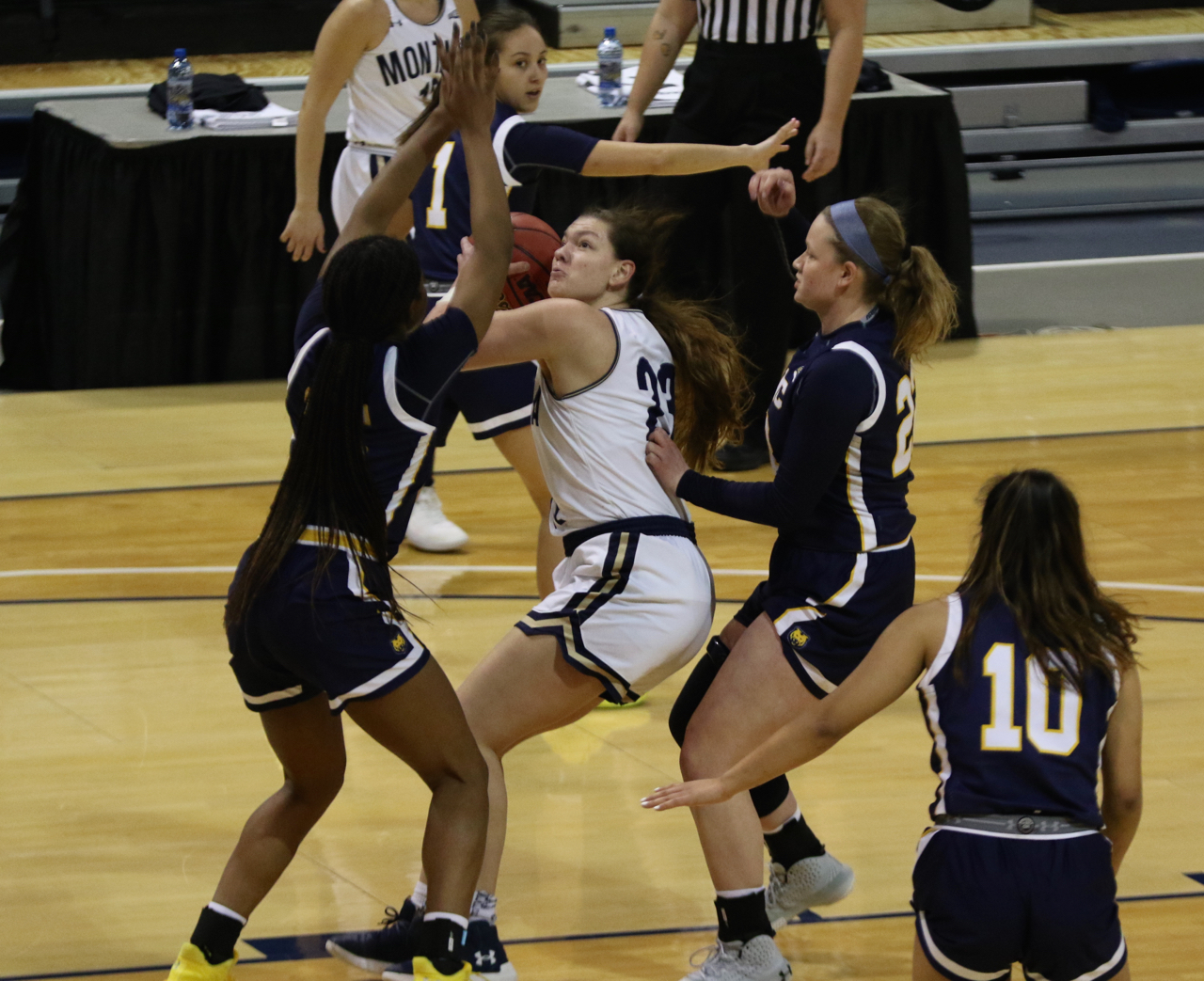 "I think a big change for us is that this was our first experience playing back to backs," Mocchi said. "We tried to keep it light yesterday just to come out fresh today. We are learning to adapt and this is a new season for everybody. Nobody on our team has experienced this quite yet so we have to learn from that and keep growing.
"I like it because you can focus on one scout, one team and not have to worry about changing and adapting super fast. But it's about how you make the small changes after each game."
White, Montana State's All-Big Sky sophomore point guard, finished just 3-of-19 from the floor and missed all four of her 3-point field goal attempts. She finished with a double-double of 10 points and 10 rebounds to go along with four assists and three steals.
Because of an early and recent cancellations, the weekend was the first for the Bobcats in Big Sky play this season. Northern Colorado has played six league games, winning two, including winning the second game of the weekend last weekend against Montana (77-76 in overtime) and Saturday in Bozeman.
Micayla Isenbart hit a pair of 3-pointers on the way to a Northern Colorado-high 15 points. All-Big Sky post Alisha Davis had a double-double with 10 points and 11 rebounds as UNC won the battle of the boards 39-33.
Montana State's attention now turns to its first Big Sky road trip next weekend at Portland State.
"After doing this for a long time, I understand now to never get too high and never get too low during the season," Binford said. "You are never as good as you think you are, you are never as bad as you think you are. This is a game we are certainly not proud of and we are certainly going to have to learn from it and we are certainly going to have to grow from it.

"We have to decide if we are going to be tougher or we have to try if we are going to be soft. We were soft today. I thought we played pretty tough on Thursday. So we will move on and learn from this experience."
Photos by Brooks Nuanez. All Rights Reserved.