BOZEMAN, Montana — If a front-runner emerged in Montana State's quarterback battle during the first scrimmage of fall camp here Saturday, only those in MSU's football program know who is in the lead.
The Bobcats conducted a 75-play closed scrimmage on a mild, 75-degree day at Bobcat Stadium. The scrimmage was moved up two hours in anticipation of a thunder and lighting storm expected to move through the Gallatin Valley on Saturday afternoon.
When fall camp started eight days ago, MSU head coach Jeff Choate said he would like to name a starter following the first scrimmage. Montana State didn't gain a ton of clarity on Saturday, according to Choate.
"I can't really give you an answer right now," Choate said. "It's going to take us sitting down as a staff and going through this in a very detailed fashion and evaluating that. When we are ready to make a decision, we will make that announcement on Monday. And if we are not, we won't make an announcement on Monday."
During the action, Montana State sports information confirmed there were three interceptions. Official stats confirmed redshirt freshman Casey Bauman threw two of the picks and sophomore Tucker Rovig threw one.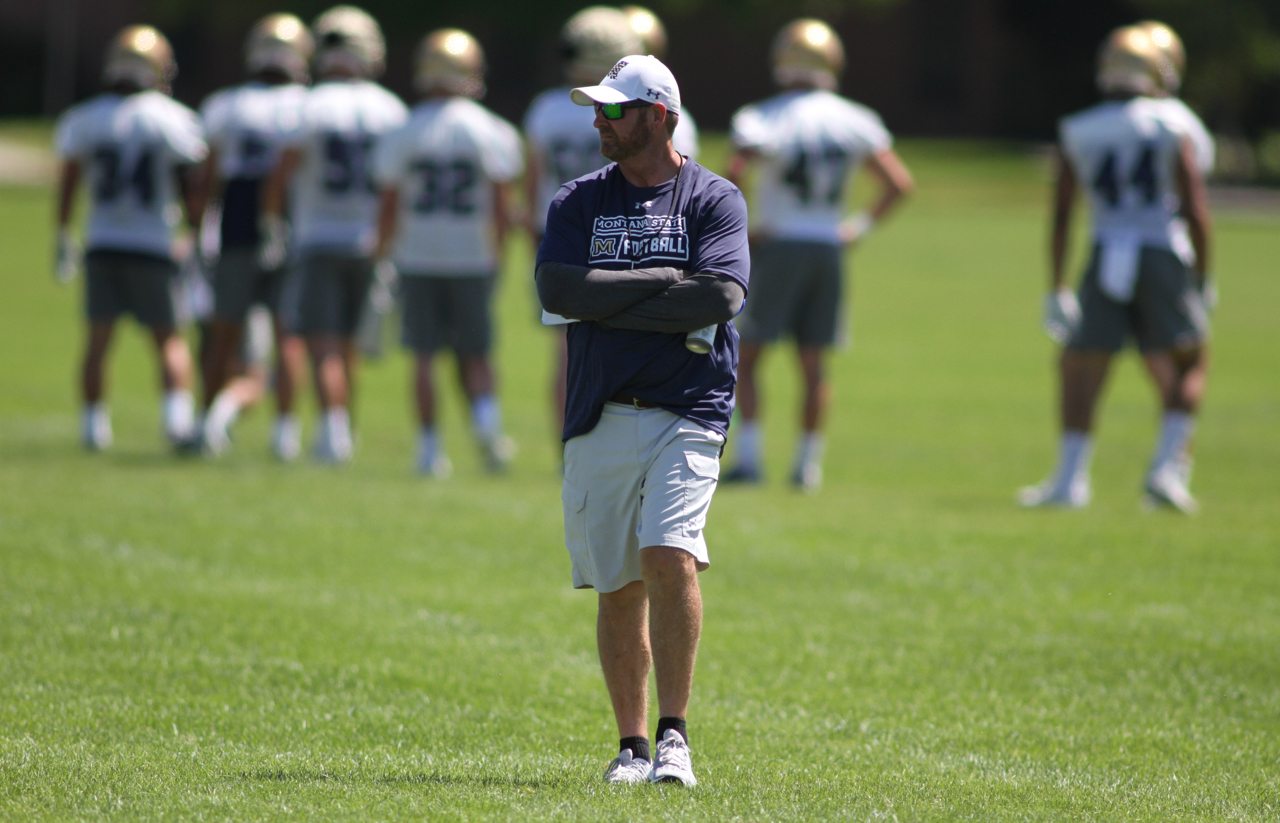 One pick came on a deep pass in the end-zone to senior captain wide receiver Kevin Kassis. The ball tipped off his hands before landing in the defender's hands.
"Kevin's got the best hands on the team but he's not 6-foot-8, so you've gotta give him a chance," Choate said with Kassis sitting two seats down from him in the MSU block house conducting interviews following the action.
"I wish I was 6-foot-8," Kassis quipped.
"I don't think it would match your game," Choate cracked. "And your arms wouldn't look nearly as good (laughs)."
Choate leaned heavily on Kassis and fellow captain Derek Marks to help guide him through the details of the scrimmage afterward, a symbolic affirmation of the veteran leadership Montana State has cultivated heading into Choate's fourth season. Regardless of who is MSU's quarterback, the rest of the veteran roster will be leaned on heavily if the Bobcats hope to improve on last season's 8-5 mark.
"It's noticeably different and it feels different too, just how we practice and the culture, that's probably the main thing," Kassis, a four-year starter and two-year captain, said. "We come out every day and we used to have fights at practice quite a bit because undisciplined, wasted a lot of time. We come out now and like coach said, we are like pros right now and we are getting our work done."
Senior cornerback Greg "Munchie" Filer III, senior safety Jahque Alleyne and sophomore defensive back Ty Okada notched Montana State's three interceptions. The Bobcat defense did not get a sack, although with defensive line coach Byron Hout not in attendance and Choate coaching the front, the head coach admitted, "I was the d-line coach today and I didn't rotate them so what does it matter."
That player empowerment from Choate is another example of the shift in Montana State's internal dynamic. The program is, by and large, player run when it comes to internal expectations, demands and execution. With a deep and talented roster aside from the questions under center and at inside linebacker, that player-run mode of operation could also mask the certain inexperience Montana State will face at quarterback in its season-opener August 31 at Texas Tech and throughout the non-conference portion of its schedule.
"I think we are on a different planet then we were three years ago," Choate said. "Kevin and I have actually talked about this on a number of occasions. It's hard to wrap your head around some of the stuff. It's crazy some of the stuff we went through.
"Somebody told me, 'You'll look back and laugh someday' and I didn't believe them at the time. Now I look back and kind of laugh. We are considerably head of where we were when I got here."
According to stats provided by Montana State sports information, the Bobcat offense scored four touchdowns and kicked three field goals on Saturday. Sophomore Isaiah Ifanse, who became the first Bobcat to ever surpass 1,000 yards rushing during his rookie season, scored touchdowns of three yards, 13 yards and eight yards. The first two Ifanse scores were not accompanied by PATs.
Senior Tristan Bailey kicked field goals of 34 and 42 yards. Caleb Mancini hit a 23-yard field goal.
The one touchdown pass — The Bobcats only threw eight last season, including just three by starter Troy Andersen — came on a three-yard straight from Bauman to Kassis for the final score of the afternoon.
"I thought both those guys took leadership roles out there today," Kassis said. "The offense started slow, which is not on them, it's on all of us. Those guys stepped up as leaders but I really proud of Case on that last drive, getting us going and getting in a groove. Going live for him, getting more opportunities to get more experience is good for him."
Bauman finished 6-of-11 for 77 yards, a touchdown and two interceptions. Rovig was 3-of-7 for 14 yards and a pick. Redshirt freshman Ruben Beltran was 3-of-3 for 42 yards.
Kassis caught five passes for 45 yards while fellow senior captain Travis Jonsen had two grabs for 43 yards. Coy Steel had the longest reception of the day, a 30-yard gain.
"I thought they both (quarterbacks) showed good poise," Choate said when asked about the strengths and weaknesses of the performance of his top two quarterbacks. "Tucker got lit up on the second play of the scrimmage, (senior inside linebacker) Walker (Cozzie) coming off the edge unblocked and it didn't really rattle him. He dusted himself back off, went back in the huddle.
"There was some short-yardage situations where standing back behind the huddle and listening to both of them, 'hey, let's go get this done', that's the right demeanor I wanted to see out of them."
The rest of MSU's offense, from five offensive linemen with starting experience to a pair of senior captains at wide receiver to Ifanse's return to the possibilities of offensive touches for Andersen, the successes or failures of the Bobcat offense will likely be connected directly to quarterback performance.
Chris Murray started 16 straight games for MSU to finish the 2016 season and all of the 2017 season. Otherwise, MSU has had four different starting quarterbacks, including Rovig for two games last season. The offensive players on the Bobcat roster are ready to build around the triggerman who wins the job.
"I would like to say it doesn't matter but at the end of things, I don't think it would make things easier but it would be nice to know who that guy was," Kassis said. "If they aren't ready to make that decision, we will keep battling this thing out. It could happen, that could be a possibility and if that is what it is, we feel comfortable with both guys.
"They are both pretty similar, tall guys, strong arms. That makes it easier that both of them are similar."
By the time Monday's practice rolls around, MSU could have a new starting quarterback. Or the battle might rage on. A team that features 20 seniors, three preseason All-Americans, five preseason All-Big Sky selections and some of the best front seven talent in the FCS will continue to work, Choate said, quarterback battle or not.
"I thought today was kind of workman like," Choate said. "Nobody was going crazy. It wasn't too high or too low. I thought it was very appropriate about where it's at. I've kind of felt that way our entire fall camp, really. We've talked about being a pro. They are playing pro football right now. There is no school, there's no jobs. That's what these guys are and I think they've handled it like that."
SCRIMMAGE STATS
RUSHING LEADERS
Isaiah Ifanse 11-44-3, DeMareus Hosey 5-25-0, Travis Jonsen 3-19-0, Karl Tucker II 3-17-0.

PASSING LEADERS
Casey Bauman 6-11-2, 77, 1; Tucker Rovig 3-7-1, 14, 0; Ruben Beltran 3-3-0, 42, 0.

RECEIVING LEADERS
Kevin Kassis 5-45-1, Travis Jonsen 2-43-0, Coy Steel 1-30-0, Mark Estes 1-9-0, DeMareus Hosey 1-2-0, Willie Patterson 1-4-0, Tyrone Marshall 1-9-0.

DEFENSIVE HIGHLIGHTS
Interceptions: Greg Filer-1, Jahque Alleyne-1, Ty Okada-1.
Pass Breakups: Amandre Williams-1, Walker Cozzie-1.
Tackles-for-Loss: Nolan Askelson-1.
Forced Fumble: Eric Zambrano-1.

SCORING PLAYS
Tristan Bailey 34 FG
Tristan Bailey 42 FG
Isaiah Ifanse 3 run (no PAT)
Isaiah Ifanse (13 run (no PAT)
Isaiah Ifanse 8 run (Tristan Bailey)
Caleb Mancini 23 FG
Kevin Kassis 3 pass from Casey Bauman