BOZEMAN, Mont. – Montana State shot 60 percent from the floor and four players scored in double-digits, as the Bobcats beat Idaho 72-50 in Worthington Arena on Thursday.
But that's not what first-year head coach Danny Sprinkle wanted to talk about after the game.

"It all starts with defense," Sprinkle said after his squad held the Vandals to 35.6 percent shooting, with Idaho star guard Trevon Allen the only Vandal to score more than 10. "We got stops, so instead of taking the ball out of the net, we're off and running. We got some pitch-aheads to Mike (Paulo) and Amin (Adamu) and they got some layups. Amin even got a couple in the first half, which kept us in the game. That's the thing about the group, they've bought into defense."

With the Bobcats trailing 36-32 two minutes into the second half, Adamu started a 13-2 run with a layup, then Mychael Paulo converted a layup to tie the score, and Ladan Rikckets hit a short jumper to give MSU a 38-36 lead. A Paulo fast break layup a few moments later gave Montana State a 40-38 lead,and the Cats would never trail again.
"I thought our energy level coming out the first four minutes (of the second half was key), and I thought the post guys really established themselves the first 12 minutes of the half," Sprinkle said. "We got some easy layups and we got out in transition a little bit, but we got out in transition because we got some stops. They started finally missing a couple of shots."
Ricketts' 3-pointer put the Bobcats up 43-38, and moments later he hit another trey. The senior from Livingston said refocusing at halftime was important.
"In the second half we came out and we were the aggressors from the jump," he said. "The whole second half we were all just being aggressive and we jumped on them."
After Idaho cut the Bobcat lead to 45-40 six-and-a-half minutes into the second half, the Bobcats exploded again. A Ricketts 3-pointer pushed the lead to eight, and a pair of Paulo layups gave the Bobcats a 10-point lead. That triggered a 24-4 run and closed the competitive portion of the contest.
Although Allen scored 19 points, he managed only four in the second half.
"Trevon Allen is a great player," Sprinkle said. "You're kind of at his mercy. He's going to get his shot off because he's that talented. You just have to hope he misses. He probably got a little worn down the second half, got a little tired. They came (here) from Sacramento State so I think he was a little tired in the second half."
Ricketts said sliding extra bodies in Allen's direction made shots tougher to come by.
"We were throwing guys at him," he said. "Every time he had the ball there was always a guy there stunting at him, and we made shots tougher for him."
Sprinkle attributed MSU's hot shooting night to excellent post play and taking advantage of opportunities.
"The way teams are guarding Harald (Frey), other guys are getting wide open shots. It was just a matter of time before they started to fall. I really thought our post guys won the game for us tonight."
The Bobcats showed toughness on Thursday, Sprinkle said, and it started with the team's two seniors.
"It's a pretty tough-minded group, led by Harald and Ladan. I thought Ladan did a good job to open the second half and really got us going. We're going to need that down the stretch. We know how good a shooter he is, and we're going to have to manufacture shots for him because he's definitely a weapon."
The Bobcats went 30-for-50 from the field. Their 60 percent clip as a team was their best shooting percentage in a game since Feb. 18, 2006, when the Bobcats beat Idaho in a home contest by shooting 60.9 percent from the floor in a 79-69 victory. MSU held Idaho to 27.3 percent shooting in the second half, the sixth time the Bobcats have held an opponent to below 30 percent during a half this season.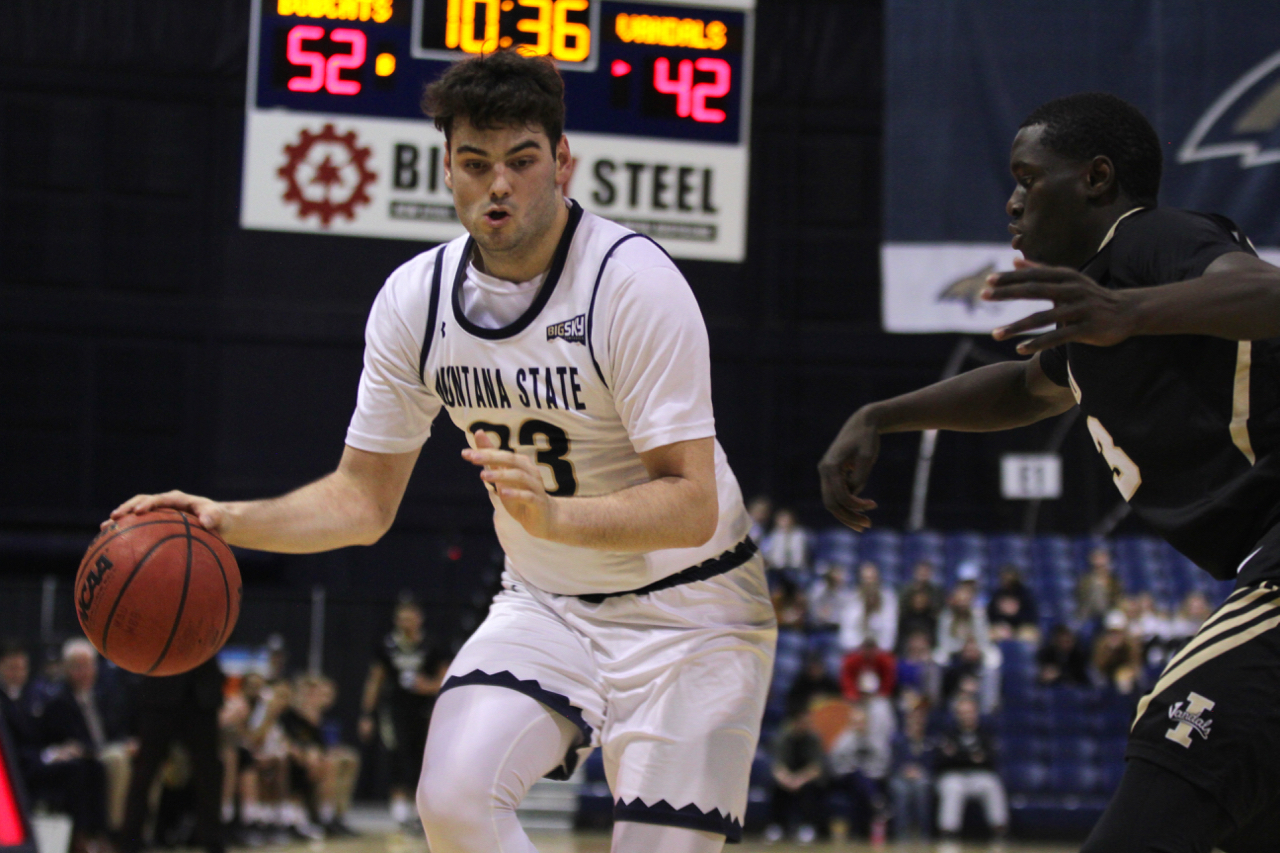 Borja Fernandez led MSU's scorers with 18 points while he hauled in a team-high eight rebounds. Adamu scored 16 points, while Paulo and Jubrile Belo each added 10. Frey had an MSU-high eight assists as the Bobcats outscored the Vandals 42-12 in the paint and 29-10 in bench points. MSU finished with a 39-20 edge on the boards.
Montana State raised its record to 12-10 overall, 6-5 in Big Sky play, with the win. Idaho is now 6-16, 2-9. The Bobcats head to Eastern Washington for a 3 p.m. MST tipoff on Saturday. The game is televised on SWX stations.
Press release courtesy of Andrew Pederson – Montana State Sports Information.
Photos by Brooks Nuanez. All Rights Reserved.