His senior season has not been what he hoped it would be, but one night in February, Trevon Allen felt the affirmation of all that he values most.
Allen grew up in Lapwai, Idaho on the Nez Perce Reservation nestled along the Idaho panhandle surrounded by many who shared his love of hoops. When the second generation Vandal arrived at the University of Idaho, following in his father Allen's footsteps but in basketball instead of football, UI decided to institute a Native American heritage night as a celebration of Allen's roots and commitment to the program.
Four years after the inaugural celebration of indigenous peoples, Allen got a chance to play in front of a large collection of family and friends as a senior. On February 8, Idaho hosted rival Montana. Allen, who is one of the last men standing from the Don Verlin era in Moscow, had one of the greatest games of his decorated college career.
That night, Allen's rebuilding Vandals struggled to finish despite their star's best efforts. The Grizzlies closed out an 82-71 victory for their 10th Big Sky win this season even with Allen crafting one of the most outstanding scoring efforts of his illustrious career.
"Even though we lost, that night was special for me and for a lot of the Native people who watched that game and watched our team play," Allen said. "That was a really special night. I was glad I could perform for my people and do something big for my people who showed up."
The smooth, confident combo guard hit 10 of his 17 shots from the floor, including 4-of-6 from beyond the 3-point arc. He also knocked down 12 of his 14 free throw attempts and finished with a career-high 36 points with dozens of his loved ones looking on.
"It was really special for that to happen together on the same night," Idaho first-year head coach Zac Claus said in an interview in February. "I know how important his family and his heritage are to him. You don't have to spend much time around him to know and understand that. Those two meaningful things, to coincide with one another, is terrific and selfishly for him, I was so happy for him to experience those two things in the same night."
Allen's outburst that night was one of 17 20-point outings this season by Idaho's go-to scorer. He has four games with 30 points or more. He is averaging 20.7 points per game, including 21.5 points per outing in Big Sky play. Both averages rank second in the conference.
"He can get you at every level," said Weber State 14th-year head coach Randy Rahe, the longest-tenured coach in the Big Sky, a few days before his Wildcats allowed Allen to score 32 points. "He shoots the heck out of the ball. He can get to the mid-range game. He can finish. He has a good feel for the game. He can also get teammates involved. Those guys who can do it at every level are extremely dangerous.
"Whatever is going on in the game doesn't affect him. He still has the ultimate confidence in himself no matter what the situation."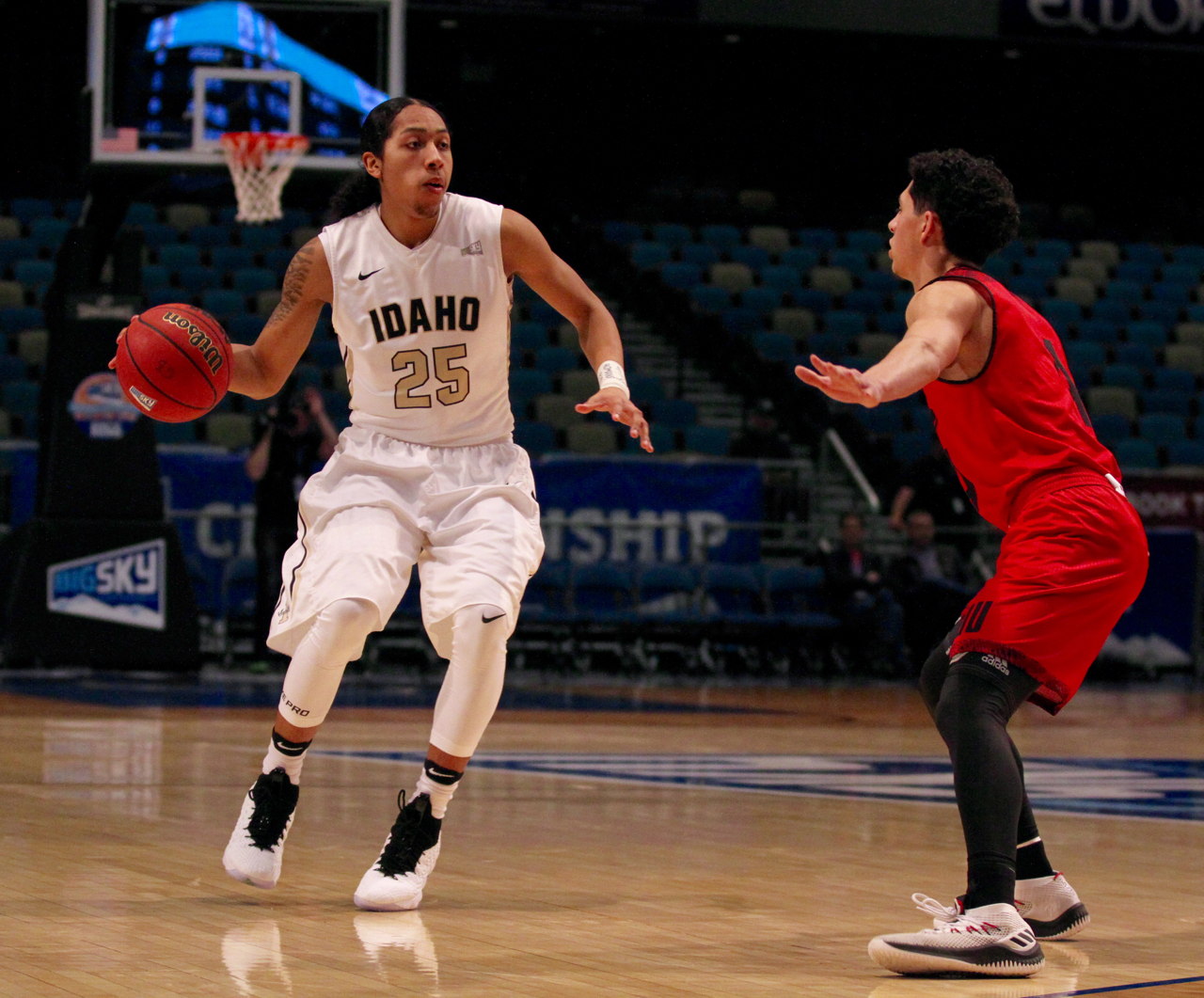 Yet Allen has largely been a one-man show for a team that began rebuilding last season then started over when the school cut ties with Verlin despite his 177 victories and five postseason appearances, including four in the CIT.
Idaho enters the Big Sky Tournament in Boise, Idaho with just eight wins in 31 games. The Vandals finished 4-16 in Big Sky play a year after winning just two Big Sky games. Yet Allen has maintained a strikingly mature perspective.
"My parents always told me about the opportunity that come from sports but they also told me that someday, the ball stops bouncing and you have to get an education," said Allen, who scored 33 points in Idaho's 80-76 win over Idaho State in the regular-season finale for both teams Saturday. "You have to do something after. Both my parents got their degrees at the University of Idaho. That gave me the motivation to make that my top goal.
"To come from a small town and try to show people that are younger than me and to show my younger brother especially it can be done, that means something to me. You can come from where we came from, go to a university, play sports at a high level and get an education, be successful that's been huge for me. It's been a huge motivation for me to do that for me, my community, my people and who I represent."
Allen's career at Idaho has included significant team success and notable individual accomplishments. But the two have not gone hand in hand. The Clarkston High product fell in love with winning early on in his basketball career. His high school team went 51-2 combined in his junior and senior seasons, winning consecutive Washington 2A state titles. That's one thing that attracted him to Idaho; the Vandals won 21 games the season before Allen joined the team and won 19 games Allen's freshman season.
"He was a very talented high school player and I thought it was very important that the University of Idaho recruit him because not only was he a good player but his mom and dad were both Vandals and his entire family had gone to school at the University of Idaho," Verlin said. "I knew with his athletic ability — he was a very good football player as well as basketball player — and I thought he would be a tremendous asset and he has been.
"From Day 1, he was invested in the University of Idaho and was going to do whatever it took to play as good of basketball as he could and help his team play as good of basketball as he could."
His first year at Idaho, he joined a team with a developing core that turned into a group flush with talent led by a group of six seniors with league title aspirations. That 2017-18 team went 22-9, including 14-4 in the Big Sky Conference, the high water mark of the Big Sky era in Verlin's 11 seasons at the helm. Although that team got bounced in their first game of the Big Sky Tournament, Allen was one of the only underclassmen on the team.
And he proved he could hit big shots early on, including hitting two clutch 3-pointers in the final minutes of regulation of a 79-77 overtime win over eventual league champion Montana.
"He's a shot maker, one of the best shooters the last three years in this conference," Montana sixth-year head coach Travis DeCuire said. "He made big shots three years ago when they beat us by one. If we don't leave him open in the corner back to back, we win that. He's a phenomenal shot maker."
Following the run at the Big Sky title two seasons ago, Idaho graduated a decorated senior class featuring six players, including next-level players Vic Sanders, B.J. Blake and Perrion Callandret. Entering last season, Idaho had one senior but Nate Sherwood experienced a strange medical calamity that forced him to retire before his senior season.
The Vandals had a roster featuring seven freshmen, most that were forced into playing time early. The rebuilding season ended with a 5-27 record, one of the worst marks in program history. Less than three months after the season, Verlin was fired after a consulting firm investigated the program and found three possible NCAA violations, one including a staff member practicing with the team.
"Having the first two years be a success and the last two years be a struggle, I see more the challenge and a way to grow than anything," Allen said. "Nothing is going to be perfect in life and overall, so I feel like my career here has put me through the ringer and I know that will help me later in life. I know that's something I'm going to use: going from winning seasons to getting tested, having tough seasons but being able to persevere and still try to be who I am, be a good leader for my teammates."
An exodus followed last year's low point. Eight players, including standout freshman Cameron Tyson, entered the NCAA Transfer portal between the end of the Big Sky Tournament and the end of the summer. Meanwhile, an athletic department in turmoil after the dismissal of athletic director Rob Spear tagged Claus with an interim tag.
"I knew for sure it was going to be a change and I knew for sure it was going to be difficult and we didn't know who was going to stay, who was leaving," Allen said. "When Verlin was fired, I was really open to seeing what my options were. I didn't know if I was going to stay here or not but being loyal to the University of Idaho was my goal.
"My mindset was to stay but it was all about who was coming in for the job. Once I heard Coach Claus got the job, that gave me the confidence to stay."
Claus, who had been an assistant for four seasons on Verlin's staff, had to rebuild his roster. But he knew he would build it around his senior guard.
"I didn't have to pitch Trevon anything," Claus said. "He loves this place. This place means a great deal to him and to his family. He never wavered. He wanted to be here. He wanted to be a part of this. He wanted to be a part of more wins. We all did. But his demeanor, his attitude never changed."
The current culture of college basketball is to leave. The ability to transfer is easier than ever. More than 40 percent of NCAA men's basketball players applied for a transfer two off-seasons ago. Yet Allen bucked the trend and decided to stay.
That loyalty has been widely praised by coaches both at Idaho and around the league. He will have a hard time earning first-team all-conference honors because of Idaho's record but most would agree he is one of the most lethal players in the league.
"I think his loyalty to that program stands out and tells you a lot about his loyalty and his character," DeCuire said leading up to his team's first matchup against Idaho in January.
"He doesn't talk trash. He doesn't post things on his twitter page that you can put on lockers to get going. I don't know if he even has a Twitter page. You have no reason to be upset with him when the game gets going. And then he just kills you from every level."
When Eastern Washington head coach Shantay Legans was an assistant on Jim Hayford's staff at EWU, he recruited Allen. It was a tough sell considering Allen's Vandal roots. That allegiance has helped guide Allen during his career.
"Sometimes, young men and young women just need to stick it out," Legans said. "And Trevon has stuck it out. I think his perseverance is huge and watching now, recruiting him then, I'm proud of him. He's done it the right way."
Only Allen, junior guard Marquell Fraser, junior forward Scott Blakney and sophomore center Jack Wilson returned with any playing experience from last year's squad. Allen has been the central focus of opposing defenses but hasn't wavered, ranking 19th in Division I in overall scoring average.
"His loyalty has been incredible," Claus said. "For him to stick with us and believe in what we are doing moving forward has been invaluable. He's someone we rely on every single day and the numbers back that up from a numbers and output standpoint.
"He is a steady force in everything we do. He's somebody we count on, somebody we can rely on every day to be a teammate, do what is asked of him, do it with the right attitude and be an incredible ambassador for our program."

And Allen has done it without much help when it comes to scoring the ball. His 612 points are more than twice as many as Blakney, who is Idaho's second-leading scorer with 260 points and an 8.1 points per game average.
"I have a lot of respect for that kid," Rahe said. "He hung in there. He didn't bail. He stayed loyal. And for him to be able to do it on a team that has struggling to get wins – I like their team, I think they have some pretty good players — and for him to get so much attention and still going out and scoring like this, doing it nightly, it speaks volumes to just how tough he is. I'm a big fan of his. He can really score."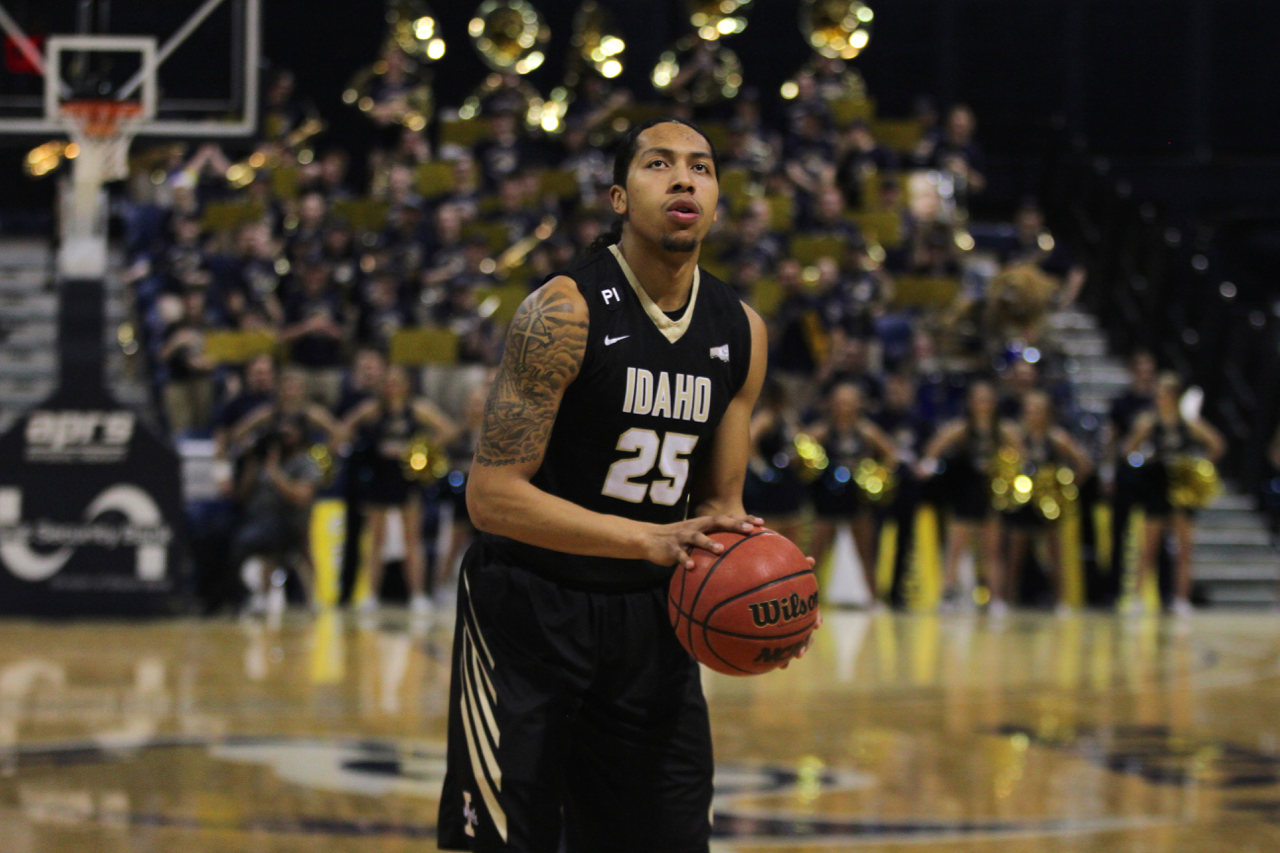 Many around the Big Sky have become big fans of Allen. He has helped carry on his family's legacy while representing for his people, taking his role as a leader for a rebuilding program in stride. Beginning Wednesday, Allen will lead his team once more, this time in the Big Sky Tournament.
"I tell our guys to just keep believing," Allen said. "It has been rough but we have been competing with the best teams in the league and we beat one of the best teams in the league (Eastern Washington). We have the weapons to beat some of the best teams so going down to the tournament, I keep telling them, whoever we get matched up against, it's one game at a time. We try to play the most perfect game we can, we have a chance to continue our season one more day.
"This is my last year so I'm going to give it my all. These guys will give their best to extend my season as much as possible."
Photos by Brooks Nuanez. All Rights Reserved.