BOZEMAN, Montana — Montana State returns four "full-time" starters on its offensive line and five total players with starting experience. Jake Sessions is not one of those five.
The Colstrip native entered the MSU program as the top offensive line prospect from the state of Montana in a year where only one in-state hog earned any scholarship money. His first three years in the program, Sessions toiled. By last season, he earned a spot traveling with the varsity. But classmates and younger linemen alike broke into the lineup before Sessions.
With seasoned fourth-year left guard Taylor Tuiasosopo still recovering from an injury that essentially ended his 2018 season, Sessions filled in on the first string during spring practices. Entering fall camp, Sessions has continued taking first-team reps.
"Jake has just changed how he approaches everything," Montana State fourth-year head coach Jeff Choate said. "Some guys come into college and they have distractions. Some guys are distracted by girls or distracted by partying, have a hard time with school, whatever it is.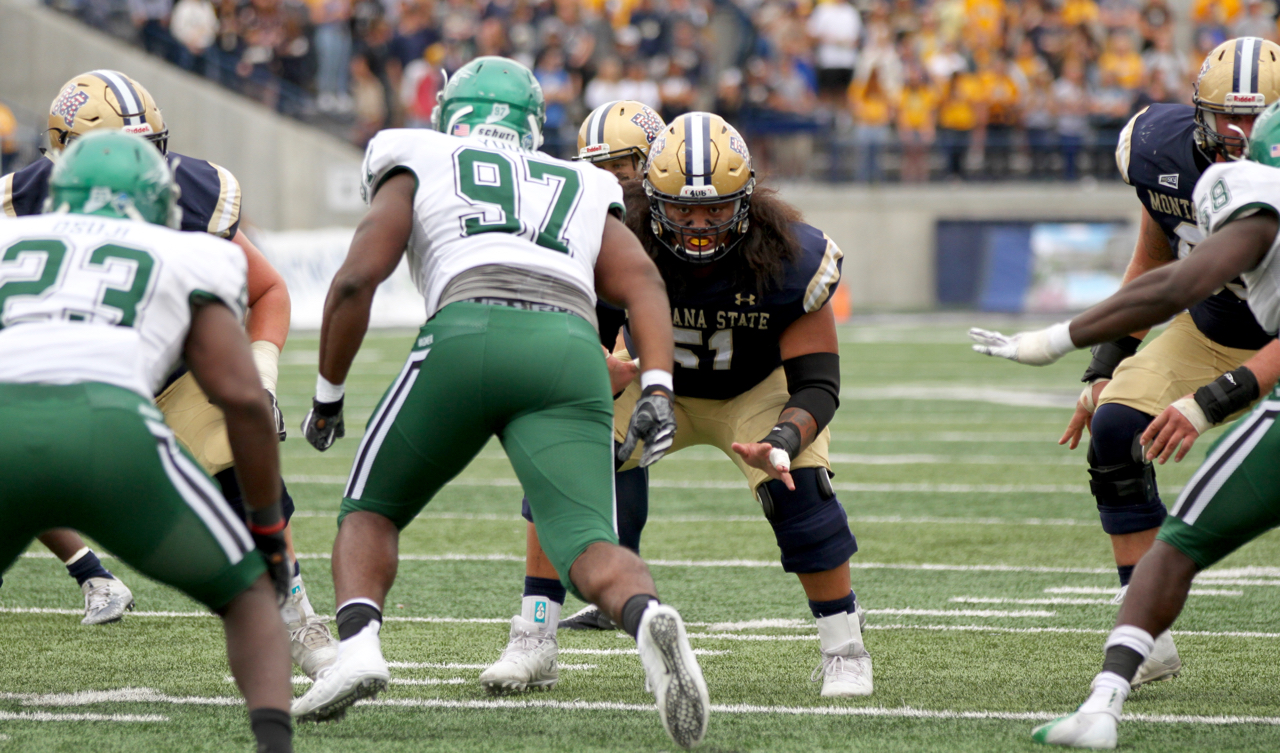 "Now that he's a little bit more mature and has had a chance to grow into the program, he has developed into a pretty good leader for us."
Tuiasosopo, a 6-foot-4, 314-pounder from Paraclete, California, broke into the lineup as a redshirt freshman. He started eight games for a team that became the firs team other than Cal Poly since the Mustangs joined the league in 2012 to lead the Big Sky Conference in team rushing yards.
Tuiasosopo started the first eight games of last season as well before getting hurt. Third-year sophomore Zach Redd stepped into the lineup, playing at left guard and center in a rotation with captain center Alex Neale down the stretch.
Now it's Sessions who is running with the 1s while Tuiasosopo continues to recover while also taking turns at center.
"We have to find the mix of five that gives us the best chance to play together," Choate said. "When that happens, we will roll. That's what happened toward the end of last year. Those guys came together, really started to trust one another. We developed our identity, let them go play fast. As games went into the second half last year, our offensive line really asserted their will."
Choate went on to say he thinks the "top six are pretty solidified, barring injury". The head coach thinks the battles for the seventh, eighth and maybe ninth spots are up for grabs. FCS teams usually include eight or nine offensive linemen among their 65 players on the travel roster.
Sessions had a decorated career at Colstrip High. He was a Great Falls Tribune Super-State selection. He played in the Montana East-West Shrine game. He was a three-year varsity starter and a standout wrestler.
After redshirting in 2016 at MSU, Sessions struggled to find any room in the mix. But Dylan Mahoney, Caleb Gillis, Colin Hammock and Wade Webster have graduated. Brody McKnight, Sean Hatten and others left the program. Tuisosopo got hurt and Sessions is trying to capitalize his new opportunity.
"Especially when I first got here, coming from a little town, Colstrip, it was a big transition and I was swimming," Sessions said. "Now I feel like as things have gotten going, I've started to get the hang of things, a feel for it and now I can start honing in my technique and get ready to go.
"I'm just trying to give it everything I've got, take it day by day. These are my best friends and whoever ends up with it, I'm happy for them. I just want to do my part."
The 6-foot-5, 276-pound Sessions has earned praise from his fellow linemen for his improved dedication and work ethic.
"Honestly, I remember my freshman year that he didn't really want to work as hard because I don't think he saw the potential," said Redd, who is entering his third year in the program. "Now that he recognizes his potential, the guy is working his ass off. He's killing it and I love it when he is next to me."
Sessions has also received praise for his improved football acumen.
"The mental part behind it, that's where he's grown," MSU senior captain Mitch Brott, a preseason All-American offensive tackle, said. "He's always been physically fine. But his confidence has come a long way. And his drive has improved."
Following the 2017 season, Montana State graduated Mahoney and Gillis after they put five years into the program. Last season, graduated Neale, a three-year starter after transferring from UNLV as one of Choate's first recruits.
But Brott has started 35 straight games between spending his first two seasons at right tackle and last season at left tackle. Lewis Kidd, a 6-foot-6, 295-pounder, started the last seven games of his redshirt freshman year in 2017 like Tuiasosopo, then started all 13 games last season at right guard. Connor Wood, a 6-foot-5, 315-pound third-year sophomore, started all 13 games, earning Freshman All-American honors at right tackle from Hero Sports last season.
The tackle spots are likely solidified, particularly Brott's. Kidd will start at one of the two guard spots. The battle for the other two spots will depend on Redd's continued improvement mastering the snap count, Tuiasosopo's continued healing and Sessions's continued emergence.
"We feel definitely confident," Brott said. "We only lost Alex (Neale) from last year. It's something where I feel like we haven't missed a beat at all. We have about eight offensive linemen right now that have the potential to start. We have a lot of depth going into it so it will be fun to watch guys fight for spots."
Photos by Brooks Nuanez. All Rights Reserved.