BOZEMAN, Montana — Troy Andersen had not yet officially met Travis Jonsen. So when he ran into him on the basketball court during winter break on the Montana State campus, he mistook the explosive athlete for a new Bobcat basketball player.
"The first time I saw him, he was at open gym basketball and we were just messing around and he dunked on somebody and I thought he was here to play basketball," Andersen, a freak athlete in his own right, said with a chuckle on MSU's media day on August 22. "It was pretty crazy. The way he runs and jumps and moves in space, he's an impressive athlete.
"He's for sure one of the best athletes in the league."
It's an impressive statement coming from Andersen, certainly one of the best athletes in the country. It's also the common sentiment expressed about Jonsen since his time at Servite High School in Southern California.
These days, Jonsen is one of the most physically gifted players in the FCS and in the Big Sky Conference. The former Power 5 gunslinger arrived at Montana State before last season as a prospect filled with potential that could never catch a break other than a repeated break in his foot.
In his final season of college football this fall, Jonsen has adjusted to a unique, hybrid role and is flat dominating the competition. That foot injury, a break that cost him the starting quarterback job at Oregon as a true freshman, cost him a chance to truly compete at QB at MSU last fall It cost him the Bobcats' opener at Texas Tech and seriously limited him in Montana State's next two games And the injury ultimately led him to become a diverse playmaker at different positions with NFL aspirations.
Now that he's healthy, Jonsen has put a Montana State offense with a consistent cloud over its quarterback situation on his back. Whether he's catching bubble screens or slicing up opposing zone defenses in the open field or taking snaps out of the Wildcat, Jonsen led the current No. 9 team in the nation to five consecutive wins.
"Travis Jonsen, here's a guy, second-leading receiver, second-leading rusher on a football team," North Dakota head coach Bubba Schweigert said as his UND squad prepares to host Jonsen's Bobcats on Saturday. "How many times has that happened? He is a tremendous athlete."
During that three-game stretch leading up to MSU's homecoming loss, Jonsen rushed the ball 31 times for 250 yards (8.1 yards per carry) and has scored four touchdowns operating as Montana State's primary Wildcat quarterback. He also caught 13 passes for 133 yards and a score. His 51-yard reception last week against Cal Poly did not finish in a score, but set up one of MSU's touchdowns as Montana State built a 28-7 lead.
And when the Bobcats blew that three-touchdown lead in the fourth quarter in San Luis Obisopo, the Bobcats turned to Jonsen in overtime. After the MSU defense rose up and earned a stop that resulted in a missed field goal, Jonsen carried the ball three times straight, including a game-winning, walk-off nine-yard touchdown to boost Montana State to its fifth straight win.
"Travis is the type of guy on the sideline, he wants the ball in his hands," MSU head coach Jeff Choate said after the 22nd win of his career. "After they missed the field goal it's pretty much, 'Let's go put this thing away,' and he was the right guy to put the ball in his hands for sure."
Even in MSU's recent loss which halted its longest winning streak since 2012, Jonsen found a way to produce. He rushed for 55 yards and a 17-yard touchdown that capped an 86-yard drive and tied the game 7-7 late in the first quarter. He caught five passes for a career-high 109 yards as MSU tried to whittle away at a margin that finished with Sac State on top 34-21.
"I think he's one of the best athletes we have on our team and we have to make sure if he's not playing quarterback, he's playing somewhere," Choate said.
During his senior season, Jonsen has 322 yards rushing, is averaging 6.2 yards per carry and has scored five rushing touchdowns. He also has 27 catches for 338 yards and a touchdown. He also threw a 55-yard tap pass touchdown on a fly sweep play to Logan Jones earlier this season.
The fact that Jonsen has been able to produce is no surprise to anyone who's followed his athletic career. But the location, the circumstances and the journey itself have been far from predictable.
"I never imagined being in Montana but I feel like it was really God's plan to come here," Jonsen said.
It would've been hard to imagine in the fall of 2014 that Jonsen's final college football months would be spent playing wide receiver for the Montana State Bobcats. Back then, Jonsen went by Travis Waller while shredding the vaunted California Trinity League on the way to earning a 4-star recruiting rating and scholarship offers from football powerhouses across the country.
Suitors like Penn State, Alabama, Washington, Tennessee, Notre Dame, and most of the Pac 12 came calling. Jonsen took unofficial visits to Alabama, Cal, Ohio State and Oregon. But Jonsen knew exactly his perfect fit when, on his only official visit of his first recruiting process, Oregon offensive coordinator Scott Frost offered him the chance to become the Ducks' starter as the true freshman.
"It was a great feeling to be in that position and I definitely took it all in and learned to appreciate all the coaches reaching out," Jonsen said nearly five years later. "But you have to see the bigger picture when all those schools come at you and figure out what the best fit is for you. Don't go by the most hype. It's all about the best position."
Jonsen thought he had the best position. He graduated early from Servite and enrolled in Eugene a semester early in January of 2015. He began learning the nuances of playing the quarterback position at one of the college football powers of the West Coast for an offensive mind in Frost who was one of the hottest coaches in the country.
"Coach Frost was a players' coach who wanted what's best for the guys," Jonsen said. "He really improved my ability to see the game as a quarterback, read defenses as a quarterback, and as a young guy going in, I really appreciated that. When he left, that definitely hurt me."
Frost left to take the head coaching job at Central Florida before the 2016 season. During the 2016 season, Oregon brought in, ironically, former Montana State quarterback Dakota Prukop as a graduate transfer. By mid-season, phenom freshman Justin Herbert became the Ducks' starting quarterback and has not relinquished the job.
"I felt like it was time for me to leave," Jonsen said. "It was more of a feeling. I weighed things out with my mom. Quarterback, you only get one spot. People are always talking about quarterbacks transferring here and there. But you want to play. I feel like in some cases, you should wait it out and compete. In my case, it was right to leave."
Jonsen did leave, transferring close to home to attend Riverside Community College. Shortly after that decision, Victor Viramontes, a former California Player of the Year who initially committed to Michigan before settling on Minnesota, fell out of favor in the Twin Cities and transferred in ahead of Jonsen.
During his time in junior college, Jonsen played sparingly. He threw 49 passes, completing 53 percent of those attempts for 372 yards and four touchdowns. He completed 17-of-26 passes for 176 yards and three scores in a 52-9 win over Victor Valley. His best rushing performance came in a six-carry, 128-yard performance in a 51-14 win over Long Beach. He also rushed seven times for 126 yards and a touchdown in a win over Chaffey College.
Former Montana State recruiting coordinator Michael Pitre remembered Jonsen from their time together at Servite, one of Southern California's most prestigious Catholic high schools. Pitre, who played fullback at UCLA, had previously mined Riverside College for prospects, landing players like former running back Anthony Knight. When he realized their was a former 4-star recruit he had a prior relationship with, he immediately started recruiting Jonsen hard.
Pitre sold Jonsen on Choate's plan to recruit players with pedigree. And the opportunity to be the quarterback the Bobcats had been searching for following Prukop's abrupt departure appealed to Jonsen.
Jonsen chose Montana State because of Pitre, because of Choate coming to MSU from the University of Washington and because "Choate was bringing in all these transfers from top schools like me, so that made it a very easy transition."
That optimistic view on his transition to Montana State gets you part way to understanding the effusively confident yet unassuming and sometimes reticent Jonsen.
Pitre took a job at Oregon State less than a month after Jonsen arrived on campus. Before he even got a chance to challenge incumbent Chris Murray or upstart Tucker Rovig in a quarterback battle, Jonsen slipped on the ice in Bozeman and broke the same foot that basically cost him the starting job in Eugene.
By the time August rolled around, Andersen had been running Montana State's player-run practices all summer, Murray treaded in academic purgatory and Rovig had regressed. Yet the MSU offensive coaches switched Jonsen to outside wide receiver midway through fall camp and never looked back.
Neither did Jonsen.
"I just don't look back," Jonsen said. "I just look forward. I realize I made a decision and I have to stick with it. If you keep worrying about the past, you aren't going to be able to worry about the present and the future and give 100 percent in to the now.
"That's one thing my mom taught me: when you make a decision, stick with it, leave everything behind and move forward."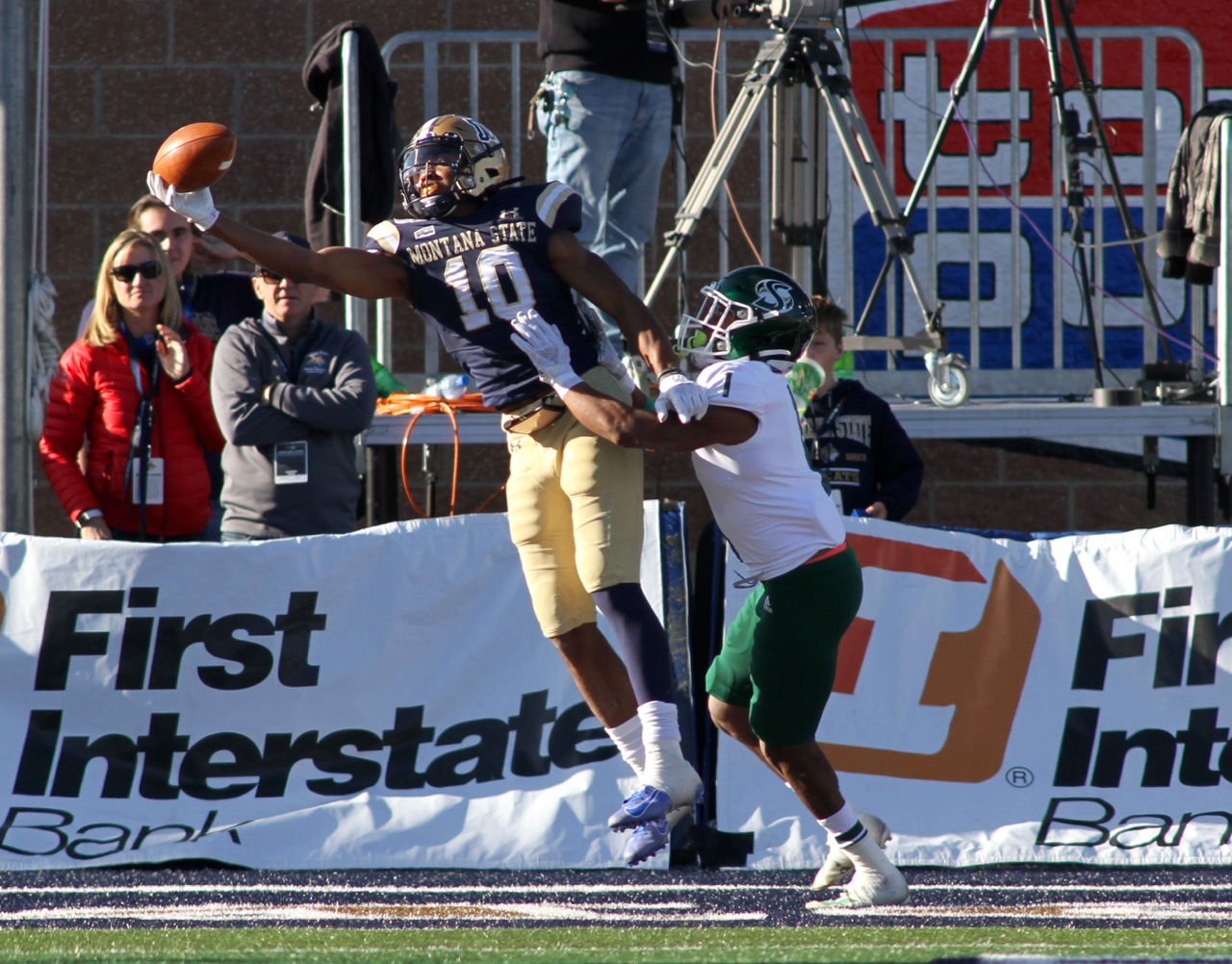 So often when embarking on new journeys, particularly for superiorly gifted athletes like Jonsen — "He does things naturally that most guys just can't do and he can take a game over at any time," MSU wide receivers coach Erik Frazier said earlier this season — the hardest transition is mental.
But Jonsen has never waivered in the confidence in his abilities, his potential to master a new position or his play-making on Saturdays between the white lines.
"Quarterback is the hardest position on the field so being a receiver, going to Wildcat quarterback is nothing compared to being a starting QB," Jonsen said.
"This is easy. This takes the entire load off of me."
As Jonsen endured his first Bozeman winter, walking boot on his foot, he remembers not interacting much with his teammates. He often sat at his home he shared with kicker Tristan Bailey, also a transfer, playing video games to pass the time. Not leading the Bobcats at quarterback hurt at first but once he found how to contribute in other ways, he began to blossom as a player and as a member of the team.
Following winter conditioning and spring football leading up to his senior year, Jonsen was voted as one of MSU's captains by his teammates.
"I have been tremendously impressed with Travis Jonsen," Choate said earlier this season. "The approach this young man has taken, went to Oregon, didn't go his way, goes to Riverside, they end up with this quarterback who goes crazy and ends up at Minnesota as their starter. Travis ends up breaking his foot, doesn't get a chance to compete, we end up going a different direction, he doesn't flinch.
"He's a really, really quality young man, true team guy and is a spectacular athlete who has a lot of ways he can contribute to this team."
When he first arrived in Bozeman, Jonsen felt out of place. He'd never really experienced snow. He expected class to be cancelled when it did snow only to learn that it snows in Bozeman in the winter on most days. He also had to adjust to living in a college town that revolves around the university, somewhat similar to Eugene but in one of the most rural parts of the country embedded in the heart of the Rocky Mountains.
Over the last year, Choate has observed a true change in Jonsen personally. The head coach said Jonsen is constantly networking in the community. He has had several internships that have little to do with the liberal studies degree he is pursuing.
"You go to a basketball game, and the football players are all sitting over here, and he's sitting with the community members that are long standing, influential people in this community, with the adults. And you think, this guy's got something going, and he really does.
"He's got a great vision for his future. He's got a quiet demeanor, but don't let that fool you. He is very tough and driven."
Jonsen credits his mother, Bridgett — "She's a boss lady and my hero," he says with a contagious smile — for his drive, his forward thinking and that unassuming toughness. He credits his older brother, Austin, for always being willing to pick him up from school, to take him to practice, to play catch play catch with him, key factors in nurturing his love of athletics.
And Jonsen credits himself for embracing the unselfishness it takes to move to the middle of nowhere to chase his NFL dreams at a completely different position than he would've expected as a teenager.
"I wanted to play quarterback in the league but the picture is more clear now that I'm at receiver," Jonsen said. "It's really crazy how that works. Coming here to Montana, thinking I'm going to play quarterback, switching to receiver…I just wanted to play football. Whatever I had to do for my team, I was going to do.
"I didn't throw a fit, didn't get mad, didn't cry. I was just thankful Coach Choate gave me the opportunity to play football, come here and thrive. I am so thankful to be right here right now."
Photos by Brooks Nuanez. All Rights Reserved.