Western Illinois gets a rematch a year after a narrow loss to Montana State in Bozeman. While it's only been 12 months since MSU posted a 26-23 victory over the Leathernecks during the annual "Gold Rush" game at Bobcat Stadium, the Bobcats look like a more talented version of a team that made the playoffs last season. WIU looks totally different.
Entering the 2018 season, Western Illinois had aspirations of returning to the playoffs for a second consecutive season and the third time in four years despite the campaign serving as Jared Elliott's first year as a college head coach. The WIU roster featured 23 seniors, including quarterback Sean McGuire, a four-year starter and three-time All-Missouri Valley Football Conference selection who threw for 9,819 yards and 72 touchdowns in his career.
Western Illinois' seniors also included Khalen Saunders, a two-time All-American defensive tackle who was selected in the third round of the NFL Draft by the Kansas City Chiefs.
Steve McShane served as one of WIU's primary weapons, a slasher and two-time All-MVFC selection who also earned all-league honors in baseball as a junior and a senior. He accounted for nearly 1,100 yards from scrimmage and scored 12 total touchdowns.
McGuire also had Isaiah LeSure, a second-team All-Missouri Valley pick who finished with 614 yards and four touchdowns
First-team all-conference linebacker Pete Swenson starred on a defense, flanked by second-team all-league senior Quentin Moon. Defensive back Xavier Rowe earned all-conference honors for the second time in his career.
Every single one of those standouts is no longer on a roster that now features 18 seniors. WIU's projected starting lineup features no senior starters on offense outside of transfer running back Deontez Thompson. The Leatherneck defense includes five seniors, including three returning starters from last season.
Western Illinois lost its season opener on the road for the second straight season, falling 26-17 at North Alabama on August 31. UNA gave up 45 unanswered second half points in a 61-17 loss at Montana last week. Western Illinois fell to 0-2 with a 38-13 loss at FBS Colorado State last week.
Montana State stumbled in its season opener, a 45-10 loss at Texas Tech. Last week, Montana State looked like a true national contender. The Bobcats scored 28 third quarter points to sprint to a 38-17 win over No. 12 Southeast Missouri State. That win boosted MSU to No. 10 in this week's STATS FCS poll, the highest ranking for a Bobcat team since early in the 2015 season.
The Bobcat arsenal looks similar to a year ago, except the defense has added Washington transfers Amandre Williams and Jason Scrempos to the defensive front.
And Troy Andersen, a unanimous first-team All-Big Sky selection at quarterback last season, is playing outside linebacker more often than not. Although the Dillon product did manage to rush for 102 yards and two touchdowns on just six carries last week while also notching a sack and an additional tackle for loss defensively. He rushed for 146 yards and two touchdowns last year against Western Illinois.
MSU's roster features six players with starting experience on the offensive line, a collection of talented receivers led by the senior captain duo of Kevin Kassis and Travis Jonsen and a running backs room spearheaded by sophomore Isaiah Ifanse and bolstered by seniors Logan Jones and Karl Tucker II, each who scored touchdowns last week.
Although Montana State is coming off a statement victory over a team that won a game in the FCS playoffs last season and Western Illinois is 0-2, MSU head coach Jeff Choate has a heightened awareness that his team needs to be on alert as it heads on the road.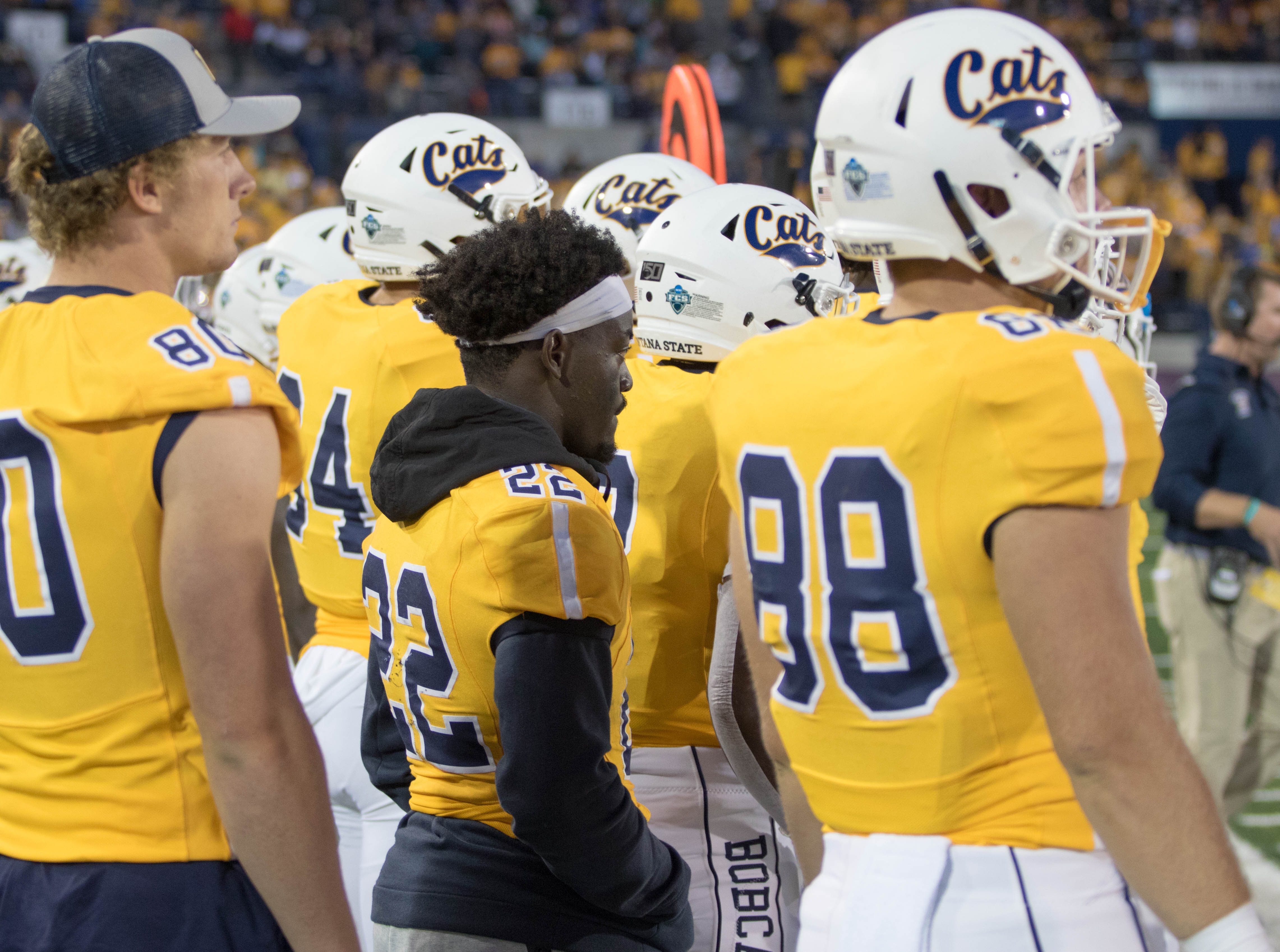 "One of the things I've told these guys since the season started is what a big game I think this Western Illinois game is," Choate said. "I think last week, there was some talk about that SEMO game being a statement game. I think the real statement is going to be made with how we prepare and play this week."
Montana State is 5-12 away from Bozeman during Choate's tenure. MSU has never won a non-conference road game under Choate.
"We have not been the best road team during my tenure. We have played some very challenging opponents on the road but that's no excuse. This is the game that I think is going to define who we are as a team.
"How we prepare, how we play, the type of mindset we take into this is very critical."
QUICK HITS
Location: Macomb, Illinois
Nickname: Leathernecks
Founded: 1899 as the Western Illinois State Normal School. Like many similar institutions of the time, Western Illinois State Normal School focused on teacher training for its relatively small body of students. As the normal school grew, it became Western Illinois State Teachers College.
Western Illinois University is composed of four academic colleges: Arts & Sciences, Business & Technology, Education & Human Services, and Fine Arts & Communication, in addition to an Honors College the School of Extended Studies, which includes nontraditional programs.
Enrollment: 8,166 students, including 6,877 undergraduates and an endowment of $59.7 million.
Stadium: Hanson Field is a 16,368-seat multi-purpose stadium that opened in 1950 and expanded in 2007. The field is named after former WIU coach, athletic director and Marine legend Rock Hanson. Between 1996 and 2004, the St. Louis Rams hosted their training camp at Hanson Field.
The Coach: Jared Elliott, second season. Elliott's first full-time position came on Mark Hendrickson's staff coaching quarterbacks in 2012. After three seasons at Carthage College, he returned as the quarterbacks' coach for the 2016 season on Charlie Fisher's staff. When Fisher left WIU to become the wide receivers coach at Arizona State on Herm Edwards' staff, Elliott became a head coach for the first time.
"I think Coach Elliott has done a really good job there going into his second season," Choate said. "They had a tough loss to North Alabama and they walked into a buzz saw a little bit in the first half last week at Colorado State. But you watch these kids compete and play at the end of that game and I was very impressed. There's no doubt that the culture is where it needs to be there. They have some talented players."
Last season, WIU started 0-2 including the loss at Montana State and a 34-14 loss at Illinois. Western Illinois' first win was a 31-27 victory over Montana in their home opener in Week 3. WIU also posted wins over Youngstown State and No. 17 Northern Iowa in 2018. But a 17-12 loss at South Dakota and a 15-13 home loss to Indiana State put the Leathernecks on the outside of the playoff picture with a 5-6 record.
"I think Coach Elliott is a pretty sharp offensive mind," Choate said. "He does some things that are challenging for the defense. They are always going to stretch you and test you on the perimeter with the fly sweep game. That's a big part of what they do."
THE OFFENSE – Players to watch
Connor Sampson, quarterback, 6-3, 215, junior — The Belleville, Michigan native threw just 22 passes his first two seasons at WIU. He threw 30 against North Alabama and 37 last week against Colorado State. In the limited film he has seen, Choate is impressed with the strong signal caller.
"I like their quarterback," Choate said. "I think he's not as mobile as the guy they had last year (McGuire) and doesn't have as much experience perhaps but he is very accurate and he can make all the throws. He's more of a conventional pocket passer but he can make all the throws."
Sampson went 18-of-30 for 183 yards against North Alabama. He completed 22-of-37 passes for 151 yards and a touchdown against Colorado State.
Tony Tate, wide receiver, 5-9, 180, junior — Tate made his presence felt in Bozeman last season. He ripped off a 63-yard kick return after Montana State tied the game 13-13 on the first possession of the second half. MSU ended up forcing a missed field goal following that big return. Tate also rushed five times for 36 yards.
"He's a good player, a threat in the return game and they are going to get him the ball," Choate said. "He is going to get his touches whether it's handing him the ball on the fly sweep, dialing up shots for him in the pass game."
Tate finished last season with 21 catches for 382 yards and two touchdowns to go with 13 carries for 77 yards. The former Walsh transfer averaged 23.7 yards per kick return, the long return coming at Bobcat Stadium
WIU has dialed up 13 touches through two games so far for Tate. He had three carries for 17 yards and two catches for 49 yards against UNA. He had four carries for 18 yards and four catches for 45 yards and a touchdown against Colorado State.
Clint Ratkovich, fullback, 6-1, 210, junior — The fullback, outside of the key cog in the triple option offense like Cal Poly operates, is largely obsolete in college football. Ratkovich, a two-time first-team All-Missouri Valley selection last season, is not your prototypical fullback.
"Really good football player," Choate said while pounding his fist on the table. "Look, he's not their primary tailback. But they will put 25 in there, run slip screens with him, motion him out of the backfield and get him the ball, run some slide boot and get him in space and even some fly sweep with him.
"They are designing their game plan around making sure they get their touches to those two individuals in particular: (Ratkovich) and (running back Deontez Thompson)."
Last season, his first as a captain at WIU, Ratkovich caught 54 passes for 616 yards and two touchdowns. He led WIU in catches and yards. He also rushed 31 times for 132 yards and two touchdowns.
He has 19 touches from scrimmage this season, including 11 receptions. He caught six passes for 42 yards against UNA and five more for 23 yards against CSU.
Deontez Thompson, running back, 6-0, 215, senior — Thompson was one of the breakout stars in the country in 2016. As a freshman, he totaled 1,250 all-purpose yards and scored 11 total touchdowns in earning STATS FCS Freshman All-American honors at Richmond. He was the first Spider freshman and the 14th Richmond rusher ever to surpass 1,000 yards on the ground.
Midway through his sophomore season, Thompson suffered a season-ending injury. He had just 197 yards rushing that year. Last season, he played in nine games, making six starts. He earned 56 attempts for 225 yards.
Thompson is listed as the starter this week although he did not play last week. He had eight carries for 27 yards and a touchdown against North Alabama. Choate expects Thompson and the run game in general to be a part of WIU's attack Saturday.
"They have a DNA with their run game," Choate said. "They use a lot of tight ends, have a lot of formations. They have great tempo in and out of the huddle. And they will run some unbalanced sets. They are difficult to defend."
THE DEFENSE – Players to watch
Kyle Williams, defensive tackle, 6-4, 265, junior — As a prep star, Williams played for Lebanon (Indiana) High School. His defensive line coach was Craig Terrill, a former All-Big Ten star at Purdue who played for the Seattle Seahawks from 2004 until 2011. In Williams' bio, he calls Terrill "a great role model as an athlete and a person."
As a sophomore, Williams showed flashes of his own dominance playing next to Saunders. He started all 11 games, making 32 tackles, 5.5 tackles for loss and 1.5 sacks. He also registered four quarterback hurries. He is the anchor of a defensive front that impressed Choate during his initial preparation.
"Their defensive line is the strength of their defense," Choate said. "Excellent defensive line. They are well coached. They are a big, physical group. They lost a great player a year ago that was one of the FCS players that was drafted (Saunders). I don't see a lot of drop off on that unit, however. That's a very good unit."
Williams had nine tackles against North Alabama. He has a team-high three tackles for loss this season, including half a sack in each of WIU's first two games.
Zach Glisan, linebacker, 6-2, 232, senior — The Abingdon, Illinois native is one of only a few returning starters on WIU's defense. The winner of the MVFC Commissioner's Academic Excellence Award also notched at least one solo tackle in every since game last fall.
He finished his junior year with 83 tackles, 4.5 tackles for loss and a fumble recovery. He is second on the team with 14 total tackles, including a tackle for loss against North Alabama so far this season.
Tom Rehfeld, linebacker, 6-3, 225, senior — Rehfeld is in his first year as a full-time starter but he is still one of two defensive captains for the Leathernecks along with senior safety Eric Carrera.
The Chicago native entered his final season with 12 total tackles in his career. He currently leads the Leathernecks with 15 total tackles, including 2.5 for loss against North Alabama. He is the heart and soul of a unit Choate has much respect for.
"I like their scheme on defense," Choate said. "I think they are sound. They will attack you, they will attack your protections. They are going to try to take away what you do well. And I think they have talent.
"I think this is a scary team because they have had to go on the road and compete in some tough environments. And now they are at home for the first time. We are going to have to have our best."