Shantay Legans stomped his feet while standing literally on the court of play at Dahlberg Arean, ripping off his neck tie and begging for the technical foul that eventually came.
His outburst came moments after Kim Aiken Jr. forced a 3-point shot while appearing to draw contact with no call and seconds later getting called for his fifth and final foul.
That sequence came a few seconds after Mack Anderson appeared to be hammered at the basket, a collision that drew no call.
Legans' temper explosion, Aiken's near ejection (twice) and eventual disqualification and a game that featured six technical fouls among the 56 called on Thursday night trademarked a game that was supposed to be trademarked by its billing as a matchup between the top two teams in the Big Sky Conference.
The whistles were frequent and the play was physical. Emotions were high from opening tip until final buzzer. A technical foul on Kyle Owens after a dunk late in the first half seemed to infuriate and ignite Montana.
Aiken's second scuffle in the last six minutes resulted in the EWU rebounding machine getting shoved by a UM male cheerleader, leading to the spirit squad member's ejection.
And in the end, the Montana Grizzlies kept their cool once again, beating the rival Eagles of Eastern Washington for the fourth straight time to reassume first place all alone to begin the second half of league play.
UM do-everything senior Sayeed Pridgett took over at pivotal moments in each half on the way to a team-high 24 points, off-setting the explosive scoring of EWU junior swingman Jacob Davison, who poured in a game-best 34 points.
Montana senior shooting guard Kendal Manuel missed six of his first seven shots, but converted a momentum-extending four-point play that brought the partisan crowd of 3,879 to its feet for the next of many ovations of cheers accompanied by boos that smattered an arena swelling with emotion.
And Montana's precious freshmen trio of Derrick Carter-Hollinger, Kyle Owens and Josh Vazquez helped buoy the Grizzlies the final nine minutes of the game as UM's veterans battled foul trouble to help the hosts posted a 92-82 victory on Thursday night in the Garden City.
"The emotion is what comes with this game and I thought we did a good job of not losing composure as a unit," UM sixth-year head coach Travis DeCuire said. "After each scuffle, we came back, regrouped, got stops and stayed the course.
"This is what it's about. It's not just about enjoying the preparation and enjoying the game and preparing for it, but also watching these young kids enjoy the moment because I don't know if there's any environment like college basketball and I don't know if there's many environments on the West Coast better than this."
The victory lifts Montana to 9-3 in league play and 13-10 overall. The win also completes the season sweep of the Eagles and gives the Griz four consecutive emotional wins over the visitors from Cheney.
Montana earned a one-point victory in Missoula last February that ended with former UM forward Donaven Dorsey in an Aiken headlock, leading to a brief post-game scuffle.
The Griz defeated the Eagles in the Big Sky Tournament championship game for the second straight season to advance to the NCAA Tournament for the second year in a row last March.
And Montana ripped Eastern Washington 90-63 in Cheney last month, handing EWU its first home loss of the season and making a statement to the rest of the Big Sky that UM is once again a contender despite losing its most decorated senior class.
Each time, the emotion has highlighted the action, sometimes reaching an entertaining fever pitch and sometimes boiling over. Thursday night at Dahlberg, Montana's ability to respond with composure after each scuffle, each battle for a loose ball, each hard foul helped lift the Griz to victory.
"I think these types of games, Montana State and this game, back-to-back, is an incredible experience for our guys," DeCuire said. "The intensity that comes with a tradition versus tradition game, I think all of these are learning experiences for these guys and hopefully it toughens us up going into the Big Sky Tournament in Boise."
The loss drops Eastern Washington to 8-3 in league, 15-7 overall. The Eagles won six in a row after the lopsided loss to the Griz on January 9 in their fourth league game of the season.
EWU returns home a game behind UM in the win column to host Montana State, a 72-50 victor over Idaho in Bozeman on Thursday.
"It was a good game, a great crowd," EWU head coach Shantay Legans said. "Montana came out well. Travis did a good job of having his guys prepared. They came out and was real physical early in the game, caused us some turnovers. They came out did a good job and it was a great environment, good basketball environment."
UM began the game on a 10-2 run and raced out to a 23-12 lead the first nine minutes, 20 seconds of the game. At the 12:10 mark fo the first half, Davison went on a personal 9-0 run, hitting 4-of-5 shots and helping EWU pull to 25-20. DeCuire called a timeout.
The stoppage didn't do anything to stop the bleeding. Davison and All-Big Sky senior post Mason Peatling continued enforcing their will as EWU's wide-open, isolation-based offense found great rhythm during a 20-4 run.
Seven straight from Davison and back-to-back buckets by Peatling gave EWU a 32-27 lead with 5:58 left in the half. A Casson Rouse 3-pointer with 4:50 in the half pushed the EWU advantage to 35-29, Eastern's largest of the night.
"We all started playing together," Davison said. "We calmed down. In the beginning, we were high-strung and once we settled in, we realized we could run with them. We had to calm down and then it flipped.
"When we are flowing, I don't think any team can guard us. But when we are not, that's when we run into trouble."
Pridgett scored five straight to tie the game and 14 points in the first half overall. Early in the second half, he hit contested shots to push a one-point lead to three and a two-point lead to four.
"Seeing when we are struggling during certain times in the game, when the ball is sticking a little bit too much as a team, knowing when we have a mismatch or realizing what they are doing, that's when I take over," Pridgett said. "They were doubling me so I wanted to get the ball in my hands because it increases the advantage for us to get open shots for everyone else."
Pridgett also helped put Montana up 12 on two difference occasions on a night where he brilliantly navigated the extra defensive attention paid by the Eagles. He finished 8-of-17 from the floor while leading the Griz with eight rebounds and four assists as well.
"He knows when it's go time," DeCuire said of his captain and league MVP candidate. "He is a doing a phenomenal job sharing throughout the 40 minutes and then turning his aggression to make the right plays at the right times. It allows everyone to play with confidence and that's what great teams do."
Leading 56-54 with 13:44 left, Carter-Hollinger hit a 3-pointer to spark a 13-3 run that also included Manuel's first 3-point make of the night, his four-point play and nine of his 18 total points. The four-point play gave UM a 69-57 lead with 8:48 left. And Manuel's third 3-pointer with 6:04 left pushed the gap to 78-65, UM's largest advantage of the night.
"I think that he was focused on the defensive end, and he didn't let his offense affect his defense, which kept him on the floor," DeCuire said. "Sayeed said Kendal needed some confidence. We were talking into a timeout and he said, 'Coach, he might need a little bit.' So I mentioned some things to him in the timeout, you are going to make your next one. We came out, ran a play to him and he banged one."
Eastern Washington fights as hard as any team in the Big Sky, sometimes quite literally. And Thursday was not different. The Eagles rallied from the double-digit gap for the second time in as many halves. Aiken, who was quiet scoring the basketball Thursday despite bringing his normal enforcer intensity and elite rebounding, hit a 3-pointer to help boost up Davison and Peatling, who otherwise provided most of EWU's offense.
Peatling scored in transition after the no-call on Anderson's attempted lay-up, a bucket that gave the EWU big man 20 points and cut UM's lead to 84-82 with 36 seconds left.
"We knew it was going to be a high-intensity game when we got here, so it was fun but the outcome wasn't," Davison said.
"It's been the story the last couple of years that we can't pull it out against Montana even though we are so close. We will figure it out. It will happen."
The Eagles would not score again as all hell broke loose over the final 28 seconds of the game.
With 5:53 to play, Aiken and UM junior Timmy Falls engaged in a tug of war fo the basketball that resulted in Aiken throwing a forearm, Falls flopping and both players getting called for technical fouls. In the last 102 seconds of the game with EWU in a full-court press and Aiken guarding the baseline, the officials let the ball bounce on the baseline instead of handing it to the Griz in-bounder on multiple occasions.
After one tip entry into a tip, Aiken fell into the UM spirit squad, resulting in a shove from a male Griz cheerleader that resulted in him leaving his baseline position.
All of it defined a game owned as much by emotion and officiating whistles and the intensity of a fierce rivalry between two of the Big Sky's best.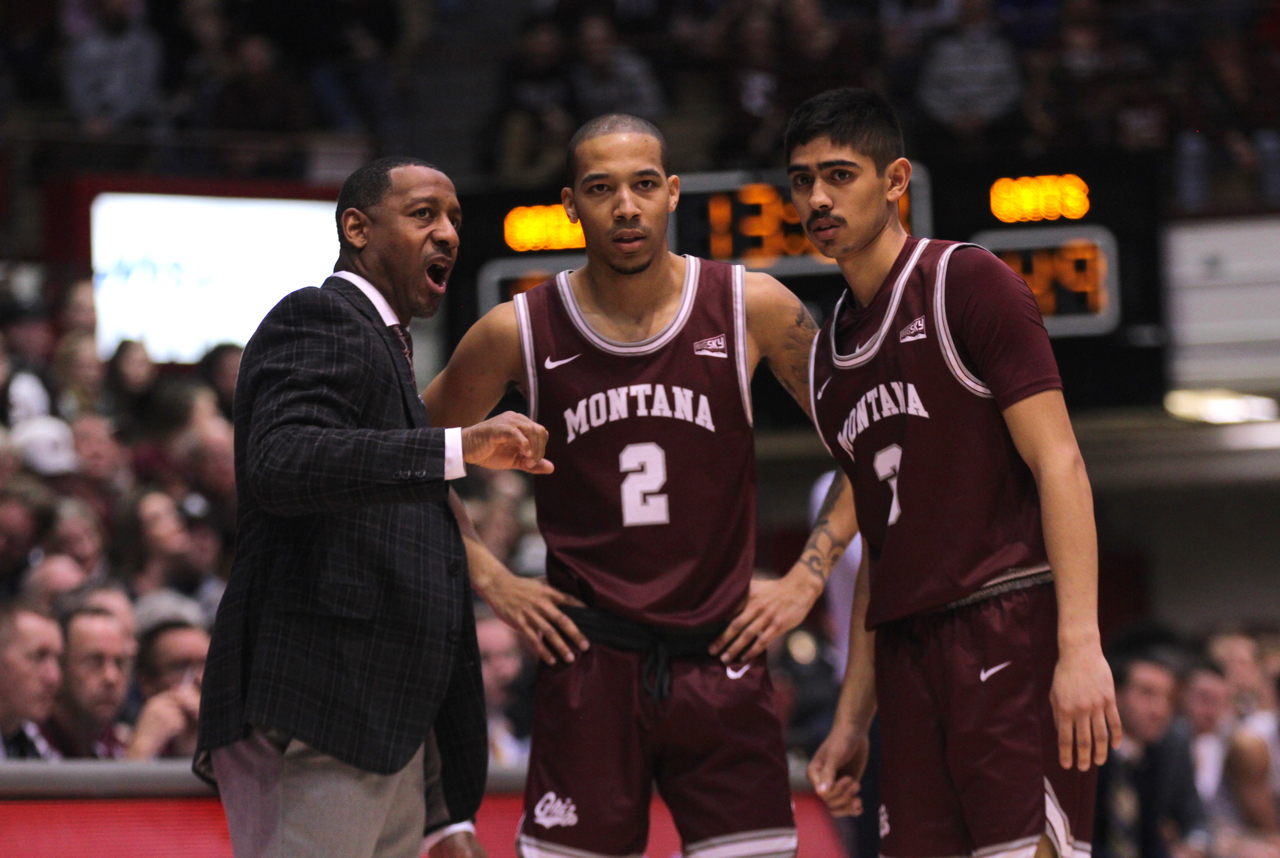 "It's tough going herky jerky like that, a lot of whistles tonight," Legans said "It's tough to get a good flow of the game. Depending on who was in the game, and how it was flowing, I think that's why some of the runs were so weird in this game. The way it was officiated tonight it was a choppy game.
"You don't want to end a good basketball game in a bad sense and I did that with my technical foul, which was stupid. My players probably took the lead from me so I have to be better."
Vazquez hit a pair of free throws, Manuel hit a technical free throw and scored a bucket in transition before icing the game with two more freebies and Pridgett hit the final two from the charity stripe to give UM a 10-point win in a highly contested game.
Now the Griz turn their attention to Idaho.
"I would not call them the worst team even though they have the worst league record,' DeCuire said. "The way they jumped out on Sac State a couple of days ago at Sac State, it was a matter of time before they exploded offensively. We were a possession away from losing (67-63 UM win over Idaho in Missoula) so there's enough respect for them that we will be geared and ready to go."
Photos by Brooks Nuanez. All Rights Reserved.