Bob Stitt's 2016 recruiting class at the University of Montana contained 31 players.
"I couldn't believe that our assistant coaches put this type of class together," Stitt, then in his second year at Montana, gushed in a press release.
Five years later, just four players from that class remain. All have been all-conference players at one point in their career. They've played a part in dramatic wins and deep playoff runs. The year they arrived, Montana finished 6-5 and missed the playoffs for the first of three consecutive seasons. This year, they've helped lead the Grizzlies to an 8-2 record and a top-10 ranking.
As Montana prepares to host Montana State this weekend, there's one thing missing from those glittering resumes — one thing that seems little compared to what they've achieved but, for everybody on both sides of the rivalry, might as well be the only thing that matters. In four years, they're 0-4 against the Montana State Bobcats. Saturday will be their last chance to get a win.
"As a kid, you wait until this week to watch these games," linebacker Jace Lewis said. "You look forward to it. They're high-intensity, and this is a fun game to be a part of."
Lewis, from Townsend, was one of five players from Montana in the Grizzlies' 2016 recruiting class, and the only one still on the roster.
With a loss on Saturday, he and the other three holdovers from 2016 — offensive lineman Conlan Beaver, wide receiver Sammy Akem and long snapper Matthew O'Donoghue — will make some unwanted history in the rivalry.
The last class of Montana players to graduate without a win over Montana State left Missoula in 1977, on the heels of a six-game winning streak by Sonny Holland's Bobcats. Between then and now, MSU's longest winning streak was three (1983-85), a streak the Class of 1986 emphatically snapped with a 59-28 win in Missoula that sparked "The Streak."
But now, Montana has lost four straight against the 'Cats. (Because of the added COVID year of eligibility, none of the players who came in 2016 lost four straight and then exhausted their eligibility, although there are players from that class who retired or left the team after the 2019 season).
The first three of those losses were decided by one score. The most recent, in 2019, was a 48-14 beatdown in Bozeman, Montana State's largest margin of victory since 1974.
The frustration of the losing streak contributed to Stitt's departure and has been Bobby's Hauck's biggest bete noire in his second head coaching stint at Montana — and now threatens to add a tarnished footnote to the stellar careers of the Grizzly seniors.
Surviving to the end when so many in their recruiting class didn't is difficult enough. All four are also perfect examples of work ethic and steady development.
Lewis, a Class B superstar who played quarterback and linebacker at Townsend, is the most decorated. He played mostly on special teams in 2017 and 2018, following Dante Olson's path into the lineup. In 2019, when Olson won the Buck Buchanan Award, Lewis was also one of the best linebackers in the country, with 131 tackles and 12 tackles for loss.
After that season, he inherited Montana's legacy No. 37 jersey from defensive lineman Jesse Sims, an honor made even more emotional by Sims' unexpected death in the spring of 2021.
Lewis was named a first-team All-American by multiple outlets before the 2020 fall season was cancelled, repeating those honors before the 2021 season.
Akem, a lanky 6-foot-4 receiver from Broken Arrow, Oklahoma, came to Montana with questionable hands and awkward footwork. By 2018, he had evolved into a matchup nightmare, leading the Big Sky with 13 touchdown catches. In the Cat-Griz game that year in Missoula, he had six catches for 147 yards and a touchdown, and in 2019, he was one half of maybe the most dangerous receiver duo in the FCS along with Samori Toure.
Toure transferred after the year to Nebraska. Akem stayed, and is leading the team again with five touchdown catches. His career total of 27 is two behind Marc Mariani for the school record.

Beaver, from Fredricksburg, Virginia, has been the steadiest piece in UM's massive offensive line rebuild under Hauck. He took over the left tackle spot in 2018, starting every game, and has been there since. He was named second-team all-Big Sky in 2019 and preseason all-Big Sky in 2021.
O'Donoghue, from Santa Ana, California, walked on in 2016, became the starting long snapper in 2017 and turned into an unlikely cult hero in 2018 when he recovered a fumble and caught two, 2-point conversions. The gregarious special-teamer was a consensus All-American after the 2019 season.
In the five years since arriving on campus, Lewis, Akem, Beaver and O'Donoghue have combined for six postseason all-Big Sky honors, a total that will certainly increase after a 2021 season in which they're all likely to receive that recognition.
"Football is an emotional game that has to be played with fire and passion," Hauck said. "Our guys have it. And it starts with our senior class."
***
On the other side of the Continental Divide is another group of seniors whose legacies stand to shift depending on the result of Saturday's game.
Montana State seniors like linebacker Troy Andersen, defensive tackle Chase Benson, offensive linemen Taylor Tuiasosopo and Lewis Kidd and wide receiver Lance McCutcheon haven't lost to the Grizzlies.
Cornerback Damien Washington, punter Jered Padmos, wide receiver Kevin Kassis and defensive lineman Derek Marks all finished their careers in 2019 with four wins over Montana in four years (several other Bobcat seniors that year were redshirts in 2015, the year of the Grizzlies' last win, meaning they left MSU undefeated against UM in games they played in).
"We haven't lost yet, so I want to keep it that way for sure," said Andersen, the rarest college football star who has been an all-league talent at running back, quarterback, defensive end, outside linebacker and inside linebacker in his unique career. "Saying we haven't lost to them, it's something the last group of seniors got to say and I want to add my name to that list, for sure."
Leaving with an undefeated record against the Griz would add even more to the accomplishments of an already legendary class.
The Bobcats have made the playoffs in each of the last two seasons, including a semifinal trip in 2019 that's the farthest they made it in the FCS postseason since winning the 1984 national championship.
They're on track to shoot even higher in 2021, with a 9-1 record heading into Saturday's game (9-0 against the FCS). Beating the Griz will not only lock in a zero in the loss column for the MSU seniors against their rivals, it will also clinch at least a share of the Big Sky Conference title, their first since 2012, and likely get them a top-two seed in the playoffs. Montana State has not had an undefeated conference campaign since its 1976 national championship season.
"It's a huge game and being from Montana, that adds a whole new aspect and it's awesome," Andersen said. "The implications this year are a little different, having on the line a conference championship and being your senior year, you want to go out with a win."
Andersen, from Dillon, has had one of the most legendary careers of any player on either side of the rivalry. He was the Big Sky Freshman of the Year as a running back in 2017, although he also started at least once at linebacker. He was a first-team all-conference quarterback in 2018, running for 100 yards in nine of his 11 starts and setting a school record with 21 rushing touchdowns.
He was a first-team all-Big Sky player at linebacker in 2019, racking up 11.5 sacks while also running for seven touchdowns. He'll get that recognition again in 2021, given he's second in the conference with 103 total tackles through 10 games.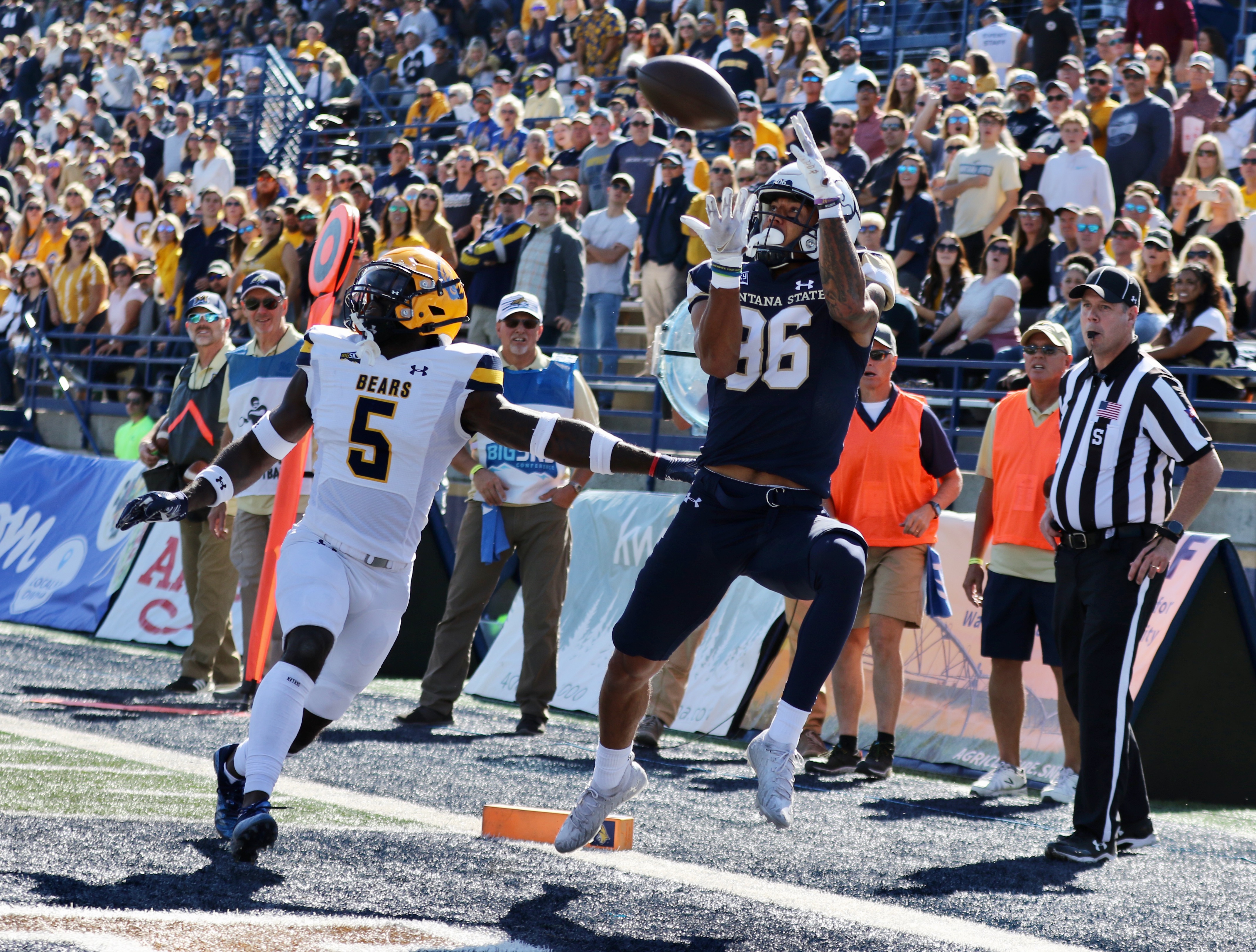 Benson, Tuiasosopo and Kidd have also been all-Big Sky selections at some point in their career. All are virtual locks to receive the honor again this year along with McCutcheon, who's leading the conference in receiving yards and will be a first-time all-conference selection.
Like their counterparts in Missoula, the Bobcats' seniors have triumphed just by making it to their final Brawl of the Wild. It seems almost unfair that, with all they've accomplished over their four or five years, so much of their legacies still rides on what happens over three-and-a-half hours on Saturday.
But that's part of the magic of the game too.
"Cat-Griz is a huge game and a huge reason you come to Montana or Montana State," Andersen said. "Having it be the last one I'm ever going to play in, it's crazy to say it but I'm excited to play in it and have the opportunity, the chance to make a play in that game. (Former Montana State coach Jeff) Choate used to say that if you make a play in that game, you will be remembered forever."
Photos by Brooks Nuanez or noted. All Rights Reserved.