MISSOULA, Mont. — Cat-Griz, people in Montana say, is a special game. It's hard to describe why. But on Saturday, in the few minutes left before Montana and Montana State kicked off the 120th edition of the fiercest rivalry in the West, the air at Washington-Grizzly Stadium changed.
It vibrated, charged, as if the 35-year-old stadium on the banks of the Clark Fork River was a lodestone gathering energy from around the Treasure State, from everybody watching in Havre and Miles City and Billings and Big Timber, from the thousands of people for whom the annual ritual of Bobcats vs. Grizzlies means so much.
It was loud when Montana celebrated its seniors before their final home game, rising to a crescendo when linebacker Jace Lewis, a former Class B star from Townsend, bounded out of the tunnel waving his arms, a pure ball of emotion and intensity.
It was loud when Montana State, No. 3 in the nation and riding a nine-game winning streak, emerged from the tunnel in the northwestern corner of the stadium, streaming in to cover the visitor's sideline in their all-white uniforms.
It was loud when the fireworks went off and the fighter jet flew over and the teams lined up for the kickoff. And it was loud two plays into the game, when Cam Humphrey looked deep and saw Junior Bergen running all alone behind every player on the Cats' defense.
Easy throw. Easy catch. Seventy-four yards. Touchdown. The record-setting crowd of 26,856 in Washington-Grizzly erupted in pandemonium, and Montana carried the momentum of that early energy through the end of the game to record a stunning 29-10 victory over its in-state archrival.
"I mean, that's the art of it, is carrying (the momentum)," Montana head coach Bobby Hauck said. "I don't think early scores generally swing a game one way or another, but it sure beats the hell out of being down seven-nothing. … Our stadium was awesome. I'd rather play every day right here at home, because, I mean, our fans love us, and we love them."
The win clinched a top-eight seed and a first-round bye in the FCS Playoffs for the Grizzlies, who entered with an 8-2 record and the No. 7 ranking. More importantly, it snapped a four-game losing streak to the Bobcats, allowing Montana's class of seniors to leave without a zero on the front of their record against MSU.
Montana State will also almost certainly receive a seed, although the Bobcats threw away a chance to be one of the top-two teams in the country and have home-field advantage through the semifinals.
Those stakes, along with a failed campaign to bring College Gameday to Missoula, raised hype around the game to unimaginable levels, with most of the pre-game narrative centered on both teams' great defenses. Montana State was second and Montana fifth in the country in scoring defense going into the game.
It took Bergen, a true freshman from Billings who originally committed to Montana State before switching when former Bobcats head coach Jeff Choate left, all of 48 seconds to puncture that aura of invincibility.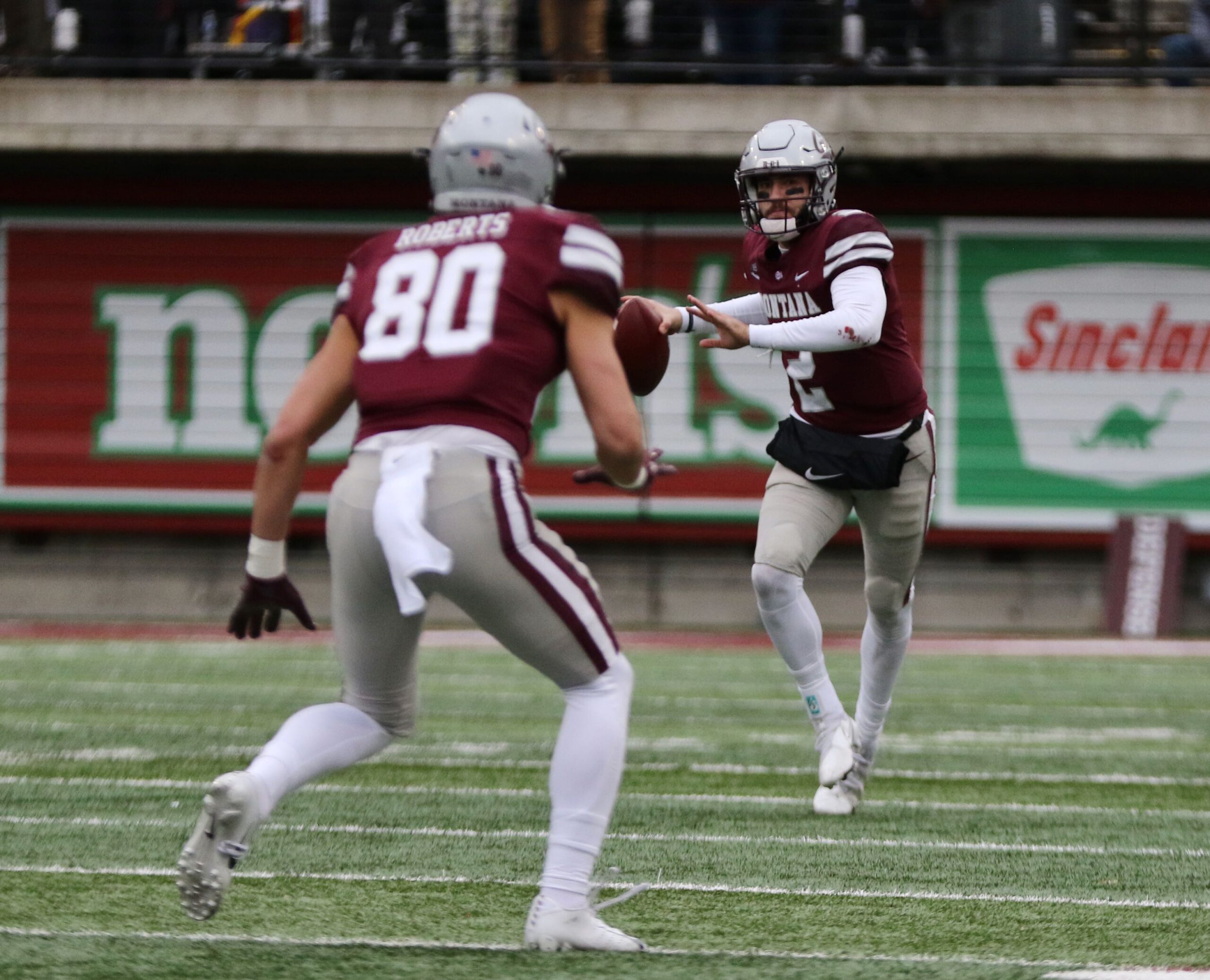 Bergen came to Missoula as a slot receiver who wasn't supposed to play at all in 2021. Halfway through the season, he was the Grizzlies' top running back after a cursed run of injuries at the position. With Xavier Harris, Nick Ostmo and Isiah Childs all returning late in the season, he's shifted back to his original position.
On his gamebreaking touchdown, he started in the backfield, motioned out to the slot and ran a go route right through the middle of Montana State's Cover 2.
"We sure planned for it to work like that," Humphrey said. "You know, coach (Timm) Rosenbach did a great job drawing that one up. We were hoping that they were going to jump in Cover 2, and they did. When I saw that, I knew all I needed was to put it there and let them go make a play on it, and Junior did the rest."
Humphrey finished 13 of 22 for 220 yards, one touchdown and two interceptions. Bergen finished the day as Montana's leading receiver with three catches for 82 yards and the score.
Montana State's best chance to answer came three drives later, after punts by both teams. A 14-yard quarterback keeper by Tommy Mellott and a 30-yard keeper by Matt McKay got the Bobcats down to the Montana 5. Driving into the teeth of the north end zone, MSU then committed back-to-back false starts, including one on freshman right tackle Rush Reimer, making his first start, and had to settle for a 35-yard field goal by Blake Glessner.
After that, Montana State wouldn't cross the 50 again until the final minutes of the third quarter.
In a dominant defensive performance, Montana held the Bobcats under 100 total yards well into the second half.
McKay completed just 12 of 25 passes for 108 yards. MSU went 4 of 17 on third down, and averaged 2.3 yards per carry. All-American running back Isaiah Ifanse, who was questionable coming into the game, played but had 50 yards on 19 carries. Montana had four sacks and nine tackles for loss.
It all meant that Bobby Hauck came into the postgame press conference with a grin wider than Hellgate Canyon.
"It's so hard to quantify what's the best-ever. That just gets thrown around a lot in the sports world in particular," Hauck said. "But I'd be hard pressed to name a Montana defense that was ever as good as this one. And it might not be close. This is a great defense. They play together. They have great understanding. And they play kind of mean."
Montana State's defense also settled down after the early cold-water shock of Bergen's touchdown, but was more effective than dominant.
Kevin Macias kicked five field goals for Montana, one off Brody McKnight's program record. That included a career-long 50-yarder that snuck just over the crossbar early in the third quarter to make it 19-3.
With Montana's offense agonizingly pulling away, three points by three points, it was left to the defense to nail the coffin shut.
Humphrey threw an interception to a driving Troy Andersen, who led the Bobcats with 10 tackles, to set MSU up at the Montana 31. When three plays went nowhere, Montana State lined up for a field goal but went for a fake. Lewis broke through the line to knock down holder Bryce Leighton's attempted flip pass. Cornerback Justin Ford scooped up the loose ball and went 56 yards for the backbreaking score.
"I just made sure, because last time I remember, against Dixie State I picked up (a loose ball) with one hand … so I made sure I got both hands on it," Ford said.
"The guy can take coaching," Hauck joked.
Patrick O'Connell led Montana's defense with 11 tackles, adding 1.5 tackles for loss. Defensive end Joe Babros had two TFLs.
Montana State added a late score on a pass from McKay to Nate Stewart with 48 seconds left in the game, snapping the Montana defense's streak of 14 straight quarters without giving up a touchdown, but that consolation was far too little, too late.
Just minutes after, Moses Mallory was leading a stampede of Griz offensive linemen to the corner of the stadium to collect the Brawl of the Wild trophy, waving at the Bobcat bench as they went.
"This one's a big one," said Hauck, who got his first win against Montana State in his second stint with the Grizzlies. "I mean, this is the most important one. At the University of Montana, we're expected to beat everybody we play. But of the 11 games, this is the most important."