One of the most fun parts of college football is predicting which veteran returners will shine. And one of the most unpredictably pleasant parts of following the sport is watching which previously little-known players blossom.
Montana star Dante Olson dominated the accolades in the Big Sky Conference during the 2018 and 2019 seasons. The aggressive, hard-hitting inside linebacker rolled up more than 300 tackles over those two seasons, including setting the Big Sky and Montana single-season records with 179 tackles on the way to winning the 2019 Buck Buchanan Award.
Since Olson's career ended, a global pandemic ensued just before a variety of Big Sky Conference studs had the chance to make their case as the top individual defensive talent in the league. The conversation was dampened by a cancelled 2020 season and a 2021 spring season with just eight conference teams participating.
As the 2021 fall season approaches its stretch run, the narrative has seen a few completely unlikely subjects take center stage. It's college football at its finest, accentuated by the most bizarre eligibility and development circumstances the sport has ever seen.
Weber State inside linebacker Conner Mortensen won the Big Sky's Defensive Player of the Year honor in the spring season this year. Idaho's Tre Walker was the preseason Big Sky Defensive Player of the Year in the fall after a first-team All-American season in the spring.
Montana's Jace Lewis, the preseason defensive MVP entering the 2020 season, had huge expectations along with huge opportunity as he stepped into the role voided by Olson, Montana's Buck Buchanan Award winning stud.
He's been solid, as have Mortensen and Walker. But it's been a couple of upstart edge players from the Treasure State that have stolen the show so far this season.
And that's what makes college football — particularly in a league like the Big Sky where rural products come out of literally nowhere to take the conference by storm — so renewing and fun.
"That is what college football is all about. Outstanding players move on, but you never know just how great the guy who has been waiting his turn could be," Weber State head coach Jay Hill said last summer. "You just never know when a guy might become a star."
Just a few years ago, Patrick O'Connell was a baseball player at an NAIA school in North Dakota and Daniel Hardy was navigating one of the first football seasons of his life.
Now, the indomitable pass rushing playmakers are in a heated race for the title of the Big Sky's most disruptive defender.
O'Connell's dominant performance in a season-opening 13-7 win over No. 20 Washington of the FBS set the tone for Montana's season. With his Jared Allen-esque sack celebrations and relentless effort, he is the leading honors candidate for one of the most fearsome defensive units in the FCS.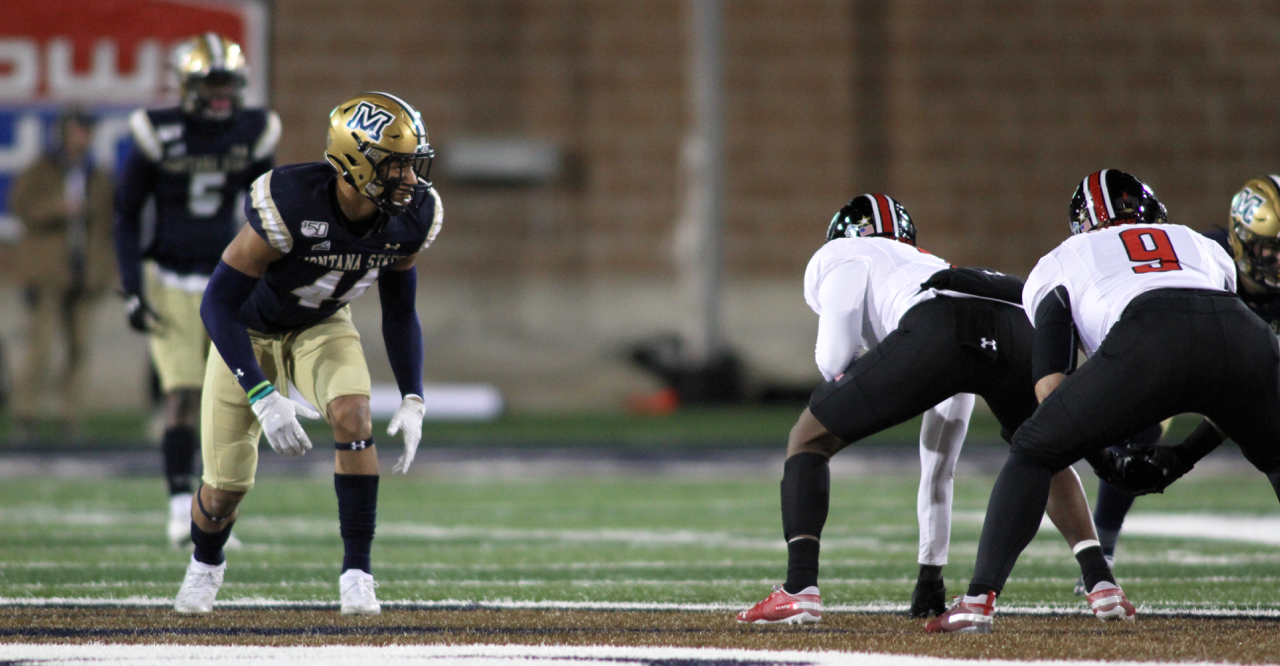 Earlier this season, Montana head coach Bobby Hauck — not one to fall into hyperbole — said, "Pat is playing as well as any player we have had on defense since we came back here (in 2018)," strong words coming from a coach who helped Olson win the 2019 Buchanan Award as the top defensive player in the FCS.
Hardy was a force in his first career start at defensive end in MSU's narrow loss against Wyoming in its opener. He's done nothing but play with his hair on fire since then. Many wondered how the formerly skinny and now shredded senior would adjust to moving from Sam linebacker in a 3-4 defense to playing off the edge on the defensive line in a more traditional even-man front.
Montana State first-year defensive coordinator Freddie Banks wasn't one of those people.
"I think he can be one of the most explosive defensive ends in the country in FCS, and that's the expectations for him," Banks said the day before fall camp opened. "I think he can be a really good pass rusher and he's really good at the point of attack in the run game. Our expectations are really high for him and I think a lot of people will be surprised. But we won't be surprised."
Internally, O'Connell and Hardy have had the respect of those around them. Now their outstanding play-making is earning the edge dynamos respect around the league.
The duo enters the final week of October with 14 tackles for loss each, tied for the second-best total in the Big Sky Conference. Only Northern Colorado's David Hoage has more with 19.
O'Connell also has a Big Sky-best 9.5 sacks, one more than Hardy, who is tied with Hoage and Portland State's VJ Malo for second in the league.
O'Connell had a pair of sacks against Washington and 2.5 more the following week against Western Illinois. He had two more last week against Idaho, marking his third game in double digits already this season.
A few years ago, the 6-foot-2, 225-pound junior from Kalispell was an all-state football player who couldn't get a sniff from the Griz. Instead, he went to the University of Mary to play baseball. Now he is third in the nation in sacks and trails only Robby Hauck among the Grizzlies' total tackle leaders this fall.
"He's probably one of the best athletes on our team," said Lewis, a Towsend native who has 52 tackles, the third-most on the Griz. "He can do it all – weight room, he lifts the house. On the field, he's just a freak. The motor he has is unreal. He is having an outstanding year and playing with him and Marcus (Welnel), it's special to me. He's tearing it up and I couldn't be more proud of him."
Hardy, a 6-foot-3 Stretch Armstrong who has built his body up to hold 240 pounds, is one of the most relentless edge players in college football. He runs to the ball non-stop and his ability to bend the corner, burst past potential blockers and chase down ball carriers in open space has made him a real-deal candidate for national and all-conference accolades.
During Montana State's 13-7 win over four-time defending Big Sky champion Weber State last week in Ogden, Hardy was an absolute menace. He rolled up three sacks while also contributing to at least two more quarterback take downs that were not scored sacks for various reasons. He forced a fumble by WSU quarterback Bronson Barron. And his individual effort earned him Big Sky Defensive Player of the Week honors.
"Daniel has been very consistent with his efforts and that's where it starts for him, his all-out effort every play," MSU head coach Brent Vigen said. "And he would be the first one to say it's not just about him up front, so really unselfish. He's put himself in position with his hard work in the offseason to really become a force. And he has.
"To me, in every game he's been that way. It just so happened those opportunities shot up a little bit on Friday night and if he doesn't make some of those plays, we might be on the wrong side."
Montana State graduated All-Big Sky level talent like defensive end Bryce Sterk, who went on to get a shot with the Miami Dolphins. The 2019 defense also featured first-team all-conference players like safety Brayden Konkol and inside linebacker Josh Hill, both of whom also graduated.
How would the Bobcats adjust to a new scheme? Was it foolish to take All-American Troy Andersen off the edge (he was a first-team all-league selection while playing Sam linebacker in 2019) and put him at Mike linebacker? Could the Bobcats pressure the passer with a pair of ends switching to the position (Amandre Williams went from Buck to defensive end) as the main options?
Andersen is also in the conversation as the most explosive defender in the league. Williams has smoothly transitioned to his new role. Chase Benson is one of the most dominant interior defensive linemen in the league. Transfer safeties Jeffrey Manning Jr. and Tre Webb have thrived, allowing junior Ty Okada to roam and in turn establish himself as an elite Big Sky player as well.
Benson is the spine of the defense. Andersen is the brains and the brawn. Okada is the Captain America-like leader. But Hardy is the ignition, the player that makes Montana State's defense go from intimidating to ferocious.
"He plays so hard on every play and he loves his teammates and this team and this university," Banks said. "He has worked and waited for this moment and now he's taking advantage of it."
Coming out of 2019, Idaho's biggest void was the quest to replace Kaden Elliss, an all-league edge player who is now starting for the New Orleans Saints.
The Vandals have not been messing with the minds of the rest of the Big Sky like the Montana schools have without a similar enforcer. But Walker has tried his best to carry the UI defense and still might be the top defensive NFL prospect in the league outside of Andersen.
"I feel like it's still the same as going in from last year," Walker said when asked about the attention he is receiving in opposing game plans. "The accolades definitely probably brought recognition as far as to other teams, but I just try to play my game, just, you know, control what I can control."

Walker has had firm control on racking up tackles and turning the heads of observers. The 6-foot-1, 240-pounder led the Big Sky with 13.5 tackles per game during an abbreviated spring season. That earned him first-team All-American honors.
He's had as many as 18 tackles in a game this season, finishing three games already with at least 11 tackles. He has 66 total stops, tied with Eastern Washington's Jack Sendelbach for the fourth-most in the league. Cal Poly's Matt Shotwell leads the Big Sky with 79 total tackles, including a league-high 50 stops.
Robby Hauck is third in the league in total tackles while Andersen is seventh and O'Connell is ninth. Lewis and Welnel, another breakout player who had no reputation around the league until this season's outburst, are also in the Top 20.
In many other years on many other defenses, players like Williams would shine as bright as any of the aforementioned. The former Washington transfer has been outstanding, earning third-team All-league honors after playing Buck end and notching 16 tackles for loss in 2019. This season, the attention around Montana State's defense has centered upon Hardy and the ever-magnetic Andersen. And Okada's emergence gives MSU three headline-making players.
Still, Williams has quietly been producing himself. During MSU's 7-1 start, he has 23 total tackles, including seven tackles for loss and four sacks. Each of the latter two are among the top 20 marks in the league.
Entering the 2021 fall season, Williams likely would've been the leading candidate among Bobcat defenders to chase first-team all-conference accolades or compete for the league's Defensive MVP. The attention has shifted to his bookend.
But people around MSU still talk glowingly about Williams, and that attitude is reflected in how he feels about Hardy's emergence as a star.
"Man, Daniel has been a heck of a player for us and it feels good to have a guy like Daniel who's an athletic freak who still works hard," Williams said. "And he's a smart guy, to be able to come up and make plays, especially like last week, have a huge game. It's not always going to swing everybody's way every single week, but Daniel is a guy who will continue to make plays for us."
Entering the fall of 2020, a season that would subsequently be cancelled, Olson's heir apparent was passed the spotlight. Lewis, a former walk-on from Townsend, Montana, earned first-team all-league honors in 2019 as an impressively productive tackling machine next to one of the great tackling linebackers the league has seen.
In the summer of 2020, Lewis was named preseason Defensive Player of the Year before the slate was called off.
Montana did not participate in the "playoff version" of the FCS spring season, instead electing to play two exhibition games against Central Washington and Portland State.
The attention Lewis garners has certainly helped accelerate the production of O'Connell and Welnel. If college football is the place where stars most consistently emerge to replace those that come before them, Montana's formula for getting the most out of its players without any regard for who gets the credit seems to be perfect.
Two of the emergent defensive stars in the Big Sky reside in the Treasure State. And the common theme of unselfishness amongst their respective units is a giant factor in what helped Hardy and O'Connell rise.
"The coaches instill that in us, telling us that everything we do has a purpose. And the players truly buy into that, believe that what Coach Hauck and his staff say has a purpose, everything has a purpose. That establishes the culture of dominance we want and everyone is buying into that," O'Connell said. "You can't beat that when everybody is bought into it."
Photos by Brooks Nuanez and attributed. All Rights Reserved.